Tawau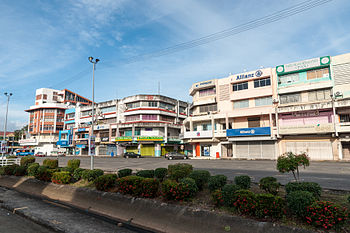 Tawau
is the third largest town of the state of
Sabah
, on the island of
Borneo
. A relatively new town in Malaysia, boomed in early 1980s for its lumber and cocoa farming industry, has become a bustling place, and a transit point to all neighbouring islands such as Sebatik,
Nunukan
,
Tarakan
, Jolo and Semporna islands.
Get in
By plane
Tawau International Airportis the second international airport of Sabah. There are flights from Kuala Lumpur (2 hr 45 min, daily), and Kota Kinabalu (45 min, daily) on Malaysia Airlines and AirAsia. In addition, there are also flights from Sandakan (40 min, daily) on MASwings. The airport is about 33 km away from the town. There are ATMs and a currency exchange at the airport but if you're arriving late, it'll almost certainly be closed and the ATMs do not always work, so make sure you've got some Malaysian ringgit before you arrive as you'll need it for the taxi or the bus.
As of 2019, there are 2 international routes connecting Tawau to
Bandar Seri Begawan
(Brunei) and
Tarakan
(Indonesia).
Getting there/away:
Airport taxis are available and charge RM45 for one way trip into town. There is also an airport bus service operated by Kasah Transport (S) Sdn. Bhd. (Tel: +6089-950208) to the city for RM10. The departure times of the airport bus from the city to the airport are as follows: 5:40AM, 8AM, 8:30AM, 10:30AM, 1PM, 2:30PM and 5PM.
By coach
There are daily buses from
Kota Kinabalu
's North City Bus Station, but it's a long nine-hour journey. There are half a dozen companies and the fare is RM55.50. (Tel: +60 13 879 7779)
There are also bus from
Lahad Datu
, 2.5 hours away. Departure at 3:30PM, RM15.
By ferry
The main ferry connections are to the Indonesian cities of
Nunukan
and
Tarakan
, both in
North Kalimantan
province.
To/from Nunukan: Multiple departures daily from Tawau, Tawindo Express, Labuan Express, including around 10AM and 3PM. From Nunukan, departures are around 9AM and 2PM. Tickets cost around RM90 one-way including port tax and journey time is 1 hour.
To/from Tarakan: One departure daily except on Sunday from Tawau.
Tawindo Express
sails every Monday, Wednesday and Friday, while
Indomaya Express
departs every Tuesday, Thursday and Saturday. Both at 10:30AM. Tickets cost RM140 one-way and travelling time is 3 hours.
Ticket sales end half an hour before departure, due to border formalities.
Get around
===By taxi===
Taxi fares around town would cost around RM5, and to housing area at RM7 at most. Grab (the Southeast Asia equivalent to Uber) is easily available throughout the town area.

By bus
RM 2 to travel within town areas. And about RM2 to the rural areas like Balung and Merotai.

Talk

Tawau's large Indonesian community mainly speaks Bahasa Indonesia and various other Indonesian languages such as Bugis and Timor, but most are unable to understand or speak English except for a few basic words. As with the Chinese in other parts of Sabah, Tawau's Chinese community is majority Hakka speaking but most can understand and speak Mandarin as well as Cantonese. The lingua franca among Tawau's various races is Bahasa Malaysia (Malay), but most residents, especially the locals, are able to understand and speak basic English as well.

See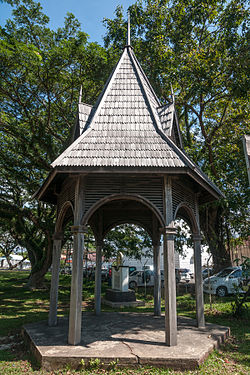 Do
Diving
Within the region of Tawau, tourists can also dive from the islands of
Roach Reefs
or take an hour drive to to dive at popular destinations like
Mataking
,
Mabul
,
Pompong
,
Kapalai
and the Great
Sipadan
- The only oceanic island in Malaysia, rising about 5000 feet above seabed. Popular dive shops and agents in Tawau includes:
phone: +60 128187844

(Address: FL08, First Floor, Terminal Building, Tawau Airport)

SWV Travel and Tours

phone: +60 89950023

(Address: First Floor, Terminal Building, Tawau Airport)
Buy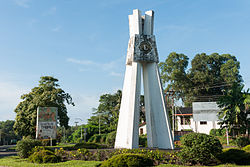 Central Market or known as Pasar Sri Tanjung Tawau, Pasar gantung tawau,Pasar fish market.It offers goods arrived locally and neighbouring islands.(such as Nunukan and Tarakan).
Tawau Bazaar opposite to Marco Polo Hotel is the best place to buy goods such as Batik sarongs, merchandises, Sabah T-Shirts, handicrafts, branded cosmetics with cheaper price.
Eat
Sabindo Hawker Center offers a variety of seafood stalls at Sabindo centre. From Chinese, Malay and Thai tomyam seafood stall, it is just located along the waterfront in town. The stalls offer very competitive prices for selective catch of the day.
Makanan Laut 101 serves excellent crab and shellfishes with vegetables at incredibly low prices.
At night, numerous stalls set up around the town. Many sell
Sulawesi Coto Makassar (Makassarse beef soup), a Bugis specialty; Saggar/Pisang Goreng (banana fritters), Ubi Goreng (fried tapioca), Onde-onde (glutinous rice with savoury taste roasted in banana leaves), Kuih Pandan (Pandan rice cake), Karipap (Curry Puff), Kuih kacang (peanut pancake spread with coconut jam), Bubur Chaca(a dessert broth with tapioca, sweet potato and sago), etc.
Nasi Kuning or yellow rice is an Indonesian specialty that cannot be found anywhere else in Malaysia. The rice is cooked with coconut milk and turmeric (known as kunyit in Malay), which in turn made the rice look yellow in colour. In Tawau it is usually served with a piece of fish deep-fried in dried chilli sauce. This can be found in almost any Malay restaurants or stalls around Tawau but sometimes also sold in some Chinese coffeeshops. To further enhance the taste, the rice is usually wrapped in banana leaves. Price ranges from RM 0.40 to RM 3.00 per serving.
Mee Tauhu or tofu noodles, a classic Sabahan breakfast. Noodles served with several variations of tofu sauce.
Drink
Zenzi Dance Club, behind Maxim seafood restaurant, Sedap corner at Fajar. RnB Club formerly known as Frequency.
Sleep
Hotel Emas Tawau

phone: +60 89-762000

Promenade Hotel

Prince Hotel

phone: +60 89-778989

Shervinton Executive Boutique Hotel

phone: +60 89-770000

Belmont Marco Polo Hotel

phone: +60 89 777 988

De Choice Hotel, Phone: +60 89-776655, +60 89-776761, +60 89-776760

Kingston Executive Hotel

phone: +60 89-769996

Kingston Hotel Phone: +60 89-702288, +60 89-702388, +60 89-702588
There are many hotels in Tawau, a few of which you can book online, but often there are promotions available when you walk up. One comprehensive website to check for hotels is http://www.etawau.com/Hotel/index.html which also lists prices. There are apparently no hostels in Tawau. Also, be aware that in many of the hotels the internet connection is sporadic, only available in the lobby, or not available at all. There is one gaming internet location in the hotel area called Command open til midnight.
Budget
Hotel Murah - RM41 for double room.
Hotel Monaco 2000
Mid-range
Kingston Hotel, TB4581 - 4590, Lot 6-15, Ground Floor,
Jalan Haji Karim, 91000 Tawau, Sabah, has decent double rooms for 77RM and up but bad wifi connection.
Heritage Hotel, TB 210-213, Jalan Bunga, Fajar Complex, Tel: +60 89 762222, (Fax: +60 89 767222, E-mail: info@heritagehotel.com.my), .

phone: +60 89 767 700, +60 89 766 699

address: TB30, Jalan Haji Karim

Newly renovated 10-storey 3 star hotel. Free internet and buffet breakfast. Central location with great views. Function rooms and shuttle to airport available. Rated as one of the best value hotel in Tawau!
Belmont Marco Polo Hotel, Jalan Clinic, Phone: +60 89 777 988. The best hotel in Tawau, large room with reasonable price.Comfort and clean pillows and beds! The location also strategic, at the town center of Tawau.
Heritage Hotel, TB 210-213, Jalan Bunga, Fajar Complex, Tel: +60 89 762222, (Fax: +60 89 767222, E-mail: info@heritagehotel.com.my), .
Stay healthy

There are a number of medical and dental clinics available. Majority of them only operate until 5PM but some open until 10PM. Klinik Famili have courteous doctors at 5 branches around Tawau and its branch at Kompleks Tanjung operate until 10PM everyday including weekend and public holiday. Other clinic, Sabindo and Sabindo Square open until 9 and 8PM respectively. Tow other clinic, Fajar and Jalan Paya opens until 5PM. In case of emergency, please contact 089-767878 during office hour or 089-760817 if you need help after office hour.
General Hospital Tawau has 24x7 ER department open to all who need it.

Go next