Taxco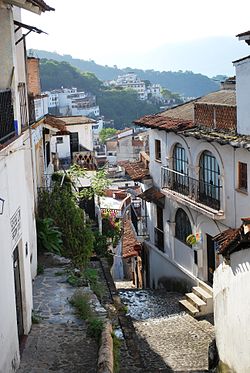 Taxco
is a beautiful city in
Mexico
built on a hill in
Guerrero
. It is rich with old and new silver mines in the surrounding areas with narrow winding streets and hundreds of silver shops. If you are looking for a side trip that is the place to go. Taxco is renowned for its more than 200-year-old baroque-style church, the Santa Prisca Cathedral.
Get in
It is off the toll way (Hwy 95D) but it is worth the drive, it is between
Acapulco
and
Mexico City
. There is regular bus service to the town from Cuernavaca by Estrella Blanca.
There are also buses there from Mexico City from the South Bus Station (Autobuses del Sur). A one-way ticket costs M$130 (
pesos
) and they usually leave every half hour. The bus will take you through very scenic mountain views and drop you off in the middle of the town. Since it is a mountain town, you can either walk uphill to the Zocolo (square) where many shops and the famous church are, take a taxi, or any bus that says "Zocalo".
The following serve Taxco:
phone: +52 55 5484-1800

address: De los Plateros 386, Centro

phone: +52 762 662-06-48

address: De Los Plateros 286, Centro

operates mainly between Mexico City and various places in Guerrero, Veracruz and Hidalgo states.
The last bus out of Taxco back to
Mexico City
is 8PM
Get around

Walking is the best way to get around Taxco and .
Taxis (Volkswagen Beetles) are relatively inexpensive (M$20-30). Collectivos or combis (Volkswagen Bus) are also a good option to get around town most go through the Zocalo and a local can help you find the right one.

See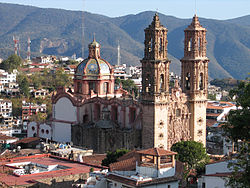 At the center of the city lies the Santa Prisca Cathedral and several museums housed in historic building surrounding it:
The Parroquia de Santa Prisca y San Sebastían

phone: +52 762 622 01-83

The architectural highlight and icon of Taxco is one of the most striking and beautiful baroque architecture in the New World built in the 1700s. There is a statue of Jesus at the very top of the town, called "Cristo." The view from up there is amazing.

phone: +52 762 622-66-34

address: Plaza Borda # 1, Real de Cuauhtémoc 1, Centro

Historic building built by Jose de la Borda in 1759, the building now serves as a museum and cultural center hosting an experimental theater and exhibits of sculpture, paintings and photography by artists from around Guerreo

Museo Guillermo Spartling

phone: +52 762 622-16-60

address: Delgado 1

The museum contains some pre-hispanic artifacts from the collection of an American sculptor and silversmith, William Spartling as well as some of his work.

Museo de Plateria (Silver Museum)

phone: +52 762 622-06-58

address: Patio de las Artesanías - Plaza Borda, 1
Ten kilometers to the south is Taxco el Viejo (Old Taxco). In pre-Hispanic times, the village was the most important area of the Mesoamerican indigenous community.
Do
Get a lot of exercise walking up the steep streets.
There is a gondola (teleferico) that can take you up to a fancy hotel called Monte Taxco, with great views and a decent bar/restaurant. There is not much else to see/do up there.
Taxco is known for its Holy Week celebration in April.
holy-week-in-taxco
Buy
Silver! There is very beautiful silver, mostly all engraved with "MEXICO 925" or "TAXCO 925" The silver shops away from the centro are where you can bargain. You will be charmed and ecstatic at all the beautiful silver, but will get tired of looking at it in 4 hours or less. You will also be approached by men, women, and children selling you items in the centro (plaza centrál). If you are not interested in being bothered, do not give them any eye contact. Once one finds you are slightly interested, all the other vendors will come try to sell their goods.
Reveka RoseWe specialize in top Mexican designer silver and gemstone jewelry.
Eat
Try the Pozolé. It is a soup-like dish of large corn pieces called hominy, pork rind/fat, avocado, and some crispy tortilla crumbles. Try it at the top of the hill above the small covered market which sells silver. It's cheap, tasty, and filling. It's a great dish to try if you want to experience Mexican food. Thursdays are the traditional pozolé days during which the red and green varieties are typically served. The white style is served the other days of the week.
For adventurous diners, try the
jumiles
, small edible insects that are harvested from November to February and sold in the markets of Taxco. Some healers attribute painkilling and healing properties to them. They are served on a tortilla as a taco.
jumiles-in-taxco
phone: +52 762 6271435

address: Avenida de los plateros 198

The Balbas Cafe next to Hotel Loma Linda has been voted the best cafe in all of Taxco. They serve sandwiches, crepes, full dinner meals, alcohol and coffee. The terrace in the back overlooking the mountains and the city is beautiful. Prices are cheap, around M$60 at most for any item, many are in the M$35 range.
Sleep
Hotel Casa Grande is the cheapest digs in town (US$15 for a single with shared bath). It is a 400-year-old building just off the Plazuela and is about a block from Santa Prisca and the Zocolo. Rooms are arranged around a courtyard, some are great, some are a little scruffy with semi-functional bathrooms, so ask to see a few. The rooftop terrace is really great for relaxing and looking out at the city.
For a little fancier accommodations the Hotel Santa Prisca is a beautiful place with a fountain and lush court yard.
The Agua Escondida is right on the Zocalo and has a nice pool. Ask for the cheaper rooms at M$350.

Mi Casita

address: Guerrero 1

Located off the plazuelita. Lovely inexpensive hotel with great views run by a nice family.
Connect
The restaurant of the Hotel Agua Escondido has free WiFi - ask for the WEP-Key or 'contraseña', in Spanish.

Go next
Caves of Cacahuamilpa (Grutas de Cacahuamilpa) is a protected natural area that is home to an infinite systems tunnels and caverns that connect to chambers and underground halls that were once used by the Chontales tribes to worship the gods of the underworld. You can explore the underground river from February through April. 30 km from Taxco. Open daily. Admission charged.
Zoofari Safari Park in Teacalco, Amacuzac, Morelos at Kilometer 55 on the Taxco-Cuernavaca highway. 1500 species of animinals, many in a natural setting. Access by automobile only, with taxis available in Amacuzac and Puente de Ixtla. Open daily. Admission MXN$199. Zoofari page in Spanish (March 5, 2019)
Iguala is an historic city of 110,000 35 km (52 minutes) south of Iguala. The treaty ending the Mexican War of Independence was signed there in 1821. Iguala is best known for its huge flag. The 19th-century church of San Francisco is worth visiting, and the lake (Laguna de Tuxpan is known for its beauty. You can buy gold in Iguala.
Chilpancingo is the capital of the state of Guerrero and its second largest city with 187,000 people. Chilpancingo played important roles in both the War of Independence (1810-1821) and the Mexican Revolution (1910-1921). There are prehispanic ruins in Chilpancingo also.
Acapulco is Mexico's premier resort city. Although it has been somewhat eclipsed by newer communities such as Ixtapan/Zihuateneo and Cancun, Acapulco still offers great beaches, fantastic hotels and restaurants, a rich history, exciting nightlife, and the breathtaking cliff divers.
Morelos State offers historical haciendas (many of which are hotels and restaurants open to the public today), colonial monasteries, prehispanic archaeological sites such as Xochicalco, and world-class water parks, in addition to its beautiful capital, Cuernavaca.Morelos (in Spanish)