Taxila
The ancient settlement of
Taxila
in the western outskirts of the twin cities of
Rawalpindi
and
Islamabad
is a
UNESCO World Heritage Site
; it is considered one of the most important archaeological sites of South Asia, and for good reason. There is a modern town with the archaeological sites scattered nearby.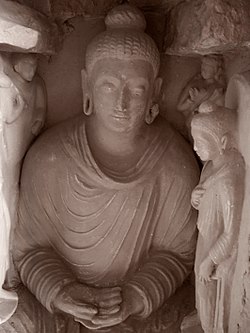 Taxila was originally
Takshashila
meaning the hill capital of the Takshakas, a bronze age (3rd and 2nd millennium BCE) tribe. In its glory days it was one of the main cities of the ancient Kingdom of
Gandhara
, which existed from roughly 1000 BCE to 1000 CE and included much of what are now northern Pakistan and
eastern Afghanistan
. What makes Taxila unique and fascinating is the mainly Buddhist art and architecture of the Gandharan period, though there are also a few attractions that date from earlier or later periods.
Taxila is easily the most important
Buddhist
site in Pakistan; it was a centre of learning from the 5th century BCE to the 5th century CE with many large monasteries and one of the earliest universities in the world. The city attracted monks, nuns, pilgrims and students from across Asia; even today it attracts Buddhist pilgrims from as far as
Southeast Asia
and
Japan
. However, it was never exclusively a Buddhist city; there is a Jain temple among the ruins and the Hindu scholar Pāṇini — who wrote the definitive grammar of Vedic Sanskrit — was certainly a Gandharan and quite likely worked in Taxila.
There is also much to interest modern non-Buddhists; almost anyone with an interest in archaeology, history, art or architecture will find the place fascinating. It was occupied by various empires and was a regional or national capital for many dynasties over the centuries. Persians, Greeks, Central Asians and Hindus have all left their marks on the area.
Understand
Taxila is on several trade routes which have been important since ancient times. It was one of the main centers from which Buddhism spread along the
Silk Road
, most notably to
China
and
Mongolia
. The main trade routes were:
going southeast, a route that even in ancient times connected Gandhara to the Ganges Valley. The Maurya Empire, 322 – 185 BCE, improved this into a good highway from Taxila to their capital in what is now Patna.
going west, the road to Peshawar (the other main city of Gandhara), and up the Khyber Pass to Kabul. Beyond Kabul, roads lead on west to Persia (now Iran) or north to Bactria and Central Asia.
Later those roads became parts of the
Grand Trunk Road
running all the way from
Chittagong
, now in
Bangladesh
to
Kabul
,
Afghanistan
. This was built by various Indian kings before the British arrived, was important through the
British Raj
, and is still a major road in four countries. Today Taxila is just off the Grand Trunk Road.
going north, multiple routes over different passes:
: via Kabul to Bactria as mentioned above
All these routes remained in use into modern times though the separation of India and Pakistan reduced trade on some routes, the pass north of Ladakh is not much used today, and recent troubles in Afghanistan have greatly reduced trade there. Today the region around Taxila remains well-connected to anywhere in Pakistan by road and rail, and the Karakoram Highway is an important trade route.
Excavations
British army engineer Alexander Cunningham excavated the area and discovered the ruins of an ancient city in the mid-19th century, and the renowned archaeologist John Marshall — who was at time the Director-General of the Archaeological Survey of India and was also behind the discovery of once-thriving ancient city of
Mohenjo-daro
— carried out excavations at Taxila over a period of twenty years between 1913 and 1934.
There is archeological evidence of early settlement in the area first by prehistoric neolithic people and later by the
Indus Valley Civilization
around 2000 BCE, but not of a city in those time periods. Taxila is mentioned as a city in the Hindu epic poem the
Mahabarata
, which describes events around 1000 BCE.
Guides
Around the archeological sites, self-deputized tour guides may offer to show you around. Frequently their English is not very good and they don't really tell you anything you can't read from the signs, then strongly imply that they want a tip. If you want some local color, go ahead, but otherwise tell them "no thanks" immediately. You may be approached by numerous "guides" at each site. In addition, people selling trinkets like small statues and allegedly old coins may come up to you.
The main excavated ruins are all from Taxila's glory days, after 600 BCE. They are divided into three major cities, each of which belongs to a distinct time period:
#The oldest area is Bhir Mound. Bhir and the nearby Hathial mound date from the 6th century BCE when the Persian king Darius took Taxila, and belong to the Achaemenid Empire or First
Persian Empire
.
#The second city is Sirkap, which was built by the Greco-Bactrian king Demetrius in the 2nd century BCE.
#The third and last city is Sirsukh, which was founded by the Kushan king Kanishka after 80 CE.
Later Taxila gradually waned in importance, and the town was eventually destroyed by nomadic Hun tribesmen in the 5th century CE.
For a more detailed history, see the
Guide to Historic Taxila
online at the Pakistani government's national heritage site.
Get in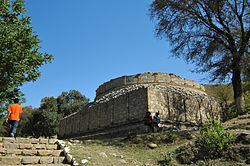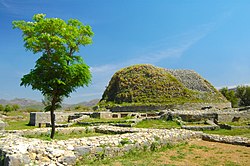 Pakistan's longest highway N-5, which runs between the southern city of
Karachi
and the northwestern city of
Peshawar
, also passes by Taxila, making the town easily accessible from anywhere in Pakistan. The nearest major cities are
Rawalpindi
and
Islamabad
, both of which are less than 50km away, and it is quite feasible to base yourself in either and visit Taxila on one or more day trips. See those city articles for more information.
If you hire a taxi from Rawalpindi or Islamabad, make sure the taxi driver is familiar with the locations of sites in Taxila; otherwise, be prepared to hire a local taxi driver from Taxila who knows the sites well.
Air-conditioned buses mostly bound for major cities such as Peshawar and
Abbottabad
can drop you at Taxila but charge full fare, whereas non-aircondioned buses and vans leave at intervals of no more than an hour from Rawalpindi. May not be very comfortable but cheap. Buses from Rawalpindi usually leave from Pir Wadhai and Saddar otherwise you can always take transport moving towards Taxila on the
Grand Trunk Road
.
Taxila railway junction near the museum building serves the town. Two daily trains, both non-airconditioned, make brief stops at the railway station. Awam Express runs between Karachi and Peshawar while the Hazara Express runs between Karachi and the scenic town of
Havelian
. Both are economy-only trains without air conditioning which make a lot of stops at stations along the route, so the can be journey uncomfortably long. Both trains leave from Karachi early in the morning around 6 and reach Taxila around noon the next day. An economy class seat on either train can cost less than Rs 1,500.
If you are travelling from southern Pakistan, particularly Karachi, a better option is to first travel to Rawalpindi on an air-conditioned train and then travel to Taxila either by road or train. A quick train journey from Rawalpindi is not a bad idea as well.
Get around
Ruins and structures of archaeological sites are spread over a vast area of 20 to 25 km 2 scattered around the modern town of Taxila, but most of the main ones are close to town around the museum building - within 2km - which is your first stop when starting a tour of Taxila and is likely the last one when you finish the tour. Taxila has a good network of paved roads, and most of the sites are easily accessible by road.
Taxis, auto rickshaws and
tangas
(horse-drawn carriages) can be easily hailed near the museum. Tangas and auto rickshaws are convenient for getting from one site to another, keeping in mind the long distances between the sites which make walking difficult and time-consuming. Most of the sites are off the main road and are properly marked, so even if you're in your own car, you won't have a problem in locating the sites. A
GPS device
can make things even easier. From a vehicle, most of the sites can be seen with in couple of hours; if you're walking, it could perhaps be done in one very hectic day. A taxi can be hired for as high as Rs 2,000 to see most of sites whereas a rickshaw can cost around Rs 1,000.
See
The Kingdom of Gandara had its own unique style of art, and many of the best examples are at Taxila.
In its heyday the region was predominantly Buddhist; for a time in the 3rd century BCE it was part of the Empire of Ashoka, India's greatest Buddhist king. However, it was also very strongly influenced by the Greek culture of Alexander and his Graeco-Bactrian successors who also ruled the area at various times. The best-known art objects are Buddhist statues and rock carvings, with Greek influences often clearly visible in the style.
World Heritage Sites

There are some three dozen large and small sites which include stupas, monasteries, and other ancient buildings spread out over a wide area. The UNESCO World Heritage
listing for Taxila
includes 18 of these and assigns a unique identification number to each. The 18 are:
Khanpur Caveis a Mesolithic period archaeological site which reveals that Taxila was inhabited in prehistoric times. The 10ft deep and 25ft wide Mesolithic period cave high up on the hill and has produced microlithic made tools as well Buddhist stupas and monastries.

Sarai KalaThe mound of Sarai Kala has evidence of the earliest prehistoric settlement, in the Mesolithic period, and also later Bronze age and Iron age settlements. It preserves Neolithic remains going back to 3360 BC and Early Harappan (Indus Valley Civilization) remains of 2900-2600 BC.

Bhir Moundis an archaeological site which was once a major city founded around the 6th century BC, the oldest ruins of a city at Taxila. The oldest part of ruins, from the 5th and 6th centuries BCE, are believed to be the remains of Persian/Achaemenid Taxila. Later ruins are from the 4th century BCE, after the invasion of Alexander the Great, and the 3rd, during the time of the Maurya kings of India. There are also some ruins from after the Mauryan period.

SirkapThis was once a major thriving walled city. It was founded by the Greek king Demetrius I in the 2nd century BCE and was later rebuilt by king Menander I of the Indo-Greek kingdom. Sirkap houses a round stupa which is one of the oldest stupas in the Indian subcontinent, a large sanctuary building known as Apsidal Temple, a magnificent Double-Headed Eagle Stupa as well many houses.

SirsukhThe fortified ruined city of Sirsukh was once a major city, and was among the last ancient cities of Taxila. The city was founded by the Kushan king Kanishka the Great after 80 CE.

Dharma rajika stupa and monasteryThe Buddhist stupa at Dharma rajika is also known as "Chir Tope", and is the largest stupa at Taxila. It is believed that this 15-meter-high circular structure was built during the 3rd century BCE by the Maurya Emperor Ashoka The Great. The area also has Gandhara-style monasteries and some smaller stupas. It is one of the well-preserved and important sites.

Khader Mohra (Akhuri)Limited excavation shows marks of a monastery foundation.

Kalawan group of buildingsConsists of some stupas and monastic cells as well few caves.

Giri complex of monumentsConsists of Buddhist monasteries, a mosque, a tomb and a Middle Ages period fort.

Kunala stupa and monasterycontains the remains of an extensive monastery and a stupa nearby.

Jandial complexContain the ruins of a Greek temple and is believed to have been location of a Zoroastrian (Parsi) tower.

Lalchak and Badalpur Buddhist stupacontains the ruins of some mounds that reveals some monasteries, stupas and chapels.

Mohra Moradu stupa and monasterya well-preserved complex where there are the remains of two Buddhist stupas (one main and other one votive) and an ancient Buddhist monastery. The city is believed to be from the Kushan age as it was built in the 2nd century CE and later renovated in the 5th century. The double story monastery building is an impressive structure which consists of 27 rooms for students, a pool, kitchen and assembly hall.

Pippala stupa and monasteryconsists of the ruins of a stupa and a monastery.

Jaulian stupa and monasteryFifth century CE ruins on a hill with a Buddhist stupa, a Buddhist monastery and what is believed to have been a university. The courtyard and foundation of ancient buildings are still well-preserved which make it an important site.

Lalchak moundConsists the remains of a stupa, and monastery.

Buddhist remains around Bhallar stupalocation of where there was an impressive Buddhist stupa.

Giri Mosque and tombscontains the remains of few tombs, a three-dome mosque and a madrasa (Islamic school) from the 10th-14th century CE. It was known to Persians as the Madrasa of Margalla.
Others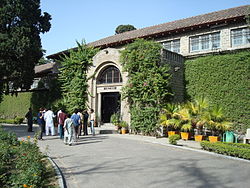 Taxila MuseumThis century old museum is dedicated solely to the remains of the Gandhara civilisation. It has an extensive and impressive collection of Gandhara art such as stone Buddhist sculpture, and has thousands of objects on display. Most of the artifacts were excavated around Taxila and date from the period 600 BCE to 500 CE. The museum gives a good overview of Taxila and is certainly worth a visit.
While Taxila is the main source for Gandharan artifacts and the Taxila Museum has a fine collection, it is not the only such collection. In Pakistan, both the
National Museum
in Karachi and the
Lahore Museum
have much Gandharan art. In Kipling's novel
Kim
the Tibetan Lama comes to Lahore mainly to see the Gandharan sculpture in the museum there. Outside Pakistan, India's
National Museum
in Delhi and the
British Museum
in London both have some Gandharan art.
The huge Buddhist statues at
Bamiyan
were another famous example of Gandharan art. However, Taliban considered them idolatrous and un-Islamic, so they destroyed them almost completely.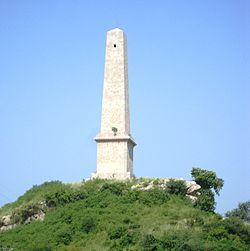 Nicholson's ObeliskCaptain John Nicholson, from Ireland, was one of the most colourful characters of the British Army in Victoria's time, a much-decorated officer and an effective administrator, but also a bit of a madman. He hunted tigers armed with only a sword and personally went after one bandit chief, cut off his head, and kept it on his desk for months as a warning to others. At one point he learned of a plot to poison the British officers, hanged all the cooks, then calmly proceeded to dinner.

During the Mutiny of 1857 Nicholson planned a bold attack on Delhi, and bullied the aged and conservative General in charge into approving it. He was shot while leading the attack and died a few days later, aged 35, but the British took Delhi and ended the mutiny. The British considered him a major hero, and some of the natives (much to his dismay) treated him as a rather odd sort of saint, creating a cult of "Nikal Seyn" which lasted well into the 20th century. His tomb is in Delhi and there are statues in both Delhi and Ireland, but this monument is on the frontier where he spent most of his career.
Buy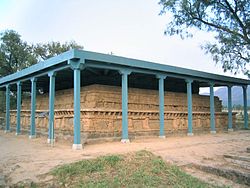 The unique souvenirs of Taxila are mirrored objects; the "disco cat" is the most popular. This is a plaster statue of a cat or panther, covered in small square pieces of mirror, much like a disco ball. They make a great conversation piece or gift. Sizes range from 1 foot to 3 feet and prices from Rs 500 for a small one to Rs 2,500. Among other popular souvenirs are statues of Buddha, artifacts, coins, trinkets, pots and many replicas.
You'll find locals and many shacks selling these souvenirs outside the museum, along the highway and outside of various sites. There are plenty of shops lined up on Taxila Rd where you can buy many kinds of souvenirs as well. Post cards, photographs and books on Taxila can also be purchased both from the gift store and local sellers. Taxila is also known for good quality but low-priced mortars and pestles.
Eat and drink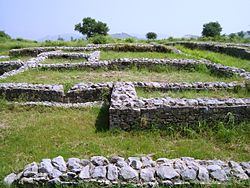 As Taxila is quite a large town, modern eateries are plentiful and basic Pakistani food can be found anywhere in town, mostly concentrated on Khanpur Rd, near the railway station and outside the museum building. There are also plenty of roadside dhabas on main G.T. Rd, Khanpur Rd and near archeological sites, serving street food from fish to kebabs. A few recommendations are:
Food City Taxila

address: HMC Rd, Near Overhead Bridge

Serve delicious Pakistani dishes, Bar BQ as well as seafood.

Royalson

address: Grand Trunk Road

Restaurant with pleasant ambience inside the Hotel Royalson, has some mouthwatering Pakistani and Chinese dishes on the menu.

address: Near UET

A fast food restaurant popular among foreign tourists to Taxila.

Gandhara hotel and restaurant

address: Khanpur Rd

Serves some of the most delicious Pakistani food and fried fish in town.
A few other establishments that serve basic but hygienic Pakistani food are Sherazi Restaurant, Dream Land, Krispo fast food, all on Khanpur Rd, or Hang In, Kabli Hotel and Valley Food scattered along the National Highway within the town limits.
As in other Pakistani cities, any decent restaurant will be happy to serve you good chai, juice or coffee.
Sleep
Given that Taxila is close to the twin cities of
Rawalpindi
and
Islamabad
, where there are a plenty of options to stay, there are few lodging facilities in Taxila as majority of visitors visit Taxila as a day trip. But for those who decide to stay, here are some recommendations:
PTDC MotelGovernment-owned motel with six spacious room and a good restaurant, adjacent to the museum.

Royalson Hotel

phone: +92 51 454 8400-15

address: GT Rd

A recently opened accommodation in town with a good in house restaurant serving delicious Pakistani Bar BQ. It has quite spacious rooms equipped with basic amenities.

phone: +92 51 4539982-4

address: Quaid Avenue, Wah Cantt

Owned and run by a Government-owned corporation in the adjacent military town of Wah Cantt (Cantonment). Has spacious rooms equipped with basic amenities.

Youth Hostel

phone: +92-51-9314278, +92 343-9291552

A budget and basic accommodation with some 30+ beds, run by Pakistan Youth Hostel Association. Non-members can stay as well.
Go next
Murree — a popular hill station and summer resort just 100km northeast.
Abbottabad - also in the hills, but not as high as Murree and a larger town