Tayrona National Park
The popular
Tayrona National Park
lies on the Caribbean coast near
Santa Marta
in
Colombia
. It has some of South America's loveliest coastline. This little, delightful spot has beautiful beaches, hammocks to rent for the night, food, water and surf (be careful, though; there is a strong riptide - experienced surfers only!) Additionally, you can get a guide to take you to a native village in the nearby mountains.
Understand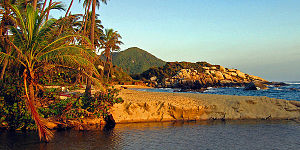 History
The concession of the Tayrona National Park was created in 1964 and it is on the Caribbean Coast in the north of Colombia, 34 km from the city of Santa Marta. It has not only an immense natural importance in this region, but it is also a cultural treasure. A long time ago, small groups of hunters and gatherers inhabited the park, and towards the 6th and 7th centuries, the coast and the mountain of the park were inhabited by the famous Tayrona tribe. You can admire their culture nowadays, because the Koguis, their direct descendants, as well as three other indigenous groups, still live in these areas and they maintain many of their traditions.
Landcapes
Flora and fauna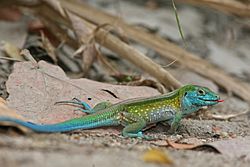 The park offers a big variety of flora and fauna because it includes two ecosystems between the mountain and the sea. It boasts fascinating wildlife including black howler and titi monkeys, red woodpeckers, iguanas, jaguars (which are rarely seen as they hunt at night), a variety of lizards, tropical marine life, and more than 400 species of birds, such as eagles, condors and the odd pet parrots kept at the restaurant at Arrecifes.
The vegetation is characterized by the ecological influence and the rain depending on the sector, from tropical dry forest to coral reefs.
Climate
The temperature varies between 25°C and 30°C, depending on the location and elevation. There are two rainy seasons from May to June and from September to November. The climate is temperate and hot.
Get in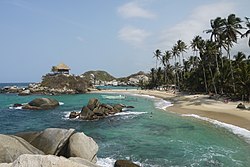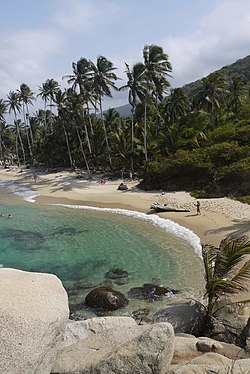 By bus
From
Santa Marta
take the bus from the corner of Calle 11 with Carrera 9, by Mercado Público. It leaves about every half hour and costs COP$8,000 (June 2019). Ask the bus driver to drop you off at the park entrance, it is about one hour and can't be missed. From the park entrance it is another 4 kilometers to Cañaveral. You can either walk, take a van for COP$3,000 (June 2019) or try to hitch a ride. From the entrance to Arecifes is about 1.5 hours on foot, but you can see monkeys and other wildlife along the way.
By car
A taxi from Santa Marta or Taganga might be an alternative for groups of 3 or 4 persons. It should cost around COP$70,000.
GPT offers low emission rides from Santa Marta to the Tayrona Park and other destinations in this area.
By boat
From Taganga there is a daily boat leaving early in the morning at about 9:30AM to El Cabo San Juan and returning at around 3PM. The 1 hour boat ride can be really rough in the open ocean. Protect your belongings with plastic bags, because especially in the back of the boat you get all wet. There is a fix price of COP$50,000 each way. The entrance fee has to be paid at the beach. The boat drops you straight at El Cabo, so if you are planning to stay there it is ideal. You can always take the boat to El Cabo and spend some time trekking to the end and then getting a bus out.
With a large number of people it might work out cheaper to rent a boat from Santa Marta or Taganga. You get dropped off at one of the park's beaches and this way you avoid the entrance fee.
Fees and permits
The entrance fee is COP$54,500 for foreigners, COP$16,000 for Colombian citizens and COP$8,500 for students (you must bring student ID AND copy of passport to prove you are 25 or under) and children from the age of 5 to 12. The entrance can be booked in advance on the park
website
. That allows to avoid the queue at the entrance and to be sure to be able to enter in the park since the number of entrances are limited. Bags and personal belongings are checked for drugs and glass bottles at the park entrances.
The prices for food and water are very high inside the park compared to Colombian standards. For example a can of coke costs COP$3,000, a beer COP$5,000 and a 5-liter bottle is COP$7,000, although prices do vary from site to site (Cabo is a bit cheaper, Arecifes a bit more expensive since many more people stay there).
Get around
A jeep or other vehicle can be caught from El Zaino entrance which will take you to the start of the hiking trail. Mules and donkeys can be hired to transport you and your luggage to Arrecifes, but are mostly used for transporting groceries (fruit, food, drink and water) to the local restaurants in the park. The walk to Arrecifes is about 45 min-1 hour, depending on how much you stop to observe the local fauna and flora. It is recommended that hiking boots or trainers are worn for the duration of this walk, as it can get really muddy and slippery during the rainy season.
The walk from Arrecifes to La Piscina is about 15-20 min, the majority of the walk is along the beach and sea edge with some palm forested areas. The walk from La Piscina to El Cabo is another 30-40 min, but well worth it once you arrive.

See
El ZaínoMost of the tourist attractions are located in the east of the park. So everybody has to enter the park through the gate of El Zaíno. It is on the highway between Santa Marta (36 km), Palomino (63 km) and Riohacha (134 km). At the gate unofficial guides are offering cheaper prices for tours. But most of the tours can be done on your own anyway.

CañaveralCañaveral is the only place which can be reached by car. A jeep or truck is running on this 4-km-long road for COP$2,000 per person. In Cañaveral there are a camping ground, exclusive cabanas and a restaurant. The beach is nice, but sometimes dangerous for swimming. The beach of Castilletes is a little off the road with the first accommodations in the park at the beach.

ArrecifesArrecifes is the place with most of the good budget accommodations. It is as 45-min hike from Cañaveral to reach there. If you don't want to walk all the way you can go by horse (COP$20,000) or rent a donkey to carry your luggage. The beach is nice but dangerous for swimming. Instead head another 10 min to La Aranilla or 20 min to La Piscina.

La PiscinaLa Piscina is the safest place to swim and a great beach to hang out. It has a beautiful accommodation where you can enjoy your stay in Tayrona National Park.

El Cabo San Juan de la GuíaA pair of spectacular beaches separated by a rocky outcrops. There is a large campground and restaurant that serves breakfast, lunch and dinner, which is surprisingly good and affordable. Besides there is also a basic but exclusive two-story wooden bungalow for rent on the rocky point. From La Piscina it's a 10-min walk and from Arricifes around 30 min of easy hiking.

El PueblitoAn archaeological site similar to Ciudad Perdida only much smaller in size. It is a 1-2 hour uphill walk from El Cabo.

Since March 2019 the path to El Pueblito is closed, a local restaurant owner said it will be closed for the next 10 years (unverified).
Do
SwimmingIn La Piscina a reef in front of the coast forms a natural swimming pool. Other than Arrecifes it is safe to swim here.

SnorkelingSnorkeling at El Cabo is also a great pastime, provided the visibility is good. A variety of marine life including tropical fish can be seen nearer the rocks and on the reef further out into the ocean. It is recommended to bring one's own snorkeling gear.
Eat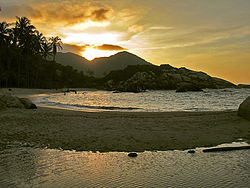 Food in Tayrona is a bit more expensive than other places in Colombia, especially considering the meals' quality. An average meal in the park can cost COP$30,000. A seafood-focused menu, the costs of transporting ingredients to the park, and marking up for tourists means eating on the beach is not cheap.
Travelers can get food from the different native or local restaurants present in Arrecifes, El Cabo and La Piscina. There is a variety of sea food, such as the tropical fish plate with rice and salad. Seafood dishes are also usually served with pataconés (fried plantain). Similar to bananas, plantains are usually firmer and not as sweet, with a neutral flavor like a potato. They are usually cut, fried and smashed into small pancake shapes, when they are fried again and served with food or as a snack on their own.
The local restaurants have a varied menu which includes breakfasts (with scrambled egg as the basis) seafood, meat (particularly steak and chicken), chips (papas fritas) and pastas. It is advisable to get in early, to avoid the disappointment of being told the restaurant is out of the meal you requested. Meals are ordered and paid for before receipt.
Between La Piscina and Arrecifes you can find a bakery called Panaderia. There they sell freshly made bread with cheese and chocolate filling. During the day someone travels through the park and sells some of the baked goods, if you are lucky you can catch them for a nice breakfast at the beach.
Jenna - On the hike from the entrance to Arrecifes, there is a campsite just before you reach Arrecifes. Here they make fantastic bread with chocolate or dulce de leche (caramel) baked in and it only costs COP$2,000.
Drink
The restaurant at Arrecifes sells delicious freshly squeezed juices. Try a fruit juice mix of 'lulo' (a fleshy yellow fruit indigenous to the Caribbean coast)and banana or maracuya (a local brand of grenadilla or passion fruit).
Sleep
When you arrive at the park entrance, you may be approached by several persons offering you information; however, their main goal is to sell you accommodation. If you know where you want to stay, pre-purchasing accommodation will guarantee there is room for you but, despite what they may tell you, is not required.
Cañaveral
Arrecifes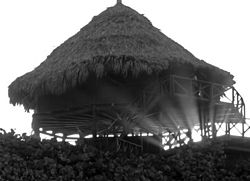 El Cabo
Other destinations
Stay safe
It is prohibited to swim in the sea near Arrecifes due to the danger of strong riptides.
It has been known for local thieves to listen to see if people are asleep in their tent and then open the tent and steal what they can find. Make sure to either use the lockers, keep valuables close to your person or do not bring them at all.