Teknaf
Teknaf Upazila
is the southern-most city on the mainland in
Bangladesh
, on the narrow strip running along the coast of
Myanmar
. It's a dusty featureless frontier town - this is remote Bangladesh and it feels like it. Electricity can be scarce, so having a flashlight for the dark evenings is wise.
Get in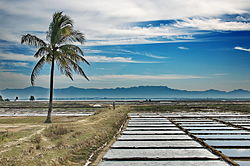 Buses running from Cox's Bazar (Tk 70-120, 2 hours) are crowded and pass through nice scenery as you get closer to Teknaf. If you're trying to head straight to Saint Martins Island and don't want to stay the night in Teknaf, try for a 6AM bus from Cox's Bazar and specify which ferry port you want to get off at - you may make it.
You can take a bus straight from
Dhaka
to Teknaf.
Saudia: Leave at 8.30PM daily (to Dhaka 6:30PM)
S. ALAM: leaves Dhaka daily at 10:30PM (to Dhaka 6:15PM)
The main ferry port is about 5 km north of town on the road to Cox's Bazar. Eagle I leave from here at around 10AM daily.
Keari Sindbad (+8801727 266077) has its own port about 3 km further north from the main port on the same road. Their service is a little more reliable and costs about the same. The ferry leaves at 9:30AM daily (during peak season, or Thursday & Friday only during off peck season), then leaves Saint Martins Island around 3:00PM. Roundtrip tickets to Saint Martins Island run Tk 650 for main deck, 700 for open deck and 750 for bridge deck.
Get around

Auto-rickshaws (babytaxis) can be found near the bus stop. To the main ferry port should costs Tk 50 and to Keari Sindbad's port Tk 70. Cycle-rickshaws may be cheaper but the road north can be steep and you'll end up walking a good deal of the way. Using the Bangla word "Bondor" (port) will yield the best results, but beware that "bandor" means monkey, so choose your vowels carefully.

See
Take a walk over the bridge, passing the river filled with colorful fishing boats, makeshift houses filled with curious children, and beautiful farmland looking out towards Myanmar, dotted with patrolling soldiers.
Teknaf beach is a large beach about 5km west of the center of town, very popular with locals at sunset. It's much quieter than Cox's Bazar, though the 50+ motorcyclists racing back and forth along the shoreline won't help you to relax, nor will all of your new friends. There's a small snack shack where the road meets the beach.
Buy

There's a market down the road behind the bus stop and over the bridge in which can be found goods smuggled from Myanmar, possibly even beer.

Eat

There's a largish restaurant tucked behind the bus stop that serves decent food at decent prices, and several more similar restaurants along the road behind the bus stand en route to the bridge. None are signed in English.

Drink

Inquire at your hotel or at one of the local restaurants and you may be able to score some beer from Myanmar.

Sleep
It's likely that you'll have to spend a night here en route to Saint Martins Island, since the ferries leave so early.
Sky View Hotel

address: across from the bus stop

It's dark and musty, but probably the best budget option.

Hotel Raj Mahal

address: north of the bus stand on east side of street

Hotel Hilltop

address: north of the bus stand on west side of street

Another cheap option, it's tucked back off the street a little so might be quieter than some others.

Hotel Dip Plaza

address: a little south of Sky View

A little larger, cleaner and more expensive than Sky View.

Hotel Ne-Taung

phone: +880 1911 346427

address: across the road from Keari Sindbad port

This government owned hotel is the nicest in the town, and it's right near the Keari Sindbad port, so handy if you're not interested in staying in the town itself. It's also got a decent restaurant.
Go next
Saint Martins Island - a beautiful tropical island and one of the most relaxing places in the country - this is likely the reason you're in Teknaf in the first place.
Myanmar may be tauntingly close, but it's illegal to cross by land from Bangladesh, and highly unwise to try - the army has planted landmines to ward off illegal crossing and smugglers.