Tel Aviv/North
North Tel Aviv is the wealthiest area of the city, and one of the wealthiest places in all of Israel. This area extends from the northern border of the city to the Yarkon River. This region is very green, quiet, and suburban compared to the rest of Tel Aviv. The Yarkon Park, Tel Aviv University, and some important museums are located here.
Get in
By train
address: 95 Rokah Blvd

Close to the university, Yarkon park, Expo Tel Aviv (Israel Trade Fairs & Convention Center) and "Luna park" (an amusement park).

Bnei Brak StationThis station is closer to the Ramat Ha'Chayal area, but requires a 10 min walk through the Yarkon park.
By bus
The best way to arrive from within Tel Aviv to the north is by buses. Some of the major buses are: 13, 24, 25, 47, 48, 89, 189. They go all the way from the south to the east and can get you close to most attractions in the area.
By car
You can enter via the Ayalon (the main highway) or through Namir road (the continuation of highway 2). However, especially during the morning you should avoid entering Tel Aviv by car as many commuters are jamming the roads.
See
Museums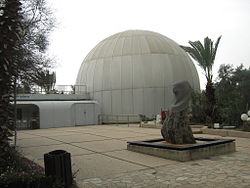 phone: +972-3-6415244

address: 2 Haim Levanon Street

History, archaeology and culture - includes the archaeological site of Tel Qasile, the remains of an early Philistine settlement. In addition the museum has a Planetarium.

phone: +972-3-6408000

address: Tel Aviv University Campus, Klausner Street

This multimedia museum tells the story of the 2000 years of Jewish life throughout the entire world. It's less about history and more about people: how the lived, worked, celebrated or prayed. A must-see if you like to know more about Jewish heritage. The museum is situated inside Tel-Aviv University campus, so you can walk around a bit to see how the Israeli student looks like. The university gallery sometimes features interesting exhibitions. The newly built Smolarsh Auditorium is nicknamed The Atomic Reactor, due to its strange shape; the red-brick synagogue is referred to as The Petrol Distillery because its resemblance to the country main distilleries north of Haifa.

phone: +972 3 745-3322

address: 8 Chaim Levanon

A museum dedicated to the life of Prime Minister Yitzhak Rabin, and the political and social development of Israel as a whole. The center is involved in educational activities, which mostly help young Israelis prepare to contribute to a democratic and tolerant society.

address: 10 Haim Levanon

The most interesting and gripping of Tel Aviv's military museums, it teaches the history of the Palmach, the main elite branch of Israel's military in 1948. There are no traditional exhibits, rather, you experience a 90 min interactive presentation as part of a group.

Steinhardt Museum of Natural History

address: 12 Klausner

Opened in summer 2018, mainly aimed at children, various fauna & flora and eco-exhibits.
Other
Do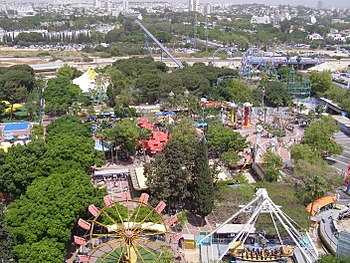 The beach - North Tel Aviv has some nice beaches which tend to be less crowded than the beaches in Central Tel Aviv. From north to south:
Cliff beachThe poshest beach in Tel Aviv, where you might run into Israeli celebrities. There is a sandstone cliff running just behind the beach, and above it are sand dunes. This beach used to have an entrance fee, however that may no longer be the case.

Tel Baruch beachSandwiched between the sea and the Sdeh Dov domestic airport, this beach can be reached from its north end (Tsvi Propes street) or south end (Yarkon Park). It is popular with families.
Buy
Ramat Aviv MallOne of the biggest and most popular shopping centres in the city. You will find here all the major brands, from Tommy Hilfiger to Calvin Klein, in addition to some Israeli brands. There is also a good food court with a nice selection of fast food chains. In line with the neighborhood, this mall as a bit upscale compared to other Tel Aviv malls.

address: Raul Wallenberg 20

A recently opened indoor market. Its stalls sell raw food materials as well as prepared dishes. It caters to workers of the nearby Ramat HaHayal office park, as well as residents of the upscale nearby neighborhoods.
Eat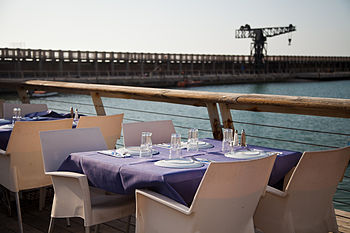 Most restaurants are located in business area.
phone: +972-3-6498080

address: 2 Raul Wallenberg

Stylish and trendy restaurant offering sushi and other Japanese and Asian dishes.

phone: +972-57-9442870

address: 18 Raoul Wallenberg St

American diner, with hamburgers, buffalo wings and steaks plus TV sports.

phone: +972-3-6476661

address: 19 HaBarzel St.

Popular and inexpensive chain restaurant, offering many dishes from various Asian cuisines.
Drink
Leo Bloom's

address: 24 Raul Wallenberg

The second most famous Irish pub in Tel Aviv. A meeting place for the northern Tel Aviv youth and visitors.
Sleep
There are no budget options available in North Tel Aviv.
phone: +972 3 7706666

address: Herzl Rozenblum 12

Upmarket resort hotel on the cliff above Tzuk Beach. Northern edge of city several km from other attractions. Food is not kosher.