Telavi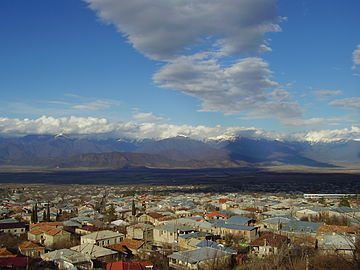 Telavi
(Georgian: თელავი), with a population of 21,800, is the capital of the province of
Kakheti
in the country of
Georgia
.
Understand
Located within the Alasani valley and besides
Sighnaghi
, Telavi is an important regional tourist centre with many accommodation options; it serves as a base for trips (churches, wineries, parks) into the rest of the region. Nevertheless, it is also great for a day trip from Tbilisi. The similarity of the city's name to
Tel Aviv
is often used in Georgian jokes.
In the 2nd century, Telavi was first mentioned as Teleda on the world map
Geographike Hyphegesis
of the Greek geographer Ptolemy. The name originated from the Georgian word
Tela
, meaning elm. Under Kwirike the Great and during the 9th century, the city became the capital of the kingdom Kakhati-Hereti. The city developed into an important Georgian trade centre until the 12th century, due to its convenient location near the silk road. King Artshil II. made the city capital of the Kakheti region and built his palace and fortress here.
Tourist Information

phone: +995 350275317

address: Erekle II. St. 9
Get in
By marshrutka
There are 3 marshrutka stations:
Main marshrutka stationE.g. for Tsinandali, 8 km east of Telavi, 0.5 lari; taxi: 5 lari. Although Sighnaghi and Telavi are close to each other, there are only 1-2 marshrutkas a day, so check the schedule beforehand. Your best bet in that case would be hitch-hiking instead, which is rather easy along the "highway".

Marshrutkas heading to Alaverdi Monastery

Marshrutkas heading from/to TbilisiFrom Tbilisi, marshrutkas depart more or less hourly (at least 09:00 and 10:00, but there many more throughout the day) from the Ortachalla station (in front of the station). 10 lari, takes up to 2½ hr (especially when by near Sighnaghi and through Gurjaani before heading to Telavi).
By car
There are two options to get to Telavi from Tbilisi. One is highway no. 5 and no. 42 by Gurjaani, about 140 km. The shorter and newer option is highway no. 38, departing shortly after the Tbilisi city border near Vaziani north from highway no. 5, about 70 km. The latter one is via the Gombori Pass and notably shorter, even though not much faster due to the many turns and serpentines. In winter and with snow it is recommended to take the longer route.
The road between Akhmeta and the Georgian Military Highway, via Tianeti, can only be done by 4WD.
Get around
The city is small enough to be walkable. However, visiting the neighboring sites requires the use of further marshrutkas and/or taxis.
Whereas seeing one or two sites (e.g., the fortress/palace and nearby Alaverdi Monastery) can be a one-day activity from
Tbilisi
, it is best to stay several days in Telavi to fully enjoy the surroundings (including
Tusheti
and
Sighnaghi
).
See
Palace of King Erekle II

address: 1 Erekle II street

Palace of the ruler of Kakheti Kingdom between 1744 and 1798, and afterwards fortress and seat of Kakheti Kingdom through the centuries. The palace inhabits influences of the nearby neighbour in the south, Persia. Southeast of the palace also the King Erekle II on a horse monument can be found.

900-year-old Plane tree

address: Chadari street

46 m in height, and 36 m in diameter at the top. Likely the oldest living thing you will hug in your life. This tree has an unusually large circumference and in summer provides shade for the local (friendly) street dogs. The local people call it Chadari.

St. George Church

Cholokashvili StreetBeautifully renovated street/old town. Not very busy during low season. The renovation is considered critically by some, because it does often not resemble the original version and many of the buildings behind are left untouched and thus continue to fall apart.

Russian Era Monument

address: Kartuli Universiteti St.

Here you find the 40-50 m high St. Barbare, which appears to be a monument for the fallen soldiers
Close-by sights that can easily be reach by marshrutka or taxi are Alaverdi Monastery, Ikalto Monastery, Shuamta Monasteries, Tsinandali and even Gremli – see
Kakheti
.
Do
Telavi is part of the popular
wine route
, see
#Drink
.
Buy
Different sorts of wine in the small wineries as well at manufactures, handmade crafts are very beautiful, take some picture in the local gallery.
Eat
Several restaurants on the main street, majority of them located on the basement level.
phone: +995 593 15 27 13

address: Nadikvari street

Lovely spot with the lower floor café-style and upper floor for dining, and a terrace too. They serve typical Georgian food and foreign dishes too. Reasonably priced and some of the staff speak English.
Drink
Kakheti is Georgia's most famous wine region, so Telavi is perfect for sampling some. The tourist information (along Erekli 2 street) has an overview of all the wine cellars and companies in and around Telavi, and maps of the region if you have your own car.
A good starting point is the shop close to the big Plane tree and the statue in Telavi itself. The staff speaks fluent English, they sell wines from a number of wineries and they have information and prices for different tastings you can do. They can also organize a driver to take you there.

Sleep
Numerous homestays have opened up in Telavi. Many Kakhetian houses are quite large and are traditionally home for both the family of the wife and the husband. If part of the family moves out, the resulting empty floor is used by guests. There are also a few traditional hotels, and a couple luxury resorts too.
Budget
Hostel Ajime

address: Eristavi, 19

Several guests per room, but no bunk beds. A very rustic feel, with a wood stove for heating. Pretty basic kitchen and bathroom. Good atmosphere, cheerful owner.

Guest House Lilia

address: Akhvlediani Street 44

Very friendly homestay. Modern bathrooms with decent water pressure. The upper floor is just for guests and you can use the kitchen and the balcony there.
Mid range
Alazani Veli und Kahketian Yard

phone: +995 350274144

address: Alazanis Gamziri 74

Two hotels with the same owner, closeby each other.

phone: +995 595500155

address: Alazani Avenue 75

phone: +995 570506030

address: I. Chavchavadze Str. 154

The Rcheuli chain offers decent mid-range hotels including restaurant in many Georgian cities.
Splurge
phone: +995 790557045

address: Kisiskhevi

A modern winery including a small and up-scale hotel. Contact details see kitchen sub-site.
Cope
Go next
Besides the close-by sights mentioned under
#See
, the following are popular destinations from Telavi:
Sighnaghi – A restored wine town with an extensive wall and close-by the popular Monastery of St. George at Bodbe (aka Bodbe Convent).
Gurjaani – One of the centres of Georgia's wine industry. Landmarks include the Church of the Dormition aka Church of All Saints (Kvelatsminda; 8th-9th century).
Tusheti National Park – A mysterious, remote region high in the mountains bordering Chechnya with ancient pagan and Christian monuments; to go here is to wander back in time hundreds of years. Famous for its historic towers.
Pankisi Gorge – The gorge is now safe and still home to many Chechen refugees–probably the safest place in the world to experience Chechen culture.
Lagodekhi – A pretty boarder town (next to Azerbaijan) and a nearby nature reserve with subtropical forests.
Also, see
Kakheti
for more details.