Teller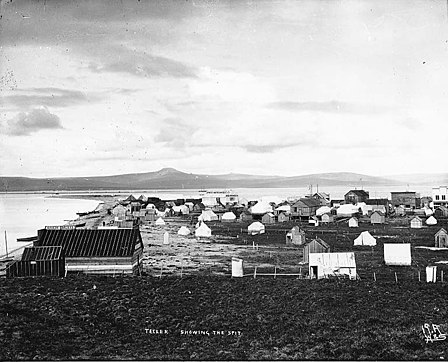 Teller
is a city near Nome in
Arctic Alaska
. It has a population of about 200 and is on the edge of a large bay, close to the Bering Strait.
Understand
Location
Teller is very close to the Bering Strait, specifically on a sandbank which borders Imuruk Basin. The town is connected to Nome via the Nome-Teller Highway. To the north of Teller is the town of Brevig Mission (population 400), although there is no road connecting the towns.
Teller is surrounded by hills and mountains, adding to the remoteness of its location. However, there is an airport in Teller.
History
Being in Arctic Alaska, the area was sparsely settled by Native Americans until recent times. Around 1900, the town, along with Nome and other towns in that region of Alaska, became large cities as well as trading posts. Teller reached a population of 5,000 for a few years.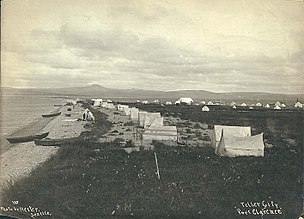 By the time the census was taken in 1910, however, the population of Teller had dramatically decreased to about 100. The drop in population continued, decreasing to just 76 in 1930. In more recent times, the population has slowly grown to 229 at the most recent census.
Climate
Teller is in a continental subarctic climate. Therefore, daily highs in summer are in the fifties (Fahrenheit), and winter temperatures hang around zero degrees. However, summer temperatures can pass 80 degrees in summer, and approach -40 degrees in winter.
For tourists who are used to warmer weather, the best months to visit Teller are in June, July, and August.
Get in
By car
The Nome-Teller Highway connects Nome and Teller. Although this road is open only in summer, cars can be rented from Nome to make the journey, which is a more than 70-mile route along a dirt road.
As of 2017, no road connects Nome and Teller to the rest of Alaska.
By air
Teller has an airport.
By foot/dogsled
The
Iditarod Trail
runs from nearby Nome to the town of
Seward
, in southern Alaska.
Get around
Teller is not a large city. Although there are dirt roads in the city, the city should be easy to get around by foot.

See
address: Front Avenue
A historic building
Do
Take the Nome-Teller Highway: the 70-mile Nome-Teller Highway goes from Teller to Nome. Although it is a dirt road, it is a beautiful road which goes through mountain ranges, grasslands, and other natural features. From Nome, there is also the Nome-Council Highway which goes for scores of miles farther to the east.

Sleep
There are no hotels in Teller.