Tempio Pausania
Tempio Pausania
is a town of about 14,000 inhabitants in the Gallura region of Sassari province in northern
Sardinia
,
Italy
.
Understand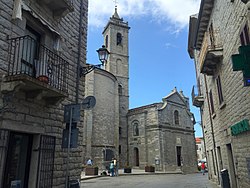 Tempio Pausania (or simply Tempio) is located in the mountainous centre of the Gallura region. The town used to be a co-capital of a province on par with
Olbia
.
Tourist information
Get in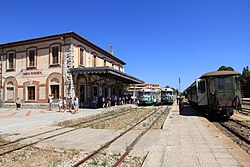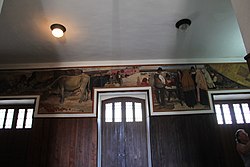 By plane
The closest airports are in
Olbia
(
Aeroporto Costa Smeralda
) and
Alghero
(
Alghero Riviera del Corallo
).
By train
The town lies at the narrow gauge railway between
Sassari
and
Palau
. Since 1997 it has been used only in summer by a a tourist train service
Trenino verde
.
By bus
ARST
is the main regional bus service provider in the region.
Stazione F.d.S.A "dormant" narrow gauge railway station is used these days by ARST as a regional bus hub. Ticket office and waiting room are operating in the station. The toilet is in a relatively functional state.
Private buses (
Sardabus
,
Autoservizi Careddu
) make their stop nearby at the
via Asproni
, next to the
Tribunale
(the court of Tempio).
Get around
By bus
S.A.U.T.company serves a couple of urban bus lines in the town.
On foot
The town is small enough to be explored on foot.
See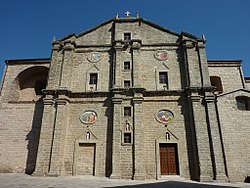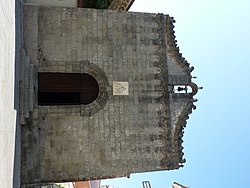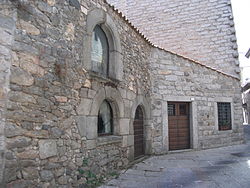 The town is famous for its buildings with granite façades. Have a walk along Corso Matteotti, via Roma (Carrera Longa, Lu Runzatu, Lu Pultali), Piazza d'Italia (Piazza di l'Ara), Parco delle Rimembranze, Fonte Nuova (Funtana Noa) and Parco di San Lorenzo, via Mannu.
Cattedrale San PietroThe original building was consecrated in 1219, but in the 1st half of the 19th century it was considerably enlarged and rebuilt in Genoese Baroque style.

Oratorio del RosarioA 15th-century chapel with a characteristic Gothic-Aragonese granite façade.

Chiesa di Santa CroceThe building was built in the medieval period, presumably in the 13th century, but probably even much earlier.

Casa di Nino di GalluraRemains of the residence attributed (without any grounds) to Nino (Ugolino) Visconti who was a Judge of Giudicato of Gallura (one of four Sardinian giudicati) in the 13th century. Dante Alighieri meets him in the 8th canto of his Purgatorio (Divine Comedy).

Palazzo Antico Seminario Pes di Villamarina

address: piazza Gallura

Built in the 1st half of the 17th century. It is one of the oldest residences in town. It now hosts the diocesan museum "Museum Templense".

Palazzo Pes di Villamarina

address: piazza Brigata Sassari

A 17th-century building, it was the 2nd residence of the Marquis of Villamarina in Tempio.

Oratorio del PurgatorioThe construction of this chapel could be attributed to a powerful local, Gavino Misorro, who built at his own expense in 1679 of papal penance for killing 18 enemies. His initials are carved in stone The church houses a large painting attributed to the Marche's painter Giuseppe Ghezzi.

Chiesa di Nostra Signora del PilarBuilt presumably between 1641 and 1684.

Teatro del CarmineBuilt in 1929 in Liberty style.
Do
Museums
Parks
Chiostro degli Scolopi

address: Piazza del Carmine

A cloister of a former convent. These day it's an occasional venue for public performances.

Parco delle Rimembranze

Parco "Fonte Nuova"A small park with a stream running over an artificial cascade.

Fonti di RinaggiuSources with drinking water in the upper part of the city, surrounded by a park.

Parco di San LorenzoA relatively large park with a small church inside.
Eat
address: Via Novara, 2

Good local food, despite the touristy setting.
Go next