Tendo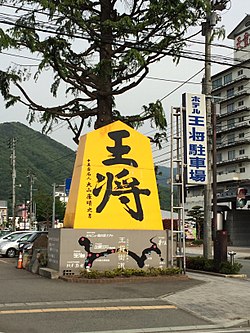 Tendo
(天童) is a sleepy village in
Yamagata
,
Japan
, known for exactly one thing: making pieces for
shogi
, also known as Japanese chess.
Understand
Local estimates claim that as many as 95% of the shogi pieces produced in Japan are made in Tendo. (Presumably, this was phrased to exclude any plastic sets that are made abroad.) Originally, only Yamagata wood was used in making shogi pieces. Today, wood imported from
Cambodia
,
China
, and
Thailand
fills the bulk of production, while native Japanese boxwood from
Kagoshima
and
Mikurajima
is reserved for the high-grade pieces.
Shogi is believed to have come to Japan in the Heian period, and it shares a common ancestor with Western chess. It also shares some pieces and strategies with chess, though pieces can be promoted to gain new movements, and captured pieces can be returned to play as turncoats against their original owner.
Get in
JR Tendo Station
is on the
Yamagata Shinkansen
, about three hours from
Tokyo
and one stop north of
Yamagata
. It's also on the
JR Ou Main Line
between
Fukushima
and
Aomori
, about 20 minutes from Yamagata.
Get around

Everything is within walking distance of the station, either in the station building itself or down the main street, Kamatahoncho, east of the station. As you head down Kamatahoncho, keep an eye out for the tobacco shop with an homage to Magritte's "Ceci n'est pas une pipe" along the way, as well as a couple of giant shogi pieces to pose with.

See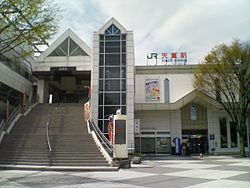 phone: +81 23-653-1690

address: JR Tendo Station, first floor (east exit)

A compact but comprehensive museum about the history of shogi, with impressive displays on how pieces are made, some gorgeous sets, and reams of information on grandmasters through the years. Displays are only in Japanese, but the front desk can provide an excellent English booklet, and the exhibits are easy to follow. Next door is a small shogi parlor; if you arrive on a day the museum is closed, hang out in front looking disappointed, and someone may take pity and let you in.

phone: +81 23-654-6555

address: 1-2-1 Kamatahoncho

This museum has a small collection of prints and artifacts related to the ukiyo-e master, Hiroshige. It is not intended to cover his entire career, focusing mostly on lesser-known work that he did for the Tendo samurai clan. Descriptive materials are only in Japanese. Upstairs are a decent-sized library and another gallery for temporary (non-Hiroshige) exhibits.
Do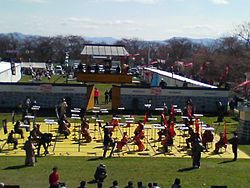 Ningen Shogi (人間将棋), literally "human shogi", is held annually as part of Tendo's cherry blossom festival, on a Saturday & Sunday near the end of April on Mt. Maizuru. Warriors in full armor and kimono-clad maidens move between spaces at the command of their warlords/players, while the audience watches from the nearby hillside.
There are onsen at the hotels east on Kamatahoncho.
Buy
Shogi pieces make nifty souvenirs. Expect to pay about ¥1000 for a single piece with the character stamped directly on the wood (
oshi goma
), depending on the size. These are handsome for display, even if they wouldn't suffice for tournament play. Pieces that were painted and lacquered (
kaki goma
) by machine begin at ¥2000; prices for hand-carved pieces escalate quickly, depending on the quality of the wood involved, to ¥80,000 and up for the highest-grade (
moriage goma
).
phone: +81 23-653-2843

address: 1-3-28 Kamatahoncho

There are a few shogi shops in town, but this one is easy to find and readily open to visitors. Don't expect much more than a grunt from the resident craftsman, but you can see bit of the process, and there are a few shelves of affordable shogi pieces and Tohoku's native kokeshi dolls for sale in the next room.
Eat and drink

There is next to nothing open during the day, aside from a convenience store near the station and a small grocery store next to the Hiroshige museum. A couple of izakayas are open at night near the hotels.

Sleep
Comfort Hotel TendoA business hotel next to the station.

There are a couple of hotels further east down Kamatahoncho with onsen.
Go next