Tenkawa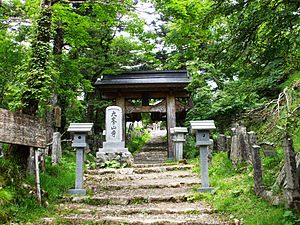 Tenkawa
(天川) is a village in
Nara Prefecture
in
Japan
, about 10 to 15 km south of
Yoshino
.
Get in
By car
Driving is one option. From Koriyama IC (郡山) of E25 (Nishi-Meihan Expressway) drive Route 24 and Route 169 southbound. At Shimoichiguchi crossing turn right onto Route 309 and drive until you get to Tenkawa.

By bus
There is a bus leaving from Kintetsu Shimoichiguchi Station (下市口), which is on the Kintetsu Yoshino Line. You can board an express train (急行) for Yoshino (吉野) at Osaka Abenobashi Station, the Kintetsu station adjacent to JR Tennoji. That train will take you to Shimoichiguchi, from where you can take a bus for about an hour until you reach Tenkawa Mura (天川村)

Get around
The information center (天川村総合案内所) is the first place you should drop in on when you reach Tenkawa. They offer guidebooks and information on this area.

See
Cedar forests, some small mountain rivers, and a few caves.
Tenkawa Grand Benzaiten Shrine (天河大弁財天社) is a Shinto shrine for art and craft. An annual festival is held on 16 through 17 July every year, where no is performed on the stage.
Dorogawa Spa (洞川温泉) is a spa area with many restaurants, guesthouses and souvenir shops.
Amanogawa Spa (天の川温泉) offers hot springs as well.
Ryusenji Temple (龍泉寺) is a Shingon-sect temple with a water spring.
Mitarai Valley (みたらい渓谷)
Dorogawa Eco Museum Center (洞川エコミュージアムセンタ) introduces the natural resources of this area. Admission is free. Opens 10 am to 5 pm. Closed on Wednesdays and winter months (December through March). Located at 784-32, Dorogawa, Tenkawa.
Gallery Honobono (ギャラリーほのぼの) is a library offering materials of folkways of this area. Exhibits an engine for US B29 bombers. Located at 674-1, Dorogawa, Tenkawa.
Sanjogatake Historical Museum (山上ヶ岳歴史博物館) offers Buddha statues made of gold. Admission fee: ¥300. Located at 492-1, Dorogawa, Tenkawa.
Snow Park Dorogawa (スノーパーク洞川) is a ski resort. Located at 678-220, Dorogawa, Tenkawa.
Mount Omine — an UNESCO World Heritage Site
Do
Hiking, camping.

Buy
Daranisuke is a crude drug produced in this area and sold at local drugstores. It is good for gastroenteritis.

Eat
When in season, Japanese "mountain vegetables" are a popular and delicious choice. Some places offer fish caught in the mountain rivers, which are bony, but worth trying at least once. The two varieties often seen are iwana (岩魚, charr) and amago (あまご, red-spotted trout).

Go next