Terceira
Terceira
is in the
Azores
archipelago, an autonomous region of Portugal, in the Atlantic Ocean.
Cities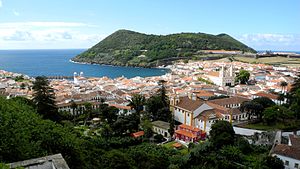 , an historic city and seat of diocesis, listed as a UNESCO World Heritage site.
a port city with Terceira airport within it`s municipality Lages/Terceira (TER).
Understand
Terceira is the third largest island in the Azores.
Right off the airplane, all that can be seen are luscious green scenery, white houses, and hilltop after hilltop of true Portuguese culture.
The people who inhabit the island rely on agriculture for income and there are very few restaurants on the island.

Talk
Most of the locals speak some English, at least the young or professionals in the city speak it.
Portuguese
is the main language. If you're fluent in
Spanish
, you can get by alright.
Get in

SATA and TAP airlines both have direct flights from Boston to Terceira's airport, which is in the American military base in the city of Lajes. Taxis and buses are available at the airport to get to your destination around the island.

Get around
SATA and TAP are the two airlines that utilize Terceira Airport. TAP is mainly for Lisbon flights, while SATA visits the closer and smaller islands.
There are also ferries to the other islands.
Atlanticoline
is the site for the island ferries.
There are many car rental services and hotels around the very small airport in Praia De Vitoria.
Be very careful when driving. Local drivers are careless. Livestock has right of way, only seen in the interior rural areas of the island. There is one highway (Via Rapida) which connects Praia de Vitoria to Angra De Heroismo, a 15-20 minute drive, with a speed limit of 60mph/100km.
There are numerous taxis on the island, unmistakable with their eggshell white/cream color and two broad blue hashlines behind the passenger door.
They are generally very well-maintained vehicles. Most drivers speak English, or one can be requested.
See

Algar do Carvão and Gruta do Natal are volcanic caves in the interior of the island. These caves are formed when a volcano's lava supply is suddenly interrupted, leaving an open space (a cave) with a vertical opening.
See the fumaroles in pristine condition, a local natural monument in a protected area. You may appreciate it exactly as Charles Darwin saw it in 1830.
Angra do Heroísmo, a UNESCO World Heritage Site, has three castles. One castle is the largest in the world built by Spaniards, with over 3.5 km of perimeter walls, over twice the size of many famous castles.

Itineraries
In the summer time, street bullfights take place in towns. A bull is tethered and held by a group of men to keep it from running off, while bystanders are given the opportunity to participate as rodeo clowns. It is safer to watch from a distance and behind a barrier of at least 6 ft. Bullfighting arenas also exist on the island.
The summer months are when most of the feasts on the island take place. This is a time when families and communities gather to celebrate, dance, and eat in the streets and throughout the island.

Do

One main beach is at Praia de Vitoria. It is man-made and small, about 1 mile at best, usually a summer hangout for the locals. There are numerous man made "pools" around the island, which are connected to the ocean. There are also many natural rock pools near the beaches in the coastal towns. In Biscoitos, enjoy swimming between lava rocks.
In Praia da Vitória is a diving center with a professional PADI and SSI team, and activities like scuba diving courses, scuba experiences, or snorkelling tours. The email address is geral@octopusportugal.com and the contact is +351 965431985.

Eat
There are many restaurants that offer local dishes and other international cuisine. Seafood is the main specialty as is locally cultured cheese and bread, great with local wines.
Beira Marin Restaurant in São Mateus, a fishing village. They have the best seafood and fresh fish.
Ambientes com Sabores, a gourmet restaurant. Lunch menus for 9€ during the week.
Dai Hou, a Chinese restaurant, in Angra do Heroismo.
Drink
Vinho Verdelho (Green Wine) from Biscoitos and other locally made and very fine wines

Stay safe
Like most of the world, it is not uncommon for petty thievery to occur. Unlocked cars with visible possessions will look like an invitation for thieves. It is advisable the cars doors be locked, valuables be with you at all times or at least concealed. Maintain visual contact with your belongings. There isn't a rash of thievery on the island, but is a common precaution anywhere in the world as tourists are always less informed making them easier prey for opportunists.