Terengganu
Terengganu
(also
Trengganu
) is a state on the
eastern coast
of
Peninsular Malaysia
in
Malaysia
. The primary attractions of the state are the beautiful tropical
Perhentian
and
Redang Island
.
Cities
, the capital and by far the largest city in Terengganu
, a medium-sized town and jumping-off point for Tenggol
, a city neighbouring Pahang
, a fishing village where you can find nice beaches and a clear blue river
, the main port for ferries to the Perhentian Islands
, the port for ferries to Kapas Island
, the port for ferries to Redang
, a small fishing village with cottage industry
Other destinations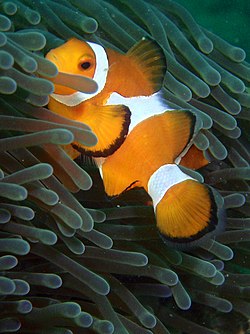 , a small island with little accommodation and nice snorkeling.
, great diving.
, a more expensive version of paradise with creature comforts and more great diving.
, a sea turtle nesting place.
, a gorgeous artificial lake.
, a very gorgeous beach with a small rock island just a stone's throw from the beach. When the tide recedes, you can walk to the tiny island and play on its beach. It's just 2 km from Kerteh town. Also, lots of fishing villages are around this beach. The scenery is majestic, especially when the sun rises. It's an excellent places for avid photographers.
Understand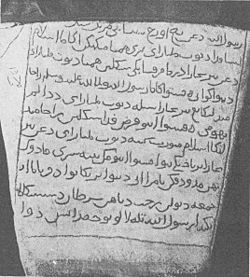 Terengganu is probably the most Malay of all the Malaysian states, with Malays comprising approximately 95% of the population. It is also the Malaysian state where Islam first arrived, as documented by a 1303 C.E. stone inscription that was left at Kuala Berang, the capital of the district of Ulu (upriver) Terengganu; the Terengganu Inscription Stone is now displayed at the Terengganu State Museum in
Kuala Terengganu
. As a result of the state's history as the first recipient of Islam in Malaysia and the deep faith of most of the overwhelming Muslim majority in the state, its official nickname is
Darul Iman
— The Abode of Faith in Allah.
Terengganu's economy has benefited from the discovery and subsequent exploitation of offshore oil deposits, which are near the shore and supply some surprisingly beautiful petrochemical plants on land near the coast between Paka and Kerteh. The plants do not produce unpleasant odors and are particularly attractive at night, when they are lit up.
But in spite of all the development and a greatly increased population relative to decades past, most of Terengganu is still rural, a state of
kampungs
— Malay villages — with roadside stands, long stretches of coconut palm-studded sandy coastline (though see the "Stay safe" section before you decide to swim) and wonderful fresh local produce. So quite apart from the draw of the offshore islands including
Perhentian Besar, Perhentian Kecil
and
Redang
, many people from the big cities of the
West Coast
and
Singapore
find it relaxing to drive up the coast and spend some time feeling a slower rhythm of life than what they experience back home.
Talk
It will help you to know some Malay. Some people speak English, but do not expect everyone to be able to. The local Terengganu accent is quite thick, but most people also speak "standard" Malay.
==Get in==
Most visitors to the Perhentians bypass the bulk of Terengganu and instead transit via
Kota Bharu
, in the neighbouring state of
Kelantan
, which offers better connections by air and train and is only one hour away. However, Kuala Terengganu and other locations along the main north-south highway are accessible via long-distance bus from
Kuala Lumpur
,
Penang
and various other cities.
By plane
Kuala Terengganu's own Sultan Mahmud Airport (
TGG
) has a number of flights daily from Kuala Lumpur and twice daily from Penang, as well as a thrice weekly international flight to Singapore by Firefly. It's a two-hour drive from here to Kuala Besut, the usual jumping-off point for the Perhentian Islands.
The closest airport to Besut is actually Sultan Ismail Petra Airport (KBR) at Kota Bharu, Kelantan. Kuantan, Pahang's Sultan Haji Ahmad Shah Airport (KUA) is the closest to the southernmost reaches of the state.

By car
The fastest way to get into Terengganu by car from the neighbouring state of Pahang is via the Lebuhraya Pantai Timur (East Coast Expressway), a toll road which also connects with the Kuala Lumpur-Karak Expressway, enabling fairly speedy access from the West Coast. From Kelantan, it is necessary to take the older though still multi-lane East Coast Highway, which is free.

By bus
Various bus companies run long-distance buses from Kuala Lumpur and other Malaysian cities to Kuala Terengganu. Depending on the route, it may be possible for you to get off at any town or village along the way as long as you ask the bus driver in advance.

Get around
By car

There is a substantial network of paved roads in the state.

By bus

There are many intrastate bus routes. In addition, if you stand by the side of the main coastal highway in a village, you may be able to hail intercity buses if you want to go to Kuala Terengganu or other major cities in the state.

See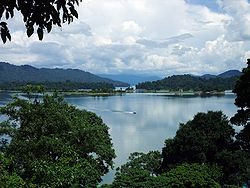 Many tourists come to Terengganu to go to islands like the Perhentians to swim and scuba dive, but the coast itself is beautiful and pleasant and dotted with peaceful villages, and Kenyir Lake, a reservoir in Ulu (upriver) Terengganu, provides breathtaking panoramas.
Buy
Terengganu is known for local fabrics like
kain songket
and
kain batik
. The Pasir Payang Market (
Pasar Besar Kedai Payang
) in
Kuala Terengganu
is the best place to pick up some.
Eat
Terengganu's most famous culinary product is the keropok lekor, a thick hot dog-like sausage entirely unlike the thin deep-fried crackers called keropok elsewhere in Malaysia. Keropok lekor is made from fish paste and sago palm flour and should always be accompanied by a reddish-brown dipping sauce of tamarind, chili, sugar and vinegar.
Much good inexpensive food is to be found in coffee houses (kedai kopi) along roadsides in villages, and of course in cities. And do not miss the chance to buy some of Terengganu's delicious fresh fruits in any of the pasar (bazaars) in the cities and larger towns.
Nobody seems to be quite sure if it's legal or not, but turtle eggs are widely sold in Terengganu. However, they're a threatened species, and besides, the eggs are slimy and quite salty, so think twice before you indulge.

Drink

Alcohol is generally looked down upon throughout Malay-dominated Terengganu and is served only in Chinese (non-Halal) restaurants. It is possible to buy Malaysian and imported beer by the can at large grocery stores.
Non-alcoholic drinks are widely available, including fresh juices, coconut water (air kelapa), corn drink (air jagung) and the array of packaged drinks sold elsewhere in Malaysia. The widest variety of branded products is available in Kuala Terengganu, but there are drink stalls on the side of any major road.

Stay safe
Terengganu is probably one of the safest states of Malaysia in terms of crime, but be careful where you swim. You should assume that all beaches on the coast of Terengganu without lifeguards that are not protected by capes or obviously promoted as places to swim are very dangerous. There is a powerful current that comes down from Thailand, and it creates a tremendous undertow very close to the coast that will kill you if you choose to swim on these beaches. The effect of the current is even more powerful during and close to the monsoon season, which may start as early as October and continue until March, with non-stop torrential rains likeliest from late November or early December through late January or early February. However, outside of the monsoon season, there is no reason for you to have any second thoughts about swimming, snorkelling or scuba diving in parts of Terengganu that are popular with swimmers, snorkellers or divers and promoted as such.

Respect
Terengganu is a conservative, Islamic state. You will have a better experience if you respect local mores when you are outside of resort areas where people are used to foreigners dressed in bikinis. It is not necessary or expected for non-Muslim women to wear a headscarf (though it would certainly meet with approval), but both men and women should wear clothing that covers all or at least most of their legs (no short shorts), and women should wear blouses or dresses which cover their torso. Long sleeves are preferable for women, and outfits which show the shoulders or midriff should be avoided: the key is modesty. Tourists dressed in shorts and skimpy tops are really out of place.
==Go next==
Culturally, Terengganu has a lot in common with its northern neighbour,
Kelantan
, but the cultural and historical differences between the two states make Kelantan interesting and well worth including in your trip to Terengganu. A bus ride from Kuala Terengganu to Kota Bharu lasts only about three hours.
To the south and southwest is
Pahang
, the largest state in Peninsular Malaysia, with more coastline, the larger city of
Kuantan
, and also the Genting and Cameron Highlands in the western part of the state.