Teresópolis
Teresópolis
is a city in
Rio de Janeiro (state)
, at 900 meters above sea level. It is one of the most charming cities in the region, with relatively cold weather and beautiful mountains.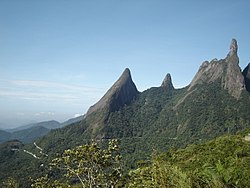 Understand
Some miles from
Petrópolis
, Teresópolis is named after Dom Pedro II's wife, Empress Teresa Cristina, and also delights in the same agreeable mountain climate. In the distance are the bay of Guanabara and the spectacular surroundings of this town.
Less rich than her cousin Petrópolis, Teresópolis is the ideal point of departure for the magnificent Serra dos Orgãos National Park.
In this seldom-visited region the history of the emperors has nevertheless left its indelible sacred mark.
Get in
By bus
You can go by bus from the Novo Rio bus station in Rio de Janeiro. The company is also called Teresopolis and the travel takes about 1 hour and 30 minutes.
By car
from Rio, take Linha Vermelha, then BR-040 (Rodovia Washington Luiz), afterwards the BR-116 (Estrada Rio-Teresópolis). Total distance is 91 km.
See
Granja Comary

phone: +55 21 2642 2430

address: Bairro Carlos Guinle

Well known for housing the headquarters of the Brazilian Football. The Granja Comary is the local concentration of the selection, and training center for other categories sponsored by the Brazilian Football Confederation. The seat has more than 150 thousand square meters of green area, divided into five fields, infrastructure to serve the athletes and a modern training center. The Granja also attracts tourists through the beautiful landscape composed by Lake Comary (artificial), from whose shores can be seen the peaks of the Serra dos Órgaos mountains, including the Finger of God. It's a "postcard" of the City of Teresopolis.

Soberbo Belvedere

address: BR-116 roundabout at entrance to Teresopolis

On clear days, overlooks Greater Rio, the Guanabara Bay and the Baixada Fluminense. Sight of the place is also the Finger of God, Our Lady's Finger, and other peaks.
Parque Nacional da Serra dos Órgãos - Flagship of Brazilian national parks. The beauty of the park resides in the strange shapes of its granite formations.

Aranda Orchidary

address: Quebra-Frascos rd s/n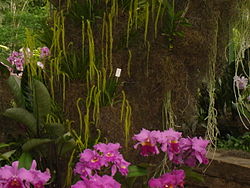 Mountains
Dedo de DeusElevation: 1692 m.a.s.l. Icon of Brazilian mountaineering.

Pedra do SinoElevation: 2263 m.a.s.l.

Nariz do FradeElevation: 1980 m.a.s.l.
Do
One of the most beautiful walks in Brazil is the one linking Teresópolis to Petropolis, traversing through some of the astonishing scenery.

Eat
The city has very good restaurants.
Cheiro de Mato

address: Av Delfim Moreira 140 - Centro

Per-kilo buffet with many vegetarian options.

address: Teresopolis - Friburgo highway, Km 16

The restaurant is located inside a farm (Genève Farm .) It produces goat cheese.

address: Rua Tenente Luis Meirelles 1800 - Bom Retiro

Russian cuisine.

Manjericão Casa de Pizza

phone: +55 21 2642-4242

address: Rua Flávio Bortolluzi Souza, 314

Quality São Paulo-style pizza.

Novilho de Ouro

phone: +55 21 2641-6384

address: Av.Delfim Moreira, 720 - Centro

Churrascaria.

phone: +55 21 2641-9166

address: Estrada dos Pinheiros, 297 - Parque Imbui

Try one of the duck dishes.

phone: +55 21 2742-1299

address: Rua Pref. Sebastião Teixeira, 262 - Tijuca

Estação do Chopp Terê

phone: +55 21 2642-4026

address: Rua Tietê, 500 - Bairro de Fátima

A Brewery, Pub and Restaurant with live presentations
Sleep
Center Residence Hotel

phone: +55 21 2742-5890

address: Rua Prefeito Sebastião Teixeira, 245 - Centro

phone: +55 21 2742-5586

address: Rua Luiza Pereira Soares, 109

This hostel is very clean, offers ability to bring food and cook, has internet access and the owners are wonderful, kind people. Easy access to main roads. Sits on top of a mountain and the view overlooking the city is just magnificent.

phone: +55 21 2642-3620

address: R. Tietê, 500 - Bairro de Fátima