Terrace Bay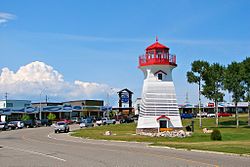 Terrace Bay
, the "Gem of the Northshore", is a township in
Northern Ontario
with 1,500 residents (2011) that is 150 km² in size.
The Terrace Bay region is known for its incredible beauty, and is on the shores of the magnificent Lake Superior, the largest fresh water lake in the world.
Understand
Terrace Bay was named after the sand and gravel terraces which were left behind when ice glaciers receded about 20,000 years ago. The area is surrounded by the rugged Northern Ontario wilderness and the forest is the reason for Terrace Bay's existence. Terrace Bay originated as an undeveloped area catering to the needs of the forestry industry. The decision to develop the town was first conceived in the early 1940s by the Longlac Pulp and Paper Company which was taken in conjunction with the Ontario Hydro water division, completed in 1939, to redirect the northward flowing Long Lake south through the Aguasabon River system to Lake Superior. For more information on how the community grew visit the
History Section
Get in
Terrace Bay is on the Highway 17 section of the Trans-Canada Highway. It is approximately 2 hours northeast of Thunder Bay, Ontario and 5 hours northwest of Sault Ste. Marie, Ontario.
The easiest way to travel to Terrace Bay is by automobile on the Trans-Canada Highway; however it is also possible to arrive by bus, bike, private plane, private boat, or by taking the train to a nearby station in [[Longlac]} and then driving south from there.
Kasper TransportationBuses leave from Thunder Bay M-Sa at 5:30 PM, 2 hr 45 min, $60-85; and from White River M-Sa at 7:10AM, 2 hr 20 min, $50-75.
Get around

Terrace Bay was designed for the walker or biker in mind and can easily be seen by travelling short distances from different sections. The main built-up area is approximately 3 km by 3 km (2 miles by 2 miles). There is not a cab or taxi service in the Municipality, but a vehicle can be rented from the local car dealership if so desired. If looking to travel by walking or biking, it is recommended to park in the Tourist Information Centre parking lot, obtain a print map in the brochure of the Municipality, and start your adventure from there.

See
Terrace Bay has numerous things to see with the following being the more notable:
Do
The Dragfest - the local car club puts on an amazing weekend of drag racing the first weekend in August every year and approximately 10,000 people show up. Incredible cars, trucks, and motorcycles from all throughout North America speed down the track at the local airport and it is always a good time.
Other events include:
the Annual Canada Day celebration on the first of July with activities, food, and fireworks,
the Annual Fall Fair in September with products from area crafters,
the 4-Man Masters Golf Tournament in July, and
the Old Fashioned Skating Party in December.
Play a round of golf at the beautiful and challenging 9-hole Aguasabon Golf Course.
Book a charter to enjoy the bays in Lake Superior or visit the Slate Islands Provincial Park
Bring some friends and snowmobile throughout the areas trails
Hike the amazing 52-km Casque Isles Trail that follows the shores of Lake Superior
Buy
There are two main retail areas in Terrace Bay: Simcoe Plaza and the Mill Road Area.
The Simcoe Plaza area has numerous retail establishments that will cater to the needs of tourists. Simcoe Plaza is home to Costa's Food Market and Stewart Guardian Pharmacy. Also within Simcoe Plaza is a CIBC bank, an LCBO for alcohol, a Post Office, a flower shop, a print shop, and various service companies
The Mill Road area is home to the Terrace Bay Home Hardware, Mill Road Service for automobile service.
Eat
Terrace Bay restaurants offer some delicious food options with restaurants being: Drifters Restaurant, Wah's Chinese Restaurant, the Red Dog Inn Restaurant with Pizza Hut Express, the Terrace Bay Bakery, Roy Pizzeria and Subs, and Superior Dining. Menus from the restaurants are featured on the
municipal website
.
Aguasabon Golf Club Restaurant

phone: +1 807-825-3844

address: 7 Beach Road

Drifters Motel & Restaurant

phone: +1 807 825-3226

address: 3 Simcoe Plaza

Moe & Jo's Lighthouse Variety

phone: +1 807-825-1313

address: 41 Simcoe Plaza

Red Dog Inn & Pizza Hut Express

phone: +1 807 825-3286

address: 1120 Ontario Highway 17

Wah's Restaurant

phone: +1 807 825-1881

address: 23 Simcoe Plaza

Chinese and Canadian food.
Drink
Terrace Bay has one local bar, the
Imperial Motel
, and liquor and spirits can also be purchased in some of the local restaurants and at the LCBO.
Sleep
phone: +1 807 825-3226

address: 3 Simcoe Plaza

phone: +1 807 825-3285

address: Highway 17

41 renovated rooms, and a fully licensed restaurant. Cable television, coffee makers and fridges in all of the rooms. All rooms are air conditioned and wireless internet is available. No pets.

Norwood Motel

phone: +1 807 825-3226

address: 1100 Hwy 17

phone: +1 807 825-9113

address: Trans-Canada Hwy 17

Mini-fridge, microwave, coffee-maker, hairdryer, satellite TV and wireless internet. No pets. Open May to October, 8AM to 10PM.
Connect
For more information on Terrace Bay Tourism, visit the Tourism section of the Municipal website or call the toll-free number at +1-800-968-8616 or email tourism@terracebay.ca.

Go next

Terrace Bay is a natural paradise and visitors often remark that it is one of the most beautiful communities they have ever seen.