Teruel
Teruel
is the capital city of the province of the same name in
Aragon
in
Spain
.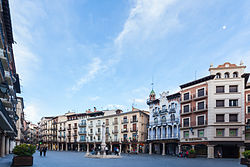 Understand
phone: +34 978 624 105

address: Plaza de los Amantes, 6
Get in
Teruel is actually closer to
Valencia
than Zaragoza, the capital of Aragon, and
Valencia Airport
offers more connections that
the one in Zaragoza
.
By train
phone: +34 902 432 343

address: Camino de la Estación, s/n

Renfe runs regular trains from Zaragoza (2hr 15min) and from Valencia (2hr 30min). The railway station is well down below the town and anybody with mobility difficulties might want to consider a taxi. For the fully fit there are multiple flights of steps. The station has a small restaurant, toilets, and a window to collect tickets purchased online or by phone.
By bus
Estación de Autobuses

phone: +34 978 610 789, +34 978 607 079

address: Ronda de Ambeles, s/n

The bus station provides easier access to the town than the train. The tourist office maintains an online list of companies with links and contact information. A standard journey from Valencia takes two hours, from Zaragoza two and a half hours, and from Madrid four hours.
Get around
The city centre is very compact, requiring no car. To go further afield, e.g. to
Dinópolis
(listed below under 'See'), you may want to consider using the town's only taxi service,
Taxi Teruel
(tel. +34 978 102 040).
See
Mudéjar architecture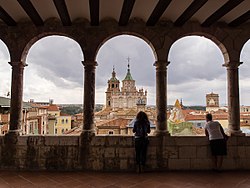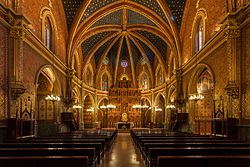 Teruel is the site of some of the most impressive Mudéjar architecture in all Spain, which, with other Mudéjar structures in Aragón, are collectively inscribed on the
UNESCO World Heritage List
.
Catedral de Santa María de Teruel

phone: +34 978 618 016

Impressive from outside but rather a mixture of styles. The bell tower, built 1257-1258, is considered to be one of the best-preserved Mudéjar towers in Spain. Also notable is the ornate wooden ceiling, dating from the early 14th century.

Torre de la Iglesia de San Salvador

phone: +34 978 602 061

address: C/ El Salvador, 5

Believed to date from the early 14th century, this very finely-decorated Mudéjar tower is covered with intricate tile work. Structurally it resembles a typical Almohad minaret, with a plain tower placed within the more elaborate outer tower, and a staircase usually open between them. The adjoining Church of San Salvador de los Reyes dates to the late 17th century, and is considered to be the best example of Baroque architecture in Teruel province. Especially noteworthy in the main altarpiece is the central figure El Cristo del Salvador, which was carved in the 13th century.

Torre de San MartínThis Mudéjar gate-tower was built between 1315 and 1316, and partly restored in 1550. It is also decorated with glazed tilework, and is associated with the nearby church of St. Martin (built during the Baroque period). The tower can be viewed only from the exterior.

phone: +34 978 618 398

address: C/ Matías Abad, s/n

A 14th-century Romanesque-Mudéjar church, the interior of which is completely covered with designed bricks and tiles. Built in the late 13th-century, the adjoining well-preserved tower is the earliest Mudéjar structure in Teruel. The mausoleum of Los Amantes (The Lovers of Teruel) is also located here.
Other sights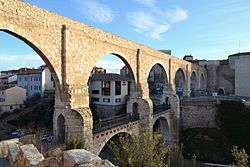 Acueducto Los ArcosCompleted in 1554, the aqueduct is a significant example of Spanish Renaissance engineering.

Viaducto de Fernando HuéBuilt to connect the old walled city with the suburbs, the bridge was completed in 1929.

Escalinata Neo-MudéjarDesigned by José Torán de la Rad to connect the train station with the historic city centre, the visually appealing staircase was completed in 1921 in a style combining Moorish and Modernist elements.

phone: +34 978 600 150

address: Plaza Fray Anselmo Polanco, 3

Located in a 16th-century palace. Ensure that you ask the guide on the top floor to let you out to the arcaded exterior for a terrific view of the cathedral.

phone: +34 978 619 950

address: Plaza Venerable Francés de Aranda, 3

Housed in a 16th-century palace, the museum exhibits religious art from the Romanesque to the Baroque periods.

phone: +34 978 617 715

address: Polígono Los Planos, s/n

The first dinosaur discovered in Spain was in Teruel, which now is the location of one of the world's largest paleontological museums and dinosaur theme parks. If you look for amusement you'll be disappointed, but if you like fossils, don't hesitate to go. No food or drink permitted, photography only permitted in the entrance, outdoor areas, and restaurants.
Do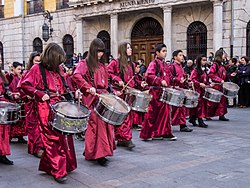 There's a tradition to do during the festivities in July, that is throwing meringue to the town hall's door.
At Easter the parades of drummers in full Easter garb are well worth a look.
The Mausoleum of The Lovers of Teruel (Los Amantes) is just off the main square.
Buy
Teruel jamon serrano, you can purchase it in some deli shops in the city center. It's awesome.
Do not purchase any "typical bakery", as it may not be made on the premises.

Eat
The best places are 'asadores' and 'rokelin' (there are several ones), anything else is fancy expensive food, you'll be hungry after eating in those places.

Drink
There isn't a typical drink, but you can find microbrews in some bakeries.
Some pubs in the party zone (called simply "la zona") are truly troll nests, don't go there.

Sleep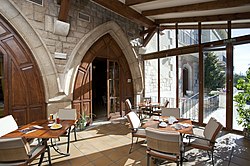 phone: +34 978 601 800

address: Carretera Sagunto-Burgos, km 122.5

If you're driving, the Parador is a good choice. Has non-smoking rooms, an onsite bar and highly-regarded restaurant, pool and tennis courts, and free Wi-Fi.