Tervuren
Tervuren
is a municipality in
Flemish Brabant
on the outskirts of the vast Sonian Forest, south-west of
Brussels
. It is best known as the host town of the Belgian king's summer residence, which is now the Museum for Central Africa, and for the beautiful park surrounding it.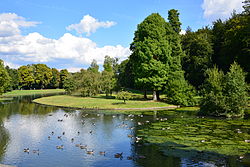 Understand
phone: +32 2 7692081

address: Markt 7

Tourist office
Get in
By tram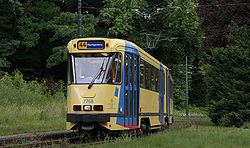 The easiest way to reach Tervuren is by tram from
Brussels
on the network of the MIVB (Brussels public transport operator). It is served by tram . Tervuren has 3 main stations: is closest to the historic center, for the Museum for Central Africa and also last station on the line, and for the
Sonian Forest
. Service frequency depends on the time schedule: during rush hour and week days there are 3 trams per hour, in the weekends or late evenings this is usually less.
By bus
Tervuren is served by the Flemish bus operator
De Lijn
, with lines 316 and 352 passing from
Kraainem
through Tervuren to
Leuven
. Travel time to Kraainem is 15 minutes, travel time to Leuven 35 minutes. A ticket can be purchased from the bus driver and costs €3. The bus and tram services are operated by different companies, so when transferring from bus to tram or vice versa, you must buy a new ticket.
By bicycle
The Sonian Forest and surrounding rural areas offer magnificent many viewpoints to those investing the effort of reaching Tervuren by bicycle. Slopes are rarely steep, but some exercising may come in handy. As with most of
Flanders
, cycling infrastructure is severely lacking. Cyclists will be required to share the road with motorized vehicles, which often results in dangerous situations. The Sonian Forest is free of motorized vehicles, and very safe to pass through.
Get around

The town and adjacent park for which it is famous are easily explorable by foot. In winter, the dolomite-covered park tracks can remain wet from rain for a long time, so water resistant shoes are strongly recommended. Although rare, snow is not unseen in Tervuren, although it usually melts within a day or two.

See
Royal Museum for Central AfricaHoused in the former summer palace of the Belgian kings. It is a centre for knowledge and resources on Africa, in particular Central Africa, in an historical, contemporary, and global context. The museum exhibits unique collections. It is a place of memory on the colonial past.

Bandundu Water Jazz BandIconic fountain designed by Belgian sculptor Tom Frantzen in 2005. It depicts a group of African water animals, as if they have escaped from the nearby Museum for Middle Africa, playing in a jazz band in the center of a rotunda. Frogs playing accordion, crocodiles playing contrabass and drum, and a hippopotamus playing tuba are a fun sight to watch, and the water gives a refreshing experience during hot summers. The concrete circles around the fountain were to have a waterlily like structure but to look like a gramophone disc. It is considered a typical work of Tom Frantzen, who is known for sculptures in bronze with a figurative undertone and a sense of humor resembling Jheronimus Bosch or Pieter Bruegel de Oude. The fountain is well integrated in its surroundings, making it one of the eye catches of modern Tervuren.

Palace of the Colonies

address: Paleizenplein, Warande 8

Designed for the World's Fair of 1897 by French architect Alfred-Philibert Aldrophe and finished by Enrest Acker as part of an exposition to justify the Belgian occupation of Congo. King Leopold II ordered the construction of several Congolese villages in the Warande park, and imported Congolese citizens to populate them as a human zoo. The palace was built in this context as a prestigious landmark where the king could receive visitors. Aside from the royal suite, the palace featured a restaurant and exposition halls with ethnographic, military, geological and ichthyological material on display. The garden featured an extensive botanical greenhouse and furniture in Congolese timers, along with typical Congolese export products on display. After the World's Fair, the collection kept growing and gradually became a permanent exposition. In 1902 it became apparent that the collection no longer fit in the palace, and it was decided to move it to its current location in the palace of the king's former summer residence. The Palace of the Colonies remained largely vacant and in a state of disrepair until 1958, when the side wings were demolished and replaced by brick wings with a nearly identical volume, but better suited for their new purpose: laboratories for the Museum for Central Africa. The central wing of the Palace can be sited on request, the side wings occupied by laboratories can not.

Elephant Hunt

address: Leuvenstesteenweg

Sculpture of an African elephant with raised trunk and three African warriors on its back, of which one is carrying a spear. It was designed by sculptor Albéric Collin and sponsored by Belgian chocolate manufacturer Côte d'Or which still has it in its logo. Intended for the World's Fair of 1935, it guarded the entrance of the Pavilion of Belgian Congo, a design from architect René Schoentjes, as a reference to the colonial past of Belgium. After the World's Fair, it was director of the Museum for Middle Africa, Frans Olbrechts, who lobbied to get the concrete statue to Tervuren in 1938. It was mounted on a sandstone socket in front of the museum's entrance, where it remains today. The last restoration dates from 2005, when the statue was equipped with a protective coating and painted white.

Command Bunker C40

address: Flosstraat, Vossem

A command bunker part of the K-W Line (Koningshooikt - Wavre), built in 1939 to reinforce the existing defense line along the Albert canal and Meuse river, as an additional defense against a possible German invasion. Over 400 bunkers were built in 2 rows, with in front a line of anti tank obstacles and behind extensive telephone infrastructure to ensure communication with the front in case of an invasion. Interestingly, each bunker has a unique layout, strategically adapted to the location. They all feature the same elements, including firing slits for machine guns and openings for grenades. Since Command Bunker C40 was part of the communications infrastructure and not intended for battle, firing slits and grenade openings are absent here. It consists of an L-shaped construction of reinforced concrete with a small entrance. It can be visited by adventurous travellers with a flashlight. Most other bunkers along the line are in gardens of residential areas and have been repurposed as garden houses or animal shelters since they were too expensive to demolish. Only a few can be visited by the public.
Do
ArboretumThe planning of the Arboretum began in 1902 under the aegis of Charles Bommer, curator of the National Botanical Garden of Meise, and professor at the Free University of Brussels. It is in the Kapbos, a beech forest planted between 1875 and 1880 at the edge of the Sonian Forest. It covers an area of approximately 100 hectares and includes over 460 species of trees, of which are 305 broadleaved and 155 evergreen. The highest point Arboretum is 115 meters above sea level, one of the highest points in Flemish Brabant. With an average temperature of 10°C and 780 mm of precipitation per year, the Arboretum reflects the Belgian climate in every aspect, featuring the most typical tree species of temperate climate zones in the Northern Hemisphere.
Eat
The Spanish House

phone: +32 2 688 12 49

address: Spaans-huisdreef 1

Restaurant and bistro in the middle of the park.
Sleep
phone: + 32 2 766 66 66

address: Hoornzeelstraat 63

Modern hotel on a walking distance from the historic town center.

address: Elisabethlaan

Friendly AirBnB at 100 m of the terminus station of tram and 5 minute walk to the Museum for Central Africa. Brussels can be reached by tram in 20 minutes. It is a family house with teenage kids, a dog and a cat.

address: town center

A 30 m² private room on the second floor in the heart of Tervuren, in proximity of the bus to Brussels Airport Zaventem (30 minutes away), and 5 minutes from public transport to Leuven and Brussels. Offers free bicycles to guests.

address: town center

Guest room with 2 beds in close proximity of the historic center, tram is 2 minutes walking away.

address: Ravenstein

Attic in the residential area Raventein on the outskirts of Tervuren, 10 minutes walking distance from the historic center, and about 15 minutes to the Sonian Forest.

address: Hertenbergstraat

Luminous room with double bed, close to Diependal and 5 minutes away from grocers, bakeries and restaurants. Tram to Brussels can be reached in about 7 minutes.
Go next