Tetovo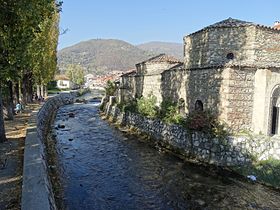 Tetovo
(
Macedonian
: Тетово,
Albanian
:
Tetovë
) is a town tucked into the northwestern corner of
western North Macedonia
, in the shadow of the Šar Mountains. The major city of the Polog region, it has about 53,000 people, making it the fifth-largest city in North Macedonia. The Municipality of Tetovo, which includes 18 villages, has a population of over 86,000. Tetovo is a multi-ethnic city in which Albanians form a majority. This has led to some tensions, most recently in the early 2000s, when violence broke out. However, the situation is now quite calm. Tetovo, its unique Ottoman monuments, and its cuisine should be a part of any trip to northwestern North Macedonia.
Understand

The population of Tetovo is majority ethnic Albanian, with a minority of Macedonians and others. While the city is often known as the unofficial capital of the Albanians of North Macedonia, and expressions of Albanian national pride, in the form of flag waving from houses and cars and graffiti depicting the map of the "Greater Albania", are common, this is by no means an exclusively Albanian city, and referring to it as such will offend the non-Albanian residents, particularly the ethnic Macedonians — and you can never know who you have been talking to.
The Roman alphabet, in which the Albanian language is written, dominates throughout the city, while Cyrillic signage can be seen on one of the main streets, which is probably the part of the city where the Macedonian community gathers.
Travellers will be rewarded with local hospitality and beautiful scenery in Tetovo.

History
Although there may have been inhabitants in Tetovo's area as early as the Bronze Age, Tetovo was mentioned for the first time in the beginning of 13th century as a small medieval Orthodox settlement around the Holy Mother of God Church in the upper part of town.
At the end of the 14th century, Tetovo, along with all of Macedonia, fell under the rule of the Ottoman Empire. As the Muslim population in Macedonia began to expand in the early Ottoman period, mosques, baths, and markets began to appear as early as the 15th century. Tetovo under Ottoman tutelage became an important trade center for the local farmers and craftsmen, as well as an important military fortification. Turkish influence deeply impacted Tetovo and it was renamed Kalkandelen (Turkish for "shield breaker", in honour of the blacksmiths of the city, who produced powerful swords and spears) to reinforce the new Islamic presence. Haci Halife in the 17th century noted in his writings that Kalkandelen was expanding at an amazing rate in its lowland areas.
By the 19th century, when the population of Tetovo began to increase with settlement from the surrounding villages, the French traveller Ami Bue noted that the population had reached about 4,500 people. In 1912, following the Balkan wars, Tetovo became a Serbian city. In World War II, Tetovo was jointly ruled by Italy and its puppet regime in Albania. The Communist Party of Macedonia was formed on March 19, 1943 in Tetovo. After the war, it became part of Yugoslavia.
In 2001, ethnic Albanians launched an insurgency in the Republic of Macedonia and Tetovo was the primary base for the insurgents. The Ohrid Agreement, guaranteeing wider rights for ethnic minorities, was signed later in the same year, ending the conflict.
Today, Tetovo is major city with two universities, many private companies, stores, some important historical sights.

Get in
By train
Railway Station

address: Boris Kidrich Street (Борис Кидрич)
By bus
Bus Station

phone: +38944 339130

address: Boris Kidrich Street (Борис Кидрич)

There is perfect and regular bus connection with all of the cities in North Macedonia. There is a regular bus line from/to Skopje on every 30 minutes, taking around 50 minutes to an hour to cover the route, costing 110 den one-way. Sat-bus departs , to Gostivar (hourly, between 06:00-19:40), to Skopje (half-hourly, 06:00-19:40), to Kičevo (06:00, 07:00, 12:00, 13:20, 15:20, 17:00, 19:20), to Struga (seven times per day, 06:00-18:25), Kumanovo (three times). - Eurobus is an international coach operator based in North Macedonia that has almost daily tours from Austria, Germany, Switzerland, Italy and Slovenia. Prices from €70 and possible to get student discount. Almost daily in modern coaches from Switzerland, Germany, Austria, Italy, Slovenia. Stops in the major cities Skopje, Tetovo, Ohrid.
By car
The highway Skopje-Gostivar goes through Tetovo. It is very nice and smooth road, but you have to pay on pay-tolls to drive on it twice (once while leaving Skopje, and once again on the approach to Tetovo), price 30 denars each time.
Get around
By foot
All of the sights within the city of Tetovo are within close walking distance of one another. The fortress, however, is almost an hour walk from the churches in the upper part of town.

By taxi
Taxis are available in Tetovo, with larger concentrations on major boulevards like Ilindenska and Maršal Tito.

See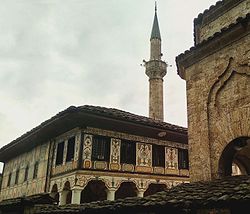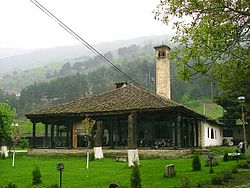 Tetovo's most important and most interesting sights are reminders of its Ottoman heritage. This includes a unique mosque, a Bektashi Order monastery, a fortress, and a Turkish bath.
Šarena DžamijaThe most unique mosque in North Macedonia, the Šarena Džamija (meaning "Decorated Mosque") was built in 1438. It was, however, reconstructed in 1833 by Abdurrahman Pasha, when it received its present appearance. Abdurrahman Pasha was an art enthusiast which helps explain why the mosque has bright floral paintings, unlike other Ottoman mosques which typically have ceramic tile decor. More than 30,000 eggs were used to prepare the paint and glaze that went into the elaborate decorations. In addition to the geometric and floral ornamentation, landscape is also encountered. Among the pictorial decorations, especially attractive is the depiction of Mecca, a rare and perhaps the only example of an illustration of the shrine of Muhammad in southeast Europe. Another uncommon feature of this mosque is that it is not topped by a domed roof. The courtyard contains a türbe (tomb), a fountain, and is filled with flowers. The mosque sits on Ilindenska Boulevard just west of the Pena River.

Arabati Baba TekjeA tekje is a place of spiritual retreat in the Bektashi Order, a type of Sufi Islam, similar to a monastery. This one is the best surviving Bektashi tekje in Europe. The sprawling complex was established in 1538. Ali Baba, brother-in-law of Sultun Suleiman the Magnificent, was banished to Tetovo in the 16th century. He practiced the way of the Bektashi Order until his death, after which his only surviving pupil Arabati Baba founded a monastery to commemorate Ali Baba. The current buildings in the complex were built in the late 18th century by Recep Pasha whose tomb lies next to that of Ali Baba. Some of the buildings are in good shape while others are in poor condition. After the Ottomans were driven out of Macedonia, the complex was nationalised under Yugoslavia and used as a hotel and museum. Today, in the Republic of North Macedonia, the complex is back in the hands of the Bektashi Order.

Tetovo FortressSituated on the hill Baltepe above the city on the east bank of the Pena River, this fortress was first inhabited during Late Antiquity. Most of the visible remains date from 1820, built under Abdurrahman Pasha. It now sits in ruins with walls, arches, and tunnels. A couple structures stand pretty well-preserved.

Bey's HamamBuilt in the 15th century, this hamam (Turkish bath) sits across the river from the Šarena Džamija on Ilindenska Boulevard. The hamam and the mosque were built around the same time. In 1962, the stone-built structure was transformed into an art gallery. It was completely renovated in 2015.

Memorial Museum of the Communist Party of MacedoniaTetovo is where the Communist Party of Macedonia was founded in the 1940s. The museum is in the former Jovanovski family home where the communist committee, including chairman Lazar Koliševski, was first appointed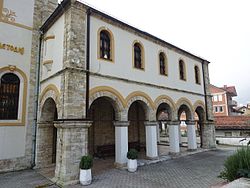 Tetovo has some interesing bridges across the Pena River, particularly the medieval single-arch Stone Bridge.
Churches
Tetovo's churches are relatively new by Macedonian standards, though they were often built atop older destroyed churches.
Church of Sts Cyril and MethodiusThis church, built from 1903 to 1918, is one of the biggest churches in the Polog region. It was built in the old part of the town. The church is a three-nave basilica with a single dome and a cruciform basis. It is primarily white with a red roof. The fresco painting on the walls was done by painter Danilo Nestorovski in 1924. The church also contains an icon gallery.

Church of St NicholasLocated in the northern part of town, the first church here was built in 1842. However, it was destroyed in 1872 and sat in ruins until reconstruction began in 1901. It was completed in 1912. A church dedicated to St Parasheva and St Nedela was built in 2007 behind the Church of St Nicholas.

Holy Virgin Mother of God ChurchAcross the Pena River from the Church of St Nicholas, this church was completed in 1916. It has a bell tower and a dome.

Church of St AthanasiusLocated within the Tetovo Fortress, a church existed in this area in the 13th century but the present-day church was built in 1922. Its metal roof is one of its uncommon features. A large cross stands atop the bell tower.

Monastery of St GeorgeWithin the village of Mala Rečica, just west of the Arabati Baba Tekje, this monastery was destroyed by Albanian insurgents in the 2001 conflict but, with the help of the village's primarily ethnic Albanian population, it has been rebuilt.
Further afield
ŠipkovicaA picturesque mountain village northwest of Tetovo.
Do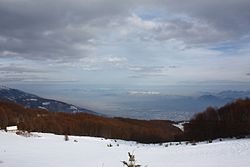 Žena Park

address: Boris Kidrich St
Skiing
Popova ŠapkaA peak of the Šar Mountains rising 1,780 m (5,840 ft) and a ski resort surrounding the peak, west of Tetovo. It is North Macedonia's most popular ski resort with several hotels and restaurants. Various ski trails are good for beginners and experts. It is basically a ghost town outside of ski season.
Learn
State University of Tetovo - is one of the four Macedonian state universities. The university was established on 17 December 1994, however it was not recognized as a state university by the Macedonian government until January 2004. Classes are held in Macedonian, English, and some in Albanian.
South East European University - was founded in October 2001 and is a member of the European University Association. It is a recognised and accredited autonomous higher education institution which was established in 2001 by an agreement between international donors, the government of the Republic of Macedonia, and the local academic community.
Buy
City Shopping Center

address: Ilindenska St

address: Vidoe Smilevski Bato

Market

address: Illyria and Blagoja Toska corner

address: Ilirija bb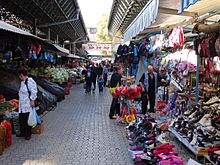 Eat
Tetovo is a food paradise. It is said that Tetovo produces the best
Burek
, a sort of greasy, phyllo dough pastry filled with cheese or ground meat that is popular throughout the Balkan peninsula. It resembles a cheese pie, but contains more fat and has stronger flavour. Also, by general consent, it is much more delicious. Some vendors sell other varieties such as apple, spinach or pizza burek (frequently just a combination between the meat and cheese Burek).
The
Shopska salad
is another phenomenal, yet simple, dish to be found in Tetovo. It consists of chopped up tomato, cucumber, onion, oil, a little salt and a generous topping of a domestic feta-like cheese. The local feta is usually less sharp than feta typically found in the west by a considerable margin. Most websites with recipes simply call it a brined sheep cheese and the French are known to make a similar feta. Another local trademark is the '
Urnebes'
salad, literally translated as 'chaos' or 'pandemonium' - basically cream cheese in oil mixed with ground peppers, garlic and sometimes sesame.
Sharska Pleskavica
, burger with yellow cheese, contains a concoction of spiced ground beef, pork and lamb. It may be served in a bun, pita bread or by itself on a plate depending on where you get one. It usually is accompanied by onions, a paprika based sauce and in the case of the fast-food-esque vendors you'll have a variety of sauces and toppings to accompany it.
Vegetarians had been almost totally neglected in Balkan regions until recently, but now most restaurants will have some options for them, too. Vegans might encounter more problems, although most are usually solved with the help of kind local restaurant owners. Note the traditional fasting periods, especially in April before Orthodox Easter holidays, when many restaurants offer fish and non-animal food, including some specialties.
Carpe Diem

phone: +389 44 350069

Restaurant Dubrovnik

phone: +389 44 338 66970 336330

address: Boris Kidrich

phone: +389 44 337 498

address: Dimo Gavrovski Kara St

Restoran Belamia

phone: +389 44 331332

address: Goce Delcev 108

phone: +389 44 335514

address: Dervish Cara, 8

Breakfast, lunch, dinner, coffee, and drinks.
Delfin, Illyria Street,
Rima, Jane Snadanski bb, +389 44 338 686
Burger House, Jane Sandanski, +389 44 529 444
MEANA Egej, Boris kidrik, bb, +389 44 341 360
Restaurant Shushu, Blagoja Toska (Благоја Тоска ББ), +389 70 840 121
Drink
Tap water is drinkable in Tetovo. Locals like to boast that, Tetovo has the best water on Balkans. Although this claim can probably be contested, the water from the central supply system is drunk by most residents. More cautious visitors are advised to buy bottled water in any shop: a variety of brands are available.
There is a throng of cafes in downtown Tetovo, most of which serve various coffee drinks, beers and liquors. Some specialty bars serve a more limited scope of beverages.
Local wines are usually of the best of quality. The more expensive the better. International brands are offered in most bars.
Rakija, a powerful brandy made from various fruits (usually plum or grape), is a local favorite. Attention: some kinds may be pretty strong for a newbie.

Sleep
phone: +389 44 338669

address: Illyria бб,

Hotel Lirak

address: Bulevard Ilirija

phone: +389 44 352370

address: Bulevard Ilirija, 19

Mob. +389 71 389213
Nearby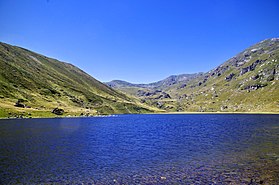 Bogovinje LakeThis lake is the largest of the 27 glacial lakes of the Šar Mountains. It is in Bogovinje Municipality, south of Tetovo. Novo Selo is the village furthest up the mountains toward the lake and a good spot to begin a hike. At an elevation of 1,936 m (6,351 ft), it lies between the peaks of Borislavec and Mala Smerka.

Oraško KaleLocated about one kilometer (0.6 miles) from the Vardar River and standing 110 m (361 ft) above it, is this set of ruins which date from Late Antiquity through the Middle Ages. Not a great deal is left of the fortifications or the historical mining sites just beneath them, but it is situated on a high hill that provides expansive views of the surrounding geography, such as the peak of Ljuboten.

Church of St PetkaThis church was built in 1567, though it didn't begin to carry the name St Petka until its first renovation in 1641. It was again renovated in 1884 and 1958. The frescoes are highly regarded: some were completed in the 17th century, while the rest were completed in the 19th century.
Go next