Thalassery
Tellicherry
or
Thalassery
is a city in
Kannur District
. Thalassery is known as the political and cultural capital of Malabar. It is the centre of progressive political and literary movements. In the colonial era, Thalassery was the centre of learning in north Kerala. The first Malayalam newspapers, novels and short stories in Malayalam were born here. It's also the birthplace of the communist movement in Kerala. Thalassery has a composite cosmopolitan culture.Rajya Samacharam, the first Malayalam newspaper, was published from Thalassery.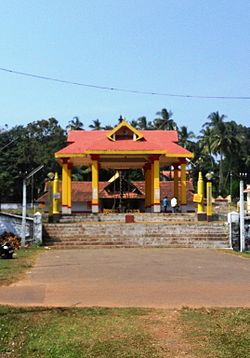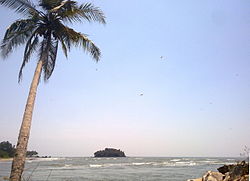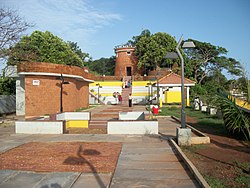 Understand
Thalassery is at times referred to as the city of cricket (where Indians first played cricket), cakes and circuses.
Thalassery is considered to be the birth place of the Indian circus. Keeleri Kunhikannan, born in the city, is known as "the father of Kerala Circus". Circus artists and coaches from Thalassery are very much in demand. India's premier Circus Academy was inaugurated in Thalassery.
Older houses in Thalassery have traditional Kerala architecture, usually large houses with wide verandas and solid wooden doors. Each house invariably has coconut trees, jackfruit, and perhaps papaya, or mango trees. The many idyllic suburbs are well defined by the rivers and canals that flow past.
Since long ago Thalassery residents, like other Keralites, have gone abroad, or all over India, in search of work, and to seek their fortunes. It is quite common to find one or more persons from each household living overseas or in other states. This has led to a somewhat dependent money-order economy. It is a matter of concern for the residents on how to diversify and have a self-sustainable and independent local economy. Thalassery is also famous for its cuisine, the Thalassery biryani is famous for its distinguishing taste. The influence of Arabian culture is evident in Thalassery dishes.

Get in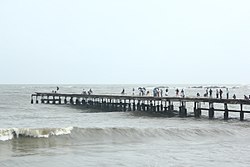 By plane
Kannur International airport (CNN

) is the nearest airport, around 28 km from Thalassery town. The airport opened for commercial operations on 9 December 2018.

Calicut International Airport (CCJ

) is the second nearest airport, 98 km away from the city.

Alternatively, you can come to Mangalore International Airport (IXE) or Cochin International Airport (COK

) and catch a train or taxi to Thalassery.
By train
Book in advance, as trains are usually crowded. Reservations are available from 3 months in advance of the travel date. Depending upon the season and day bookings may get wait-listed or close up to several days prior to departure. You can also try using Tatkal which is an emergency booking system. The Tatkal service opens only one day before the departure of the train. (excluding the day of journey from the train originating station)
One of the best ways to get to Thalassery from Mumbai or Goa is to take the Konkan Railway train. The train ride is renowned for the breathtaking scenery and the natural beauty of the terrain.
By bus
You can also reach Thalassery by bus from cities like
Kochi
,
Bangalore
,
Goa
,
Thiruvananthapuram
,
Chennai
,
Mumbai
,
Coimbatore
. Thalassery is accessible from these cities and from other parts of the state, through the extensive state-run bus services and numerous private bus services.
By car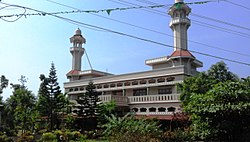 Thalassery is well connected by road from all parts of the state and other major cities.
Thalassery is connected to Goa, Mumbai, and Kochi via NH-17. Highway is mostly two-laned and very narrow, but make for extremely scenic drives as it pass either through the Western Ghats or along the coastline.
Get around
By bus
Like most Kerala cities Thalassery has a good local bus service system. Most of the local bus services are operated by private bus companies. Plenty of buses are available, mostly in 2-3 minutes gap.

By autorickshaw
This is also a cheap method of transport. You can find autos at all important places near junctions and residential areas. Make sure you agree on a fare with the driver before the journey. The normal fare starts at ₹25 for the shorter distances. with a premium of 15-25% at night (8PM-6AM).

By taxi
Taxi cabs are available near bus stations & railway station only. Taxis are usually used by passengers on long-haul routes

By foot
Walking is nearly impossible as sidewalks are absent and driving habits are dangerous. Motorcycle population is incredibly high.

See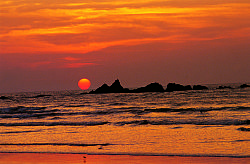 Dharmadam Island

address: Dharmadam,Thalassery

The 5-acre (20,000 m²) island covered with coconut palms and dense bushes is a beautiful sight from the Muzhappilangad beach. During low tide, one can just walk to the island from the beach. It is surrounded by rivers and seas. Permission is required to enter this privately owned island. Dharmadam, earlier known as Dharmapattanam was a Buddhist stronghold.

Gundert Bungalow

address: Koduvally

Residence of Rev. Dr. Herman Gundert, a German missionary and great scholar, author of first Malayalam dictionary.

Holy Rosary ChurchFamous for stained glass works brought from London.

Nettur Hill ChurchBuilt by Rev. Dr. Herman Gundert.

Odathil MosqueBuilt around 1806 in the heart of Thalassery is Odathil Palli and the Garden Mosque. The site of the Odathil Palli used to be a sugarcane garden of the Dutch. It changed hands to the British-owned East India Company.Moosakaka, a Muslim keralite, was the contractor of the East India Company. Moosakaka hailed from the Keyi family of Thalassery. The Keyis were was one of the prominent traders of the time. Moosakaka was considered to be very honest and trustworthy. Hence the company wanted to gift him for his loyalty. Per his request he was given the sugar garden of the Dutch. Musakaka bought this land for a small price as he did not want it free. He constructed a beautiful mosque in Thalassery in the 'Karimbin-odam' Sugarcane plantation had belonged to the Dutch, occupied by the British. Odam means 'garden' in Dutch language. Since it was constructed in Odam the mosque came to be called Odathil Palli, meaning 'mosque in Odam'. The mosque had copper plate roofing and golden dome in the minor and share the scenic features as the ones noted in the Brahmin/Brahminical tradition. There was opposition in laying the dome - a privilege enjoyed by the temples so Zamorin gave speedy permission to lay the domes and the minaret. It highlights the communal harmony that prevailed in those days and the policy of enlightened toleration followed by the Kerala rulers. All the Muslims can offer prayers but in the graveyard/Kabaristan (graveyard adjacent to the mosque) where only the dead bodies of the Keyis, their wives and children are buried. This is famous among tourists to visit, as its historic tradition and a mosque in pure typical Kerala Hindu style and a golden dome covering over its original sugarcane dome.

Overbury's Folly

address: Thalassery

Multi-level landscaped recreational park which commands sweeping views of Arabian Sea.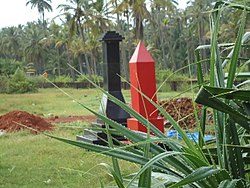 Shri Jagannath TempleThis temple was built in 1908 in the style of Jagannath Temple, Puri, Orissa. The beautiful yellow and red structure faces the railway track. Only slow trains stop at the Jagannath Temple Railway Station. An annual festival is conducted here with a lot of fireworks at display.

Shri Maha Vishnu Temple

address: Edakkad

Majestic and sylvan surroundings.

Thalassery Fort18th-century fort built by british, and a light house.

Thalassery Pier

address: Thalassery

An old pier extending out into the Arabian Sea. Built by East India Company in 1910 for transporting commodities to and from ships.

Thiruvangad Sree Ramaswami Temple,

address: Thalassery

A prominent temple with carvings as old as 400 years. One of the four famous temples dedicated to Lord Sree Rama in Kerala. Located on an elevated plot of 2.75 hectares with an adjoining temple tank which extends over an area of one hectare, This well maintained temple has excellent wood carvings, terracota art work, mural paintings carved on wooden planks in the ceilings are a repository of art treasure.

Saidhar Pally Masjidh

address: Calicut Road
Do
Drive in beach @ MuzhappilangadFour-km-long beach with strong sand. The longest drive-in-beach in India.
Buy
Arya Sweets

address: Logans Road

Greens Bakery

address: Pallishery

Hai Uppilittathu

address: On the highway near stadium police station

Salted mangoes, salted tamarinds, salted carrots, salted pineapples, salted beetroots, salted gooseberry, salted papaya, salted green chilli and a dozen other varieties. This shop was established in 1998. Water and ice used here is hygienic.
Eat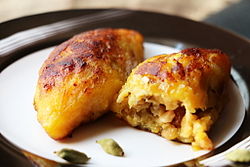 Bharath Coffee House

address: PIlakkool

Green Leaf Restaurant

phone: +91 490 2326888

address: Gundert Road

phone: +91 490 - 2325574

address: Behind bus station

Mughal Restaurant

address: PeIlakkool

Olive Garden Restaurant

phone: +91 490 2321050

address: Narangapuram

Paris Restaurant

phone: +91 490 2320370

address: Logans Road

Famous for biriyani, samoosa and banana filling.

Peacock Restaurant

address: Pallishery

Prakrithi Restaurant

address: Palissery

phone: +91 490 2322043

address: Narangapuram

Famous for fish biriyani.

Saroma Adhithya Vegetarian

address: opp. Fire Station

Western Restaurant

address: Near Jubilee

Zaika Multi-Cuisine

phone: +91 490 234 1202

address: Pilakool

Kentucky Fried Chicken

address: Logans Road, near New Bus Stand, Narangapuram
Drink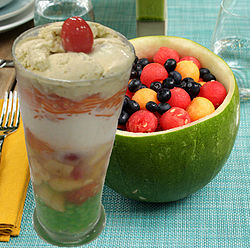 Firoz Shake Corner

address: Chalil, Pier Road
Sleep
phone: +91 490 2342666

address: Logans Road, Thalassery

phone: +91 490 2326702

address: Venus Junction, Thalassery

Sree Gokulam Fort

phone: +91 490 2321222

address: Good-shed Road, Thalassery

phone: +91 4902322803

address: Goods Shed Road, Behind Railway Station

Opened in March 2018
Connect
Area code international

address: +91 490

Area code national

address: 0490
Go next