Thamarassery
Thamarassery
is in
Kozhikode District
, in the
Malabar
region of
Kerala
,
India
.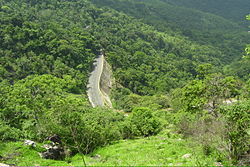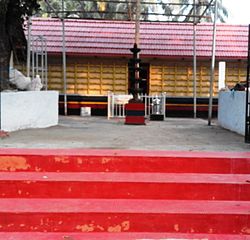 Understand
Thamarassery is a major town of
Kozhikode
district and it is a taluk headquarters. It is 30 km east of Kozhikode on the foothills of
Wayanad District
. Thamarassery is the starting point for reaching towns like Koyilandy, Kalpetta, Mukkam, Nilambur, Koduvally, Thiruvambady, Balussery and Kodencheri.
Get in
Thamarassery is 31 km by bus from Kozhikode. It is on the Kozhikode - Bangalore road.
There is no railway station here.

See
Cup and Saucer Tree

address: Century Auditorium, Pantheer Padam, Kunnamangalam

very photogenic

Indian Institute of Management

address: Kunnamangalam

97 acre campus

Indian Institute of Spices Research

address: East Moozhikkal

Kakkayam DamVehicles are permitted inside the forest and at the end of the trip, you have some 14 km exclusive ride inside the dense rain forest. There are many viewpoints on the way with some small waterfalls. Dam entrance fee is ₹40 per head. Remember to pack your picnic bag from Thalayil town because nothing is available beyond this point. Offroad cycling facility is offered inside the forest track. Boating facility is available in the forest lake.

Kozhippara Waterfalls

address: Koodaranji

Ideal for swimming and trekking.

address: Karanthur

Sprawling campus with 20,000 students.

National Institute of Technology

address: Kunnamangalam

300 acre campus in hilly surroundings.

Odungakkad Dargah

address: Kalpetta Road

Ancient forest shrine that gives free food to devotees occasionally.

Orthodox Valiya Church

address: Engampuzha

Shree Manathanath Annapoorneshwari Temple

address: Kunnamangalam

Sri Rama Swamy temple

address: Kozhikode Road

scenic surroundings.

Thusharagiri FallsThere are two streams here and they join to form a Chalippuzha river. The word 'Thushara' means snow and this name is given because the waterfall looks snowy. There are three branches of the waterfall and the highest falls from 75 m. This place is also ideal for trekking and rock climbing.

Umbrella Tree

address: IHRD College of Applied Science, Thamarassery

Mexican species caesalpinia cornelia. Eight year growth into a cute niche.

Vellari Mala

address: near Anakkampoyil

Vavul Mala peak is in this mountain and it is at an altitude of 2339m. The hill ranges are accessible by foot from Muthappanpuzha, near Anakkampoyil. About 6 km by foot from Muthappanpuzha on the way to Vellarimala hills is the waterfall called Olichuchattam. It is situated 15 km from Thiruvambady. KSRTC Bus Services are available from Thiruvambady to Anakkampoyil and Muthappanpuzha. Swargam Kunnu or Paradise hill is also situated here. Vellarimala - Swargam Kunnu - Hasthakappara - Olichuchattam - Marippuzha - Muthappanpuzha Trecking is possible with forest department permission. Now a new road is there from Thiruvambady to Marippuzha.

Vennakkad Hanging Bridge

address: Near KIMS Hospital, South Koduvally
Do
Trekking

address: Adivaram to Lakkidi

Holy walk 8 am first Friday of every month.

Visit Adivaram village

address: Wayanad road

Jesus park, rivers, foothills and fine restaurants. Good views from the fourth hairpin bend.

Visit Anakkampoyil villageGet into a bus from Thiruvampady to Anakkampoyil. You go by the road on the bank of Kaliyampuzha river. After seeing Areeppara waterfall, you go by rubber plantations and reach the scenic Anakkampoyil village. There is an Infant Jesus shrine here and also a little green mosque from where you will get good hill valley views. If you can walk one km from the last stop you can reach the beautiful Muthappan Puzha river. You can also visit Vellari Mala mountain from there. Distances to Anakkampoyil: from Thiruvampady. 12 km, from Mukkam. 20 km, from Kozhikode. 55 km, from Thamarassery.22 km
Buy
Fischer Factory outlet

address: Pallikkunnu, Kalpetta Road

Footwear on discount prices

Gold Town of Koduvally100 jewelleries in a one sq.km area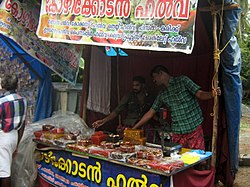 Kozhikodan HalvaHalva is a sweet and sticky substance made of maidha and oil. It is sold in the shape of bricks in plastic packets. Different flavors are available like jackfruit halva, carrot halva, date halva and the best of all the black halva. If you are health conscious, just keep away from all the halvas.

Maharajah Furniture

address: Thamarassery

Majestic building

Sanam Gift Bazaar

address: Thamarassery town
Eat
Almount Relax Inn

phone: +91 495-2232113

address: Adivaram

Brothers Hotel

address: Behind Bus stand, Kunnamangalam

Spacious village restaurant serving traditional food.

Hasthinapuri Restaurant

address: Chungam, Thamarassery.

Heritage Restaurant

address: Mysore Road

Very spacious parking facility

K. R. Bakery

address: Near HDFC Bank

Mount View Fast Food

address: Fourth Hairpin Bend

Terrific views.

Viceroy Restaurant

address: Adivaram, Kalpetta Road

for Kuzhimanthhi pit cooked chicken

White House Restaurant

address: Odungakkad

Majestic structure with ample parking facility

Zain family restaurant

address: Near KSRTC workshop
Drink
Al-Madeena Juice Park

address: Kozhikode Road
Sleep
Dolphin Towers Tourist Home

address: Wayanad Road, Thamarassery

Hasthinapuri Inn

address: Thamarassery

Hotel Ambassador

address: Adivaram

Mount Relax Lodge

phone: +91 4952232113

address: Adivaram

Paradise Tourist Home

address: Wayanad Road, Thamarassery

Royal Tourist Home

phone: +91 4952224302

address: Chungam, Thamarassery
Connect
Area code national: 0495
Area code international: +91 495
Go next