Thane
Thane
(also called
Thana
) is a city in
Konkan
,
Maharashtra
. It is the headquarters of
Thane district
. Its biggest claim to fame is that the first railway line laid in India was from Boribandar to Thane station.
Understand
Thane is known as Elder Sister of
Mumbai
(Bombay), as Thane district was divided and part of Thane district that is from Mulund to Sion was given to Mumbai for its future development. Also, Mumbai depends heavily on Thane for water supply from lakes. Thane for all practical purposes is a suburb of Mumbai. Today Thane city area is with more than 1.2 million population.
There are 30 lakes within and around the city, earning it the sobriquet of
Lake City
. Apart from being a source of water for Thane and its larger neighbour, Mumbai, the lakes are also tourist attractions. The areas surrounding the city are beautiful. The scenic locales, old forts, boat rides and resorts make Thane a great getaway from Mumbai.
Climate
Thane's climate is almost the same as Mumbai's climate but slightly cooler.
History
The earliest evidence of Thane appears in the works of the Greek geographer, Ptolemy, who, in his writings ( 135 - 150 AD) refers to a place called Chersonesus, which, according to researches, is the area around Thane creek. The city crops up again in the Middle Ages and slabs and copper plates dating back to the period have been discovered in Thane. One of them, dug up from the foundations of Thane Fort in 1787, dated 1078 AD, is apparently a land grant from Arikesara Devaraja, sovereign of the city of Tagara, wherein he address the inhabitants of a city called Sri Sthanaka. Friar Jordanus, a great traveler, who visited the city between AD 1321 and 1324, describes it as being under a Muslim governor. He leaves a detailed sketch of early Christians in Thane and refers to the martyrdom of four Christian priests in the region, more than 200 years before the Portuguese ever set foot in India. The celebrated Ibn Batuta and Abul Feda, contemporaries of Friar Jordanus, also came here. They refer to Thane as Kukin Tana and speak of its fame as a port from which ships sailed to the gulf carrying a kind of cloth called 'Tanasi' which was produced in Thane. Duarte Barbosa, a noted traveler, described Thane by the name Tana Mayambu 25 years before the Portuguese conquest. He paints a vivid picture of the town as one of Moorish mosques and temples, with many pleasant gardens. The Portuguese came to Thane about 1530 and ruled for over 200 years till 1739. Thane was then known as Cacabe de Tana. Work on the Thane Fort began in 1730. The Marathas, who conquered Bassein and Thane in 1737 and 1739, held sway over the region till 1784, when the British captured the Fort and ruled Thane, then also called Tana. They made it the headquarters of the district administration with a district collector stationed in Thane.
The Thane Municipal Council was formed in 1863 when the city had a population of 9,000 souls.
Economy
Thane is witnessing a gradual transition from being a manufacturing hub to an economy driven by services sector. The state government in general and MIDC in particular are also acting as a catalyst to boost this transition. The Wagle Estate MIDC is gradually becoming a major IT & ITES, services industry hub. The Ashar IT Park marks a key milestone towards achieving it.
Most of the global IT & ITES companies have started shifting focus and relocating to Thane on account of its cost efficiencies and highly skilled low attrition manpower. The IT parks are built using state-of-the-art technology, packed with all the ingredients comparable to any international IT park.
Get in
By plane
The nearest airport is the
Chhatrapati Shivaji International Airport
, Mumbai. Once you get off, you will need to take a taxi or hire a car. The distance to Thane is about , the drive can take between 45 to 75 minutes depending on the traffic.
By taxi
Mumbai's taxis are allowed into Thane. The prepaid taxi service available at the airport is the recommended hassle-free way of getting to Thane. The fare you pay at the counter includes the toll you need to pay when you leave Mumbai.
By train
The best way to get to Thane from Mumbai using public transport is to take the local train service.
Although Andheri is the nearest railway station from the airport a better option would be to take an auto-rikshaw to Kurla or Ghatkopar station(both these stations fall on the central suburban line) and then board any suburban Northbound Local Suburban train (all local suburban trains halt at Thane)to Thane. You've the option to board a fast or a slow train. But better option is to board Thane Local Train which ends at Thane station. Trains can be located by Abbrevations for example T - Thane so any train with T abbreviation on Digital Train time display will end at Thane.
The auto-rikshaw ride to Kurla or Ghatkopar stations would cost a little more, about ₹60 to ₹70, compared with Andheri which will be about ₹40 to ₹50 but you would end up saving about 1 hour to 1&1/2 hour. An added benefit is that you get to board a direct train to Thane thus avoiding the change over at Dadar.
Other option if you are coming from the airport is, take an auto-rickshaw to Andheri station which is served by the Western Railway and buy a ticket to Thane. You need to take a southbound train towards Churchgate, get off at Dadar (which is the interchange point) if possible avoid peak hour journey if you are new in Mumbai specially between 8 and 11AM or between 6 and 8PM, get on the Central Railway Line and then take a northbound train to Thane. This method is recommended only if you are adventurous at heart and are not carrying any luggage.
Thane is also well served by long distance trains, many of which stop at Thane station
en route
Mumbai.
By car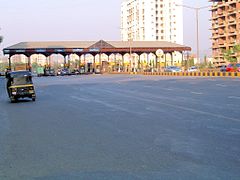 Two main roads enter the city from Mumbai. The older one is the
Lal Bahadur Shastri Marg
(commonly abbreviated as LBS Marg) and
Eastern Express highway
. Both of them are toll roads - the toll gate (called
naaka
) for the former is called
Teen Hath Naka
while that for the latter is called
Check Naka
. The toll at both the
naakas
is ₹30 one way which is somewhat unfair because there is a huge difference in the condition of the two roads.
LBS marg is invariably congested, encroached upon and potholed. It goes through the heart of Mumbai's
Mumbai/Central Suburbs
. The Eastern Express highway is wide, well-maintained and smooth. It goes through an uninhabited area where development is prohibited. Use this road to get in, even though the distance will be slightly more. The roads intersect at
Marathon chowk
("Marathon square", because that's where the Thane Mayor's Marathon starts from.). LBS marg then goes right through the city, while the Eastern Express highway skirts it and turns into NH - 3 highway to
Nashik
and
Agra
.
By bus
There are very few BEST buses that go right up to Marathon Chowk (It is known as "Teen Haath naka")- 399 and 496 Ltd. Once you get off, catch a TMT bus or auto-rickshaw.From this spot Thane railway station is hardly 10-12 min walk if you go by following Gokhale Road , & auto should not cost more than ₹10-15.
BEST bus kinglong number 700 for Borivali, from Thane railway station east, frequency every 15 minutes. early bus 6.00AM last bus 11.30PM
Maharashtra State Road Transport Corporation (MSRTC) also called ST bus service from Thane railway station west frequency every 15 minutes.
BRTS Buses originate from Cadbury Junction for Backbay and Nehru Planetarium
Most private buses from various parts of the country will stop in Thane. Maharashtra State Road Transport Corporation (MSRTC) buses will ply from various parts of Maharashtra to Thane.
Thane Municipal Transport (TMT) commuters helpline number 1800-22-9901 to get the information about TMT buses
By auto-rickshaw
Note that auto-rickshaws from Mumbai cannot enter Thane city limits. You will have to change over to another one at the toll-gate.
Get around

The area around Masunda Lake, called Talao pali ("talao" meaning lake) is the heart of the city. Most of the important landmarks are located here.

By car
Ram Maruti Road, Gokhale Road and LBS Marg are the important roads to criss-cross this area. The other important road is Ghodbunder Road which connects the eastern and western halves of the city and joins the Eastern Express Highway.

By bus
Thane Municipal Transport (TMT) runs a bus service through the city.
Even Brihanmumbai (BMC) has started bus service in selected parts of the city

By auto-rickshaw
The most common way to get around in Thane is to hire an auto rickshaw.
Payment is by meter. The amount to pay, however, is not the amount shown by the meter, but scaled up by a factor which changes whenever there is a rate adjustment. Check the tariff card for the right fare. Ensure Tariff card is stamped & signed by RTO.It is better still to know the approximate km to destination and negotiate the charge lumpsum before hand since the meters are invariably tampered with. e.g Thane to Sion is 15-18 km and fair charge would be ₹130-₹140 (latest rate) but the meter will show ₹180-₹190. Thus fixing 140-150 before sitting saves you a lot of headache.

By taxi
If you are on a day trip from Mumbai, one of the options is to catch a taxi in Mumbai and use it to go around Thane city. You cannot flag down taxis in the city as you won't find any, but you can certainly hire one.

See
Gadkari RangayatanLocated along talao pali.

Kopineshwar MandirLocated near Talao Pali, it is one of the oldest temples in Thane. It was reconstructed by Chimajji Appa around 1750 A.D.

Masunda lakeLocated at the heart of the city

St. John the Baptist ChurchThis church is over 400 years old and is located right next to Masunda Lake. St. John the Baptist Church is adjacent to St. John the Baptist Hight School and Junior college.

Thane creek

address: Ghodbunder Rd

Upvan lakeIt is located near Yeoor hills.

Visit Malls, visit Wonder Mall, Lake City Mall at Ghodbunder Rd, Eternity Mall at Teen Hathnaka, Korum Mall near Cadbury Junction and Viviana Mall near Jupiter Hospital.
Do
phone: +91 22 2494 1100, +91 22 2494 1101, +91 22 2494 1102

address: Tikuji-ni-wadi Rd

A popular destination for picnicking families, known for its watersports, go-karting and other rides you'd find at amusement parks. The go-karting track isn't very good though. The lunch is fabulous, though fully vegetarian. You will also need to buy lunch for ₹180 as you can't carry any edible stuff in from outside.

address: MH SH 42, Dongripada, Thane West

Suraj Water Park is an excellent water recreation paradise which appealing to people belonging to all age groups. Spread over 11 acres. Suraj Water Park is definitely an ultimate and out of the world source of entertainment.

Yeoor hillsYeoor Hills, also known as Mama Bhanja Hills, is a group of picturesque hills in Thane. It is an unspoiled and pollution free area, carpeted by natural foliage and fauna. Yeoor Hills is home to about 78 known species of birds and about 12 different species of animals. Besides, it has the highest density of leopards in India. A trek through Yeoor Hills at the Thane end of Sanjay Gandhi National Park will be an enchanting experience.The prime attraction here is the 150-year-old holy shrine of Mama Bhanja. Tikuji-Ni-Wadi, a complete family theme park, is nearby.

phone: +91 22 2571 7205

address: Central Ave, Near Estate Circle, Hiranandani Estate, Thane West

Hakone is a combination of Special Sports, Entertainment and Leisure at Powai. Situated in Hiranandani Estate it is one of the most desirable attractions in Mumbai. The variety of attractions spanning rides and aqua pad boats for children as well as GO karting, paintball, dashing cars for adults are as popular as the mini train ride for infants.
Buy
The old shopping areas are the ever busy
Ram Maruti Road
and the
Naupada road
towards Thane Station. There you will find shops on the roadside.
New malls are coming up on Ghodbunder Road and the Eastern Express highway. Prominent among them are:
Big Shopping Center

address: Sai Nagar, Anand Nagar, Thane West

Shopping mall

Eternity Mall

address: Teen Hath Naka, LBS Rd, Kashish Park, Thane West

High Street Mall

address: Samata Nagar, Sainath Nagar, Majiwada

(Cinema Star -5 Screen Multiplex, Brand Factory ,Reebok, Rajdhani, Bata, Buckaroo, Catwalk etc.)

phone: +91 22 4114 4444

address: Eastern Express Hwy, Samata Nagar, Thane West

Spacious mall featuring 130+ national and international retailers, plus a food court & a game arcade.

R-Mall Thane

address: Ghodbunder Rd, Opp Lokim Company, Dokali Pada, Manpada, Thane West

R-Mall Thane has Re known Brands like Croma,Central, MORE & recently opened Pop Tates.

Wonder Mall

address: Ghodbunder Rd Kapurbawdi, Thane West

address: Eastern Express Highway, On, Service Rd, Laxmi Nagar, Thane West

Shopping mall with brand-name retailers and a food court, plus an arcade, multiplex and kids' play area.
Eat
Amruta Restaurant

address: Naupada, near the Railway Station

Amazing Paav Bhaji. Will surely make you lick your fingers

BBQ Nation

address: Eastern Express highway service road, near new RTO, Green Road

Famous for Veg and Non-Veg Grill. Very nice place to be with family. Good ambience.

Dilip Pani Puri

address: Vegetable Market, Kopri

Amazing Sindhi Pani Puri and chat
Gopalashram at LBS marg. Serves liquour till 6AM...the food isn't that great but if you are hungry at 3AM...check the place out.
Goras Upahar Gruh and Goras Gruha, Gokhale Road for authentic Marathi snacks and sweets.

Hotel Amantran

address: 1st floor Opp Jilha Parishad

Famous for Maharashtrian food, spicy and tasty menus with very good service.

Hotel Sindhudurga Kinara

address: 5, Surekh Aminity Complex, Savarkar Nagar, Thane West

Hotel Vijaydurg:Famous for Malvani food with delicious & spicy prawns, crabs, shell masala, malvani thali with fried pamplet, bombil, halva etc. Solkadi to drink after food for digestion, at Majiwada before Flyover from station end.
Indian Swad at LBS marg. Good food and serves liquour till 2AM. Serves Indian and Oriental cuisine.
Kunjvihar, Near Thane railway station, Thane(W). A famous place for Jumbo (i.e. oversized) Vada-Paav, a typical Mumbaiya delicacy. You can have it either spicy or very spicy. ₹17/-.

Mahesh Lunch Home

address: Phokran Rd 1

Famous for good sea food. Ideal place for non-veg lovers. Good ambience.
Mamledar Misal, Opposite Zilla Parishad Office

Maria Family Restaurant

address: Maria Plaza, Pokhran Rd 2, Thane (W)

Maria Family Restaurant is one of the best family restaurant in thane. It is located at Majiwada junction, Having ample space of valet parking. Hotel is especially for Chinese, Indian & Punjabi dishes. There is different kitchen for Veg & Non Veg Food, & main attraction of children i.e. huge Fish Tank.
Moni's Near Malhar Talkies while entering Naupada market. It is a wonderful restaurant with a play area for children and fish tanks everywhere. The sizzlers are good if not the best and you could try the Royal Chicken sizzler if you ever do go there. The door man is rather peppy and the parking is always available on the adjacent road.
Oriental Spice, Shreeji Arcade, Almeda Rd, Panchpakhadi, Thane-400602 +91 22 2539 4917 +91 22 2542 1111. Chinese restaurant.
PANCHALI. Is a Bar and a Restaurant. Is open till wee hours and is a better option than Gopal Ashram
Prashant corner Panchpakhadi thane (west) A great place to try chaats and stuff.

R-Mall

address: Ghodbunder Rd

opened
Raj Mata, Ram Maruti road, Thane. Famous for scrumptious vada pav, samosa pav. Be a sport and try this one out, and for a moment forget the calorie counting.
Royal Challenge, Eastern Express highway service road, Near Nitin company, Thane (W). Vegetarian restaurant and bar.
Sheetal Grille, Royal Inn, Old Agra road, Thane(W) +91 22 2538 4422. Indian restaurant and bar.

phone: +91 22 4157 9999

address: LBS Marg, Gokul Nagar,

Attached to hotel United 21, spices and sauces are located 1 km from Thane station. The best place to have Murg Khandari Kebab as certified by Kingfisher Explocity Great Food Guide.
Tip top, fast food joint - near the railway station. A great place to try chaats and stuff. ₹15-₹50.
Tip top restaurant, L.B.S. Marg, Near Teen Hath Naka, Thane (W) (attached to Hotel Tip top) Great Gujarati/Rajasthani thali for ₹160. (Buffet for ₹110)

phone: +91 22 4153 5225

address: A-2, Eastern Express Highway, Deep Jyoti Society, Bhakti Mandir, Panch Pakhdi, Thane West

Pan-Asian fine dining.
Vihang Orchid, restaurant - at Ghodbunder road opposite Wonder Mall. A Multi cuisine restaurant where you can enjoy the dhaba on terrace.
Woodland restaurant, L.B.S. Marg, Near Teen Hath Naka, Thane (W) Best South Indian food at very reasonable price. Very good service and simple and nice ambience.
In addition, there is a
McDonald's
close to the railway station, another
McDonald's
at the Lake City Mall, a
Pizza hut
at Paanch Pakadi area & Wonder mall (see
Buy
) and a
Dominos
near Paanch Pakadi area & Hiranandani Estate.
Drink
Some of the restaurants listed under
Eat
have bars where you can have a drink, but Thane is not a place known for its nightlife. The lower end bars tend to be sleazy, so you need to be careful.
Amruta Restaurant

address: Naupada

Amazing Vegetarian food. Especially the awesome Pav bhaaji is sure to make to lick your fingers

phone: +91 22 4157 9999

address: LBS Marg, Gokul Nagar

Can grab your cup of coffee at any time of the day. The only coffee shop which is open 24/7.
Cafe Coffee Day has two outlets here.
Desi Garbar, Shop No. 6 & 7, Akanksha Society, Panchpakadi, Thane(W)
Shop no 14,15, Ground Floor, Siddhachal Phase 4, Near Vasant Vihar, Pokhran Rd no 2, Thane(W).
Green Guru

address: near Karnavat Classes & behind Pushpak Hotel

famous for PARATHAS
Hotel Sindhudurga Kinara

address: 5 Surekh Aminity Complex, Savarkar Nagar, Thane Eest

Malvani Food
Sundar Snacks Centre

address: nr Thane Station at a few minutes walk from Mcdonald's on Gokhale Rd just opposite Variety Computer Shop

get best cutlets and South Indian snacks in thane.You have to search this one as it not facing road but inside a building entrance.
Vijay Snacks

address: Gautam Arcade Kopri Colony, Thane (East)

famous for its vada pav
Sleep
There are many lodges near the railway station, but there is a lack of decent hotels.
phone: +91 22 2538-5050

address: Old Agra Rd

The attached restaurant and bar Sheetal Grille serves Indian and Chinese. Has a couple of banquet halls.

phone: +91 22 2582-5225

address: EEH Service Rd

Includes three restaurants Madhuban, Prakriti and Vardhana. Also has a banquet hall.

phone: +91 22 5593-5593

address: LBS Marg

Has one decent restaurant and many banquet halls with adequate conference facilities.

address: Pokhran Rd No. 1, Opp Sighania School, Next to Cadbury, Thane(w)

It is one of the best hotels to dine with family. It serves drinks too. The food is wonderful although the price is on little higher side. But the cool and peaceful atmosphere along with prompt service compensates for it.

phone: +91 22 4157 9999

address: LBS Marg, Gokul Nagar

Four star hotel for family and corporate needs with Wi-Fi connection and electronic safe facilities. Rooms for physically challenged persons are also available.

Vihang's Inn

phone: +91 22 25842031 - 38

address: Ghobunder Rd

Just over a year old, this hotel serves 32 rooms
Go next