Thaton (Thailand)
Thaton
(ท่าตอน, also spelled Tha Ton) is a small village in
Chiang Mai Province
,
northern Thailand
. It is 46 km northeast of Fang.
Understand
Thaton is between
Mae Ai
and
Mae Chan
in northern Chiang Mai Province. It is a town on the banks of the Kok River. It has a relaxed atmosphere, and some people hang out for a few days or weeks. There are a small number expats as permanent residents. There are a number of guesthouses along the banks of the river and more in the town. The picturesque views from Thaton hill and the banks of the river, and a small town feel combine to make this a nice place to hang out.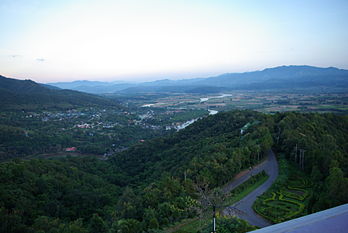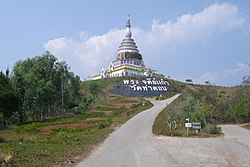 Get in
Thaton is on Rte 1089 between Fang and Mae Chan. The distance to Chiang Mai is about 214 km by road and takes about 4 hours, but with some excellent scenery along the way. Chiang Rai is 108 km away, Fang 25 km, and Mae Ai, 10 km. Thaton is so small it does not appear on many road maps.
You can take the boat from Thaton via Ban Ruam Mit (elephant riding) to
Chiang Rai
. The very scenic trip on the Kok River takes about 3 hours downstream (from Thaton) or about 4 hours upstream.
There is a government boat from Thaton at 12:30 that costs 400 baht each for a minimum of 4 people. In the upriver direction it runs from Chiang Rai's CR pier at 10:30.
If the times are inconvenient, you can charter a private boat. The initial asking price is 2500-1700 Baht, but that could probably be bargained lower. To arrange things contact the CR pier boat office (7:00-16:00) in-person or by phone 053 750009.
The bus station is near the bridge. Buses depart from/to Chang Phuak Bus Station in Chiang Mai several times a day with the journey taking 3-4 hours (prices are around 90 baht). The buses are usually easily identifiable with English information on them. Buses to Chiang Rai and Bangkok also run, albeit less frequently, a journey to Chiang Rai takes a couple of hours and to Bangkok about 12 hours (890 km). In May 2012 there was only one bus to Chang Rai that left at 15:00 and you had to change in Mae Chan.
From Thaton you can also go to
Mae Salong
, and on to the
Myanmar
border at
Mae Sai
where you can extend your visa.
Get around
Thaton can easily be explored on foot and bicycle. A songthaew can easily be hired if you need to travel out of the village.

See
phone: +66 53 053609

A large monastery bordering the village, it occupies an area of more than 160 acres on a number of hills. There are nine stations to visit for Buddhist pilgrims. Each station has something on it to visit, such a big Buddha image or a stupa. Level 4 has a meditation centre, where they teach Vipassana meditation. Support for English is not supported though foreigners are welcome if they can speak and understand Thai, or come with people who can translate. Also, Nov-Jan is when there are few people at the temple and meditaters are discouraged from attending at this time. Level 8 is a very large chedi and several statues. Level 9 is two kilometres from level 8, on a paved footpath the forest with a large standing Buddha at the end of the path. The temple complex is on the bank of the Mae Nam Kok (Kok River) and offers beautiful scenery. The temple also houses a school for monks, novices, and youths as well as a drug rehabilitation centre and a hill tribe support unit.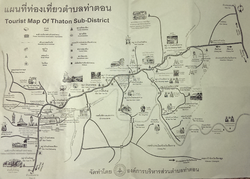 Do
Thaton is the launching point for river trips to Chiang Rai, and for hill tribe villages in the surrounding hills. You can make a half-day longtail boat trip to Chiang Rai from here. Within 20 km of Thaton you can visit local villages, inhabited by Pauang, Black Lahu, Akha, and Yunnanes. Treks and raft trips can be arranged through guesthouses and hotels in town.

Buy
On the grounds of Wat Thaton (level 2) there is the occasional open-air market where the hill tribes hawk trinkets and snacks.

Eat
There are many small restaurants serving Thai and some Western food. Also a couple of (Nationalist) Chinese-owned restaurants. A few restaurants along the river serve locally caught fish, both from the river and from local fish farms. Also several street vendors in the late afternoon and early evening hours sell food items often not found in restaurants, such as Rotis and "Thousand year old" eggs.
For packaged foods, there is a 7-11 one block south of the bridge. The local morning market is a prime spot for fresh produce. There is a nice fruit stand located near Sunshine Cafe that sells chilled coconut juice, straight from the coconut.

Drink
There are no bars in Thaton, although most restaurants serve alcohol.

Sleep
Apple Resort

phone: +66 53 373144, +66 89 2027290

Has a range of bungalows, bigger ones with balconies and air-con overlooking the river. Smaller ones at the back with a fan and small verandas overlooking a pleasant garden. All extremely well-maintained and very clean. Overall Apple has 19 rooms and is the largest guesthouse in Thaton. Very good choices and a great river location. The attached restaurant serves decent quality Thai food and reasonable farang food. Wi-Fi is available in some rooms, though coverage is inconsistent. AIS 3G worked fine in the area.

phone: +66 85 7229002 (French-English), +66 85 8671348 (Thai)

address: 323 Ban Rumthai, Moo 14

Wonderful website with many photos. Bungalows include TV, DVD, stereo, stocked minibar. Hosts are the Franco-Thai couple, Paulo and Nid (and their little daughter). Your stay includes breakfast, free Wi-Fi, swimming pool. Dinner at the lodging by reservation for 240 baht.

Garden Home Nature Resort

phone: +66 53 373 015

address: 14 Mu 14 Ban Thaton

Garden Home is a wonderful place, especially if you like quiet. Surrounded by lychee trees are small bungalows suitable for one or two people for 500 baht/night. Larger bungalows overlooking the river are 1,500 baht. For the budget traveler Garden Home also has four rooms available, each with a private bathroom, for 300 baht/night (all prices still accurate Feb 2018). Garden Home Nature Resort has been around for decades, although most of the bungalows have been freshly rebuilt as of a few years ago. There is also a restaurant located on the property, with good food and fruit shakes. Free WiFi in every room. Motorcycles for rent at 300 baht/day. Reservations are not necessary.

Areeya Phuree Resort

phone: +66 89 143-7688

address: 84 Moo 3

checkin: 12:00; checkout: 12:00. Scenic riverside resort set in a garden. Suitable for a wide range of budgets. Includes a pool, Wi-Fi, and restaurant. 200+ baht.
Stay safe
There is a tourist police station near the bridge, although there is no major crime in Thaton.
Be aware of stray dogs, especially if riding a bicycle. If they show aggressive behavior (especially in group) avoid eye contact and move away slowly. In the unlikely event of a bite, get a rabies vaccination as soon as possible at Mae Ai Hospital, which is 9 km south of Thaton in the town of Mae Ai.

Go next