Thatta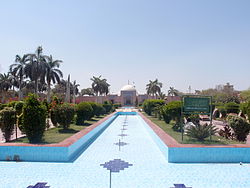 The unarguably historical town of Sindh,
Thatta
, just east of Karachi, is of great antiquity which has remained capital of Sindh for many centuries in the past, has now gained national prominence largely as a result of the imposing necropolis of Makli Hill, which provide a unique view of civilization in Sindh from the 14th to the 18th century.
Not to forget 16th century Shah Jahan Mosque is a marvelous addition to Thattas' unique cultural and architectural landscape.
Understand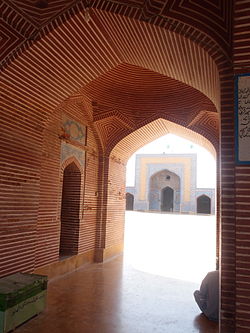 Some believe Thatta is the same port city which was situated once on the Indus River during Indian campaign of Alexander the Great.
About four centuries ago, Thatta was a famous center of learning, arts and commerce and the capital city of three dynasties: Samma (1335 AD-1520 AD), Arghun (1520 AD-1555 AD) and Tarkhan Dynasty (1554 AD - 1591 AD). The city was later ruled by the Mughal emperors of Delhi from 1592 to 1739. Thatta was a prosperous and flourishing city in those days and the city was an important commercial and cultural centre. Thatta's importance started to decline when Sindh was given up to Nader Shah, the ruler of Iran (1736–1747), and after the capital was moved to Hyderabad in 1768, Thatta fell into neglect. But the three dynasties and the Mughals left their mark in the city in the form of unique architecture such as monuments of Makli and Shah Jahan Mosque, which was built during the golden age of the town.
Get in
Thatta lies on the National Highway # N-5, the longest highway in Pakistan, which travel via
Peshawar
,
Rawalpindi
,
Gujranwala
,
Lahore
,
Multan
,
Sukkur
, and
Hyderabad
and continues to
Karachi
after passing Thatta.
Despite being the country's most important and largest highway, part of N-5 between Hyderabad and Karachi is not used very much nowadays, since the newer M-9 Super Highway has shortened the distance between two major cities of Sindh. Non-air conditioned buses and minibuses are easily available throughout the day both from the bus stations in nearby major cities of Karachi and Hyderabad and can also be hailed from the highway. A trip may cost Rs 150 and the journey can take less than 2 hours either way. Travel distance is 100 km either from Karachi or Hyderabad.
Get around
There are dozens of the ubiquitous rickshaws in Thatta. They can be found on the street, around the main bus stop on N-5 and outside the attraction areas. Rickshaws are generally a cheap mode to travel as well the most available mode of transport in town and most preferred too. The town is not a large town so you should be able to get most places within 30 minutes at the most and Rs 200 should be enough to take you from one place in town to the other.
On the other hand, Thatta is a small town. Most of the restaurants and accommodation are situated on the main bus line on N-5 and distances can be easily covered simply by walking rather than hoping on a rickshaw unless your destination is not near. Some structures of tombs of Makli and remains of old houses are scattered inside the narrow streets of Thatta that are worth exploring on foot. Always ensure you walk on the footpath, or if one isn't available, as far to the side of the road as possible and on the right facing on-coming traffic.

See
A tip works
The gates of several big mausoleums such as of Isa Khan Hussain II remain closed and only visitors having written permission from Sindh's Archaeological Department are allowed inside. Only large numbers of visitors in groups usually ask for such permission when planning to visit Makli Hill, whereas for individual visitors, this is usually not done. Try your luck try getting in; otherwise, a small tip of Rs 100 to the gate keeper outside the mausoleum building always works just fine.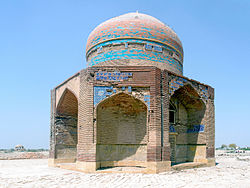 Makli Hill

phone: +92 298 770029

address: Makli

a vast and one of the largest necropolises (ancient cemetery with elaborate tomb monuments) in the world inside a complex surrounded by a wall and only accessible through the main entrance gate, houses 15th - 17th century cemetery of some 125,000 local rulers, Sufi saints and others legendary persons. The cemetery which shows the social and political history of Sind have some impressive tombs and large royal mausoleums where graves of rulers have been build using a local sandstone, and plastered brick and depicts exquisite specimens of architecture, stone carvings and glazed tile decorations. The mausoleums of the Isa Khan Hussain II (d. 1651), a two-story stone building with majestic cupolas and balconies, tomb of King Jam Nizamuddin II (reigned 1461–1508) decorated with floral and geometric medallions, tomb of Mirza Jani Baig, and tomb of Diwan Shurfa Khan are the main attractions and a well preserved structures of the necropolis. The vast necropolis was listed as a World Heritage Site in early 1980s due to its strong cultural and historical significance. The marvellous architecture of the cemetery is represented by four historical periods who ruled the Sindh, namely the Samma, the Arghun, the Tarkhan and the Mughals periods.

Shah Jahan Mosquebuilt 300 years before the independence of Pakistan in 1647 by the 5th Mughal Emperor of India, Shah Jahan during his reign is still very well preserved despite lack of maintenance and care. This picturesque mosque was a gift of gratitude from the 17th-century prince who also built the marvellous Taj Mahal in Agra to the people of Thatta as people of Thatta sheltered the Emperor Shah Jahan while he was in exile. This Mughal and Islamic architectural styled mosque with some Turkish elements is built with red bricks with ancient ceramics blue coloured glaze tiles and has a total of 93 domes. The impressive mosque with remarkable calligraphy was built keeping acoustics in mind which enables the sound of call to prayer can be heard from anywhere in the mosque without having a sound system. This majestic cultural monument has been on the tentative list for UNESCO World Heritage list since 1993 waiting for its inscription.
Buy
The Shahi Bazaar of Thatta is a mile long alleyway that houses hundreds of shops selling items including vegetables, clothes, electronics and many other items. The bazaar is the only marketplace of Thatta and can be a good place to hunt down Sindhi handicrafts and souvenirs. The bazaar is known for hand-printed fabrics, glass bangles and Sindhi embroidery work inlaid with tinny mirrors, one of the more world-famous handicrafts of Pakistan. The giant bazaar is considered the oldest and surely gives a good example of a traditional bazaars worth strolling through.
Eat
Many basic restaurants are scattered throughout the small town of Thatta, but most of them are on the National Highway N-5 which travels through town, and all serve Pakistani food though not all are hygienic. However, there are also some restaurants really worth eating at such as Mumtaz Bikik Restaurant, Darbar Restaurant and Adam Halo Restaurant. Expect to pay at least Rs 200 for a single dish wherever and whatever you eat. Al Madina Restaurant is another good option in town, also on N-5, but only open in the evening, whereas all other restaurants usually open early in the morning and remain open until late night.
On N-5, you'll see plenty of stalls and shops selling "Rabri" in clay pots. Rabri is a sweet, condensed milk-based dish and is definitely worth trying when you're in town. Rabri of Thatta have their own taste. A normal cup for one person may cost Rs. 100.

Sleep
Jehanzaib Hotel

phone: +92 314 2215215, +92 333 3886838

address: N-5

The only proper hotel in town. They have single bed rooms, double bed rooms and air-conditioned double bed rooms equipped with TV and water cooler, with sofas inside the rooms. All are attached with toilets. Ideal for stay overnight.

Adam Halo Hotel

phone: +92 298 550433, +92 322 2027909, +92 333 2739829

address: N-5

They have only three air-conditioned rooms, with two single beds in each room. Generator in case of power outage and TV. Restaurant at ground floor.

Darbar Hotel

address: N-5

Very simple lodgings provide two single beds in each room. They also have a restaurant at the ground floor.

Archaeological Rest-house

address: Makli

Recently renovated accommodation run by Sindh's archaeological department. Overall, ideal for a stay overnight, but only available if booked in advance through the Archaeological Department office.
Go next