Thekkady
Thekkady
(
Idukki
district,
Kerala
,
India
) is the location of the
Periyar National Park
.
Kumily
(Idukki district) is the nearest town center to Thekkady.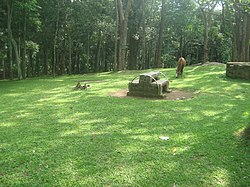 Get in
Thekkady is enchanting as the road winds through tranquill countryside, rich plantations & thick jungles. The sanctuary, 60 km from Idukki, 190 km from Cochin and 114 km away from Kottayam is open throughout the year, but the best season for a visit is from September to March. The sanctuary is centered around the large (24 km 2 ) artificial lake formed by a dam across the Periyar river. It is one of the famous holiday destinations in India.
Kumily
is 4 km away from Thekkady.
Madurai
to Kumily is around 120 km (approx 4 hours in state transport bus which are available at
Madurai
). One can stay at Kumily as it offers good hotels, shopping market & restaurants.
See
Bhaskar Sivva

address: niza
Tiger reserve
Thekkady
, better known as
Tiger Reserve
has a rich diversity of vertebrates. The diverse forest types, vayals, marshes, and a large aquatic habitat together support 62 species of mammals, 320 species of birds, 45 species of reptiles, 27 species of amphibians, and 38 species of fish.
The invertebrate fauna of
Periyar
is not well documented, though the predominant invertebrate orders are Protozoa, Annelida, Arthropoda and Mollusca. 160 butterfly species have been listed.
Among the 62 species of mammals, many are rare, endemic and endangered. Periyar is prime elephant country and large herds are often sighted at the lake fringes. There is an estimated population of 900-1000 animals which is likely to overlap with the population in the adjoining forest areas.
A much disproportionate sex ratio of the elephant is found in Periyar and adult tuskers are far too few. Gaur, among the largest of bovines, occurs in all types of habitats. Gaur have staged a remarkable comeback after their near demise due to a rinderpest outbreak in the 70s.
Sambar, the largest deer in India, are extensively distributed and constitute the principal prey base of tiger and wild dog. Wild pig has wide distribution throughout the park. Sometimes, these animals invade agricultural lands often leading to man-wildlife conflicts. Small relict populations of the highly endangered Nilgiri Tahr are found in the high altitude grasslands of Mangaladevi. Four of the five primate species found in the Western Ghats are well represented in Periyar. While the Nilgiri Langur enjoys a wide distribution in the moist forests, the highly endangered Lion Tailed Macaque are confined to the dense evergreen canopies. Malabar Giant Squirrel is common in the area. Though the presence of the endangered species, Small Travancore Flying Squirrel, is recorded from Periyar, the Large Flying Squirrel is more frequently seen.
Salim Ali's fruit bat reported from Periyar adjoining the High Wavys. It is an endemic and endangered species, considered to be among the rarest of bats.
The Tiger is found in all types of habitats though their density is much less in the evergreen forests. Though sighting one is difficult because of the thick vegetation, evidences like pugmarks, clawings, and scats are located throughout the reserve. The population is estimated to be between 35–40.
The Striped-necked Mongoose is not uncommon, found in the semi-evergreen and evergreen forests.
Nilgiri Marten is an extremely rare and endemic mustelid, though recently sighted a number of times.
Other attractions
ChellarkovilThis sleepy little village slops to the famous grapes, coconut, cotton and vegetable growing areas of Tamil Nadu. Abundant scenic beauty and a silver cascade add to the charm of the place.

GrampiGrampi is also known as Parunthupara. Because of the panoramic view from its high peaks, rocky plains and hillside it has become a tourist centre.

Mangala Devi Templepeople are allowed to visit only once in a year during chitra pournami(hindu festival) and is situated 15 km inside the forest

MountVelvet lawns and the cool pleasant non-polluted continuous breeze make the sojourn on the mount a memorable experience to the tourist. From its top one can enjoy the green beauty of the Periyar Tiger Reserve with the lake on the one side and vast tea plantations on the other side.

Murikkady

PanchalimeduIt is considered to be the place where Pancha Pandavas lived during the exile forest life (Vanavasa Kalam in Mahabaratha epics). It is believed that Pancha Pandavas still hide there though nobody can see them, but they can see everybody. The tourist can see there are stones like furniture which are believed to be used by the Pandavas.

PandikuzhiFrom its mountain top, one can enjoy the sleepy little village with its view of the plains. It is a feast for the eyes.

PattumalaIt can be called the home of tea plantations. The Velamkanni Church at the top of the fill is a pilgrim center.

The Periyar Wildlife Sanctuary

PlantationsTea, Coffee, Cardamom, Pepper, Vanilla growing areas. A walk through the spice plantations of these areas can be a memorable experience.

PullumaduThe rolling hills, velvet lawns and rare flora and fauna cascading the Holy Shrine of Lord Ayyappa at Sabarimala and The Makara Jyothi illuminations are the main attractions of this place.

Ramakalmedu

Spring Valley Mountain

address: Kurisumala

From the top of this hillock, one can have a panoramic view of the lush green woods of Periyar Tiger Reserve, the beautiful Periyar Lake, surrounding Kumily township and of course adjoining Tamil Nadu borders.

VandanmeduVandanmedu is one of the world's largest cardamom auction centers. An excursion through the wide spread cardamom plantations at Vandanmedu is an intoxicating experience.

WagamonThe cool mountain air, mist, grass-covered hills, velvet lawns etc amek Wagamon a perfect holiday resort. The chain of three hills Thangal Hills (Muslim name) Murugan Hills (Hindu name) and Kurisumala (Christian name) isa mark of religious harmony.
Do
Bamboo RaftingThis is a dawn to dusk range hiking and rafting programme through some of the richest forest tracts of Periyar Tiger Reserve. Starting at 8AM from the boat landing, a mosaic of habitats will be traversed before the party gets into rafts made of bamboos. The forests are rich in bird life and arboreal animals like giant squirrel and Nilgiri langur. The rafting is for about three hours and one gets a panoramic view of forest-clad hills reflected on the lake. Animals like elephant, gaur and sambar are sighted keeping close to the edges of the lake. The team hitchhikes back to the boat landing by about 5PM. An armed guard and 4 guides will accompany a maximum of 10 tourists. Tea, snacks and packed lunch will be served enroute.

BoatingBoat cruises on the Periyar Lake. Typical boat ride will be for 2 hour & cost ₹150 per person.

phone: +91 4869-322444, +91 9447019726

address: Anavachal Rd

Elephant ride for 30 min (Cost approx ₹350)

Kathakali show

address: Behind Periyar Medows, Kumily

Fabulous show of Kathakali

Nature WalkThe guided day trek. Different nature trails traversing diverse habitats form the trekking routes, generally 4 to 5 km in length. This is an interpretive programme offering excellent opportunity to watch birds, butterflies and other wildlife. The trails often pass through evergreen and moist deciduous forests interspersed with marshy grasslands. The programme is offered between 7AM and 10:30AM and between 2PM and 3PM and lasts for about 3 hours. A maximum of 5 persons can go for trekking at a time along each nature trail, accompanied by a trained tribal guide. The Nature walk is the right programme to feel nature, hear her whispers and smell her flowers.

The Periyar Tiger TrailThe programme is unique in being conducted by a team of poachers who turned protectors of the forests. The team members are hardy and dependable with an intimate knowledge of the forest terrain. The programmes are 1 night/2 days and 2 nights/3 days. The first day's trek starts at 12 noon and ends by noon in the second or third day. The team consists of a maximum of 5 visitors, 5 guides and 2 forest officials. Normally 20 to 35 km of trekking distance will be covered, depending on the route chosen. Here, one may chance to encounter much indigenous wildlife like Nilgiri langur, giant squirrel, elephant and who knows, even the tiger! The trek route passes through hills and valleys with a variety of tropical plants and wide-open spaces. Enroute vegetarian meals will be prepared and served and country tents will be pitched for holing up in the night. Trekking groups are accompanied by armed forest guards with good communication equipments, and geared to face any emergency situation. Remember to listen to unusual and strange adventure stories of the former poachers, now your guides and protectors of the forests. Preconditions for joining the tiger trail: Visitors who are medically fit and aged between 15 - 65 are advised to take the tiger trail. Visitors should be serious nature lovers willing to sacrifice some of the luxuries and comforts of a hotel.

Plantation Tours

address: Various

Nr Thekkady & Kumily, lot spice plantations are present. Typically they will charge around ₹50 to ₹100 for showing you around plantation & explain you.

TrekkingThe endless rolling hills and mountains surrounding Thekkady offer very good opportunities of trekking to the adventure enthusiasts. The jungles and hills inside the Periyar Wildlife Sanctuary are amongst the popular trekking trails in this region. Trekkers must obtain prior permission from the wildlife authorities and they are accompanied by a guide that will lead them safely through the Reservoir woods. Kurisamala to Kumily and Kumily to Pandikuzhi are some of the most favorite trekking routs and Pullumedu, Kurisumala, Ottakathalamedu and Grampi are noteworthy trekking bases in this area. Daily treks are organized by the Kerala Forest Department that begin from the boat landing station - Thekkady and lead to Nellikkampetty and Manakkavala. Making a way through Thekkady woods is really a thrilling and enchanting experience. Apala for http://www.thekkadyhotels.com/adventure-sports-in-thekkady.html
Buy
Eco Shop

phone: +91 4869-222382

Souvenirs, message T-shirts, post cards, WWF products, wildlife books etc.

Eco SpicesOrganic garden fresh spices like tea, coffee, vanilla, saffron, cardamom, pepper, cloves, nutmeg, nut maze, star anise, honey, cinnamon, ayurvedic oils and home made chocolates.
Eat
Kappa BiriyaniTapioca biriyani with salad, pickles and pappada, available in local restaurants

Kalam biriyaniBiriyani made in earthen vessels increasing the taste manyfold.
Sleep
There are several categories of hotels in and around Thekkady. Apart from hotels, there are good cottages and home-stay rooms available. These are basically owned by residents who have decided to make some money by renovating a part of their house and renting it out to travellers. These rooms can be quite luxurious and will give you a homely feel.
Kumily
is 4 km from Thekkady, where lot of hotel, restaurants & shopping markets are present. Good place to stay during visiting Thekkady.
Go next