Theodore Roosevelt National Park
Theodore Roosevelt National Park
is a
United States National Park
that is located in the
North Dakota
Badlands
. The park is named for the 26th president, Theodore Roosevelt, who was noted for his passionate devotion to the conservation of the nation's natural resources.
Understand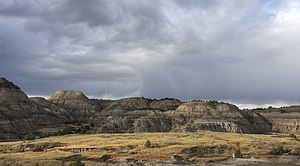 The park's 70,448 acres are divided into three units: South Unit, North Unit and the Elkhorn Ranch Unit. The terrain of the park includes badlands, open prairie, hard wood draws. It is home to bison, prairie dogs and many other wildlife species. The Little Missouri River runs through the park.
Visitor Information - Park Headquarters, (701) 623-4466.
Visitor Information - North Unit, (701) 842-2333.
Visitor Information - South Unit, (701) 623-4730 ext. 3417.
If visiting multiple sites in one day, remember that the North Unit is in the Central Time Zone, while the South Unit follows Mountain Time.
History
The park was home to the Sioux people, nomadic horsemen of the plains who were skilled at the art (and survival skill) of hunting buffalo. They were excellent horsemen and warriors, producing some well known figures of the American Indian Wars, such as the brilliant strategist and warrior Red Cloud, the only Native American to ever win a war against the United States, and the brave, death-seeking Crazy Horse, whom is famous for his bravery in battle and skill in mounted combat, and who once declared before his ultimate fall that "Today is a good day to die, men!"
As Euro-Americans began to encroach on the Great Plains, the area was home to buffalo hunters who nearly drove the buffalo into extinction in order to make way for the railroads, often shooting them from the comfort of the train itself. Many people came to the area in search of gold and to make a living, and many flocked to the region under the Homestead Act of 1862, which gave free land to anyone willing to develop it. This proved to be one of the main catalysts for the Sioux Wars, which resulted in competition for resources between the Sioux and the Homesteaders. The Sioux were finally driven out of the area in the 1870s, forced to move to reservations such as
Pine Ridge
and Crow Creek.
Homesteaders came from many places, as far away as areas like Scandinavia and Germany, and as close as the Midwest and the Eastern Seaboard. Life here was very difficult. The area granted to the Homesteaders was designed for a family farm in more eastern climates, and wasn't nearly large enough to make a living in the semi-arid conditions and the poor soil.
Many fossil hunters such as the famed paleontologist Edward Drinker Cope and the famed rockhound Barnum Brown "hounded" the region for fossils, discovering marvelous specimens such as
Tyrannosaurus
and
Ornitholestes
, as well as many mammals such as
Hyaenodon horridus
and many, many oreodont fossils, the sheep of the Oligocene.
The park is named for US President Theodore Roosevelt who lived in North Dakota (then the Dakota Territory) during the 1880s, owning and operating two ranches. It was here he fell in love with outdoors and the West, which made him a strong advocate of conservation during his time as President. After Roosevelt's death in 1919, the badlands were scoured for potential national park sites to memorialize him, and park was put together with areas that included his Elkhorn Ranch.
Landscape
The landscape was formed five million years ago when due to uplift the region that would become the Badlands became exposed and gradually eroded over the millennia to the state it is in today. Many spirals, summits, and valleys can be found, with numerous fossil bearing rocks found, ranging from the Cretaceous to the Oligocene.
Flora and fauna
An abundance of native grasses provide sustenance for larger grazing animals: bison, elk, pronghorn antelope, white-tailed and mule deer, bighorn sheep and feral horses.
Once land is grazed or disturbed, it becomes prime habitat for prairie dogs to build their towns. The park's prairie dog towns are a great place to find birds feeding on seeds, burrowing owls making their dens, and prairie rattlesnakes or bull snakes living in abandoned burrows. It is not uncommon to see a golden eagle flying overhead, or a porcupine ambling up a tree to snack on the tree bark.
Climate
Summers are warm with temperatures in the 80s and 90s (°Fahrenheit). Evenings are often cool. Annual precipitation is 15 inches. Winters are cold with brief warming periods.
Get in
By car
The South Unit entrance and South Unit (Medora) Visitor Center are located in
Medora
, just off Interstate 94 (exits 23 & 27) and is 135 miles west of
Bismarck
, North Dakota.
The Painted Canyon Visitor Center is located 7 miles east of Medora just off I-94 at exit 32. It is open seasonally, from May 1st to mid-November.
The North Unit entrance is 16 miles south of
Watford City
along U.S. Highway 85. The distance between Medora at the South Unit and the North Unit is 70 miles via I-94 and U.S. Highway 85.
The Elkhorn Ranch Unit is only accessible via gravel roads and, from the east, a river ford. Check with a ranger at the North or South Unit for current conditions and specific directions.
There is no public bus transportation along Highway 85 and to the North Unit.
By plane
Air service is available into the western North Dakota towns of
Bismarck
,
Dickinson
and
Williston
.
By train
Train service via
Amtrak
is available into
Williston
, North Dakota.
Fees and permits
Entrance fees are good for seven days and allow entry into all units of the park:
$30 per vehicle for private vehicles.
$25 per motorcycle.
$15 per person travelling on foot, horse, or by bike.
An annual pass that grants unlimited entry to Theodore Roosevelt National Park for one year costs $55.
Get around
The North and South Units each have long scenic drives with numerous pulloffs and trailheads. Off the road, the options are hiking, biking, and horseback riding. There is no public transportation.

See
Petrified ForestThe park has a petrified forest that is one of the largest in the U.S. and extensive paleontological deposits from the Paleocene era. Fossils of several plants and freshwater snail species, vertebrate fossils including crocodile-like creatures called champsosaurs, crocodiles and alligators, turtles and fish.

Maltese Cross CabinIt was here in the North Dakota badlands in 1883 that Roosevelt first arrived to hunt bison. Before he left, he had acquired primary interests in the Maltese Cross or Chimney Butte Ranch. Roosevelt thrived on the vigorous outdoor lifestyle, and at the Maltese Cross, actively participated in the life of a working cowboy.
The Maltese Cross Ranch cabin was about seven miles south of Medora in the wooded bottom-lands of the Little Missouri River. At Roosevelt's request ranch managers Sylvane Ferris and Bill Merrifield built a 1½-story cabin complete with a shingle roof and cellar. Constructed of durable ponderosa pine logs that had been cut and floated down the Little Missouri River, the cabin was considered somewhat of a "mansion" in its day, with wooden floors and three separate rooms (kitchen, living room and Roosevelt's bedroom). The steeply pitched roof, an oddity on the northern plains, created an upstairs sleeping loft for the ranch hands.
A number of items in the cabin today belonged to Theodore Roosevelt. Those that did not are from the same time period and would be typical furnishings of the day.
During Roosevelt's presidency, the Maltese Cross cabin was exhibited in Portland, Oregon and St. Louis. It was then moved to the state capitol grounds in Bismarck. In 1959, the cabin was relocated to its present site and renovated. The most recent preservation work occurred in 2000. His second ranch, the Elkhorn, was located about 35 miles north of Medora.

Elkhorn RanchIn 1884 Roosevelt selected the location for a second ranch, naming it the Elkhorn. He purchased the rights to the site 35 miles north of Medora, from the previous occupant for $400.
Roosevelt's last known visit to the Elkhorn was in 1892. He sold the ranch and buildings to Sylvane Ferris in 1898. Gradually the buildings were stripped of their furnishings and, according to a local stockman, by 1901 "every scrap of the Elkhorn Ranch had disappeared with the exception of a couple of half rotted foundations."
In his writings Theodore Roosevelt often referred to the Elkhorn as his "home ranch". His vivid descriptions of it, and of ranch life, enable his readers to imagine how things must have been.
Do
Hiking or horseback riding The park has over 100 miles of trails. They ramge from short walks of less than a mile to treks of several miles that require more than a day to complete. Peaceful Valley Ranch, 701-623-4568, is the park's operator for guided horseback trail rides.
There is also the option to travel cross country off the trails. In order to camp overnight a free permit is required.
Buy
Books and small souvenirs are available at all three visitor centers.

Eat and drink
There is no food available for purchase within the park boundaries, except for a few small vending machines at the North Unit and Painted Canyon visitor centers. South Unit visitors can hop over to Medora to stock up. Visitor centers have water fountains, and the Cottonwood and Juniper campgrounds have drinking water on tap. Roundup may have water, but it's not a year-round service - verify with rangers, especially in shoulder season (May and October).

Sleep
Lodging
The park has no lodging of its own. Camp, or sleep in a nearby town.
Camping
Cottonwood Campground - South Unit

phone: +1 701-623-4466

Year-round. 76 sites. Half of them are first-come first-served, and half can be reserved via recreation.gov. Pull-through sites are available. A group site is available and reservations are accepted beginning March 1. No hook-ups for water, sewer or electrical. No showers. A picnic table and grill are at each site. Flush toilets with running cold water and water faucets spaced throughout the campground are available from May through September. Each site, except the group site, is limited to a maximum of 6 people. The group site is for 7 to 20 people.

Juniper Campground - North Unit

phone: +1 701-842-2333

Year-round. First-come, first-served. No reservations accepted. 50 sites. A group site is also available and reservations are accepted beginning March 1. No showers or hook-ups for water, sewer or electrical. A dump station is available from May - September. There is no water available from October through April. Flush toilets with running cold water and water faucets spaced throughout the campground are available. A picnic table and grill are at each site. Pull-through sites are available. Each site is limited to a maximum of 6 people, except the group site. The group site is for groups of 7 to 60 people.

Roundup Group Camp

phone: +1 701-623-4466

Open May 1 to October 31. Group campsite. Horse use permitted. Camping fee: $2 per person/$1 per horse per day, minimum $20 per day. Maximum stay: 5 days. The reservation process for the Roundup Group Horse Campground located in the South Unit of Theodore Roosevelt National Park has been revised. Starting in 2006, groups are selected from a mail-in lottery process rather than the old first-come, first-served telephone process. Those interested in applying for a reservation can now download the form , which must be printed and mailed in.
Backcountry
More than 40% of the park - close to 30,000 acres - is backcountry wilderness. Hikers and horseback parties who wish to camp overnight in the backcountry must register at either the South or North Unit visitor centers and obtain a free backcountry use permit. A free backcountry guide is also available. In addition to the established trail system, visitors have the opportunity to travel crosscountry in the park.
Stay safe
The Badlands are notorious for unpredictable and severe weather. Pack clothing for all conditions, you'll probably need it!
Wildlife in the park is dangerous, and should not be approached, but will not normally be a hazard unless provoked. Rattlesnakes are the exception.

Go next