Thessaly
Thessaly
is a region in
Greece
.
Regions
Cities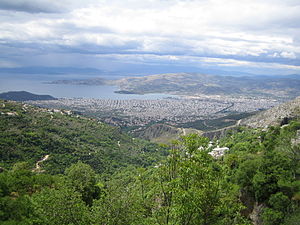 — (Kalabaka) noted for the Metéora monasteries located here
Other destinations
— Small town on Pelion.
— Hilltop monasteries
—
– The highest mountain of Greece, major trekking destination
—
Get in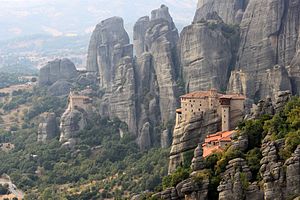 By plane
In Thessaly the only airport operating is
Volos
airport (
VOL
). It is relatively near Nea Anchialos, about 30 km SW from the city of Volos.
There is a bus connecting airport and Volos bus station. Buses are waiting to pick up travelers after a plane lands, the cost form the airport to Volos Bus station is €5. Travellers of charter flights are transferred to their accommodation by their travelling agency. From Volos there are bus and train connections to other towns in Thessaly

By regional coach

Interurban coaches ("KTEL" buses) are by far the most convenient way to travel around Greece, and for intra-regional travelling.
From Athens most of buses to Thessaly leave from Terminal B, at Liossion Street.

By train

Trains (OSE) connects Volos, Larissa and Kalampaka with the rest of Greece. Travelling with ordinary trains can be cheaper, although a little bit slower, whereas choosing a fancy faster Intercity train will cost the same amount of money, or even more than a KTEL bus.