Thethi
Thethi
is a village surrounded by
Thethi National Park
, up on
Albanian Alps
, in
Northeastern Albania
, in
Shkodra
District.
A lot of tourists visit the mountain peaks of Thethi, Boga, Razma and Vermoshi, where they spend unforgettable experiences in the pure nature between the dense forests of different plants, clear springs, limestone caves, etc.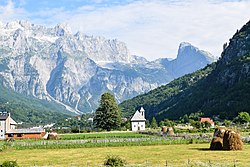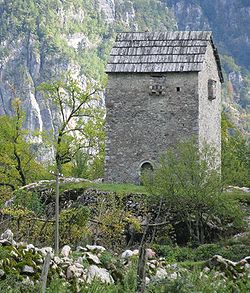 Understand
Thethi is a scenic village that became a tourist resort and one of the most preferred places for alpinism in Albania. Together with Razma, it composes the most frequented center in the North Albania. They function during all the year. Thethi village is surrounded by a mountain range, which offers a peculiar beauty along the sun set. The highest peaks are: Rodohina Mountain 2596 m; Harapi Mountain 2216 m; Populka Mountaun 2600 m and Alia Mountain 2400 m.
Visitor information
Thethi National Park Information Center

phone: +355 69 364 7063

address: Rruga Fushe, 4009

This is the official information center opened by the Albanian Protected Areas Agency (AKZM), and administered by the Shkoder County Protected Areas Administration (ADZM Shkoder ).

phone: +355 67 359 2191, +357 96 683 353

address: Entrance of Theth, SH21

This little and improvised Tourist Info Point at the entrance of the village can help finding a guesthouse, provide rentals, local guides, and two way radios. Contact Jimmy (Gezim).

Thethi Tourist-Information

phone: +355 68 20 03 393

The little Tourist Information in the center of the village can help to find a family-run guesthouse.

phone: +355 69 20 46 333

address: Thethi Center

phone: +355 69 67 31 932

There are several operators that offer guided tours, organize transport and accommodation and can help out in general to plan your trip. One of them is ZalaZ, headed by a German couple, they offer advice, have maps and GPS trails on hand and can help you organize your trip.
Landscape
Thethi has a surface of 2630 hectares, where high mountains, woods and meadows dominate. It has a strategic geographic position, because through Peja Pass it gets connected with Peja and the other Kosovo regions, and through Valbona it is connected with Tropoja. Thethi is connected to Boga and Kelmendi through many valleys and footpaths.
Flora and fauna
There is rich vegetation in the forests, like beech trees (which dominate the area), the black pine, the maple wood, the ash nut, the cornel bush, the walnut, and the hazel tree. The vegetation of this area has great economic, medical, touristic and monumental values. Thethi is considered as a natural zoological garden. The environment offers suitable conditions for wild life like: the wild goat, the bear, the roebuck, the boar, and small animals like: rabbits, hare, hedgehog, etc. Thethi is also a preferred place for wild birds, especially Eagles, the national symbol, as well as the falcons, the pigeons, the partridges, , the hedge cock, etc.
Water resources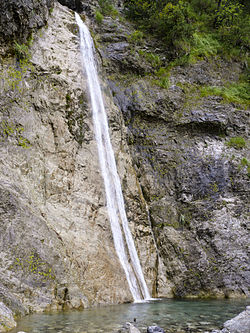 The Shaga and Kapresa rivers are rich of speckled trout. In the icy lake of Terthora, rich in various kinds of fashion, alpine triton is found.
Waterfall of Thethi is the most beautiful place of the north alpine land. The scenery is amazing especially when there is a lot of sun, as the clear drops of water dismantle the rays of sun, forming the rainbow.
Get in
By car
First, you have to go to Shkodra. You can (i) take the airplane to Tirana, then go to Shkodra with a rent-a-car; (ii) take the airplane to Tirana, then go to Shkodra with a taxi or bus and then taking a rent-a-car in Shkodra; (iii) from Montenegro, you can enter Albania through Muriqan, go to Shkodra and use your car to go to Thethi.
From Shkodra to Thethi, you go through Koplik. There are 3 ways to go to Koplik; ask in Shkodra for the shortest. Shkoder-Koplik is around 20 minutes, and Koplik-Thethi Village (SH21) is around 1 h 20 min. However, note that you'll need a good car to go to Thethi, preferably a 4x4. If you have an old or small, or even if your car is good but not a Jeep, its the best to rent a Jeep at the local stores, as they are not expensive, but they are very safe for your security.

By bus
Buses leave from Cafe Rusi in Shkodra at 07:30. The ride from Shkodra to Theth takes 4 hours.

By taxi
A taxi in Shkodra will charge you around €100.

Fees and permits
There are no fees to be paid and you do not need permission to enter the zone. However, you need permission for hunting. You can get permission at the Regional Directorate of Forests, which is located in center of Shkodra city.

See
Lock-in Tower as an artifact of the bloodfeud tradition
Grunas Waterfall and Canyon
Thethi Ethnographic Museum
Black River bed flow
Thethi Catholic Church
Blue Eye at Nderlysa
Do
Hiking
There are 8 hikes starting in Theth. Three of them are marked "red and white".
The favourite hike is from Theth to Valbona (and vice versa). Theth (742 m)- Valbona Pass (1814 m) - Rragam - Valbona. It takes 6-8 hours. The difficulty is T2. The trek is well marked "red and white". Only the start of the hike (a few hundred meters from Theth center) is difficult to find. To find it, you may ask a local guide.
Helpful guidebook: Wanderführer Nordalbanien Thethi und Kelmend by von Barbara Hausmann, Christian Zindel
Eat
The guesthouses prepare lunch packages for the hike.
Sleep
It's the best to use one of the many guesthouses. People show a lot of hospitality, they speak foreign languages and will tell you remarkable stories and legends of the region. The rooms are usually very clean and comfortable.
Camping
Camping is pretty easy. It's the best if you camp in summer and near a house, as you will have fast access to medicine or other stuff in case you have any problems.
Backcountry
Lodging
Bujtina Polia

phone: +355 67 526 7526

address: Rruga Fushe 27

Guesthouse Marashi

phone: +355 69 960 8570

address: Theth National Park, Theth 4009, Albania

Shpella Guesthouse Thethi

phone: +355 69 488 8531

address: Nikgjonaj, Theth 4009, Albania

Carku Guesthouse

address: Thethi

This is a traditional Albanian guest house in the small village of Thethi.
Stay safe

In 2015 two Czech tourists were shot in the region by a hitchhiker, so for your safety do not accept any hitchhikers, especially when driving at night.

Go next