Thiruvananthapuram
Located near the southern tip of mainland India,
Thiruvananthapuram
(
Malayalam
: തിരുവനന്തപുരം
Tiruvanantapuraṁ
), (formerly and often still known as
Trivandrum
) is the capital city of
Kerala
in
Southern India
. The city is shares the same name with its district,
Thiruvananthapuram
, which is one of the 14 districts of Kerala. Referred to by Mahatma Gandhi as the "Evergreen city of India", the city is characterized by its undulating terrain of low coastal hills and busy commercial alleys.
Thiruvananthapuram is built on hills by the sea shore and sandwiched between the Western Ghats and the Arabian Sea, Thiruvananthapuram is ranked first in the number of foreign tourists visiting Kerala and is a fascinating destination for holidaymakers.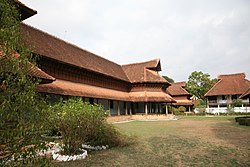 Understand
Thiruvananthapuram, with a tradition dating back to 1000 BC, lies on a small strip of land covered with coconut and palm trees. Thiruvananthapuram means "City of Lord Anantha" (the serpent on which Lord Padmanabha/Vishnu reclines) in
Sanskrit
and
Malayalam
. Historically, it was a trading post for spices, sandalwood and ivory. Thiruvananthapuram is the largest city in Kerala. The city is the state capital and houses many central and state government offices, organizations and companies. Besides being the political nerve centre of Kerala, it is also a major academic hub and home to several educational institutions, including the University of Kerala, and many science and technology institutions. Some prominent institutions being the Vikram Sarabhai Space Centre (VSSC), Centre for Development of Advanced Computing (C-DAC), Technopark, the Indian Institute of Space Science and Technology (IIST) and the Indian Institute of Science, Education and Research (IISER).
History
Thiruvananthapuram is one of the oldest cities in India, with periodic references in many Greek and Roman literatures. This city came to the forefront when the Venad Dynasty rose to power in the southern regions, after the Great Partition of the Kerala Empire of Cheras in the 14th century. Though Venad rulers had their capital at
Kollam
(70 km north of Thiruvananthapuram), Thiruvananthapuram was considered the major trading centre. The formation of Travancore Kingdom in late 17th century proved a turning point for the city. In this time, the Raja dedicated the entire kingdom to Lord Padmanabha, the presiding deity of Sree Padmanabhaswamy Temple, meaning that the royal family was ruling in the name of the lord. The capital was moved to Thiruvananthapuram, and the city expanded around the temple. In the 19th century, the entire administration was brought to Thiruvananthapuram city from the royal headquarters of Sree Padmanabhapuram Fort (50 km from Thiruvananthapuram city), which marked completion of first phase of Thiruvananthapuram city.
Travancore was one of the most powerful Indian princely states during the British Raj, with the kingdom becoming the 3rd-richest state among native states. Thiruvananthapuram city, under the royal patronage, grew into a major academic and cultural hub of India with many firsts to its credit. As the power and wealth of the Travancore Kingdom reached its peak during early 20th century, Thiruvananthapuram became a prosperous city. When India attained independence, the Travancore chose to accede to the India Union. After formation of Kerala state in 1957, Thiruvananthapuram was retained as the capital city.
Being a capital and administrative city, it remains the hottest political centres in Kerala. A third phase of development came in early 1990s, when the Kerala Government established Technopark, a large information-technology park. The success of Technopark as the largest IT park in South Asia has been a major impetus for growth in city. Today the city is focused on maintaining its status as a major IT/Bio-Technology hub.
Climate
The city has a tropical climate and does not experience distinct seasons. The mean maximum temperature is 34°C and the mean minimum temperature is 21°C. Humidity is high, and rises to about 90% during the monsoon season.
Thiruvananthapuram is the first city along the path of the south-west monsoon and gets its first showers in early June. However, pre-monsoon showers are common in April and May, accounting for about 35 cm on average. Annual rainfall is not high compared to other districts of Kerala, but it is still a substantial 180 cm. The rainiest months are May, June, July, August, and October, but there are frequent showers in other months too between April and November. For travelers who wish to avoid the rain, the best period to visit is from December to March.
The winter temperature comes down to about 18°C at some places at high altitudes and summer temperatures can sometimes go as high as 35°C.
When to go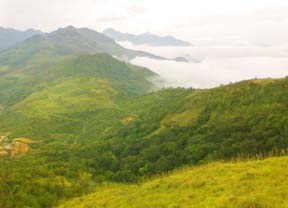 The best time to visit Trivandrum is between October and February, the perfect time for beach vacations. February to May is summer, which is very hot and humid while June to September is the monsoon season. The second rainy season, the North-East monsoon, is equally strong and occurs during the months of October and November.
The festival of Onam which occurs towards the end of August or early September is a good time to soak up the carnival atmosphere. There are usually many cultural programs during the official Onam celebrations lasting 10 days.
The Monsoon season starts from June every year and is a time of heavy rains in the area. The Monsoon has become an attraction for tourists seeking to experience it.
Talk
The native language of Kerala is
Malayalam
, which is a Dravidian language like Tamil and Kannada. Most educated locals are also able to communicate in
Hindi
and English. The people are generally very helpful and friendly. Tamil is generally understood, though people may not be too fluent in the language.
Get in
By plane
Trivandrum International AirportWith direct flights from the Middle East, Singapore, Malaysia, Maldives, and Sri Lanka, as well as seasonal charter flights to Russia, UK and less frequently to other parts of Europe. It is linked with most major cities in India (Bangalore, Chennai, Mumbai, Delhi, Hyderabad, Ahemedabad, Kolkata, Goa) by domestic flights.
By train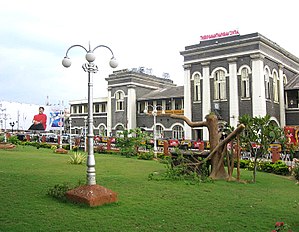 Thiruvananthapuram Central railway stationlocated at Thampanoor, is a major Indian railway station. It is the third largest station in South India. Almost all trains on west coast and bound to Kerala start & end their journey here as the station is a terminus. It is connected and serviced to all major cities in India. The Central station is a heritage site built by Travancore Maharaja as part of Travancore Railways. The railway station is the only such to be built completely in stone without any concrete or steel structure. The station is highly modernized. Facilities here include several good retiring rooms, a large air-conditioned waiting room, first class lounge, bookstores, shopping arcade and medical center.

Kochuveli railway stationRecently several trains have shifted their service point to Kochuveli Railway Station, to avoid congestion at Central Railway station. Kochuveli Railway Station is nearest to International Airport. Check at the Railway Enquiry, before you travel by train to ensure a smooth experience.
By bus
A long distance bus station is located next door to the railway station. Buses ply to all major towns and villages in the state in addition to big cities like
Cochin
,
Bangalore
,
Kozhikode
,
Coimbatore
,
Tirunelveli
and
Chennai
. Kerala State Road Transport Corporation (KSRTC) operates 6 class of services, connecting to southern Tamil-Nadu cities, town and all manner of country side in Kerala. KSRTC operates premium luxury Garuda services to Bangalore and Coimbatore. Karnataka STC also operates two class of premium services; Rajahamsa (non A/c Executive class) and Airavat (A/C Sleeper Class) from Bangalore and Mysore to the city. Likewise Tamil Nadu SETC also operates 3 class of services from numerous Tamil Nadu cities, particularly to the southern side. In addition, private national corporations like Sharma, Kallada, GTC, Raj National Express also operate premium services to other South Indian cities and Mumbai.
If you are having trouble obtaining a bus ticket in Thiruvananthapuram to a destination in Tamil Nadu, it may be worth while travelling to Nagercoil and then taking a bus to your destination from there.
By car
Thiruvananthapuram is well connected to other cities like Kochi (230 km), Kozhikode (420 km), Chennai (780 km), Bangalore(791 km), Coimbatore(400 km) by road. Traffic congestion can be horrific during certain times as you get closer to the city. It is advised to either be or hire a driver who is comfortable navigating Indian traffic.
Get around
By bus
Local bus services are the cheapest way to get around Thiruvananthapuram. There are city buses run by government(KSRTC) and private companies. Most of these are very crowded during peak hours. Route descriptions on the buses are mainly in
Malayalam
. Route numbers are displayed. Pick pocketing is not very common. Women of foreign origin can some times be the subject of verbal harassment. The government city buses are painted red with an yellow patch, and the private city buses are blue. Fast passenger buses run by KSRTC are also painted blue and is named "Ananthapuri Fast". The city services of KSRTC operate from six depots namely, the City depot, Vikas Bhavan, Peroorkada, Pappanamcode, Kaniyapuram and Vellanad. The central city bus terminal is located at
East Fort
(Kizhakkekotta), near the Padmanabha Swamy temple. The Central and Inter State bus station is located 1 km away at
Thampanoor
.KSRTC operates AC Volvo services connecting various important places. If you have a little time to spent you can try the new mode of transportaion. Recently KSRTC has launched AC buses also for local transportation. You can take these buses for a city tour in AC comfort at about ₹40. minimum fare is ₹10/-. These buses are orange.
By auto rickshaw
Autorickshaws (or simply
Autos
) are a cheap way of travelling between attractions. It is always possible to hire an auto rickshaw from a bus stand, railway station, or special auto rickshaw stand. All the legal, licensed auto-rikshaws should possess fare meters, and the fare is calculated by the taximeter. Ensure the driver turns the meter on
before
the start of the journey. Most auto drivers tend to charge more for foreigners; this is illegal. The driver may quote a price first, but simply insist that he use the meter. The minimum charge for the autorickshaw is ₨.15 and the running charge per km is ₹7. The charge for waiting for over 10 min is ₹5 for every 15 min, subject to a maximum of ₹200 per day. There are pre-paid autorickshaw counters available near the airport and the railway station. Complaints related to the autorickshaws in Trivandrum can be made to RTO Trivandrum, . Online complaints are also accepted in the
traffic police website
.
By taxi
Taxis are convenient and cheap, especially if you are travelling in a group. Taxis can be hired for short distances and also for a few days at a stretch. Unlike other metropolitan cities, Thiruvanathapuram has only Indian Ambassadors as taxi cabs, which is a heritage car. If you wish for modern cars, you can normally hire them from your hotel by request.
When you hire the taxi with a driver over a few days, a minimum charge is usually paid that covers the hiring charge for the car, the driver's fees, and a certain distance. If the car covers more than that distance, additional charges are levied according to the extra distance covered as per kilometre. Most of the drivers expect to be paid for their meals during the day. If staying overnight, this will include the hotel charges as well.
The present taxi charges in the city are as follows : minimum charge – ₹65; running charge per km – ₹7.50; and charge for waiting – ₹25 per hour, subject to a maximum of ₹300 per day.
Cellcabs phone +91 471 12453553
Mango Cabs Phone: +91 9995466066
Romantic Cabs Ph: +91 93 49998887, +91 93 88127646 mail@romanticcabs.com www.romanticcabs.com
TaxiTel Ph +91 98 47019282, +91 99 47019492, +91 9447810100 taxitel@gmail.com www.taxitel.in
By car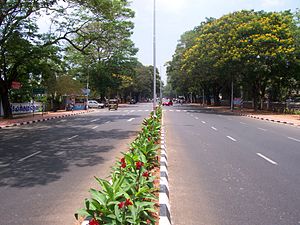 The arterial road of Thiruvananthapuram is the '
MG Road'
or the
Mahatma Gandhi Road
, which lies in the north-south direction and connects almost all important attractions in the city. Trivandrum, being the state capital, has very good roads compared to other parts of Kerala, especially
Kochi
(where roads are more pothole than road). Many roads in Trivandrum are 4- or 6-laned.
Thiruvananthapuram has many car rental companies that offer cars with drivers. There are very few places that sell "self drive" vehicles and these are difficult to find. Those you may find are often unreasonably expensive by local standards. Ask someone with local know-how before you rent a car.
By two wheelers
Scooters and motorcycles are the favoured means of personal transport on the roads. Renting or buying a motorcycle is not for the faint hearted. Traffic in and around the city is a mix of fast and slow, necessitating constant attentiveness to remain safe. Road sense and traffic discipline has improved drastically in the recent years with a strong administration from the Traffic police department, and helmets and seatbelts are becoming a norm. Lane rules are followed better than in other Indian cities, however you need to be more than just careful if you choose to drive a vehicle. Traffic congestion presents another danger and inconvenience; adjust your expected arrival times depending on traffic.
There are companies arranging tours on
Enfield Bullet
motorcycles out of Thiruvananthapuram.
Bicycle
10 years ago cycles were a major mode of transportation for residents. Now the use of bicycles is relatively very low. Thiruvananthapuram is a hilly city. If you plan on bicycle being your main mode of transport, ensure you are fit and well hydrated. There is an absence of cycling lanes and hot weather often makes the day exhausting.
Cycles are available on rent with some companies.
Vacation India Ph: +91 471 2312028 Fax: +91 471 2314561
On foot
Many places of attractions within the city are near each other, so it is possible to walk between them. Crossing roads often involves wading across heavy traffic during peak hours. The zebra lanes are used by the locals for road crossing only in major junctions. Other than the major junctions, do not expect vehicles to stop for you in the zebra lines. Try your best to move in a predictable straight line, so vehicles can weave around you. (Better yet, latch onto a group of locals and cross in their shadow.)
The recommended walk areas in the city are as follows:
Walk from Over bridge towards East Fort. Visit the Padmanabhaswami Temple premises. End up your walk in the Gandhi Park in East Fort.
Walk from Secratariate towards Palayam. Walk and see the Connemera market and do window shopping.
Walk from Museum Junction towards Vellayambalam. Alternatively, you can also walk inside the Museum compounds.
Walk from Vellayambalam Junction up to Kowdiar palace. This road is called the Royal Road, as it leads to the palace. There are good coffee shops and snack bars in this area.
See
Thiruvananthapuram is a historic city, dotted with many historical structures, parks, museums, tourist centers and palaces. Its also famous for its distinctive greenery, present all over, a rare site in any bustling Indian city. Most ticketed museums are closed on Mondays, so do check online/by phone before visiting. Visit the official website of
Kerala Tourism
for more details.
Monuments and museums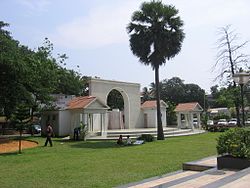 Chacha Nehru Children's MuseumA good children's museum with a large collection of dolls, masks, and paintings. A mini aquarium and water play area is set here. Located in Thycuad, in the heart of city, it is a good evening spot for families.

East FortAn old fort around Sree Padmanabhaswamy temple. Today most of fortifications have been dismantled, except the Eastern side. The fort will sometimes be referred to as the East Fort because of this. The Fort Gate opens directly before Sree Padmanabha Temple and is designed in a European style. The illumination of the East Fort Gate in the evenings is a major attraction.

Kanaka Kunnu PalaceThe cultural hotspot of ancient Thiruvananthapuram. The large palace and its sprawling gardens was once the banquet palace for visiting State guests of Travancore. Today, it has engaging galleries and the grand lawns serve as open-air auditoriums for regular concerts and evening dance programs.

Kerala Government SecretariatBuilt as Huzur Kacheri (Secretarial Offices in Malayalam) in 1860 to serve as the Royal Durbar Hall of Travancore Kingdom, this building has an imposing structure. The building was designed by the British Royal Engineers Corps combining international architectural styles and is a testimony to past influences from Roman, Dutch and English styles on Kerala. The old Legislature Assembly Hall inside the complex (Asia's first native legislative assembly) has a good museum with a detailed gallery that depicts the history of the Travancore Legislative Assembly. Other areas in this building are not of tourist interest as they are government offices.

Kerala Legislature Assembly ComplexThe new legislature assembly complex, called Niyamasabha (Law House in Malayalam), is a modern structure located in heart of the city. It's famous for the classical Kerala architecture with ornate teak works, a unique Kerala styled dome, exquisitely designed interiors and a vast expanse of greenery around it. A photo shoot before this structure is an excellent addition to your travelogue.

Kerala Science and Technology MuseumThis large science museum features a timeline of various technologies. On display are galleries on Electrical Engineering, Biomedical, and Mechanical Engineering. It has a collection of electronic equipments and a 3D theatre with regular shows.

Keralan MuseumHoused in a beautiful colonial building, this newly developed museum (circa 2008 vintage) presents a periodised history of Kerala. It's the first 'interactive' museum in the country, featuring touchscreen terminals. Unfortunately, like so many museums and historical texts in India, there are no maps inside to provide visual aid to the topics. Regardless, the museum is very pleasant, clean, modern and well presented when compared to others. Displays begin in the stone age and advance through rock art and stone tools to pottery, bronze sculptures, folk art and architecture, with a few latter-day items to boot. A small canteen behind the museum for staff of the adjacent tourist department offers good value fish or vegetable curry.
Kowdiar PalaceIn Kowdiar, this is the current, official residence of the Travancore Maharajas and royal family. It is off-the-limits for public. However a friendly guard may let you inside to have a glimpse of this large architectural wonder built in mixture of Saxon-Travancore styles. The public however can enter into Panchavadi, the resting place of Late H.H Maharaja Chitra Thirunal- the last and popular King of Travancore.

Kuthiramalika PalaceA unique palace designed by Maharaja Swathi Thirunal (a famous musical genius Maharaja of Travancore), this palace is famous for its horse shaped windows and decor. The palace, near Padmanabhaswamy temple, has collections of antiques related to Maharaja Swati Thirunal's times. This palace is the location of the Swathi Thirunal Music Festival and other musical concerts patronized by Royal family.

Legislature MuseumThis museum depicts the history of South Asian Legislature assemblies. The building was once the headquarters of Travancore Royal Nair Brigade (Travancore Army). Today its galleries can give a detailed look into history of South Asian legislature activities and process.

Napier MuseumNamed after former Madras governor, Lord Napier (Francis Napier, 10th Lord Napier and 1st Baron Ettrick), this museum is a beautiful building in the museum (read: park) compound. This masterpiece was designed by Madras Government architect Robert Chisholm in Indo-Saracenic style. The museum displays rare archaeological and historical artifacts including bronze idols, ceramics, an impressive carved wooden cart, Buddhist statues from various parts of the country and neighbouring places, ivory carvings, chests, Balinese shadow puppets, various old coins, Hindu puja items, and more. Quite a few objects are foreign, and of those quite a few are Chinese. Unfortunately most are lacking labels, have labels only in Malayalam, or are very vague. Look up at the impressive roof when you enter! (Open 10AM-5PM, closed on Mondays and before noon Wednesday.) No photography allowed. There is no sign saying 'Napier Museum', just 'Art Gallery' and it's the big building in the park to the north of Museum Road.

Palace museumHas a good collection of many antique items from the Travancore era Kings. Thrones, paintings and many belongings are kept in a very good condition, housed in an erstwhile royal building.

Palayam PallyThe principal mosque of Thiruvananthapuram. It is a Juma Masjid (Friday Mosque). The Mosque is one of the largest in Kerala and famous for its regular sermons. The mosque was established with patronage of Travancore Kings.

Priyadarshini Space PlanetariumOne of the largest planetariums in India and rated as one of the best horizontal planetariums of the world. It has a collection of astronomical science objects from ISRO (Indian Space Research Organization). 2 major shows regarding various secrets of universe are done daily. It has a good Sky Theatre, a large conference hall and is the location of regular space related programs.

Sree Chithra Art GalleryAn art gallery in the Museum compound and displays a rare collection of mainly Indian paintings. The main attractions are paintings by Kerala painter Raja Ravi Varma and other famous painters Raja raja Varma and Nicholas Roerich. Also featured are miniature paintings from around the world, Kerala mural paintings, and Tanjore miniature paintings.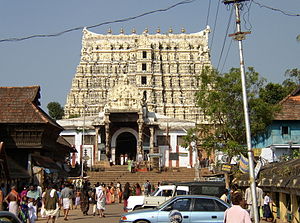 Sri Padmanabhaswamy templeThe icon of the city: the world's richest temple. The temple came to prominence after the details of the temple's massive wealth were released by an order from the supreme court of India. The temple itself has thousands of stories to tell with immaculate sculptures and mandaps. The entire Thiruvanathapuram city was built around this temple. It was nominated into the last round of 7 Wonders of World. The building style is a mixture of Kerala and Tamil architecture. The temple has many structures inside, like musical pillars, golden mandap, 500 pillared corridor famous for its sculptures and large collection of temple mural paintings. The temple has a large clear pond called Padmatheertham, which is also landmark. The deity is Maha Vishnu in a rare reclining posture, called as "ananthasayanam" or the lord's sleep. The temple has a huge role in history of Kerala, with the presiding deity even being crowned as Emperor of Travancore in 18th century and all the rulers ruling the state in the name of the deity. The royal crown of Travancore, is preserved inside the temple, though seeing it is a rare. The temple does not use any lighting generated by an electrical source and has no light bulbs or tube-lights. The only lighting is either natural or from oil lamps, which is quite minimal. The use of electronic items is prohibited in the temple. This temple is open only for Hindus, and even the Hindus admitted inside have to follow rigorous dress code and customs. Dress code for men is just Kerala Mundu (White Dhothi) with the body uncovered waist-up. Dhotis are available for one-time rental or for sale from nearby shops. Women are required to wear an Indian Sari or Kerala Mundu (The idea is that your legs must not be visible separately). Entrants would also be asked to store their bags, umbrellas etc. at a nearby counter. This temple belongs to the Travancore Royal Family and is guarded by the Palace Guards of Travancore. Beware of presence of large number of professional touts at the entrance of temple, who attempt to forcibly sell puja plates with flowers, incense, oil lamps to first timers and tourists. Likewise at exit gates, touts try to hard sell pictures, lamps, and shells by claiming it is holy and sacred. Do not be carried away by claims and politely avoid them. Inside the main arena of the temple, you can view the diety in 3 stages - Hand, Navel (with the Lotus carrying Brahma) and Feet.

St Anne's Church

address: Pettah

This is the first Christian church of Trivandrum set up in 1796 during the reign of King Rama Varma, commonly called "Dharma Raja". It was built on the orders of the King for the benefit of Thachil Matthoo Tharakan, one of his ministers, who was also the first ever native Christian to be appointed as a minister in a Princely State in India. The old church was renovated several times. It is situated on the road leading to the airport.

Zoological ParkThis is the first zoo India opened in 1843, as a concept of Palace for wildlife. Situated in the Museum compound, this area has a rich botanical garden. There are a wide variety of animals, plants and birds. It has a separate reptile park and butterfly garden.
Beaches and nature
Kovalam Beach17 km from Thiruvananthapuram City, the locals believe this to be one of the finest beaches in India. There are 2 large beaches and they are highly safe for swimming. A visit to Kovalam is must for Trivandrum. The beach becomes crowded during November–December, when foreign tourists flock in mass. Beware of local touts and beach-side restaurants/shops selling items nearly 3 to 4 times more than its normal price. Haggling is accepted with sellers. Several massage palours located near to the beach are fake and are illicit sex palours.

Shanghumukham BeachThis city beach is 8 km outside the city, adjacent to the airport. Local people flock here to watch the sunset. It's a well maintained, safe beach. There is an indoor recreation club nearby. Matsyakanyaka a gigantic sculpture of a mermaid by sculptor Kanai Kunjiraman draws a fair crowd. A small garden and star-fish shaped restaurant operates here and attracts large crowds. There is also a temple nearby.

Veli Tourist VillageA lake blending into the beach, almost as if it were teasing the sea. This area features boating, horse riding on the beach, a floating bridge, a shallow pond where you can feed the fish, and beautifully maintained gardens. It's an excellent destination if you are interested in water adventure sports.
Other attractions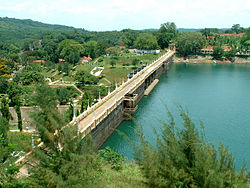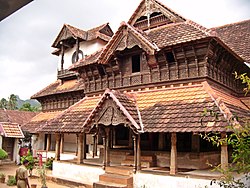 There are several attractions located outside the city limits.
Attingal PalaceThe headquarters of Travancore Queens who ruled the small province of Attingal. The large palace also houses one of the royal family temples. Much of the palace is off-limits to public, however its durbar hall and public areas are open to the public.

Kerala Art CollegeAffiliated with Kerala University and easy to find, it is directly opposite the unmissable Chandrasekharan Nair (Football) Stadium. It is housed in an old colonial building with sprawling grounds behind. There are occasional art shows (e.g. after graduation, circa early June) held upstairs, and the downstairs offers a large library with world art books. The grounds have many impressive sculptures from students who are friendly and may be keen to show you around the workshops.

Koyikkal Palace

address: Nedumangad

This palace was built in the 16th century and showcases the traditional palace architectural style of Kerala. It features a folklore museum and a numismatics (Coins and currency) museum.

Neyyar DamA surprising scenic local, the Neyyar Dam is an excellent picnic spot. There is also a yoga center and several temples near this dam, if you are interested in making a day-trip of it.

The Padmanabhapuram PalaceThe old headquarters of Travancore Royal family The palace is recorded as the World's largest Wooden Palace, by the Guinness Books of Records. It is entirely made of teak and rosewood and has flooring made of granite and a rare ayurvedic mixture with secret extracts to keep the floor cool in the summer season and warm during the rainy season. It has a grand Dubar Hall made out of rosewood and glass. The Palace houses numerous rare antiques, including a 600-year-old spice bed made out of a special wood treated in various spices to rejuvenate the kings. The clock tower is one of the oldest in South Asia that is still working. It is 65 km from Trivandrum City and is in the Kanniyakumari district of Tamil Nadu. The royal sword of Travancore Maharajas is preserved here and is taken to Trivandrum in a grand procession during Arattu Festivals of Sree Padmanabhaswamy Temple.

PonmudiA hill station in the district nestled within a tropical forest. It offers hiking and trekking opportunities.
Itinerary
See Trivandrum on foot. Take public transport to Kanaka Kunnu Palace. Visit this public building that adorns the on top of a hill. It is often used for cultural programs which might be a nice addition to your visit. Check local listings to see what is offered and when. Once finished, walk down to the Napier Museum and Zoo. Walk around the park, admire the architecture, and visit the zoo. Also of interest in this area are the Sree Chitra Art Gallery, Natural History museum and the Reptile House. Then walk towards Palayam along the MG road absorbing the roadside buzz of activities and shopping at the roadside shops.
Usually there are cultural programs at
VJT Hall
which may be open to the public. Continue along MG road towards the
Secretariat
. The area around the secretariat is known locally as
Statue
, due to a few neglected statues of important figures. There are sometimes political protests or demonstrations along this place. You should sample the food from the local restaurants here.
SMS Institute
on a side road, near the Secretariat, sells authentic Kerala handicrafts and gifts. Prices start from ₹25 to a few thousands. Continue along the MG road and you will find many local book shops including
Modern Book House
and
Prabhat
book store. The
Ayurveda college
, which teaches traditional ayurvedic medicine, will be on the right side of the street. Opposite this, there is another handicraft store. Walk along the MG road and you will reach the junction with traffic signals known as the
Over bridge
locally. There are a few movie theatres nearby.
The railway station and bus station are towards the left, about half a mile. If you continue straight, you will eventually reach
Pazhavangadi
. You will see the remains of a fort (well hidden) on the right side (known as
Kottakakam
/
East fort
). The famous Sri Padmanabhaswamy temple is nearby, complete with a temple lake (
Padmatheertham
). The architecture of the temple is more in line with Tamil temples as compared to other Kerala temples. On the left is
Chaalai Bazaar
. This is a busy congested road teeming with all kinds of shops.
Do
Stroll around the town during the dusk time when the city comes to life. It is advised not to venture out alone late into the night
Find local bargains and shop for souvenirs.
Watch the sunset from the Shankumukham or Veli beach
Get pampered with a traditional Ayurvedic massage
Visit the local museum and art gallery.
Visit a martial arts centre (Kalaripayattu)
Watch traditional performers perform a Kathakali dance.
Watch a temple procession at the end of a local festival when the deity is taken out on the top of an elephant.
Watch a Malayalam or Bollywood movie (no subtitles) in a local cinema.
Check the newspapers for daily events, especially theatre/film/dance performances. Try to find out if anything is on at the Tagore theatre when you're there, especially during the film festivals which screen art house classics from around the world.
Take a rain walk - if you're there during the monsoons, buy an umbrella and walk from place to place in the magical monsoon.
Laze around on any of the pristine beaches.
Visit the public library for its stunning architecture and colonial charm.
If you're there during the Onam season, be sure to pass by the secretariat building and the kanakakunnu palace for the brilliant illuminations. If it's Christmastime, walk down a little further to the L.M.S compound to see the awesome collection of Christmas stars.
A long breezy stroll on Veli beach with its kilometres of the orange beach is precious. Take note, as you move past the 'Tourist Village' zone you'll come into areas where the locals live by the beach, they may question you. They're trying to be friendly to the 'new face', so feel free to chat up or move on giving them a friendly wave! Here you can witness the fishermen sail back in the evening and mend their nets. Perhaps join the local kids in a game of beach ball or cricket. There is a strip on the left of the boating club where you can find sea eagles circling in the air, it is a majestic sight to see them swoop in for their prey, and then devour it mid-flight.
Learn
:Bhagyodayam Yoga Ashram +91 9446308505 House # 119 - Cheppil Lane, Sree Varaham 1 Km from East Fort with Yogacharya Girija Maa
Kathakali dance and associated arts including the percussion instruments and make-up
Kalaripayattu
Malayalam and its rich literature
Cheap advanced computing and software training!
Work

Opportunities for foreigners to work in Kerala was at one time very limited. The dramatic advances in the information technology sector have changed this, to some extent. Most companies still prefer to use the locally available and more economically viable manpower.
To work in India, you need employment visa. The prospective employer needs to send a letter providing information about your qualification to the home ministry in India.

Buy
Haggling is quite acceptable and very much needed if you buy anything from the vendors.
Shopping plazas
Anna's ArcadeSpencer Junction

Arcade Shopping ComplexKillipalam

Attukal Shopping ComplexEast Fort

Big BazaarEast Fort & Perrorkada & Kesavadasapuram

De OptionsNanthencode

Karimpanal ArcadeEast Fort

Kedaram Shopping ComplexKesavadasapuram

Pothys

address: Ayurveda College, MG Road

Saphalyam Shopping ComplexPalayam

SARWAA Your Lifestyle Store

address: SRL A 47,Sankar Road,Sasthamangalam

Spencer'sPalayam & Vellayambalam

address: Near Ananthapuri Hospital, Eanchakal Byepass, NH66
Department stores
Books and music
Galaxy

Modern Book Centre

phone: +91 471 2478826

Gandhari Amman Kovil Road, near: M.G Road, Trivandrum. There is a wide selection of books on religion and spirituality, a small stock of imports (novels, histories, etc.), a linguistics section, and a 'Kerala Corner' with books all about local history and culture. The store is overall very well organized. It is not huge, but definitely big enough to find something you'll like.

Music worldOverbridge, near SMV school

PaicoStatue

Prabhat Book HouseStatue

Prabhus Books

phone: +91 471 2479586

Vanchiyoor, Trivandrum 2-min walk from Over Bridge, west of M.G Road.

Second hand booksOn the streets between Kerala Art College and Napier Museum. It features a wide range of pre-owned books.
Handicrafts
Handicrafts, trendy and traditional, can be bought from SARWAA, Sanker Road, Sasthamangalam. Among the collection of handcrafted gifts you can find stationaries, paper crafts, home décor, jewelry and cotton hand-block printed, vegetable-dyed clothing.
Handicrafts and gift items can be purchased from the "SMSM Institute" near secretariat in the heart of Trivandrum city or other genuine craft shops (Natesan's, opposite the Ayurvedic college). These are often very expensive, sometimes to the point of questioning whether they exist solely to empty traveler's wallets.
Do not buy handicrafts from roadside shops at tourist places, like Kovalam, as you will be ripped off.
Textiles
When you come to cities like Thiruvananthapuram, do not pack too many clothes. You can buy them cheap at the local shops. There are many shops around the
east fort
and
over-bridge
areas.
JayaLakshmiPothys, etc. This is a leading garment chain in south India and they have also opened their outlets on MG Road, Trivandrum.

Kalyan SilksNear East Fort

KaralkadaThis is a good place to shop for traditional clothes in the Fort area.

ParthasOn Powerhouse road is the collection of Indian traditional wear for women is excellent here. The western style collection leaves much to be desired. It has all that you might need in Men's wear
For western clothes:
Aiyappas

Last Option

Naaz
For branded clothes, try the showrooms:
AdidasNanthankode

Benetton

Levi Strauss Signature

Pepe Jeans

ReebokPlamoodu
Jewellery
Alappat Fashion Jewellery

phone: +91 471 2478716

Attukal Shopping Complex, East Fort,

Alukkas Jewellery

phone: +91 471 2570481

East Fort

Bhima Jewellery

phone: +91 471 2461631

Elankath Complex

Chemmannur Jewellers

phone: +91 471 2463128

East Fort

Josco JewellersEast Fort & Pattom

Lekshmi jewellery

phone: +91 471 2470609

East fort

Prince Jewellers

phone: +91 471 2470667

East Fort

Saravana Jewellers

phone: +91 471 2470667

East Fort
Eat
There are plenty of restaurants in Thiruvananthapuram serving South Indian food. There are also quite a few eating places serving other cuisines, such as North Indian, Chinese and American food. Please note that the word 'hotel' is used for restaurants.
Budget
Non vegetarian
Kerala cuisine is served in -
Azad Restaurant/HotelWhich has branches in a few places in Thiruvananthapuram including Statue Junction, Near overbridge and Vazhuthacaud.

Balan's TattukadaKaithamukku

Buhari HotelAtakulangara, Near East Fort. Try the puttu and mutton curry. Not for the faint hearted as the food is spicy.

Cafe Coffee DayBy the main road at Kowdiar is a branch of the popular national chain and ideal for a cappuccino or sandwich.

Dakhni DegServes Hydrabad delicacies including Dum biryani, Tandoori stuff and great desserts. It has three branches in the city. Technopark and Kuravakonam. A must try.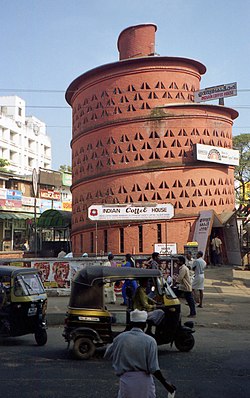 Indian Coffee HouseThe distinctive curved red building near the bus station and main train station is cool to walk inside of on its own. Very popular and open when many other restaurants are closed. They do Indian food, but their specialties include western dishes like 'Bombay Toast' (French Toast) @ ₹30-60. In spite of being very photogenic, this building is very uncomfortable for aged customers as there is no lift.

Kaithal RestaurantChalai. Try the pepper chicken.

Marry Brown Restaurant

phone: +91 471-4061010

A Malaysia based fast food chain serving fried chicken, burgers, seafood, finger foods, desserts and beverages. Its at Panavila Jn near the fly-over.

Maveli CafeA branch of Indian Coffee House near the KSRTC bus stand in a unique spiral tower. There are other branches of Indian Coffee House in the city which also serve cheap traditional food.

Mubarak restaurantRuby nagar, Chalai

Open HouseAyurveda College jn

Varnam Seafood Family RestaurantNandavanam Road, Near RBI.

Zam ZamNear the MLA hostel, famous for Arabian dishes. Order Shawarma (shredded chicken), Shawaiya (Chicken roast), Al Faham (Chicken Roast) and Kubuz (special Arabian roti). This is a must-visit for chicken-lovers.
Vegetarian options
include:
Anand Bhavan(Statue Junction)

Arul Jyothi

phone: +91 471 2470240

M.G. Road, serves delicious South Indian vegetarian food.

Ariya BhavanOpp: Bus Stand, Thampanoor

ArulakamPalayam junction & Bakery junction

Arya NivasVery popular with good food and quality service.

Green sign restaurantIt's about 50 m up from the bus station on the same side. Good cheap food, and very clean!

Hotel VenkateshwaraAirport road, Fort. A small hotel which offers food favoured by Tamil Brahmins & famous for its kara vadai
Most of the budget restaurants tend to be crowded and noisy as the aim is a rapid turnover and not relaxed dining. It might be better to use the take away facilities and eat at a local park.
Hotel Sea Rock

address: Kovalam

Famous for their grilled sea food.

Rahmaniyya Hotel

address: Chala

Famous for their tender chicken & chappathi.

Dhanya Restaurant

address: Kaitha Mukku

For tapioca, Choora fish, Appam, Puttu, chicken, beef and egg biriyani, available after 12:30PM. Rice porridge is available after 5:30PM for ₹40.
Mid-range
AmbrosiaA bakery with an eating outlet. Serves burgers, hotdogs and pizzas. Bakery junction and near Medical College.

Cafe Mojo

address: Kuravankonam

A good place to dine. Continental & Thai dishes available. Good option for dining out once in a while.

Casa BiancaA pizzeria and restaurant at Vazhuthacaud owned and run by a lovely expatriate. Serves great, fresh tasting pastas, pizzas and all things Italian in a casual intimate setting. Definitely worth the trip from Kovalam if you're missing a good quality thin crust pizza.

Hotel GeethAt Statue, good Kerala food. Lunch buffet at ₹190.

IndraprasthaNear bakery junction.

KalavaraAt Kowdiar, behind the Trivandrum Tennis Club.

KTDC floating restaurantAt Veli. Amazing scenery across the lake.

Maurya rajadhaniStatue road. ₹150-200 for buffet lunch

Park Field

Pizza CornerAt the Spencer junction.

Ruby Arena

The Seven HillsA new multi cuisine restaurant featuring mouth watering dishes from across to globe including authentic Kerala meals.

SindhoorNear the Cotton Hill Girls High School, Vazhuthacaud. Serves Chinese and Indian cuisine. The interior is designed to mimic a cave and results in a dark environment. Not very cosy or stylish. Tasty food, and good value for money.

SwagatAt Statue, good Vegetarian food. Very good lunch thalis for ₹60. Serves Sadhya (traditional Kerala food on Sundays).

Take HomeA popular roadside take-away joint in Kowdiar.

Zinc n RockA multicuisine restaurant that serves burgers, sandwiches, omelettes, variety mocktail smoothies, their own recipe of crispy and crunchy Fricassee Fried Chicken, Indian, Chinese & Italian dishes. At Vanross Junction, behind Secreteriate, Statue.
Splurge
Leela KempinskiResort Kovalam.

phone: +91-94000 08561

address: Post Master General junction

Breakfast: ₹500, lunch: ₹650

South ParkMG Road

Taj ResidencyVazhuthacaud

Villa MayaAirport Road, Enjakkal

Vivanta by TajKovalam (formerly Taj Green Cove)
Drink
Traditional drinks include
Karikku
(tender coconut water) and
Sambharam
(buttermilk with salt, ginger and green chilly). Karikku can be bought mostly from the streetside vendors while Sambharam can be bought from the ubiquitous Milma outlets. The
Bakery Junction
area has several fresh juice vendors, serving inspirted mocktails like
Sharjah
and
Tsunami
. "Sharjah" is very popular and available in various juice shops all over trivandrum.
Bars
Hotel-attached restaurant/bar on a street running north, slightly east of the train station
Rooftop restaurant/bar on the western side of MG Rd, above Club Purple, slightly north of the intersection with the road running west from the station. (I think it has a like word 'Jungle' in it) This place is a fire trap, the little lift cannot empty the place at speed...
Take home
Take home Alcoholic drinks are more difficult to obtain. Government run beverages corporation shops are there as the one near overbridge. A Pub is there near overbridge junction opposite to SMV school. Hotels/restaurants with "bar attached" signs sell alcoholic beverages. Public consumption of these drinks including beer is not socially accepted. The local "toddy shops" and "arrack shops" sell strong local spirit.
Sleep
Unless you are in Trivandrum on a business trip, it may be better to base yourself in
Kovalam
and go to the city as a day trip. The accommodation in Kovalam tends to be more expensive, but many of the budget options can be found off Tivandrum-Bakery-Palayam Rd, near the station.
Budget
Arya Nivas

phone: +91 471 2330423

address: Aristo Junction, Thampanoor

Jas HotelThycaud

Hotel b-six, kazhakootam & white dammer, papanamcode.

Hotel HighlandIs a good but old hotel with reasonably clean rooms and very basic decor. Up to 4 bedded rooms are available and the parking space is also good. They can take bookings even on phone without any payments.

Hotel Highland ParkIs a sister hotel of Hotel Highland and is located just across the street. It is a newer hotel and the rooms are also good. Price is a little more than that of Hotel Highland. You can easily get disoriented in the zigzagging corridor which would lead to the room from the lift. Has an attached restaurant, 'City Green' - A/C Multi Cuisine Veg Restaurant. The food and ambiance is good.

Hotel NavaratnaYMCA Road

Hotel RegencyA 1-star hotel close to the railway station and the bus stand. The hotel has good aircon restaurant and rooftop restaurant which is open only in the evenings. In that same area - Manjalikulam Road - are plenty of other hotels offering similar standards.

Hotel SukhvasNear Rly Station in Manjalikulam Road

Lal tourist home

phone: +91 471 2328477

address: Thanpanoor, thiruvananthapuram-14

Big rooms, also basic but clean.

Paradise InnSpotlessly clean rooms with well plumbed attached bathrooms for this budget. A/C often full but a little more. Quiet. Best value of three hotels I tried. No mosquitoes. A good bet.

phone: +91 471 2336442

Basic but clean.

Priya Tourist Home

phone: +91 471 2323663

address: Thampanoor

Railway Retirement Room

Silver Lands

address: Near Overbridge

with restaurant.

phone: +91 9422300047

address: Rams Guest House, Burma Road Kumarapuram Medical college P O Thiruvananthapuram

This guest house is basically converted from a residential building to the standard of guest house. 6 Double occupancy full furnished rooms are available for guests. 4 rooms are placed at the ground Floor and 2 spacious rooms with common hall at the first floor. All rooms are bath attached.Basic amenities like A/c, solar water heater,24 hr TV channels and intercom connected to the reception are available. 24 Hr reception and payments are accepted by Cash or major credit cards. Price may vary depending on season.
Mid-range
phone: +91 471 233555

address: T.C 25/1744 (1), Manjalikulam Road, Thampanoor, Trivandrum

Clean linen! Hot showers! Bath! Private rooftop pool! Breakfast buffet! (Seems to be cheaper if booked through online, ₹2800 for single.)

phone: +91 471 2333333

address: MG Rd

Awarded the best four-star deluxe hotel in Kerala by the State Government. 8 km away from the airport and 3 km from the railway station and the city bus station.

phone: +91 471 2471987

At Pulimoodu Junction, Statue. One of the oldest hotels in trivandrum, renovated and classed up.

phone: +91 471 2330977

Owned by KTDC and is very close to the railway station and bus stand. Claims 2-star deluxe facilities. AC rooms start at ₹2000 + tax. Non-AC rooms are not available.

Hotel HorizonA 3-star hotel on Aristo road with a roof top restaurant.

Hostel LailjaPappanamcode, near Regional Research Laboratory(CSIR)

Hotel PankajA 3-star hotel in Statue, near the secretariat.

Hotel Saj LuciaIn East Fort near Sri Padmanabhaswamy temple.

Hotel Venus InternationalOn the Ayyappan Kovil Road (near BTC Tower). Fairly good. A single AC room costs around ₹1300 + taxes. AC rooms only.

Paradise Gardens Beach Resort & Ayurveda CentreKarikatikuzhi Beach - a beautiful beach. South of Kovalam.

The Residency TowerA 4-star hotel near the south gate of the secretariat.

Ruby Arena Hotel3-star business hotel. Hotel Ruby Arena has ample parking facility and provides luxurious accommodation. Elegantly appointed rooms provide a relaxing atmosphere and are set up to international standards.

Sankars Homestay Trivandrum, Diamond House

phone: +91 471 2444444, +91 471 2448888, +91 94 4710 0000

Kerala government, Department of Tourism Grade A approved homestay.

Second HomeIf you plan to stay at Trivandrum for a considerably longer time, this would be your best option as it is very homely and cost effective at the same time.

Serviced Apartment (My Travel Home)For short and long duration stay at Trivandrum at a fully furnished serviced apartment accommodation. Ideal for a group or individuals. Cost effective than a similar air-con hotel room at the same time. Very good for a temporary stay or even for a month.
Splurge
Stay safe

Female tourists should be wary of hooligans, especially in New Year parties.
Only eat hot food and drink only boiled or good bottled water. Take water purification tablets with you. Water from corporation supplied lines are generally safe, but to be on the safer side go for purified forms.
If you are visiting during the summers (April–May) temperatures might be higher and you might want to take some preparations against it. Evenings are best time to stroll. City sleeps early so you can roam about until maximum 10PM inside the city (really the limit). Most shops close by that time. If you are staying somewhere outside the centre transport options get harder to find and more expensive later at night.
If you need injections or blood tests, try to provide your own needle, bringing a few with your first aid kit. Private hospitals generally provide good service.

Connect
Telephone and mobile

The dialling code for Trivandrum is 471. When calling from overseas, dial +91 471 XXXX XXX. If you have a non-working phone number with only 6 digits try to add a "2" in front of it.
If you don't have an Indian phone number then get a pre-paid calling card if you planning on using your phone frequently. By government regulation you need a photocopy of your passport (visa and the main photo ID-page) and a color photo to be able to buy a pre-paid card. Pre-paid cards are sold in most shops that sell mobile telephones.
'Telephone booths' or public telephones are widely available usually painted with the letters PCO (Public Call office, local calls), STD (Subscriber Trunk Dialing) and ISD (International Subscriber Dialing). All booths have electronic metering and you pay what's displayed on the meter.

Internet

There are many internet cafes around Trivandrum. They offer cheap, tolerably fast internet access to the public.

Cope
Tourist information
There is a tourist information booth open on Thiruvananthapuram station. Helping with train times and local attractions mainly, the guy who works there is usually happy to answer anything else. It is a physical booth on the platform near the middle and the entrance closest to the booking office. It's marked with a green sign, but easily missed.
Hospitals
Trivandrum has world class medical facilities with very competitive rates. This attracts "health tourists" from other states and even other countries. If you are in need of medical care, try to go to one of the reputed hospitals listed below.
State-run
General hospital general hospital junction, Vanchiyoor
Medical College Hospital, Medical College, Trivandrum
Regional Cancer Centre Medical College Campus, Medical College Phone: +91 471 2442541.
Sree Avittam Thirunal Hospital Medical College, Phone: +91 471 2444270.
Sree Chitra Tirunal Institute of Medical Science and Technology Medical College, Phone:+91 471 2443152
Women and Children Hospital, Thycaud, Trivandrum
Private
Ananthapuri Hospitals and Research Institute, Chacka NH bypass, near International Airport, Phone +91 471 2579900
Arumana Hospital, Airport Road, West Fort
Chaithanya Eye Hospital and Research Center Kesavadasapuram, Phone: +91 471 2447183.
Cosmopolitan Hospital Murinjapalam, Pattom, Thiruvananthapuram, Phone: +91 471 2448182.
Divya Prabha Eye Hospital Kumarapuram, Phone: +91 471 2442050. www.divyaprabha.in
Kerala Institute of Medical Sciences (KIMS) Kumarapuram Poonthi Road, Anamukham, Anayara, Phone: +91 471 2447575.
Matha Ayurveda Eye Hospital Kudappanakunnu, Thiruvananthapuram, Phone: +91 471 2731352.
P R S Hospital Killippalam, Phone: +91 471 2344443.
SP Fort hospital, near fort high school, Fort
Sree Uthradam Thirunal Hospital Pattom Phone: +91 471 2446220.
Dental clinics
Kailas Dental Clinic Near Medical College Mens Hostel Phone: +91 471 2553801
Dr.Jacob's Omega Dental Clinic, Centre for Implant & Cosmetic Dentistry Near QRS, Main Road, Plamood, Pattom, Trivandrum, www.omegadentalclinic.com, Phone: +91 94 4736 6770, +91 98 4605 3333, +91 471 2726252.
Dr.Jacob's Omega International Dental Clinic, Centre for Implant & Cosmetic Dentistry , Suseela Gardens, Beach Road, Kovalam, Trivandrum, Phone: +91 94 473 66770, +91 98 4605 3333.
ATMs
ATMs are widely available in Trivandrum, mainly along with branches of banks. A number of them are present along the MG road.
Money exchange
Air Travel Enterprises Ltd Palayam, Thiruvananthapuram +91 471 2327212
T. T. Travels Ltd Vellayambalam, Thiruvananthapuram, +91 471 2332127, +91 471 2333208
Thomas Cook Ground Floor,Soundarya Building, M.G. Road,Trivandrum. Ph: +91 471 338140, +91 471 338141
Trivandrum International Airport +91 471 2502470
U.A.E Exchange Centre Pattom & Vazhuthacadu Branches,Tvm.
Banks
Most of the major banks in India have a branch in Trivandrum and most of these are around the MG road.
Opticians
Sunshades and prescription glasses in stylish frames are much cheaper in India as compared to the western world.
Eye Designs 9-10, Kedaram Shopping Complex, Kesavadasapuram Phone: +91 471 2440985
Lens & FramesAmbujavilasam Road, Pulimood Phone: +91 471 2471354
Rose opticalspulimoodu junction
Solar Opticals Statue Convent Lane, General Hospital Junction Phone: +91 471 2477596
Vision House Murinja Palam Junction, Pattom
Photography
Achas studio MG road, Near Pulimoodu
Baba Studio East Fort Phone: +91 471 2473399
Harisons studio Vazhapalli junction, Sreevaraham
Maharajas Studio Peroorkada Phone: 0471 2433233
Minerva Studio Station Road, Thampanoor Phone: +91 471 2331575
Paramount Colour Lab MG Road, Ayurveda College Junction Phone: +91 471 2331643
Sivans Studio Statue
Libraries and cultural centers
Alliance Francaise "Sudharshana", Forest Office Lane, Vazhuthacaud. Tel : +91 471 2320666, +91 471 5578808.
Eloor Lending Library ABN Home, I Floor, Vellayambalam Jawahar Lane, Sasthamangalam P.O., Tel: +91 471 2318235.
Goethe-Zentrum "Casa Julia", University-Kunnukuzhy Road, Palayam, Trivandrum. Tel: +91 471 3013018, +91 471 3013019 Fax +91 471 3013024 Mobile+91 97 4516 0067
Russian Cultural Centre Gorky Bhavanam, Vanross Junction, Palayam, Thiruvananthapuram. Tel: +91 471 2338399
State Central Library widely known as "Public Library". At Palayam. Has books in English, Malayalam, Hindi, Tamil and Sanskrit. Housed in an attractive Victorian Style building.
University Library, Palayam.
Go next
Braemore Estate, Trekkers' paradise 50 km away from Thiruvananthapuram.
Kanyakumari - 87 km away in Tamil Nadu state. Visit early evening to see the glorious sunsets where the 3 seas meet; the Bay of Bengal, the Arabian Sea and the Indian Ocean,
Kochi - a metropolitan city in Kerala and a major tourist attraction. 5 hours away by train, or 6 by bus.
Kovalam - famous for its beaches, among the finest in India. 17 km from the city.
Ponmudi - A pleasant hill resort 61 km away from city, elevation 912m above sea level.
Swamithoppe - The religious headquarters of Ayyavazhi and the most important pilgrim center of Ayyavazhis.
Thiruvananthapuram (district) has many more attractions which are a day trip away.
Varkala - a pilgrimage centre for the devotees of Janardhana Swamy and Sree Narayana Guru. 51 km away from Thiruvananthapuram city.
Colombo - daily flights, 45 minutes away
Maldives - multiple flights a day, 1 hour
Other places in
Tamil Nadu
state like
Kutralam
or
Courtallam
for its Water Falls,
Madurai
,
Palani
and
Thanjavur
If booking train tickets out from Thiruvananthapuram, the reservation office is upstairs in the main railway station, and follows an odd ticketing system. Tickets are available from a small machine with a red button just near the first counter on your right after you walk in. Although it is usually covered by people. There is unfortunately no tourist window at this station, however tourist class can always still be booked!
There is another train reservation counter in the ground floor of the big LIC (Life Insurance Corporation) building at Pattom. Crowds are thinner here.