Thomastown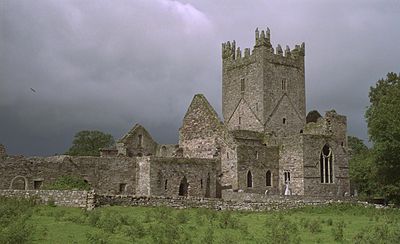 Thomastown
(Irish: Baile Mhic Andáin)
is a 13th Century medieval walled town in
County Kilkenny
. It is on the bank of the river Nore and is famous for Jerpoint Abbey, Kilfane Glen gardens, and Mount Juliet Golf Course. Thomastown lies in a valley. Thomastown is 17km southeast from Kilkenny on the R700. It is the middle town on a series of towns dotted along the River Nore. To the northwest is Bennettsbridge. To the southeast is Inistioge. If driving please note that the centre of Thomastown operates a one way system due to the narrow nature of the streets in its core. The town has grown substantially over the past decade due to its proxminity to Kilkenny and less expensive housing. The town has all the essential services required for tourists. In the last year a new Super Valu and Lidl supermarket opened on the road towards Gowran on the edge of town. The town's best aforementioned attractions lie a couple of kilometres outside the town all in different directions so a car will be required to see them. Be sure to visit the watergarden in the town just off the main street.
Get in
JJ Kavanangh's bus services between Waterford and Dublin pass through the town. Thomastown is also serviced by a bus run between New Ross and Kilkenny City.
By Car
By Train
Thomastown train station
(Station Road, +353 56 24218)
was opened on 12 May 1848. It is on the
Dublin
-
Waterford
line, which also serves
Athy
,
Carlow
,
Bagenalstown
and
Kilkenny
. There are 6 trains a day in each direction. It is open M-Su 07:00-19:30.
The platform is very small and not suitable for wheelchairs. Tickets and timetable information can be got at the stations, online or by phone (+353 1 703-4070 between 09:00-17:00 M-F).
Get around
Thomastown is a small town. Everywhere in the town is within walking distance. If driving bear in mind that the centre of Thomastown operates a one way system.

See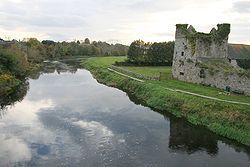 phone: +353 56 772-4623

Built in the 12th century. It is Ireland's finest Cistercian monastic ruin with a magnificently sculptured cloister arcade. Includes visitor and exhibition centre.

phone: +353 56 774-7105

address: Kilfane

The gardens of Kilfane House were built in the 1790s. They were restored in the 1970s. They are listed as an Irish Heritage garden. There are woodlands, walks and a waterfall over 15 acres.

Grennan CastleA 13th century, built by Thomas FitzAnthony, after who Thomastown is named.

Watergarden

phone: +353 56 774690

address: Ladywell Street

Peaceful garden hidden in Thomastown with many interesting features – sparkling fountains, water wheel, waterfall, wonderful plants, coffee shop, craft shop and garden centre.
Do
phone: +353 86 858-0630

address: Stoneyford, Kilkenny. But run in location of choice

This group whiskey tasting has some excellent reviews. Learn about whiskey and try some rare Irish whiskies.

phone: +353 56 777300
GolfThis golf course was designed by Jack Nicklaus and is one of the top golf courses in the country. It often holds international golf tournaments.

Horse RidingLessons, treking and cross country over 700 acres.

SpaThe perfect place to escape
Buy
phone: +353 56 775-4077

address: 2 Market St

Some beautiful old furniture, mirrors and clocks.
Handcrafted Goods
Kilkenny is known for its excellent array of high quality arts and crafts. All of the items below are made in Thomastown. In most cases, you can visit the workshops themselves and see how the items are made.
The brand '
Made In Kilkenny
' promotes the local craft industry. Look out for it.
phone: +353 56 77 30740

address: Newtownbaker, Kells

Kilkenny is known as the marble city. This designer makes necklaces from local marble and other gems/stones.

phone: +353 56 772-4977

address: Low Street

Ceramic studio that makes comtempory, original designs. There is also a gallery.

Jackie and Ed Keilthy Jewellery

phone: +353 56 779-3694

address: Sugarstown

Have been making individual jewellery for over 17 years.

Jerpoint Glass Studio and Gallery

phone: +353 56 772-4350

address: Stoneyford

A family run glass studio production handmade items since 1979.
Eat
Sol Bistro

phone: +353 56 775-4945

address: Low Street

good honest local food freshly cooked and tastefully presented at value for money prices.

phone: +353 56 777-3000

Kendal's RestaurantInformal French restaurant in The Hunters Yard.

Lady Helen RestaurantAward winning formal restaurant.

The Long Man of Kilfane

phone: +353 56 772-4774

address: Dublin Rd

A restaurant running for over 17 years. Serves traditional food, steaks and seafood.

Watergarden Cafe

phone: +353 56 772-4690

address: Ladywell

Traditional cafe. Coffee, lunch, organic food.
Drink
The Bridge Brook ArmsTraditional family run pub. Has live music and poetry readings. Also has internet café.

phone: +353 56 772-4273

address: Logan Street

Over 70 years old, this pub is knows for its traditional old surroundings. Have beer garden, serve lunch, and has live gigs and exhibitions.

phone: +353 56 777-3000

The main bar at Mount Juliet. Also serves light food.

Murphy's

phone: +353 56 772-4160

address: Low St
Sleep
Go next
Kilkenny - The capital city of County Kilkenny is an attractive medieval town is 17km from Thomastown. It is home to the Cat Laughs Comedy Festival, held annually in early June.
Inistioge - a beautiful little village on the river Nore. Just above the village, are Woodstock Gardens, which are being restored to period 1840 -1890. Only a few km south of Thomastown.