Thompson
Thompson
, a city
North of 53
in
Manitoba
, the largest city in northern Manitoba, and the third largest in the province. With a population of about 13,000 (2016), Thompson is the hub of the north. About 35% of the population is Aboriginal.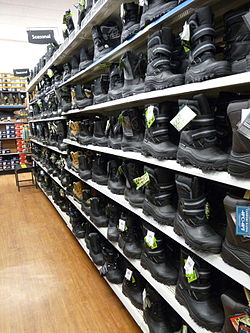 Understand
The modern history of Thompson began in 1956 when a major ore body was discovered. The community was founded in 1957 following an agreement with the Government of Manitoba and Inco Limited. Thompson is a planned community and is named after Inco's chairman, John F. Thompson. The population has been estimated as high as 26,000 residents prior to the recession in the 1970s.
Thompson came to be known as "The Hub of the North", as it functions as a centre for politics and commerce in the region. However a decline in population occurred during the following decades, levelling off around 13,000 people.
Its most prominent local industry is the mining, milling, smelting and refining of nickel. Aside from Vale Ltd., Manitoba Hydro, Calm Air, MTS and the provincial government employ the majority of the people in Thompson.

Climate
Thompson is marked by a subarctic climate. Monthly means range from −23.9 °C (−11.0 °F) in January to 16.2 °C (61.2 °F) in July. Though a majority of the annual precipitation of 509 millimetres (20.0 in) falls from June to September, winter is by no means devoid of precipitation. Snow falls mainly from October to May, with generally small accumulation in June and September, totalling 187 centimetres (74 in) per year.

Get in
By plane
Thompson AirportRegularly scheduled flights on airlines such as: Perimeter Air (+1 204-778-5924), Calm Air (+1 204-778-6471), and Dene Cree Air (778-5924) provide service to and from destinations in Manitoba. Helicopter services are Canadian Helicopters (+1 204-778-5049) and Custom Helicopter (+1 204-677-3720).
By train
Via Rail
(1-888-842-7245) provides service to and from
Churchill
,
The Pas
,
Winnipeg
and points in between.
By car
Thompson is 761 km from
Winnipeg
via Highway 6, 384 km from
Flin Flon
via Highway 6, 10 and 39. From the Minnesota/Manitoba border via Highway 6, 101 and 75, it's 870 km.
By bus
phone: +1 204 289-4154

address: (bus depot) 27-15 Selkirk Ave

Scheduled service to Winnipeg and to Cross Lake.
Get around
By public transit
Thompson's public transit service is provided by
Grey Goose Bus Lines
(+1 204-677-0360). There is also one designated handivan, Thompson Handivan Service (+1 204-677-3478). There are 2 regular routes, Eastwood and Westwood, and an overload bus for before and after school service for R.D. Parker Collegiate. Hours of operation are M-Th 7:30AM-6:10PM, F 7:30AM-9:10PM, Sa 11AM-6:10PM, no Sunday service.
Thompson Transit operates two bus routes, which meet up at the Plaza Mall and Southwood as transfer points.
The Eastwood route stops at Plaza Shopping Centre (transfer point), City Centre Mall, Eastwood School, Princeton Towers, Highland Tower, Thompson General Hospital, Southwood (transfer point) and Wal-Mart.
The Westwood route stops at Plaza Shopping Centre (transfer point), Burntwood School, Norplex Pool, Southwood (transfer point) and R. D. Parker Collegiate.
By taxi
Taxi service is provided by: Driftwood-Nickel City (+1 204-677-6000), North Star Taxi (+1 204-778-3333), and Thompson Cabs (+1 204-677-6262).
See
The Spirit Way Walkway
The
Spirit Way Walkway
highlights 16 points of interest with historical, cultural, geological, industrial, artistic, and scenic perspectives.
Do
Take a brisk walk downtown past the post office, the liquor mart and the homeless shelter. See some of Manitoba's finest in action.
Aviation Tribute

address: Mystery Lake Rd

Tribute to Lambair and Northern Aviation. Rebuilt Norseman float plane on banks of Burntwood River.

Bailey Bridge

address: Behind City Hall

Restored section of World War II bridge designed by Sir Donald Bailey. Point of Interest along Spirit Way walkway.

Howling Wolves RockfaceStart of Canada's largest rockface sculpture. A Spirit Way point of interest.

Tribute to CommerceA unique scenic viewpoint separating wilderness and urban life, old fur trade routes, and modern shopping malls. A Spirit Way point of interest.

Heritage North Museum

address: Princeton Dr & Mystery Lake Rd

Start of Spirit Way pathway. A beautiful log cabin building housing northern artifacts. A Manitoba Star Attraction.

Bateman Mural Viewpoint

address: 4 Nelson Road

Official viewpoint for largest lighted mural in the world.

Bateman Wolf Mural

address: 274 Princeton Drive

Canada's largest photo real mural. Only mural of a Robert Bateman painting. Largest lighted mural in the world. A stunning masterpiece that can be seen a mile away.

Tribute to Northern Firefighters

address: 30 Thompson Drive

The most unique statue in North America dedicated to Northern Firefighters. A tribute to municipal firefighters, forest firefighters, water bomber pilots, helitac crews, and mine rescue teams. A Spirit Way Point of Interest.

address: along Spirit Way pathway

35 wolf statues in Thompson. high. 5500 lbs (2500 kg). Painted by northern artists. Part of a GPS Wolf Hunt to track down 49 statues in Churchill, Thompson and Winnipeg. Get your GPS Wolf Hunt Passport to start the Hunt and receive your personalized certificate.
Buy
Thompson has a large retail sector, providing such things as clothing for all ages, a pet store, jewellery stores, travel agencies, vehicle dealerships, and grocery stores.

Eat
Northern Inn & Steak House

phone: +1 204-778-6481

address: 104 Hemlock Cres

Steakhouse.

Hub

phone: +1 204-778-5630

address: 111 Churchill Dr

phone: +1 204-677-2333

address: 38-50 Selkirk Ave

Indian, vegetarian friendly.
Sleep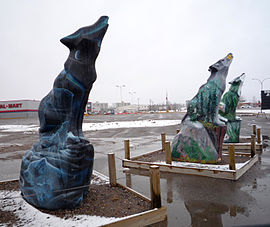 Budget
phone: +1 204-778-6341

address: 39 Nickel Road
Mid-range
Interior Inn and Executive Suites

phone: +1 204-778-5535

address: 180 Thompson Dr.

Free WiFi, fitness centre.

phone: +1 204-778-8879

address: 70 Thompson Dr

In the downtown business district. Free deluxe continental breakfast, free high-speed internet, free DVD movies, fitness centre. Wheelchair accessible rooms.
Splurge
Connect
The local newspaper, the Thompson Citizen, is published on Wednesdays. A free newspaper, the Nickel Belt News, is distributed on Fridays.

Go next