Tiel
Once a prominent trade town,
Tiel
is one of those largely unknown historic cities in the
Eastern Netherlands
with a tale of its own. It doesn't see too many visitors today, but the old centre still holds monumental buildings from former glory days and is famous for its fruits production. When you're in the Netherlands in May, Tiel is an excellent base to explore the lovely Betuwe orchards in bloom. In September, the city is the stage for the largest free pop music festival in the country: Appelpop, as well as for a flower parade. Although mid-sized, this is the largest city in the Betuwe area.
Understand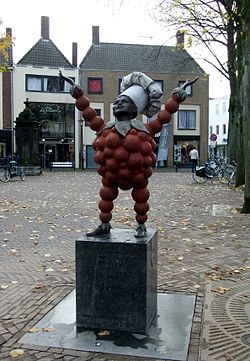 In the 20th century, Tiel became a major fruit production centre. The city's mascot is still a little boy called
Flipje
, who looks a whole lot like a raspberry with arms and legs. The figure was used for marketing by a large fruit and jam factory that stopped operations here in the 1990s, but remains the city's mascot.
Many locals consider Tiel to be a largely industrial town, but for those prepared to look, there's plenty of older, interesting history around.
Get in
The
A15
passes by here, and the main roads into town are the
N84
and the
N835
. The main Tiel train station has direct sprinter train connections to
Geldermalsen
and
Utrecht
, as well as a slower "stop train" connection to
Elst
and
Arnhem
. On the secondary station,
Tiel Passewaaij
, only the train to Utrecht stops. Trains run every half hour.
For most travellers, the train is the most convenient form of public transport when coming here. Nonetheless, Tiel is served by a range of buses, operated mainly by Arriva. They run mostly to and from smaller towns in the area, including line
42
to
Druten
(from where its possible to change for
Nijmegen
),
45
to
Rhenen
and
Wageningen
and line
46
to
Culemborg
and
Nieuwegein
.
Get around
Walk your way around the centre, as it's the best way to see the monuments up close. For the surroundings however, a bicycle will allow for further explorations of the orchards and pretty, rural landscapes. You can rent one at:
phone: +31 344 61 30 54

address: Lutterveldweg 7

This place rents different kinds of bicycles (e.g. with and without gear). Bikes can be picked up from 8.30 and returned until 17.30.
See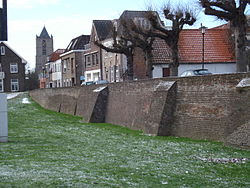 The many orchards in the region provide a most lovely view in May, when the thousands of fruit trees are in bloom. The sight is an attraction on its own, and best appreciated by a hike or bike trip.
The town itself has a number if historic buildings, several dating back to the 17th century when Tiel was a flourishing town surrounded by
city walls
. Parts of the walls are still intact, and the
Tolhuiswal
in the west of town is a good place to see them. Other highlights include:
WaterpoortThe original Water Gate originated in 1647 but was destroyed during the final days of WWII. It was entirely rebuilt in 1979. High on the façade is the city's coat of arms, with the words Asylum gentis Batavorum, or Refuge for the Batavi. The Latin memorial plaque originates in 1528, but was initially place on another gate, the Brunense Poort, which was demolished in 1853.

Grote Kerk

address: Kerkplein 4

This large, Gothic church was built in the 1420's-1430's. Although repeatedly changed and never entirely finished, it's a large building and used for services until today.
Buy
The city's compact and car-free shopping area has a descent collection of shops and a nice atmosphere. Saturdays draw in shopping crowds from the Betuwe region, creating a lively buzz and full outdoor terraces in summer. The main area consists of the Waterstraat and surrounding streets. Try the Weerstraat for smaller boutique stores.
At the Plein, the main square where you'll also find cafés, markets are held on Saturdays (9.00-17.00h) and Mondays (12.00-17.00h).
In terms of local specialities, fruits and jams top the list, as they are is famous for both.

Eat
There are plenty of places to eat. If you have no reservation, try the
Plein
, where a bunch of cafés and restaurants are situated.
phone: +31 344 627959

address: Korenbeursplein 2a

Nice atmosphere and a good, French and international menu. High quality ingredients and dishes make this place excellent value for money. The staff is helpful and friendly.

phone: +31 344 - 683 777

address: Kleibergsestraat 6

A modernly decorated restaurant, with coloured led-lightning all around. All-you-can-eat sushi and teppanyaki dishes is what most regular customers come here for. It's the best Japanese place in town and it does take-away too.

phone: +31 6 12741970

address: Plein 51

The historic building this restaurant sits in, makes it a lovely place for both lunch and dinner. It serves a wide range of dishes, including simple breads, eggs and soups for lunch, and a more extensive warm menu for the evening. They take pride in their classic fried sole dish (€27.50). Of course you're welcome at other times for coffee and cake, or even a high tea.
Drink
There's no nightlife scene to speak of, and locals tend to head elsewhere for a proper night out. Of course, cold drinks and chats can be had in one of the town's cafés. The Plein is the place to go, with outdoor terraces in summer and a number of places to choose from.

Sleep
Places to stay in or directly around town are hard to come by, due to the limited number of visitors for this city. If you can't find what you're looking for, consider staying in the countryside (where some charming, small scale bed&breakfast are among the best choices) or sleep in nearby
Nijmegen
,
Utrecht
or
's Hertogenbosch
, where hotels are plentiful.
phone: +31 344 62 20 20

address: Laan van Westroyen 10

One of the few choices in the city itself, this is a standard and adequate hotel in the Van der Valk chain. Rooms aren't all very up to date but otherwise fine. Some, especially the more expensive rooms as well as the lobby, have been upgraded. Staff is friendly and there's an on-site sushi restaurant.

phone: +31 487501254

address: Veerweg 2, Wamel

This quaint hotel lies just across the river Waal, in the village of Wamel (part of Tiel municipality). A passenger ferry connects the village to the city, making it quite convenient to here instead of in the centre, even for those who wish to explore the city. It's also great for trips into the countryside, as they rent out bikes and allow for recharge of electric bicycles.

phone: +31 344 661236

address: Lingeweg 18b

Suited well for outdoor lovers and budget travellers, this place outside town offers camping spots as well as ready to use huts (with private bath and kitchenette) and caravans. It's situated along the river and rents out bikes and canoes. Note that they only accept cash payments. It's a 5 minute walk from the regional Tiel Passewaai station.
Connect
Post office inside Bruna bookstore

address: Waterstraat 10

Close to the Flipje Streekmuseum, this is one of the convenient post offices in the city centre.
Go next