Tiffin
Tiffin
is a city in
Northwest Ohio
and part of the United States of America. It is the county seat of
Seneca County
, a rural county of Ohio. It is also the home to two institutions of higher learning:
Tiffin University
and
Heidelberg University
.
Understand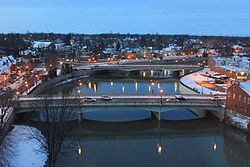 Once a bustling industrial city, Tiffin's manufacturing base and population has declined in recent decades. However, Tiffin residents enjoy cultural and educational opportunities unmatched by most small towns thanks to the two colleges that that call Tiffin home.
The city of Tiffin is bisected by the Sandusky River. Just east of the river is the city's downtown area, including city hall and public library. On the western side of the river, on the outskirts of town is the Wal-Mart, shopping mall, and supermarket.
Tiffin itself is seldom a destination for tourists. However, if family or business reasons call you to Tiffin, rest assured you will find activities to fill your time, as well as a friendly small town atmosphere.
Visitor Information
phone: +1 567-220-6387

address: 19 W Market St, Suite C
Get in
Driving is the only realistic way to get in. At one time the city was served by frequent rail and bus service; these have been discontinued although freight trains continue to pass through the city for interested trainspotters.
By Car
US224 passes through Tiffin.
By Plane
Seneca County AirportA public General aviation airport. No regularly scheduled commercial flights serve Tiffin.
Get around
Tiffin is a small town and you can easily walk anywhere in the downtown area or through the older neighborhoods. Some newer neighborhoods and shopping malls are on the outskirts of town, requiring a car. Tiffin does have several taxi services available for those who do not drive.

See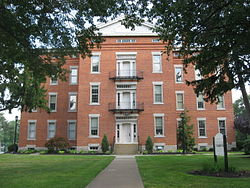 Do
address: 491 Coe St

The main city park. A YMCA with indoor pool is located within the park. The park also has a public outdoor pool, football field, baseball diamonds, disk golf course, playground, and play fields. The park is the site of Tiffin's elaborate 4th of July fireworks display.

Tiffin DragonsThe sports team of the University of Tiffin.

Tiffin Cross Country CarnivalAnnual high school cross country meetup
Buy
Tiffin Glass Companywas famous for its fancy and ornamental glass. The company and factory went out of business in the early 1980s, however the Tiffin Glass Museum has pieces for sale.

Ballreich's Potato ChipsThe original "marcelled" or ridged chips. The potato chip factory is located in Tiffin. The chips can be bought at any local grocery store or supermarket, where potato chips are sold. They also make nice pretzels.

Drive-through grocery storeBuying necessities from your car at a drive-through grocery store adds a certain amount of charm and kitsch to your purchases. Amazingly, Tiffin has two such drive-in grocery stores to choose from. Drive on in at 205 S Sandusky Street, +1 419 447-6555. Or head to Robenalt's Point Drive Thru at 201 Clay Street, phone +1 419 448-4261.
Eat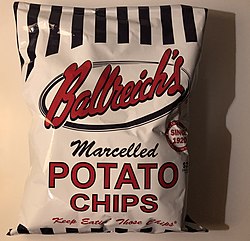 Drink
Phat Cakes & CafeSells cupcakes and beer. Hosts live music.
Sleep
Budget
phone: +1 419 447-7411

address: 315 W Market St

Includes Wi-Fi

phone: +1 567-268-9030

address: 919 E US 224
Mid-Range
phone: +1 419 443-5300

address: 2492 S State Route 231

Includes Wi-Fi, breakfast, fitness center, and an indoor pool.
Splurge
phone: +1 419 443-5100

address: 78 Shaffer Park Dr

Includes breakfast, Wi-Fi, fitness center, and a heated indoor pool.
Bed and Breakfast
Fort Ball Bed & Breakfast

address: 25 Adams St

Mad River Railroad B & B

address: 107 W Perry St
Connect
phone: +1 419 447-3751

address: 77 Jefferson St

The primary library in Seneca county. Offers public computers with internet access and a fax machine.

Tiffin Post Office
Go next