Tilburg
Tilburg
is a large city in southern
Netherlands
. It started to grow during the Industrial Revolution, when wool factories were set up, thus making it the
wool city
of the Netherlands. Because wool was treated with urine during processing, employees had to bring along a full bottle to work every morning. This gave the Tilburgers their nickname of
Kruikezeikers
. Tilburg has about 215,000 inhabitants (2017).
Understand
History
Tilburg already existed in the late medieval period, when there was West-Tilburg and East-Tilburg (Which is now in
Oisterwijk
). The lordship was known as Greater Tilburg, of which it was first Oisterwijk also with it, later it was Goirle. It was a part of the Bailiwick of 's-Hertogenbosch. Around the late 15th century, Tilburg contained a castle and Herd Places. These small places, streets with houses along it and agriculture between those streets formed the structure of which would once become the city of Tilburg.
Going further to the 18th century, slightly the first herd places became filled. In 1809, Louis Napoleon gave Tilburg city rights, after centuries of neglecting by the Dutch politics due to the catholic background of the city. However, the King William II, had found his nice place in Tilburg, and gave the mission to build a palace. Three weeks before completion in 1849, William II died. The palace is still standing as one of the few who survived the Mayor Becht's destructive urban renewal in the 1960s.
The city expanded rapidly in the coming century, from being not much more than a village, to one of the largest cities in the Netherlands. The industrial revolution meant that hundreds of looms were standing in the city, filling the rest of the former herd places. Wool and textiles from Tilburg were very known at the first half of the 20th century. These times gave Tilburg the name of Kruikenzeikersstad (Jars-pissing-people city).
As the Second World War was over, Tilburg shortly retained this position until halfway the 1960s. Since then, the economy would implode, that did not happen due to government money to attract Tilburg for modern industries.
Many monuments have not survived the renewal terror from Cees Becht in the 1960s. Beautiful historical buildings have made place for wider roads and gray flats. Also the train station was a historical one, but isn't anymore.
Tourist Information
: VVV Tilburg, Spoorlaan 434a, 013-5323720,
Get in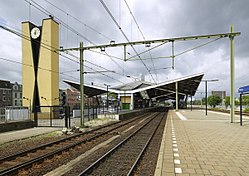 By train
Tilburg is connected to the rest of the country by a twice an hour Intercity service, bound to both Eindhoven - Venlo and Breda - Rotterdam - The Hague.
A second intercity goes twice an hour from Flushing-Middelburg-Bergen op Zoom-Breda to Tilburg and goes further 's-Hertogenbosch-Nijmegen-Arnhem-Zwolle. Trains in the Netherlands usually drive from 05:30/06:00 up to 00:00.
Intercity trains will drive in the night on Friday and Saturday nights from and to Eindhoven, 's-Hertogenbosch and Breda/Rotterdam/The Hague from 00:00 to 04:00.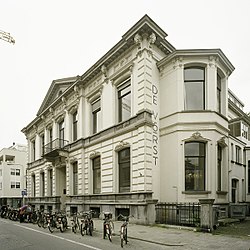 By car
Tilburg is connected by highway only from Breda (with Belgium, Rotterdam-The Hague) and Eindhoven (Limburg, Ardennes, Rhine-Ruhr). To Waalwijk, it goes partially on a highway, and that is also for the city of 's-Hertogenbosch (!), which is not recommended for travelling fast and safe.
From
Turnhout
it is the small road via Ravels, Poppel and Goirle.
By bus
An exception for the buses from Waalwijk, the Efteling, Oosterhout and Turnhout, buses are useless.
Tilburg is the largest Dutch city without Eurolines connection!
This makes the trains to Breda and Eindhoven useful to go to another destination of Eurolines.
Efteling with 169 or 137
Oosterhout with 127
Turnhout with 450 (De Lijn)
Waalwijk with 137
By boat
No scheduled ferries come along the Wilhelminakanaal, but if you have a private boat, you can reach it from Eindhoven and the Meuse on the Wilhelminakanaal.
Get around
Tilburg has three railway stations, and around ten city bus lines, going through all of the city, so every neighborhood is connected easily with the city centre. Some night buses drive through Tilburg, but not in every neighborhood.
Tilburg is a very
bicycle-friendly
city, and has, like many other Dutch cities, red bicycle lanes. Bicycling might be faster than driving in a car or bus, and brings you much closer to many places. On the Heuvel, Pieter Vreedeplein and at the train stations are bicycle parkings.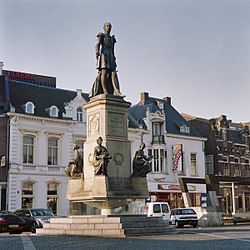 See
Tilburg heritage is both historic and industrial of nature. The
Oude Markt'
(
Old Market
) is a good place to start sightseeing, with the 1828 Heikese church and its 15th-century tower as the main point of interest. There are many churches in the city, and the 19th-century neo-gothic
Heuvelse kerk
(devoted to St. John) is another one you'll easily spot when exploring the town centre. It sits on the cosy
Heuvelplein
, where you'll also find outdoor terraces and an 1852
neo-classical statue of Dutch King William II
(died 1849). William II enjoyed Tilburg and spent a lot of time in the city. Streets, schools, and the local professional soccer team are named after him.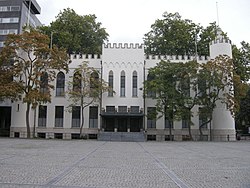 City Hall of TilburgIt was built in 1847 as a royal residence for Kind William II. The royal family donated it later to the city to house a secular school for the middle class, founded in 1866. One of the early students was Vincent Van Gogh, later recognized as a brilliant painter. The school moved out to new facilities in 1934, when the city decided to refurbish it for use as a city hall. A new, much larger city hall building opened later in 1971 right behind the palace, and the historic building is now used for official ceremonies, including weddings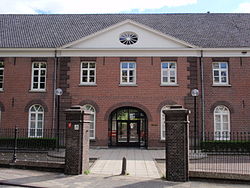 Lancierskazerne

address: Kazernehof

The oldest former army base for the Dutch cavalry to have survived. It's a fine example of the historic and industrial heritage in Tilburg, as these barracks were later used for two large wool- and leather factories. Today, it houses a part of the city archives.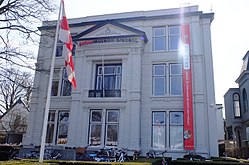 Museums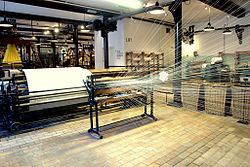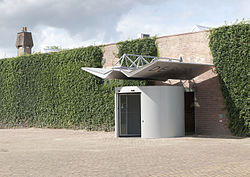 Do
Tilburg is home to two concert halls: the
Concertzaal
in the Schouwburg Tilburg at the Louis Bouwmeesterplein 1, and
013
(being called after the net number) at Veemarktstraat 44, which gives more pop music.
Dierenpark de Oliemeulen; Reitse Hoevenstraat 30 , a small zoo existing mostly of reptiles, insects and birds of prey.
Efteling, a theme park, is close to Tilburg. It's the largest among the Benelux countries, and it's comparable with Tivoli Gardens (Copenhagen) and Disneyland Resort (Paris).

GipsyfestivalEnd of May

Tilburg FunfairThe largest funfair of the Benelux, which is held in July for ten days.
Three cinemas are known well throughout Tilburg. All cinemas have movies in English, while Cinecitta has many movies in French, Spanish and Italian languages.
phone: +31-013 542 1379

address: Willem II Straat 29

Cinecitta is an arthouse cinema, with arthouse movies, documentaries and is cosy, has no pauses and in a historical building.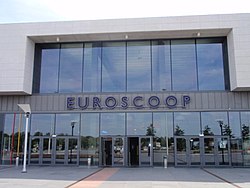 Euroscoop

phone: +31-013 581 28 20

address: Olympiaplein 2

Euroscoop is a large cinema in the south of Tilburg, with twelve halls of cinema with many Hollywood movies, has large seats, pauses and automatic ticket sales.

phone: +31 900 1458

address: Pieter Vreedeplein 174

Pathé is also a large cinema, but is in the city center, in opposition to Euroscoop. It has 7 halls, large seats, no pauses and online reservation.
Learn
Tilburg has one university, known as Tilburg University, since its name is even in English! There are dozens of English-language only programmes. 8% out of 13,000 are foreign students. It specialises in Social sciences, Economy and Law. Unlike many other universities, It is not owned by government (Rijksuniversiteit).
There are also other schools with the bachelor/master system, such as Avans and Fontys. Also they offer many programmes in English.
For the younger travellers: there are also secondary schools (American: High Schools) which offer a largely English-language programme.

Buy
Tilburg is
not that one shopping city
, it has even been worse in the past, though.
Now there are more chains of shopping since the opening of the renewed Pieter Vreedeplein. There are shops in the Heuvelstraat, the Pieter Vreedeplein, the Pieter Vreedestraat, the Emma Passage, the Stadhuisplein and also the Schouwburgpromenade
Because Tilburg is not seen as a tourist city, there are no souvenir shops with products dedicated to Tilburg
Emma Passage and Piusplein
Gianotten Mutsaers, for many books, as well as English books and dictionaries. Includes a cosy café as well.
Heuvelstraat
Apple Premium Reseller
H&M, Swedish clothes brand
HEMA, small-size department store, known for their smoked sausages sold at the entrance.
Hudsons Bay.
Zara, clothing shop from Spain.
Vodafone, T-Mobile and Hi, for mobile telephones and issues with the telephone.
And many clothes and fashion shops
Pieter Vreedeplein
Mediamarkt, a chain of electronics stores. Also here it has many Blu-ray discs and games, but also things for the kitchen etc.
The Sting, Tilburgish brand of clothes, also is throughout Europe now.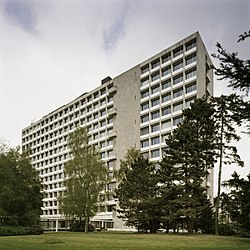 Eat
Restaurants in Tilburg are mostly concentrated on the Heuvelplein, the Piusplein, the Oude Markt and in the back area, towards the train station.
Different shops in the city center provide food, mostly for lunch to eat on multiple places. There are supermarkets selling lunch to eat en route such as AH to go (near the central train station) and places where you can eat en route as well as inside, such as Bakker Bart (in the Heuvelstraat).
Budget
address: Heuvelstraat 122

This pizza, pasta and tapas places serves all kinds of Mediterranean dishes. If you're on a budget, their pizza's (between €6.75 and €10) are a good deal, and pasta's start around €10. Full tapas menus from €22.
Mid-range
phone: +31 13 543 20 85

address: St Josephstraat 138

This place may look café-style rather than "chique", but the food is great and the service even better.

phone: +13-5451000

address: Heuvelring 126

One of the best sushi places around, serving grilled Japanese dishes too. It uses an all you can eat-menu for €24.50 Th-Su (€22.50 on other days).

phone: +31 13-570 51 05

address: Nijkerkstraat 1

Former farm, now a friendly bistro with a nice outdoor terrace. Also a good place for kids, as they have a playing area. The food is nice and price worthy, and there's a set menu of the month for €23.50
Splurge
address: Dussenpad 1-3

In a residential area, this historic English style mansion offers fine dining and has a lovely outdoor terrace in summer. When eating indoors, ask for a table in the "jachtkamer" ("hunting hall") The set Menu Hofstede De Blaak is excellent value for money, but you can eat a la carte too. Call ahead.

phone: +31 13 535 32 96

address: Heuvelpoort 300

The restaurant of the Mercure hotel deserves a separate mention. Pretty plates and tasty combinations; this place is a favourite for locals as much as for staying guests. The menu is simple: there are 10 dishes, and you can pick how many of them you want to eat, allowing for 1- to 10-course dinners. Dishes aren't too large, so count on having at least 3 or 4.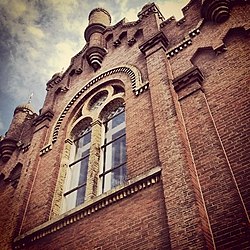 Drink
Because
Tilburg University
had several undergraduate and graduate schools, this college town boasts lots of places where people congregate for a drink. Cafés to drink are allowed to be opened until 04:00, where in the last hour before closure time, only may come people out and not in. To neutralize the effects of alcohol, the municipality decided that bread-selling shops, shoarma/kebab tents and equivalent places are allowed to open up to 05:00. These opening times mostly will only be applied on Friday and Saturday nights.
A typical drink for Tilburg is the
Schrobbelèr
. This is a liquor with an alcoholic percentage of 21.5%, and is an herbal (and bitter) liqueur, although sweeter than most bitter liqueurs. The drink is sold throughout the year, more popular during carnival. It's sold in many restaurants and liqueur stores, also national stores in the city.
For example:
Most out and about places are in and around the city center, in three areas, all of them within a 1-km radius:
Heuvel and Heuvelring, with the city's most discos and some restaurants.
Korte Heuvel, which is a small street, packed with nice and cosy cafés.
Piusplein — a residential area with one McDonald's and several cafés and restaurants.
Specific non-alcoholic drinking places
Mugs and Muffins, Willem II Straat 57, , tel: +31 13 590 4585 a cafe where tea, coffee muffins, cakes, and donuts are served.
You can visit a traditional beer brewery in Berkel-Enschot (just east of Tilburg) at the
Trappistenklooster
. The brewery is now owned by the big brewer Bavaria, so it's not that traditional anymore.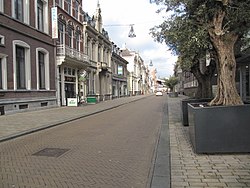 Sleep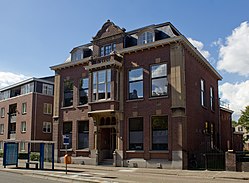 Bastion Hotel

phone: +31 13 5441999

address: Kempenbaan 2

This hotel is next to the highway, near Hilvarenbeek and the Beekse Bergen

City Hotel Tilburg

phone: +31 13 535 1355

address: Heuvelring 126

This place in the centre has a modern style and spacious rooms. Take into account that in the morning you'll likely be woken by the church bells.

address: Bredaseweg 441

At the outskirts of town, this place is almost in the forest. There's a good breakfast and the restaurant serves gourmet cuisine, but it's not cheap.

phone: +31 13 542 2692

address: Spoorlaan 362

This "Inn" is in the city center, near the shopping district as well as near the central train station. They have group rooms for up to 6 people as well as fairly small but cosy singles/doubles. There's no real breakfast, but they provide some free sandwiches, fruit and juice in the morning, if you don't want to eat somewhere else.

Bed and Breakfast Tilburg "Gust van Dijk"

phone: +31 13 544 4495

address: Tivolistraat 22

Situated in a cosy neighborhood south of the Interpolis Tower.

Hotel Brasserij Grand Central

phone: +31 13 543 6234

address: Spoorlaan 422

Opposite the central train station.

Ibis Hotel

phone: +31 13 4636465

address: Dr. Hub Van Doorneweg 105

situated next to the highway, near Goirle

Mercure Hotel

phone: +31 13 5354675

address: Heuvelpoort 300

situated in the city center, in the shopping district

De Postelse Hoeve

phone: +31 13 463 6335

address: Dr. Deelenlaan 10

situated north west, next to the road to the Efteling
Connect
Internet
In the Netherlands generally, mobile internet via your mobile phone may cost no more than €3.50/Mb, and from July 1, 2012 the law allows no more than €0.90/Mb
Internet and Wifi locations: At the central library on 10, Koningsplein (King's Sq), there's internet, with payment.
At the McDonald's, free WiFi at four locations: Piusplein 75, Zuid at Mina Krusemanweg 4, West/Reeshof at Aphroditestraat, and (December 2011) at the Kreitenmolenstraat, close to Udenhout and Oisterwijk.
The uppermost floor of the V&D offers paid WiFi, at Heuvelstraat 33, at the La Place.

Post
Since the modernizing of the post system, no post office will (ever) serve Tilburg (anymore). To send post, you have either to do it via small points in supermarkets, unmanned, which are faster than the previous offices, and mostly open for longer hours too, since the shops where they are also keep open until 18:00, 20:00, 21:00 or even 22:00 on some days and on some Sundays too. To find a location, you can go to a web site of PostNL: . Type in: Tilburg and click at Postkantoor van PostNL.

Cope
Tilburg is home to two hospitals:
# St. Elisabeth Ziekenhuis Tilburg, Hilvarenbeekse Weg 60, Tel:(31-)013 539 1313
# Tweesteden Ziekenhuis Loc. Tilburg, Dr. Deelenlaan 5, Tel:(31-)013 4655655
There are five police stations in Tilburg:
# Inner City police station: Stationsstraat 22, for the centre and the southern part
# Leijdal police station: Ringbaan Zuid 498a, for Tilburg southeast and Hilvarenbeek
# West/Reeshof police station: Karel Boddenweg 9, for everyplace west of the 'Ringbaan West'
# Wilhelmina Park police station: Wilhelminapark 6, for the northern half of inner Tilburg
# Tilburg North police station: Brucknerlaan 18, for everyplace north of the Wilhelminakanaal

Go next