Timberlands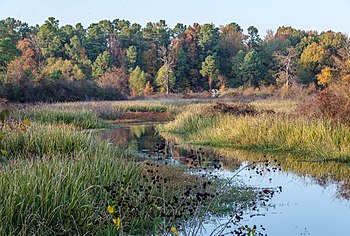 Timberlands
is in Southern
Arkansas
, one of the
United States of America
.
Cities
— Birthplace of former President Bill Clinton, as well as a stopping point for travelers between Dallas and Little Rock.
— Quiet college town in the southwest, home to Southern Arkansas University.
— Small city between Little Rock and Pine Bluff; home to celebrated local restaurant, The Mammoth Orange Cafe.
— The largest city in the region
See
State Parks and Historic Sites
This part of the state, perhaps more than any other, has a plethora of sties where the region's rich history can be taken in. This was the region where the Arkansas component of the
American Civil War
's Red River Campaign took place. The sites listed below are not near any specific destination town and are in extremely rural locations. Most sites are open daily.
Conway Cemetery Historic State Park

address: Country Road 9, Bradley

Burial site of the first governor of Arkansas. Interpretive display, historic cemetery, and scenic views of surrounding pastures and forest.

Poison Springs Battleground State Park

address: 665 Highway 76, Chidester

Memorial and site of the Battle of Poison Springs, April 18, 1864. Confederates attacked a Union supply train, forcing retreat to Camden. Most notable for the Confederacy's brutal and savage mass murders of captured African American soldiers from the Union. Interpretive displays, picnic tables, and hiking trail.

Jenkins' Ferry Battleground State ParkThe land where this American Civil War battle took place was settled by Thomas Jenkins, who started the ferry in 1815. It was run by his sons, William and John DeKalb, until 1861. The Battle of Jenkins' Ferry, the third leg of the Red River Campaign, began after the first light of the foggy day. Despite their disadvantaged position, the Confederates launched one unorganized attack after another. The Confederates knew letting up the pressure would allow Steele's Union army to cross the Saline and escape.
Do
Enjoy a small town festival at Governor Conway Days in Bradley with a parade, car show, and children's games.
Stop by Emerson for the Purplehill Pea Festival and the World Championship Rotary Tiller Race in June.
Go next