Tirupati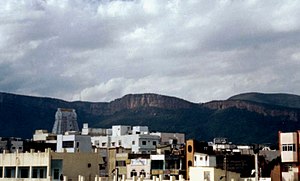 Tirupati
is in
Chittoor
district of
Andhra Pradesh
,
India
. It is most famous for its
Sri Venkateswara Temple
dedicated to Vishnu, also known as Balaji in North India and Govinda in South India. The temple is on top of Tirumala hills, while the town is in the foothills. The Tirumala hill has seven peaks ("Sapthagiri"), said to represent the seven hoods of Adisesha, the serpent under whose hoods Vishnu resides in Vaikuntha.
Understand
Tirupati is in the southern part of
Andhra Pradesh
. Tirumala is located in the eastern ghats, a mountain range that runs along the south-eastern India. The temple of Lord Venkateswara is on the seventh peak
Venkatachala
. The nearby town called Tiruchanoor (also known as Alamelu-Mangapuram) is covered in this page too.
Tirupati is considered a major holy city for Hinduism and receives a significant amount of pilgrimage traffic. It is referred to as the "Spiritual Capital of Andhra Pradesh". Many attractions here are geared towards religious tourism.
History
Lord Venkateswara is also called the Lord of the Seven Hills. This temple has acquired a special sanctity in the Hindu religion. The benefits that accrue by a pilgrimage to this holy town is mentioned in the
Vedas
and
Puranas
. Hindus all over the world believe that in
Kali Yuga
it's possible to attain
mukti
by worshiping Lord Venkateswara. Around 50,000 pilgrims visit the temple every day.
The
Pallava
,
Chola
,
Pandaya
and Vijayanagar rulers were known to give funds and jewels as temple offerings.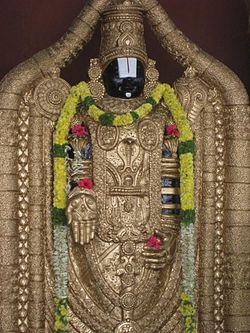 Get in
By plane
phone: +91 877 227 5354

address: Renigunta Airport Road

This airport is a domestic airport. It is possible to get connecting flights to and from Hyderabad and Chennai airport.
The nearest international airport is in Chennai.
From Chennai airport to Tirupati:
Use this route if you have little luggage and are comfortable walking for short distances (and want to try a cheaper, alternative route to Chennai Central)
. From Chennai airport, you can walk over to the local suburban railway station (Tirusulam, about 5 minutes away) and take a local train to Park Station (₹7, about 30 minutes). Chennai Central is a 5-10 minute walk from Park Station. From Chennai Central, there are frequent long distance train services to Tirupati.
By train
Tirupati Railway StationThis is a major junction in the South Central Railways system. There are direct trains from near-by metro cities of Bangalore, Chennai, Hyderabad and others.
Trains can also be boarded at nearby cities - Renigunta (10 km from Tirupati) and Gudur (100 km). Frequent bus service is available between Tirupati, Renigunta, and Gudur.
By road
National Highway NH 205 passes through Renigunta and hence is accessible from Chennai (3-4 hr), Bangalore (at least 5 hours), Hyderabad (10-12 hours) and other nearby cities.
Package tours
It is possible to go on a package tour from various places including Chennai to Tirupati, with the operator taking care of transport, accommodation and sight-seeing.
Taxi Operator in tirupati : Tirumala Tirupati Cabs : For
taxi booking in tirupati
you can contact : 8886050309
Get around
Divya darshan - Reach temple by walking from foot of Tirupati
You can reach the main temple by walking. It is called Divya Darshan. Take a local bus to
Alipiri
. You can start the walk from there. The walk way is open all day. It consists of 3550 steps. An average person takes 3 - 4 hours to reach the top. The last 100 to 200 steps are steep. After the walk you can take a bath at the free bathrooms. You have to deposit the luggauge and enter the divya darshan queue.
Before starting climbing steps to the seven hills you can deposit your luggage at
Alipiri
and take a token, so that the temple authorities will bring the luggage to the top of hills by the time you reach there at free of cost. along the steps way to hills shelter is provided to protect from sun light. further drinking water supply is provided throughout the way. In addition to this there is a zoo park on the way that will please the pilgrims. Those who came to hills by walk have another facility in Darsan also.
There are two step ways to the top of the seven hills. The first one starts from
Alipiri
at Tirupati as discussed above. The another steps way starts at Srivaari meTTu near chandragiri, the historical fort town. This way is a very short route. An average man can climb all the steps and reach the top within hundred minutes. The temple authorities playing free buses from
Alipiri
to Srivaari mettu the second steps way.
See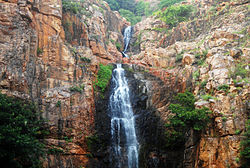 In addition to various shrines scattered all over Tirupati, there are holy water falls, sacred rivers and archaeological wonders.
Chandragiri Fort

address: Chandragiri, Andhra Pradesh 517101, India

This fort was built in the 11th century. This site features stucco work and abundance natural light. The fort hosts a sound and light show twice a day in English and Telugu. There is a Hanuman Temple at the entrance of the fort.

Govindaraja Swamy Temple

address: GS Mada St, Varadaraja Nagar

This temple is a few blocks north from the Tirupati train station.

Kapila Theertham FallsThis is a holy waterfall with a temple dedicated to Lord Venkateshwar near its base. To see the full glory of this waterfall, visit during the monsoon season when the falls are at their fullest. It can be a disappointing visit if there is not much water flowing over the falls.

Sri Venkateswara Zoological Park

phone: +91 877 224 9235

address: Alipiri- Bypass Road, Thatithopu

Asia's second largest zoo, with an area of 5,500 acres. It is built on the concept of Hindu mythology and exhibits only animals that are mentioned in ancient epics.
Hare Rama Hare Kishna Mandir

Regional Science Centre

Sri Kalyana Venkateswara Swamy temple

Kalyani Dam

TiruchanurTiruchanur is the abode of Goddess Padmavathi Devi. It is 5 km from Tirupati.

MukkotiThis is Sri Agastheeswarar Swamy(Lord Shiva) Temple along with Goddess Aanandavalli. It's near Kaloor village which is around 12 km from Tirupati.
Tirumala
Sri Venkateswara Swamy Vaari Temple

address: S Mada St, Tirumala

Tirumala is a world in itself. Millions of pilgrims from all over India and abroad visit the temple of Lord Venkateswara at Tirumala throughout the year. It is regarded as one of the most ancient temples.One can avail free meals at Tarigonda Vengamamba Annaprasadam complex near to Temple. The simple meal consists of rice, sambhar (heavily dal/lentil veg soup), chutney, rasam (light soup), and vegetable curry.

Srivari Padalu View Point

Sri Venkateshwara Museum

address: Tirumala, Tirupathi, Andhra Pradesh, India

The museum features a collection of temple architecture and historical artifacts, such as ancient weaponry, pooja items and idols. It has a photo gallery that gives insight into the region's culture and traditions. It also has a meditation center.
Do
Visit the Sri Varahaswami temple before taking the darshan of Sri Venkateswaraswami. As per traditions and legend, Varahaswami owned the seven hills and agreed to give them to Sri Venkateswaraswami with the stipulation that he too is worshiped. Therefore, Sri Venkateswaraswami asked his pilgrims to visit the Sri Varahaswami temple before visiting him.
Carry extra locks for your vehicle and rooms.
Buy

The local markets often sell photos of the deity idol in frames of various sizes, statues, and other items considered sacred & symbolic of the deity.
The Sapthagiri Magazine was started as a TTD bulletin in 1949. It is circulated all over the country as an illustrated, religious magazine. It is a monthly edition and available in five languages - Telugu, Tamil, Kannada, Hindi and English.

Drink
Tirupathi and Tirumala is a pilgrimage town. People on pilgrimage don't drink or eat meat (non-vegetarian food) including egg and fish. Consumption of liquor is prohibited in Tirumala. Smoking is not allowed in Tirumala.
For drinking it is advisable to use bottled mineral water only as the water available here might be sour in taste. As mentioned in the later section, the laddu of Tirupati is considered to be "nearly" as famous as the deity himself.
Eat
Indian Coffee House

address: Temple complex
Sleep
Tirupati
Private Accommodation is available in Tirupati city with numerous hotels catering to the pilgrims. TTD provides for paid and free accommodation in Tirupati for pilgrims
Paid
: Sri Venkateswara Dharmasala (opp. Tirupati Railway Station), Sri Venkateswara Guest House (north of Railway Station), Sri Kodandarama Dharmasala (south of Railway Station), Srinivasam (near bus station) and TTD Alipiri Guest House (near foothills) offer non air-conditioned accommodation. Sri Padmavathi Guest House (on Chittor Road) offer air-conditioned accommodation
Free
: Sri Govindaraja Dharmasala, Sri Kodanda Rama Dharmasala and Sr
Tirumala
TTD has built cottages in Tirumala that can be rented by pilgrims. There are 3 categories of accommodation, based on location:
Sri Padmavathi Guest House Area (₹100 to ₹250 for Non-AC accommodation, ₹500 to ₹2500 for AC accommodation, )
Sri Venkateswara Guest House Area (₹100 to ₹250 for Non AC accommodation, ₹600 to ₹750 for AC accommodation)
Sr Varahaswami Guest House, Rambagicha, HUDC, Travellers Bungalows Cottages Area (₹15 to ₹150 for Non AC accommodation).
TTD also provides free accommodation in
Choultries
. Pilgrims can contact Central Reception Office near Bus Stand for free accommodation.
Reservation for AC accommodation and Non-AC accommodation above ₹100 per day can be made only at the Central Reception Office, Tirumala. For reservation of Non-AC accommodation up to ₹100 per day, Pilgrims can make reservations up to 30 days in advance. Reservations can be made in person at TTD Information Centres in Delhi, Mumbai, Chennai, Bangalore, Hyderabad, Pondicherry, Visakhapatnam and other district Head Quarters in AP, by paying the requisite amount.
A reservation can be made by sending a Demand Draft (DD) for ₹100 drawn on any Indian nationalised bank in favor of 'Assistant Executive Officer'. The DD has to be posted to Assistant Executive Officer (Reception-I) TTD, Tirumala - 517504. For multiple rooms, it is advised to take multiple DDs for ₹100 each.
TTD online booking details
At times of the year, and around festive occasions you have to book in advance. If you are travelling budget, your best bet is to stay with the TTD, the rooms tend to be clean, well lit and the housekeeping facilities are acceptable. Suggested places: Kanchi Mutt another than TTD lodges are the Kashi Mutt, Ahobila Mutt among several others (all are close to each other on a ring road, and can be approached by foot from the temple). Be warned though that priority is given to people associated with the mutt's community and you will neither get room service nor air conditioned rooms - but the rooms are well maintained, clean and come with clean beds and sheets. For the Mutt maintained lodges, prior registration is strongly advised. However, do not have high expectations on cleanliness when staying in these mutts. Some of the examples by various travellers that cleanliness of these mutts aren't guaranteed.
Respect
Wear clothing that is conservative. Women will having an easier visit if they wear long, loose fitting bottoms (such as ankle length skirts) and shirts that cover the shoulders and everything below the collar bone.
Avoid consuming alcohol, especially in public.
Do not eat meat, egg or fish (non-vegetarian food, considered as meat in the Hindu religion).
It is not advised to wear flowers - all flowers are for the Lord only.
Don't spit or litter or create any kind of nuisance.
Don't carry a mobile phone, camera, pager, video camera, etc., while going for darshan. They are prohibited inside the temple (inner) sanctum.
Go next