Titusville (New Jersey)
Titusville
is an unincorporated village and Census Designated Place in Hopewell Township,
Mercer County
,
New Jersey
.
Titusville is the location of Johnson's Ferry (later named Taylor's Ferry), which was the scene of Washington's crossing of the Delaware during the American Revolution. In 1831, the ferry was replaced by the Washington Crossing Bridge, which connects it with Washington Crossing, Pennsylvania.
See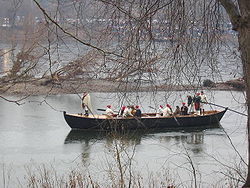 Washington Crossing State Park

phone: +1 609 737-0623

address: 355 Washington Crossing-Pennington Rd.

An 800 acre (3.2 km²) tract of woods, fields, and streams. The park covers the gradual slope from Bear Tavern Road down to Delaware River. The park includes a Visitor Center that features the Harry Kels Swan Collection of Revolutionary War artifacts. Nearly 900 military items from the American and British Armies are included in the collection. The center also includes interpretive historys exhibits that cover the Revolutionary War from its prelude in 1758 to the signing of the Treaty of Paris in 1783.
Washington Crossing Reenactment - Every year on Christmas Day, Washington's legendary crossing is reenacted by a group of volunteers. The actors gather on the Pennsylvania side of the river, where their commander reads Thomas Paine's immortal pamphlet, "The American Crisis." The soldiers then climb into boats and cross the river.
Go next