Titusville (Pennsylvania)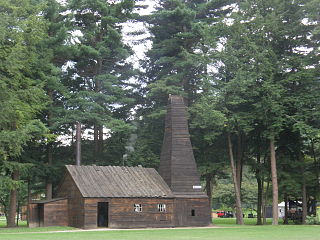 Titusville
is a city in Crawford County, Pennsylvania, with a population of about 5,400 in 2017. Titusville is where the modern oil industry began.
Understand
Titusville was a small growing community throughout most the 1800s. Titusville took another twist from lumber and hired Colonel Edwin L. Drake to find the oil that is thought to be under its surface. After days and nights of hard work and cold chills, it was hit. On August 27, 1859, Edwin Drake became the first person to ever discover oil inside North America. Titusville grew larger than ever, and went from 247 residents to almost 12,000, from the poor farming community to rich houses and large mansions. So much was going on in Titusville, that people moved in to become wealthy from oil; many succeeded. Titusville was the richest city in America from 1860 to 1919. President Grant once visited Titusville. The Liberty Bell also took a stop on April 26th before going to Philadelphia. From huge lumber mills to large steel factories, many companies were being created. But what kept Titusville different is the reservoirs of oil beneath its surfaces. Businesses like Pennzoil and Quaker State made their headquarters in a city about 15 miles south, known today as Oil City. Titusville is still a historic city today.

By car
Titusville can be reached via Route 8 from the north or south and Route 27 from east and west.

See
phone: +1 814-827-2797

address: 202 Museum Lane

The site where Colonel Edwin Drake struck oil on the banks of Oil Creek in 1859. He invented the first oil drill, and the museum grounds feature a replica of his drill. At the end opposite the museum building you'll find ancient pits dug by the Native Americans to scoop oil, which they used for medicines and ointments. Drake well includes a museum, outdoor exhibits, picnic area, and several hiking trails. A 9-mile bike trail connects with the Oil City side of Oil Creek State Park. It is a beautiful bike ride on a paved trail. The museum is open year round, but the outdoor exhibits are only open from May through October.

Woodlawn Cemetery

address: 892 W. Spring St

A quiet little cemetery containing the graves of many famous Titusville natives from the heyday of the oil industry. Among them are Ida Tarbell and Edwin Drake.

Ida Tarbell House

address: 324 East Main St

Built in 1870 by the Tarbell family after relocating from Pithole. Ida Tarbell was raised here and went to school at Titusville High School, graduating in 1875 with honors. Later in life, after writing biographies of Napoleon Bonaparte and Abraham Lincoln, Ida Tarbell wrote her most famous book about the Standard Oil Company. Her publication was so influential that it eventually helped lead to the dissolution of the Standard Oil Company as it was a monopoly. To this day, Ida Tarbell is considered to be one of America's most famous muckrakers. The house remained in the Tarbell family until 1918.

Great Eastern Cutlery

address: 701 E Spring St.

Great Eastern Cutlery is a manufacturer of traditional pocket knives. Founded in 2006, it has quickly gained a reputation for producing fine cutlery. Factory tours are Available M-F 7AM-2PM.

Titusville Historic District

address: 389-301 PA-89

Titusville Historic District is a national historic district which includes 472 contributing buildings in the central business district and surrounding residential areas
Do
Event
Titusville Oil FestivalThe Titusville Oil Festival celebrates the heritage of the oil industry in the area. The festival features a parade, games, food, arts and crafts fair, fireworks, and more. Come and experience the fun.
HOTAfestHOTAfest features hands‑on workshops, jam sessions and public performances celebrating the Bluegrass, Irish Celtic, Gospel, Scottish, Civil War, Folk and Mountain genres. In addition to music, The festival also includes workshops.
Buy
Twisted Wicker Gift Shop- 337 E Spring St.
Eat
Sam's Restaurant- 425 E Central Ave.
Timber Lake Lodge- 4286 State Route 8, +1 814-827-8863
Drink
The Well on East Point- 101 S Martin St.
Sleep
phone: +1 814-676-1733

A train turned into a hotel. Each car has the name of a railroad company on it, so you can see the history and significance of your car on the website. All cars have heating, air conditioning, and televisions. Only open from May 1 through October 25.

McMullen House Bed & Breakfast LLC

phone: +1 814-775-0005

address: 430 E Main Street

Authentic 1870 Italianate villa with three themed rooms, serves a French-inspired breakfast in the morning. Tours of the historic neighborhood and wildflower walks, during the season, are offered for guests.

address: 511 West Central Ave
Go next