Tobermory (Ontario)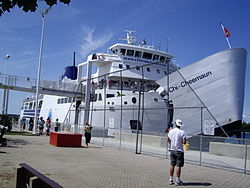 Tobermory
is a small community in
Southwestern Ontario
at the northern tip of the Bruce Peninsula on Georgian Bay. It is the northern terminus point of the Bruce Trail and a popular diving destination.
Understand
Tobermory is a beautiful small harbour town among some of the best hiking and freshwater diving spots around. There are beautiful forests with miles of trails. In the summer time, this small town is buzzing with people everyday, and the nearby national parks offer breathtaking scenic views and are popular swimming areas.
The community was named after Tobermory, the capital of the Isle of Mull in the Scottish Inner Hebrides.
The temperature in Tobermory is typically a few degrees colder than in Toronto.
Tobermory is a summer spot: shops are generally open from May until the mid-October, and are closed for the rest of the year.

Get in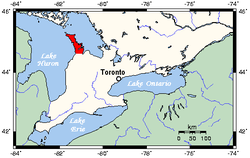 By car
From the south, Tobermory can be reached using Highway 6, which goes all the way up Bruce Peninsula from Owen Sound. From the North, you can reach Tobermory by going on the Chi-Cheemaun ferry from South Baymouth on Manitoulin Island.
By boat
phone: +1-800-265-3163

From early May to mid-October, the ferry makes round trips each day between Tobermory and the South Baymouth terminal on Manitoulin Island. The trip is about 2 hours. Reservations are recommended if vehicle transport is required. Vehicle fares (each way: cars $28-39, motorcycles $18.50-24.50, bicycles $7
By air
There are two airports nearby, neither had scheduled flights::
Get around
The nearest taxi is 1hr 20min away in
Owen Sound
, so you'd better have your own transportation.
See
Do
Tobermory is perhaps best known as the northern terminal point of the Bruce Trail, a 845-km long hiking trail along the Niagara Escarpment (the other terminus point is in Queenston, in
Niagara Falls, Ontario
). offers group hikes around the Peninsula, from easy 2-hour walks to strenuous hikes.
Bruce Peninsula National Park
, +1 519-596-2233. Guided hikes are offered in July and August.
Fathom Five National Marine Park
. Divers must register with the Park Visitor Centre prior to diving.
Blue Heron
, 24 Carlton Street, +1 519-596-2999. Glass-bottom boat tours to Fathom Five Marine Park and Flowerpot Island, and a sunset cruise along the north coast of the Bruce Peninsula.
The
Chi-Cheemaun ferry
offers sunset dinner cruises on Georgian Bay from early May to mid–October, usually on Friday nights, and on M W Th and Sa nights from mid-June to the end of August. Check website for times. $52.50 per adult and $44 per child, round-trip.
Tobermory is considered to be a scuba diving haven, and there are two excellent dive shops in town.
phone: +1 519-596-2363

address: 3 Bay Street South

Offers dive trips usually twice per day, departing in the morning and the afternoon. They include two dives from their dive boats, which are well stocked and large enough to suit up even when full. Booking your spots is recommended on weekends during the summer, and the staff is very friendly.
G+S Watersports
offers dive trips, and generally the two shops go to the same locations.
Finally, there are a few shore dives that can be done.
The Tugs
is a series of 4 tugboats in shallow water, and
The Lighthouse
is an interesting wall dive with geological features to look at.
Buy
Peacocks Foodland

phone: +1 519 596 2380

address: 9 Bay St

Groceries.
Eat
Sleep
Private waterfront cottages at Tobermory Private Cottage Rentals

phone: +1 519-596-2555

address: 7468 Highway #6

Clean and modern, there are 16 standard motel units, 12 waterview motel units, and 8 luxury units. Each unit has a balcony or terrace. Most rooms are furnished with two beds. The two-bedroom luxury suite, has a fully equipped kitchen, dining room table, living room and one full-size bathroom can easily accommodate up to six adults. Most rooms have mini fridges. A pavilion behind the motel has microwaves, toasters, kettles, bbqs, and picnic tables. Pets and smoking are not allowed in the motel units. Summer only, Wi-fi free, wheelchair accesible rooms, air conditioning, coffee/tea in rooms.

address: 469 Cyprus Lake Road

Offers trails to the shores of Georgian Bay. The campsites can be booked online. Reservations are a great idea on long weekends, and the campground can get pretty crowded. But this campground offers an easy walk to points of interest such as the Grotto, a rock cavern on the shores of Georgian Bay.

phone: +1 519-596-2219

address: 236 Big Tub Road

Family-owned and -operated resort with large waterfront motel units overlooking Big Tub Harbour, large non-waterfront units with air conditioning, smaller waterfront units with air conditioning, on-site dining at Bootlegger's Cove Pub, personal watercraft rentals.

phone: +1 519-596-2392

address: 32 Bay Street

Close to the Chi-Cheemaun Ferry in the village. You can walk to restaurants, dive shops, tour boats, ferry docks and the head of the Bruce Trail in minutes. Summer only,, Wi-fi available, wheelchair accesible rooms, accessibility equipped bathrooms, coffee/tea in rooms, refrigerator in room.
Go next
From spring to fall, take the
Chi-Cheemaun ferry
to
Manitoulin Island
. The trip is about 2 hours.