Tochigi (prefecture)
Tochigi Prefecture
(栃木県) is a prefecture in the
Kanto
region of
Japan
.
Cities
— the prefectural capital, known for gyoza dumplings and jazz
— contains the oldest school in Japan
— hot spring boom town gone bust
— small town with a big pottery festival every six months
— UNESCO Heritage Site for its temples and national parks
— a big place to change trains
— shopping, noodles and a temple that protects people in their unlucky years (yakudoshi)
Other destinations
- the largest highland marshland on Japan's main island of Honshu.
Understand
Tochigi is a rural part of Japan with hot springs, mountains and plenty of hiking. Tochigi lies on the Tohoku northern line of the Shinkansen and highway. Ustunomiya is the largest city.

Get in
See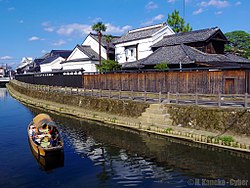 The temples of
Nikko
are undoubtedly the star attractions of Tochigi.
Nasu
is a popular tourist destination. It features hot springs, restaurants, shopping, themed attraction and at the very top Mt. Nasu offers great walking. You can ski here in winter. The emperor has a house here that has been opened to the public.
Do
Those with spare energy can do hiking or skiing in the mountains. Those without can recharge in the numerous hot springs.
You can do horse riding. You can ride in a wide ground. Also you can feel beautiful scene and clean air.

Eat
Kanpyō (干瓢) is a well-known Tochigi product, made from a gourd called yūgao (夕顔, lit. "evening face"). The gourd is thinly sliced and dried, then reconstituted in water when used. The end product is a brown pickle-like substance, perhaps most often encountered as a filling in sushi rolls. Tochigi produces 90% of Japan's kanpyō and is also Japan's largest producer of strawberries.
Gyouza is a famous food in Utsunomiya, Tochigi. These are dumplings with a variety of ingredients, most commonly garlic and pork. There are a lot of tasty Gyouza shops in Utsunomiya. You can enjoy not only yaki-gyouza (pan-grilled) but also age-gyouza (fried) and sui-gyouza (steamed). Tochigi is the prefecture which consumes Gyouza the most in Japan.
Tochigi Wa-gyu is Japanese raised beef. This is a pricey marbled-fatty beef that can be served as (among others) steak, hamburger, thinly cut for sukiyaki or shabu-shabu dishes and well revered by locals.
Soba and udon: Soba is noodles made from buckwheat and other grains. Handmade soba or udon (thick flour noodles) are served in soup bowls with local vegetables and meat or dry with sauce dip on the side. Be sure to slurp as you like!

Go next