Tofino
Tofino
, population 1,700, is a former logging and fishing village that has become a center for ecotourism and activities such as
whale watching
, surfing, and camping. It is located on Clayoquot Sound, on the Pacific coast of
Vancouver Island
, 208 km (129 miles) west of
Nanaimo
. Clayoquot Sound is a UNESCO Biosphere Reserve.
Understand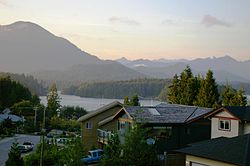 Tofino Inlet was named in 1792 by the Spanish explorers Galiano and Valdés, in honour of Admiral Vicente Tofiño de San Miguel y Wanderiales (or Vanderiales), under whom Galiano had learned cartography.
Get in
By car
Tofino is accessible via
Highway 4
. The road, best driven during the day, is very twisty and narrow (particularly west of
Port Alberni
) but offers great views of lakes and mountains on the west coast. Coming from
Victoria
, take Highway #1/#19 north 160 km to the Highway 4 turnoff west to Port Alberni.
By plane
Tofino-Ucluelet AirportIt is in Pacific Rim National Park, and just across the highway from Long Beach. Regularly scheduled flights to Victoria (YYJ) and Vancouver () on Pacific Coastal Airlines are $250-300 one-way. Private pilots will find three 5,000-foot paved runways, no landing fees, and fuel available. However, beware the weather; low overcast is common, and fog can appear suddenly on summer days.
By boat
If you are starting from
Vancouver
, catch the ferry from Horseshoe Bay or Tsawwassen to
Nanaimo
on BC Ferries, and drive the rest of the way.
In the summer you can catch the
M.V. Frances Barkley
from Port Alberni to
Ucluelet
(37km south from Tofino), 4½ hours, $30 one-way.
By bus
Tofino Bus Island Express
runs service in conjunction with Greyhound Canada on Vancouver Island. Routes make stops in Nanaimo and Victoria (among others between Nanaimo and Tofino).
Get around

The town is small enough to walk through. A dedicated walking and bike path runs all the way down to Cox Bay. A free shuttle bus with a surfboard rack runs hourly in the summer season giving access as far as Cox bay.

See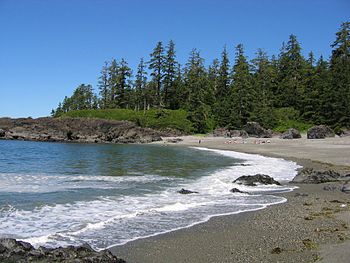 phone: +1 250-726-3500

Rocky headlands, long beaches, and wild surf, set against Vancouver Island's temperate rain forest. Entry is $7.80 for adults. Camping $24-70/night. Parking fee $10/day. Many walking trails including long sandy beaches, rugged rocky coastline and boardwalks through old growth forests. Maps and information available visitor centers at Cox bay and the junction for Ucluelet and Tofino.

Tofino Legion (Royal Canadian Legion Clayoquot Branch No 65)

phone: +1 250 725-3361

address: 331 Main

This hall hosts so many community events that it's easy to forget it's a membership hall of the veteran's association. Multiple concerts per week of a variety of music, over the summer. Most performers are for one night only.

phone: +1 250 725-1220

address: 1084 Pacific Rim Highway

12 acres of forest, shoreline, and garden, with lots of educational exhibits. Also a cafe and gift shop.

Pacific Rim Whale FestivalA variety of art exhibits, films, museum installations, and tours in Tofino and Ucluelet, celebrating the spring migration of the grey whales.

Pacific Rim Summer FestivalArt exhibitions in Tofino and Ucluelet. By the Pacific Rim Arts Society. Live performances in Tofino, Ucluelet and area. Dance workshops. Free outdoor concert. Performances in Tofino and Ucluelet on Canada Day, Celebration of Indigenous culture, Ballet Victoria, Pop Up Art Market, Kids Art Zone (throughout the summer), local and guest performances.

address: Various locations

A festival of gourmet meals, barbeques, and cooking classes, and farmers markets at restaurants and resorts around the region.

Tofino Lantern FestivalAn exhibition of beautiful lanterns, and workshops to make your own lanterns.

phone: +1 250 725-2205

address: 50 Wingen Ln

Offers a range of flights over the beautiful coasts and mountain glaciers of the area, with a good chance of seeing whales and other wildlife. Prices are per complete charter of a 4-seat aircraft.
Do
Tofino is a popular tourist destination for visitors from around the world. The long sandy beaches south of town are the main attraction, as are whale watching, hot springs, and surfing. In the winter, many of the facilities close up. However, there are still a number of travellers who come to see the
storm season
. For hikers, Tofino is a gateway to the Island's backcountry. With a guide or on your own, explore amazing trails or paddle beautiful inlets. There is still a lot of wildlife, such as Orcas, Bald Eagles, and bears. Tofino and Clayoquot Sound is a world renowned kayaking destination offering wilderness experiences on daily trips between 2 - 6 hr or even multi-day kayak adventures. Usually no previous experience is required.
address: 101 A Fourth St

West Coast Aquatic Safaris is an optimal way to experience BC's whales, nature, hotsprings and wildlife; a must-do while visiting Tofino.

phone: +1 250 725-2132

address: 411 Campbell St

A 2½-3 hour boat ride in a Boston Whaler through Clayoquot Sound, with commentary from guides. Gray whales are the most commonly seen variety. There is also a museum.
Hot Springs - Approximately northwest of Tofino sits Hot Springs Cove, a natural hot spring that flows through interconnecting pools of various temperatures until finally reaching the ocean waters. The hot springs are accessible by boat or float plane, followed by a hike through the forest, and so a trip to the hot springs can offer both hiking and the potential for whale watching en route.

phone: +1 250 725-3238

address: 634 Campbell St

phone: +1 250 725-3332

address: 1850 Pacific Rim Hwy

Tucked around the end of the airport's runway 11, this 9-hole par 36 course also features an 18-hole minigolf course and a driving range. Easy walking distance from the airport and from Long Beach.
Tofino is the
surfing
capital of Canada. There are only beach breaks in Tofino. Surfing (with a 5mm wet suit) is popular whenever the surf is up. Winter brings higher waves yet the temperature is still moderate enough to surf. There are 3 surfing beaches and all can get busy in the high season. Many surf shops in and out of town provide rentals and lessons (see
Buy
section)
Chesterman BeachSlightly sheltered by offshore islands, Chesterman Beach offers the best surfing for beginners. Parking lots at the north and south end.

Cox BeachOften offers bigger waves than Chesterman's. Access from North parking lot with toilets and showers or South parking lot further from Tofino

Long BeachAptly named! This beach requires a parking pass.
Buy
phone: +1 250 725-3990

address: 671 Industrial Way

Outdoor furniture handcrafted from salvaged local western red cedar.

phone: +1 250 725-3929

address: 264 First St

Handmade kilnformed glass trays, bowls, beach sand jewelry and custom art pieces.
Surfing:
phone: +1 250-725-3800

address: 630 Campbell St

Offers a cheap and large selection of surfing rental gear. Lessons around $75, board rental $20 for 24 hours, $40 with wetsuit.
Eat
phone: +1 250 725-4447

address: 1119 Pacific Rim Highway

Schooner Restaurant on Second

phone: +1 250 725-3444

address: 331 Campbell St

phone: +1 250 725-2902

address: 300 Main St

phone: +1 250 725-3353

address: 601 Campbell St

phone: +1 250 725-2341

address: 311 Neill St

Outstanding! Have the chowder, the killer fish taco and the tofu pockets. Lunch about $15/person, Dinner for about $30/person.

phone: +1 250 725-2525

address: 700 Industrial Way

Gourmet take-out pizza, soups and seafood dishes.

phone: +1-800-333-4604

address: Osprey Lane at Chesterman Beach

Beautiful Pacific Northwest cuisine with ocean views (during daylight hours). Breakfast, lunch & dinner, at approx. $25/$35/$80/person.

Tough City Sushi Bar

phone: +1 250 725-2021

address: 350 Main St

Excellent sushi restaurant. Dinner about $25/person.

The Common Loaf Bake Shop

phone: +1 250 725-3915

address: 180 First St

Tofino's original whole foods bake shop for over 25 years. Homebaked breads, scones, goodies, pastas, pizzas and specialties, at approx. $15/person. Also known for its message-laden bulletin board.

The Wildside Grill

phone: +1 250 725-9453

address: 1190 Pacific Rim Highway

Take-out food, burgers, seafood, salads.

phone: +1 250 725-8228

address: 1184 Pacific Rim Hwy

West Coast-influenced Mexican food from a food truck. Tacos, burritos and gringas with a variety of fillings.

Club House Restaurant, Long Beach Golf Course

phone: +1 250 725-3332

address: 1850 Pacific Rim Hwy

Fully licensed restaurant, open to golfers and flyers. Easy walking distance from the airport and from Long Beach.

phone: +1 250 723-2526

address: 1180 Pacific Rim Highway

Amazing hand made chocolates, truffles and homemade gelato. Very friendly place that the locals visit often. Best ice cream in Tofino and very family friendly. Best known for Honey Lavender Gelato, fresh organic chocolates and their "Hot Chocolate Elixir."

phone: +1 250 726-6122

address: 634 Campbell Street

Ingredient-driven menu, sourced and foraged from Tofino's oceans, shoreline and forests. Has waterfront patio. Bring your day's catch if you wish; chef will prepare and cook it for you in a 1,000-degree wood-fired Mugnaini oven.
Drink
phone: +1-250-725-2899

address: 681 Industrial Way

Tofino's first and so far only brewery. You can see the operation, sample or buy their brews.
Sleep
During high season (May–September) hotels here are among the most expensive in BC. During the off-season better deals are available. If you don't mind the two hour drive, considerably cheaper accommodation is available in
Port Alberni
.
Hotels
Hostels
Clayoquot Field Station at Tofino Botanical Gardens

phone: +1 250 725-1220

address: 1084 Pacific Rim Hwy

On 12 acres of waterfront gardens, rain forest, paths and boardwalks. An educational facility that brings students researchers and travelers together for an introspective, quiet time. Dorm-style rooms and a private suite are available. Rate includes admission to Tofino Botanical Gardens.

Whalers on the Point Guesthouse

phone: +1 250 725-3443

address: 81 West St

Close to the center of Tofino. Affiliated with Hostelling International. A very pleasant place to stay. Both individual and dorm-style rooms are available.
Campgrounds
In the summer the campgrounds are very popular. There are a number of public and private campgrounds in the Tofino area. Most of these operate from about Mid-March to October or November.
Vacation rentals
Private cabins, homes and condominiums are available year round. This option is ideal for couples, families or groups who desire a self-catered holiday.
phone: +1 250 725-2779

address: 105-430 Campbell St

Has high-end short term properties throughout Tofino.
Connect

Cell phones work in Tofino, but data connections can be very slow. Computers with Internet access are available at a few shops in town (such as the Tofino Pharmacy and Tofitian Coffee Shop). Free Wifi is available at Darwins Cafe at the Tofino Botanical Gardens.