Tokushima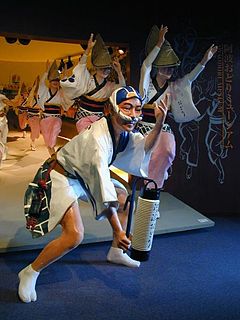 Tokushima
(徳島) is the main transport hub of eastern
Shikoku
. It has only a few famous attractions, but its palm-lined boulevards are pleasant enough to pass through on your way to more interesting places.
Get in
By plane
Tokushima AirportPint-sized airport has daily services to Tokyo, Nagoya, Fukuoka and Sapporo. Buses to JR Tokushima Station take 25 minutes and cost ¥430. The schedules are synchronized to flight departures/arrivals.
Buses run to the station from
Kobe
Airport every hour at 55 minutes past (2½ hours, ¥3200). Airport Limousine buses operate from the nearest international gateway,
Kansai International Airport
in
Osaka
(2 hr 45 min, ¥4000 — cheaper if you purchase a round trip ticket).
By train
From
Okayama
, take a
Marine Liner
rapid train to
Takamatsu
, then transfer to the
Uzushio
limited express for the run to Tokushima (2 hours, ¥4420). Two daily
Uzushio
trains run directly from Okayama, with no change of trains required (¥5050). If you are coming from Kansai or the east (i.e.
Nagoya
or
Tokyo
) then changing to a bus at Shin-Kobe will result in an easier trip to Tokushima - a wise investment for Japan Rail Pass holders, even if the pass doesn't cover the bus. (See
By bus
below)
The JR Tokushima Line runs toward
Ikeda
(2 hours), for connections south towards the
Iya Valley
.
By bus
If arriving from
Kansai
via
Awaji Island
, you're pretty much guaranteed to end up in Tokushima.
JR Bus
operates many services to Tokushima:
Awa Express
bus service leaves from
Kobe
and Kobe Airport (2 hours from Shin-Kobe station, ¥3200, 15 daily round-trips),
Osaka
(2 hr 45 min, ¥3600, 23 daily round-trips),
Kyoto
(3 hours, ¥4100, 7 daily round-trips), and on weekends and holidays,
Nara
(4 hours, ¥3900, 2 round-trips).
Keihan Railways
has its own highway bus that travels to and from
Kyoto
and
Hirakata
.
The overnight
Dream Tokushima
bus runs from
Tokyo
and
Shinjuku
(10 hours, ¥10,000 each way).
By ferry
phone: +81 3-5148-0109

A ferry service between Tokyo, Tokushima and Kitakyushu. Both the Tokyo and Kitakyushu runs are overnight; passengers can book Western-style bedrooms, bunks, or sleep on the floor. If you're sleeping on the floor, this is one of the cheapest ways to get to Tokushima.

phone: +81 73-422-2156

A ferry to Wakayama, which is easily accessible from the Osaka/Kyoto/Nara area. The ride takes two hours, and it operates both day and night.
Get around
The city center is small enough to cover on foot, but bikes can be rented next to JR Tokushima Station (tel +081 088-652-6661, 9AM-5PM) at ¥500 per day.
Tourist information
JR Tokushima Station

phone: +81 88-622-8556

Tokushima City Tourist Association

phone: +81 88-622-4010

address: 2-20 Shinmachi, Awa-Odori Keikan

Tokushima Prefectural International Exchange Association

phone: +81 88-656-3303

address: 1-61 Terashima Honcho Nishi, 6F Clement Plaza

An excellent place to drop in with Internet access (¥50 for 10 min) and lots of guidebooks and other information to borrow. Staff can help find accommodation and recommend things to see and do.
See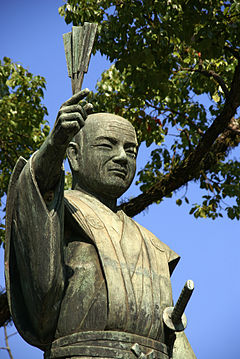 The
88 Temple Pilgrimage
passes through Tokushima, with temples 14 through 17 —
Jōrakuji
(常楽寺),
Kokubunji
(国分寺),
Kan'onji
(観音寺) and
Idoji
(井戸寺) — all located within city limits.
Ryōzenji
(霊山寺), the starting point of the pilgrimage, is just north of Tokushima in the city of
Naruto
.
address: 2-20 Shinmachi

An interesting museum devoted to the Awa Odori Festival. Exhibits include video and panoramas of the festival, and even a dancing Odobotto robot to show you how it's done! There are several daily performances of the Awa Odori dances (¥500).

phone: +81 88-656-2525

address: 1-8 Tokushima-cho

A brisk uphill walk from Chuo Park, behind the station, takes you to the castle ruins and a view over the city. The castle museum (9:30AM-5PM) is set in an exquisite traditional Japanese garden — come early in the morning for a misty, meditative, and crowd-free experience.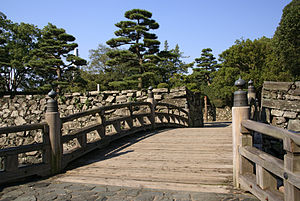 Do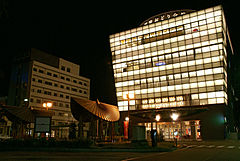 The Awa Odori (阿波おどり) festival, held August 12-15 annually, is by far Tokushima's largest claim to fame. With a history of over 400 years, people dance in the streets according to the complex choreography. As the proverb says, "The dancing fool and the watching fool are both fools, so why not dance!"

Mount BizanThis mountain 1500 cherry blossom trees, making it an impressive sight at blossom time. At the Awa Odori Kaikan, there's a ropeway to the top of Bizan. The walk down takes about 15 minutes.

Tokushima Chuo ParkSome nice gardens and ponds. It makes for a pleasant walk while waiting for your bus, or at night, when people are out exercising and you can listen to the frogs, birds, and other animals. You can climb up to the top of the hill to the castle ruins to overlook the city.
Buy
Tokushima became a major city in part because of
indigo
, which is used locally to dye beautiful patterns in products from handkerchiefs and scarves to cushions and large door-curtains.
Otani-yaki
pottery, with its natural muted colors and rustic-looking shapes, is another popular souvenir, as is handmade paper.
address: 1-5 Terashima Honcho Nishi

Has a Kinokuniya bookshop with English-language books on the 8th floor.
Eat
Tokushima is famous for its wonderful strawberries and
sudachi
, a small round green citrus fruit with a lime-like flavour. In the summer,
sugata sushi
is available, wherein a whole small fish is stuffed with sushi rice. Another popular local treat is
narutokintoki
, a kind of sweet potato.
There are some nice places to eat on the 5th floor of Clement Plaza, which is above the train station, and also in the department stores nearby.
Inotani

phone: +81 88-653-1482

address: 4-25 Nishi Daikumachi

This shop represents Tokushima ramen (pork, seafood, lots of vegetables) at the prestigious Ramen Museum in Yokohama. Back home, it's a busy lunch spot.

phone: +81 88-623-3848

address: 2-15 Ichibanchou

A shrine for all things related to 60s surf culture. The owner, Takeda-San, appears in many of the surfing pictures on the walls; he cooks and serves customers himself, so don't arrive in a hurry, but the food is great and the atmosphere is fun. It's on the second floor up a tiny staircase, but it has a sandwich board out front and the awning is white with black lettering.
Drink
The aforementioned sudachi fruit is used to flavor local shochu and sake. Most of the bars are clustered around the ACTY 21 building.

Sleep
Go next
Naruto - Check out the tidal whirlpools, but confirm the times before you go — they can only be seen at certain times.
Hiwasa and surrounding area - See the beautiful and wild Anan coast in southern Tokushima prefecture. Area around Hiwasa (2 hours, about ¥1000 from Tokushima) is especially beautiful.
Mima - a small city to the west of Tokushima city, about one hour by train on the Tokushima line. The city is mostly known for several historic locations, as well as campsites, and outdoor/nature activities (hiking, kayaking, fishing, etc.).