Tokyo/Akihabara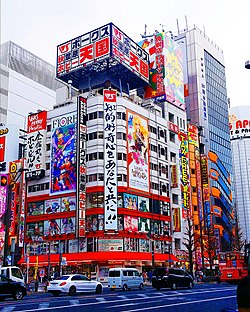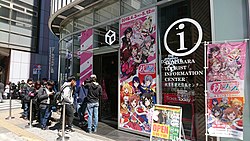 Akihabara
(秋葉原), or
Akiba
in slang, is
Tokyo
's "Electric Town" on the eastern side of the central
Chiyoda
ward. The area houses thousands of shops selling every technological gadget you can imagine, from computers to gaming consoles and vacuums to DVDs, at reasonable prices. This area is also known as the "Gamer's Mecca" and has become strongly identified with
anime/manga
subculture, with the legions of
otaku
geeks traipsing down on weekends known as
Akiba-kei
.
Get in
By train
Akihabara is centered on , which is on the JR Yamanote, Keihin-Tohoku, and Chuo-Sobu Local Lines. Take the "Akihabara Electric Town" exit to be dropped into the middle of the action.
Akihabara is also the terminal of the
Tsukuba Express Line
, which runs to
Tsukuba
and other stations in
Ibaraki
and northern
Chiba
prefectures. (45 minutes to/from Tsukuba via
kaisoku
)
Getting to Akihabara by subway is also quite easy; travel to Akihabara Station by the Hibiya line (H15), or to (G14) or (G13; take exit 6 or 5) by the Ginza line. The Toei Shinjuku line is also a 10-minute walk to Akihabara from (S08).
There is no
direct
connection to the airports, but it's readily reached from
Narita Airport
with a brief connection on the Yamanote, either from Nippori for the Keisei Skyliner (55 minutes, ¥2550) or from Tokyo via the Narita Express (75 minutes, ¥2940). Taking the often-crowded Keisei limited express (
tokkyu
) increases travel time to 90 minutes, but lowers the fare to ¥1150. In the evening,
Access Tokkyu
commuter trains between Narita Airport and Nippori shave 20 minutes off of the overall travel time against a ¥200 additional fare.
You can also use the Keisei limited express from Narita Airport to Funabashi, then walk to the JR Funabashi station and take a Sobu Line local train to Akihabara (90 minutes, ¥1100).
For
Haneda Airport
, the Yamanote will also take you to Hamamatsucho; transfer there to the airport-bound Tokyo Monorail (40 minutes, ¥620).
See and do
Akihabara is all about shopping. One of its few sights, the Transportation Museum, moved to
Saitama
as the Railway Museum.
AKB48 theaterAKB48 is a home-grown, all-girl idol group — their name actually comes from Akihabara — which started in 2005 and quickly became the best-selling female group in Japan. They perform 6 days a week. If you are into J-pop music and cute girls all rolled into one (and are lucky enough to win the ticket lottery), don't miss this.

phone: +81 3-3254-0753

address: 2-16-2 Sotokanda

Akihabara also has its own temple. You can buy a multi-piece charm for ¥1,000 which will protect your electronic devices from evil. It's mostly noteworthy for the festival it organizes around May. On this occasion, a massive shrine is traditionally carried through the streets of Akihabara, providing an interesting contrast with all the high-tech to say the least.

phone: +81 3-5298-1188

address: 外神田4-14-1, Chiyoda, Japan

A centerpiece of the area, offering up information, showings, demonstrations, and events centered around animation and gaming. It can be found by exiting the station towards 'Electric town' and heading out the right side of the station. It is the furthest of the two large modern skyscrapers in your immediate eyeline.In the recording studio, visitors can experience a post-recording on certain days.
Take purikura in one of the dozens of photo sticker booths. Most photobooths can lend you cosplay clothes should you deem them necessary.
On Sundays, the main thoroughfare Chūō-dōri is closed to vehicles, and it turns into an unofficial stage for cosplayers (people dressed up as anime characters) and local bands to strut their stuff. Sadly, this is not as populated as it once was following a bizarre 2008 incident where a knife-wielding man stabbed and killed many people at random, but the cosplayers are slowly returning.
Akihabara is also perhaps the last stronghold in the world for classic arcade gaming. Although arcades are still everywhere in Japan, and more so in Tokyo, the concentration (and skill of play) is especially high in Akihabara. The huge towers of Sega, Taito, and others can't be missed, but more obscure ones have comparatively more obscure games. Recommended for a nostalgic trip back to the 1980s, and to see the latest gaming crazes and check out the pros.
SEGA

Taito

Hey ArcadeEntire floors dedicated to shooting games (like Galaga) and fighting games (like Tekken).

SEGA's Akihabara GIGOHatsune Miko (like Gundam).
Buy
Electronics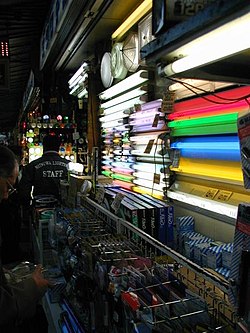 Unless you're blind, you can't miss the massive neon-lit storefronts that line the main street,
Chūō-dōri
(中央通り). Sprawled in every direction are smaller streets with even more electronics stores. Note that the further from the main street you go, the better the prices — but the more you stray, the less foreigner-friendly the shops are. The Internet has taken a big bite out of business though, and some specialist shops, like the legendary two-floor electronic components warren of Radio Store, have shut their doors and moved online. (Its competitors Radio Center and Radio Depart remain open.)
On Sunday afternoons, the main street is blocked to vehicle traffic and the area becomes a bit of a flea market — you can walk freely along the main avenue and many small vendors set up tables on the side streets. You can't miss the street performers; everything from maid-fetish karaoke to Incan music can be heard on a good Sunday.
Though battery-powered electronics are basically the same world-wide, AC-powered electronics designed for the Japanese market use 100 volts, so "native" Japanese electronics may require a step-down transformer outside Japan; even the U.S. standard 110 V is too high for many devices. Also, the majority of these products have no international warranty, and are labeled and documented only in Japanese. Head for the many duty-free shops to find export models, but note that they are priced at a premium.
Larger shops can arrange sales tax exemptions for purchases of over ¥10,000, saving you 5%. Unlike most countries, in Japan the tax is waived immediately, so there is no need to run through complicated reclaiming hoops. However, you will have to show your passport, and you're supposed to clear your purchase through customs at the airport on the way out, although there is zero enforcement of this. Many shops take credit cards, but some may charge you a small percentage added to the transaction. This is not permitted by credit card companies, and some will reimburse the charge if properly reported.
Also keep an eye out for
used
(中古
chūko
) electronics stores, which offer pre-owned computers, MP3 players, smartphones, and other hardware at rock-bottom prices.
Street vendors
peddle a dizzying array of very specific wares, such as batteries in every shape and size imaginable, old hard-to-find camera lenses, electronic components, and more.
Anime and manga
Some of Akihabara's largest anime-goods stores can be found along Chūō-dōri. Just head for the street from JR Akihabara Station and walk north.
Figurines and models
The first rule is pretty obvious: don't buy what you want as soon as you see it — chances are that another store will have it cheaper, sometimes up to half the price. Unfortunately, it's not as simple as prices getting cheaper the further you go from the station. There is an interesting dynamic where things sometimes get cheaper the further you climb the stairs. Due to a lack of standardization it would seem, you can also find the same item in the same shop for multiple prices. Naturally, be careful as if the price is very low you may have walked into a secondhand or cast-offs store.
Other goods
Besides electronics, Akihabara also has a great number of specialty hobbyist stores, ranging from collectible toys to military and railway fandom.
address: 1-1 Kanda Hanaokacho

address: 4-3-3 Sotokanda

Japanese discount store chain offering an incredibly wide range of items at low prices, from snack food to clothing to gag gifts. The Akihabara outlet also has well-stocked costume and adult toy departments to cater to the local crowd. About half way up as well there is an arcade. If you want to play rhythm based games like DDR or Jubeat it has the cheapest machines in town.

phone: +81 3-5209-6020

address: 3-15-5 Sotokanda

An entire store full of gachapon: capsule toy vending machines. Put in a few coins, turn the crank, and out pops a capsule containing a random trinket. The small toys and figurines, some of which attach to your keys or phone case, are of fairly high quality, and many are collector's items.
Eat
There is a large number of good eateries in Akihabara, but not much in the way of
haute cuisine
. Under the railway tracks around Okachimachi station (JR Yamanote line), on the East side, you will find ramen noodle bars, izakayas and the like.
YoshinoyaChain fast food restaurant selling gyudon beef bowls. Meals start from around ¥300-400

TenyaCheap fast-food tempura.

address: Akihabara 1-5 1F

A tiny place in an alley right behind the Akihabara Capsule Inn, it's convenient for anyone staying there. Both Japanese and foreign food is served. The owner, Yuki, is a former backpacker and will happily give advice on choosing the right sho-chu from a selection of 60 different kinds. Try the raw octopus (tako) in tomato sauce or the kimchi risotto!
Drink
Akihabara's latest boom is
maid cafes
, where pretty girls dressed up as French maids serve you drinks and dote on you, some going as far as to spoon-feed you.
address: 4F Mitsuwa Bldg, Sotokanda 1-11-4

This maid cafe has card games, drinks, food, and young women dressed up as maids to serve you. If you order an omelet, they'll draw a picture of a cute animal on the top in ketchup. In addition to this shop, there are 3 branch stores elsewhere in Akihabara.
phone: +81 3-3258-3161

address: Jisto Akiba 6F, 3-15-5 Sotokanda

The original and not quite as over-the-top (or expensive) as some of the competition. A long line can form on weekends.

address: 1F, Sotokanda 3-5-5

A 'cat cafe': you play with the shop's (very clean) cats while drinking tea. You'll be asked to remove your shoes and wash your hands on entry. You'll also be gently pressured to order one of their drinks. It's a different experience.

The GravaniaAnother simple maid cafe, but the waitresses here act like normal people. So if you want the atmosphere of a maid cafe without the cutesy service personality then its a good stop for food and drink. The set meal is actually not that bad (1000 yen).
Sleep
There are only a few places to sleep in Akihabara. Most visitors camp out elsewhere in the city;
Ueno
, in particular, offers cheap lodging and is just minutes away.
Budget
phone: +81 3 6240-9798

address: 3-38 Sakuma, Chiyoda-ku

About a five-minute walk from Akihabara Station. Nice capsule hotel that's more spacious than your usual affair. Unlike other capsule hotels, the capsules are not vertically stacked, and the first class cabins have enough room to stand in and lay out your luggage. The staff speaks English well enough to check you in and respond to any special requests. Breakfast costs ¥300 and includes two rice balls (onigiri) and miso soup, and there are also vending machines in the lobby for drinks and hot meals.
Mid-range
phone: +81 3 3255-3311

address: 1-8-3 Sakuma, Chiyoda-ku

Across from Akihabara station. Small rooms but excellent value and extremely convenient to transportation.

phone: +81 3 3254-0606

address: 1-6-5 Sakuma, Chiyoda-ku

Next to the Akihabara station. Small rooms that are priced in a mid-range of hotel rates. Despite the small rooms, the hotel is very comfortable and rooms are well appointed.
Go next
Akihabara is within walking distance of the
Ochanomizu
and
Ueno
areas. The station also connects to both the Sobu-Chuo and the Yamanote JR Lines.