Tokyo/Asakusa
Asakusa
() is a part of Tokyo's downtown
Taito
district best known for its many temples, particularly
Sensōji
.
Get in
Asakusa is the terminus of the Metro Ginza line (G19), which is the best way to get into the area, perhaps by connecting from the Yamanote line at
Ueno
. Other options are to take the eponymous Toei Asakusa line (A18), which carves a path through eastern and southern Tokyo, or by taking the Toei Oedo Line to the Kuramae Station (E11), or by using the Tobu Skytree Line.
Airport Limousine
's service runs everyday from
Narita Airport
to Asakusa for ¥2,800. It arrives at Asakusa View Hotel, right next to Asakusa Station.
Cruises down the Sumidagawa river depart from a wharf only 5-minute walk from the temple, by the Azuma-bashi bridge. There are a number of boat routes available, so have a look at the map and then decide which one to pick. Options include services of
Tokyo Cruise Ship
and
a number of the traditional Yakatabuke ships
.
See
Sensōji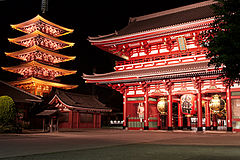 Sensōji
(浅草寺), also known as
Asakusa Kannon
, is Tokyo's largest Buddhist temple and a major attraction for Japanese and foreigners alike. Take the Asakusa exit of the subway and follow the crowds.
Other temples and shrines
Asakusa JinjaTo the east behind the temple is this Shinto shrine devoted to protecting the Buddhist temple in a typically Japanese arrangement. The fairly plain shrine is not much to look at, but is notable as the focal point of the Sanja Matsuri festival (see Do).

Chingodō ShrineIf you turn left before the Hōzōmon gate and head west for a few hundred meters, this quiet shrine is on your left. The shrine is dedicated to the Japanese raccoon god tanuki, notably primarily for its big flask of sake and gigantic testicles (at least when depicted as a statue).

Dembō-in TempleLocated right next to Sensō-ji (to which it belongs), this temple has a spectacular Japanese garden. While generally closed to the public, they do open for exhibitions every year from roughly mid-March to early May. Other than the (small) garden itself, which is best in the cherry blossom (sakura) season, the exhibition also features some of the Temple's cultural treasures. Note, that the temple only opened every few years previously, and while they have opened every year most recently, this can change once again. The entrance is close to the five-story pagoda (Gojūnotō) of the Sensō-ji temple (see above).
Do
Sanja MatsuriOrganized at Asakusa Jinja yearly on the third weekend in May, this is Tokyo's largest festival (matsuri) and attracts up to 2 million spectators. The main event is a procession known as Daigyōretsu, when traditional performers and musicians parade through the streets, while on the next two days portable shrines (mikoshi) are carried to and from the temple for purification.

Asakusa Samba CarnivalHeld on the last Saturday of August. The street parade, which features thousands of participants from all over Japan, is held in the afternoon around Sensoji, and there are some stage shows in the evening. The event started in 1981, it's the biggest party of the year for the many Japanese-Brazilian residents of Tokyo.

HanayashikiNext to the Sensoji temple grounds is this small and somewhat lackluster carnival complex with rides, booths, and games. The neighborhood theatre specializes in showing classic Japanese films, as many of the tourists are elderly Japanese.
Buy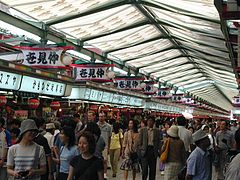 NakamiseThis busy covered shopping arcade leads from the Kaminarimon gate to the temple, selling all sorts of Buddhist paraphernalia as well as assorted tourist kitsch. This is one of the best places in Tokyo to buy souvenirs (the other being the Oriental Bazaar in Omotesando), but note more expensive items such as swords and kimonos are likely to be of inferior quality. Slightly nicer crafts, rather than mass-produced kitsch, can be found at good prices if you walk up to the temple, turn right, and turn right again on the first small street running parallel to Nakamise. You will see plenty of small shops in this general area which have better quality souvenirs and gifts, like handkerchiefs, strings of hand-made silk balls, hairclips, etc.

KappabashiA more offbeat shopping option, it is best reached from Tawaramachi station on the Ginza line. This is Tokyo's restaurant wholesale district, which sells plastic food, metal spatulas, deep fryers and an immense variety of affordable crockery. Some shops sell only in wholesale quantities, but many are happy to sell single items and factory-made Japanese pottery (which to the casual eye is indistinguishable from the handmade kind) can sell for as little as ¥100 a piece. Another bargain is high-quality Japanese kitchen knives, which are generally much cheaper in Japan. Note that most stores here are closed on Sundays.

Denkama

address: at the corner of Kappabashi-dori and Asakusa-dori

A particularly good boutique specializing in handmade Japanese pottery. The discount racks outside are downright cheap at several hundred yen a pop, but more expensive items on the second floor may run into tens of thousands of yen.
Asakusabashi
(浅草橋), two stops south on the Toei Asakusa Line, is a wholesale district which these days is known for its shops specializing in
bead craft
supplies. There are also many stores selling traditional Japanese festival and party supplies.
address: Asakusabashi 2-1-10

No less than 5 floors of plastic baubles of all shapes and sizes. Three shops in Asakusabashi alone, the largest near exits A4 and A2 of the metro.
Eat
Asakusa is famous for its
senbei
rice crackers, grilled on the spot, flavored with soy and usually wrapped in seaweed. There are many competing shops in the Nakamise arcade, and packages of
senbei
are a very popular souvenir among the Japanese as well.
Kaminari okoshi
, a sweet snack made of rice, peanuts, and syrup, originated from food stalls near Kaminarimon in the Edo period. Asakusa is also famous for its
tempura
, fried prawns and vegetables. You can find many tempura restaurants (high and low budget) in the streets near Nakamise doori.
Budget
address: Kaminarimon 2-19-10

After an exhausting day visiting the temples, grab some hot steamed dumplings outside, or step inside for traditional desserts such as oshiruko (grilled rice cake in a sweet-bean porridge) or cream an-mitsu (gelatin cubes in molasses with candied fruit and ice cream). This very simple shop serving tea and sweets has been in business since 1852.

address: Asakusa 1-2-2

Over 150 years of history. Try their tempura and soba set! Or the fresh deep fried flour/batter at the front of the restaurant. You can smell them from a mile away, because they use sesame oil.

Kagetsudo

phone: +81 3-5830-3534

address: Asakusa 1-18-11

This place has been making "melon pan" since 1945, and they haven't changed the decoration. It is a buttery and milky small cake with a crispy sweet crust.
Mid-range
phone: +81 3 3841-0110

address: 1-4-4 Asakusa

Good tempura in a convenient location, with fifty years of history behind it.

Daikokuya

address: 1-38-10 Asakusa

Arguably Tokyo's most famous tempura restaurant, with a history of more than 100 years. Be prepared for extremely long queues during meal times. An English menu is available on request.
Splurge
Drink
Asakusa's local specialty drink is
Denki Bran
, a stiff brandy-based cocktail which originated at the
Kamiya Bar
but can be ordered at most drinking establishments in the area.
phone: +81 3 3841-5400

address: Asakusa 1-1-1

The home of the Denki Bran cocktail; first opened in 1880 and a truly local institution. The ground floor is a large beer-hall-like bar, the second is a western-style restaurant, and the upper floor serves Japanese food. Find a seat at one of the shared tables, buy your tickets at the counter, and join in the fun.

Bar Sandglass

address: Asakusa, Kaminarimon 1-16-2

If stuck in Asakusa at drinking time, Bar Sandglass is a good place to stop. This stylish, diminutive (max. 10 people - don't bring a crowd) bar is tucked away in the back streets of Asakusa. For a drink with the friendly locals any night of the week, this is the place to come; no Japanese ability necessary.

phone: +81 3-3842-0988

address: Asakusa 2-12-4

Asakusa Naniwaya branch the original of Taiyaki Naniwaya Sohonten (Azabu Jyu-ban).The cafe in the shop, you can enjoy the Green tea and coffee with all handmade Japanese sweets.

address: Matsugaya 1-11-3

A cigar bar that serves coffee, alcoholic drinks, and desserts. There is a large cigar selection, in particular from the Dominican Republic.
Sleep
Asakusa is a popular accommodation choice for budget travelers and there are many cheap
ryokan
catering to foreigners in the area. For even cheaper (but less convenient) options, see the
Taito
district article.
Budget
Mid-range
Ryokan ShigetsuA nice small hotel with a mix of Japanese style and western style room next to the famous Nakamise Street in Asakusa. Friendly and helpful staff. Free internet in all rooms, two Japanese style baths and showers.

address: 2-20-1 Asakusa

Japanese style ryokan. On a quiet street. All rooms have shower/bath and toilet. Internet available. Two public baths, two tatami banquet halls, and a lounge.
Go next
Asakusa is a large Tokyo hub of the private Tobu railway, and you can be transported to a different world in two hours: