Tokyo/Minato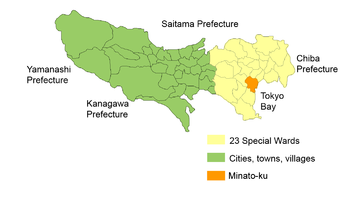 Minato
(港区) is a ward in central
Tokyo
. The name means "port", referring to its seaside location, although due to reclamation many areas in the district are quite far from the sea these days.
Understand
Minato is a fairly sprawling ward with no single center. It is known as a very wealthy part of Tokyo and home to most of Tokyo's foreign embassies, many of its large multinational corporations and a number of prestigious universities.
The following parts of Minato have their own articles:
Get in
By train
Hamamatsuchō (浜松町), terminus of the Tokyo Monorail from Haneda Airport; the closest station on the Yamanote to Tokyo Tower (10-min walk) and Roppongi (25-min walk).
Daimon (大門), By underground station Asakusa line and Oedo line.
By bus
By boat
See
Do
Buy
address: Shirokanedai 5-11

Community space for working on projects. The Tuesday evening meeting is open. Hackers, tinkerers, and makers passing through town might want to drop by then. Many events and classes held at other times, some are kid-friendly. Check website for detailed schedule.

phone: +81 3-5472-6559

address: 1-12-2 Kaigan

Antenna shop of Izu Isands and Ogasawara Islands.

Azabu-JūbanA quieter commercial district to the southeast of Roppongi Hills, and a good place to spend a lazier afternoon browsing through shops and enjoying the local cafés. The surrounding residential area is popular among professional expats, so expect to see many international families as you walk through.

Japan Sake and Shōchū Information Center

phone: +81 3-3519-2091

address: 1-1-21 Nishi-Shinbashi

This four-story complex run by the Central Brewers' Union sells anything and everything related to sake, including cups, glasses, books, hydrometers and, of course, the nectar itself. ¥315/515 gets you a taste of 3/5 sakes that change daily.
Eat
Budget
Minatoya

phone: +81 3-5777-6921

address: Nishi-shinbashi 3-1-10

A soba shop that looks like a trendy club. At the corner opposite of Toranomon Hills, it is one of the most futuristic places where you can eat soba. Zero advertisement outside, just a 10-cm-high horizontal window running along the facade, and a tiny plaque the size of a business card, just reading "Minatoya". Enter to discover the black interior and the water basin around which customers eat, standing. Expect a long queue. Free raw eggs to put in your soup.
Lunch boxes from supermarkets is another good option to save some money
address: Azabujuban 2-5-9

Two-stores of food, drinks and more.

phone: +81 3-3409-3200

address: Minami-Aoyama 1-10-4

Hawaiian hamburgers, order-at-the counter from a picture menu with English.
Mid-range
address: 5-1-3 Roppongi, B1F Goto Bldg

Popular with business people or singles during lunchtime. Meal sets are ¥980–1200, comes w/ main, salad, drink; main being spaghetti, etc. Useful for a late night spot to hang around, since they're open until 6AM.

phone: +81 3 5771-0170

address: Nishi-Azabu 1-13-11

This lively and popular izakaya, with a spectacular spacious interior and high-profile location, has served luminaries such as George W. Bush and former Prime Minister Koizumi, and was the model for the battle scene in Tarantino's "Kill Bill". (The owner turned down the director's request to use the place itself.) Apart from this, it is a chain, so prices are reasonable food is not special, with all-you-can-drink deals from ¥1500, noodles and rice dishes for under ¥1000 and 6-course menus from ¥3500. Make reservations and expect to see a lot of foreign visitors.

phone: +81 3-3584-9410

One of the most famous restaurants for soba (buckwheat noodle). Try the various noodles they have, for instance egg noodles, with different colors. Their factory is still across the road despite sky-rocketing real estate prices.

phone: +81 3 3408-2748

address: 5-4-20 Roppongi

Step out of Japan and into the United States; the bilingual staff and English-only menu might make you forget you are in Tokyo. The restaurant features their trademark ribs, worth the price which approaches ¥2000. The Texas Mud Pie is the cure for tiny Japanese desserts.

phone: +81 3 5771-0094

address: Mori Tower 5F

for kushiyaki (deep-fried skewers).

phone: +81 3-5411-5988

This is a fashonable cafe of Paris style. You can enjoy elegant mood with seeing a row of houses and street of Omotesando. You can also choose fish or meat for lunch
Splurge
Drink
Clubs
phone: +81 3 5467-1188

address: 4-1-1 Nishi-Azabu

Many expats argue that "you can't lose at Muse," a multi-level, multi-room below-ground establishment which, in addition to bars, dance floors, and VIP rooms, also has karaoke, ping-pong and pool tables.
Sleep
Mid-range
phone: +81-3-3549-7111

address: 4-1-12 Tsukiji, Chuo-ku

This property contains 124 studio and one-bedroom apartments. Offers weekly housekeeping services.
Splurge
phone: +81 3-3582-0111

address: 2-10-4 Toranomon

Luxury hotel that has been host to many celebrities since its opening in 1962. It closed for an extensive renovation that will see the current building, by many considered a modernist masterpiece, torn down and replaced by a high-rise. Projected to re-open in Sep 2019.

Sheraton Miyako

phone: +81-3-3447-3111

address: 1-1-50, Shirokanedai, Minato-ku, Tokyo 108-8640

Reasonably swish hotel. Good for a layover with its back garden and downstairs cigar bar. Probably a poor option for a tourist unless you have business in the area as it's about a ten minute walk from nearby transport and not close to attractions.

phone: +81 3 3432-1111

address: 3-3-1 Shibakoen

If you insist on staying in a "western" hotel near Roppongi, and have to stay within a budget (under ¥20,000 per night), the Tokyo Prince Hotel is one of your few options. The hotel is almost at the base of the Tokyo Tower and is located in a quiet, tree-lined neighborhood just a 15-minute walk from the action in Roppongi. The hotel staff speak English, and the hotel has the amenities of its modern competitors. But it is a bit of a throwback. The beds are short, the decor is tacky, and everything (except the DSL) feels a little dated.
Cope
Tokyo Regional Immigration Bureau

phone: +81 3-5796-7112

This center serves foreign residents and long-term visitors. Also houses immigration detention. If going in the morning, get there early because a line forms outside long before opening hours.