Tokyo/Odaiba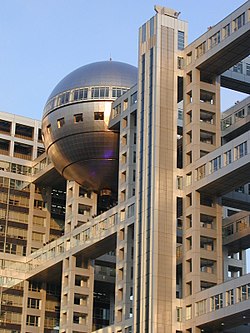 Odaiba
(お台場) is a large artificial island in
Tokyo
,
Japan
, featuring many hypermodern and just plain strange buildings memorably described as the result of an acid-soaked pre-schooler's architecture class. Administratively a part of the
Minato
,
Koto
and
Shinagawa
districts, the area is now a very popular shopping and entertainment destination.
Understand
Odaiba was constructed in 1853 by the Tokugawa shogunate as a series of 6 fortresses in order to protect Tokyo from attack by sea, the primary threat being Commodore Matthew Perry's Black Ships, which had arrived in the same year.
Daiba
in
Japanese
refers to the cannon batteries placed on the islands.
In 1928, the 3rd
daiba
was refurbished and opened to the public as park, which remains open to this day.
The modern redevelopment of Odaiba started after the success of Expo '85 in
Tsukuba
. The Japanese economy was riding high, and Odaiba was to be a showcase as futuristic living, built at a cost of over US$10 billion.
The "bubble economy" burst in 1991, and by 1995 Odaiba was a virtual wasteland, underpopulated and full of vacant lots.
In 1996, the area was rezoned from pure business to allow also commercial and entertainment districts, and the area started coming back to life as Tokyo discovered the seaside it never had. Hotels and shopping malls opened up, several large companies (including Fuji TV) moved their headquarters to the island, and transportation links improved.
Get in
Odaiba is linked to Tokyo proper by many bridges and tunnels, including the scenic
Rainbow Bridge
.
By plane
From Narita Airport
From Narita Airport, take the
Keisei Skyliner
to
Ueno
station, then take the Ginza Subway Line (a
Tokyo metro
line) to Shinbashi where you can transfer to the Yurikamome for service to Odaiba (about 1 hour 45 minutes to Daiba station, ¥2,390).
Regular and potentially-crowded Keisei
tokkyu
trains to Ueno station in place of the Skyliner increase the journey time slightly, but reduce the fare to ¥1,470. An easier alternative is to change at Aoto for the Toei Asakusa subway train to Shinbashi, where you can pick up the Yurikamome.
Japan Rail Pass
holders can take the
JR Narita Express
to Tokyo Station, then wait on the same platform and take a Yokosuka Line local train one stop to Shinbashi to get the Yurikamome. It takes about 90 minutes to Daiba station, and Rail Pass users only have to pay the Yurikamome fare (¥310 in this case). Non-pass users must pay a total of ¥3,420.
Infrequent
Airport Limousine buses
(six per day) run from the airport directly to the major hotels on Odaiba (about 70–75 minutes depending on traffic, ¥2,700).
From Haneda Airport
Take the
Tokyo Monorail
to Tennozu Isle and change to the Rinkai Line for direct access to Odaiba. A transfer to the Yurikamome can be made at Tokyo Teleport or Kokusai-Tenjijo stations (25 minutes to the latter, ¥660).
For the longer but scenic route over the Rainbow Bridge, take a Keikyu line train, running through to the Toei Asakusa subway line, and change at Shinbashi to the Yurikamome (50 minutes to Daiba station, ¥920).
Airport Limousine buses
depart once per hour (2-4 times between 2PM and 4PM) for Tokyo Big Sight (about 25−30 minutes) and the major hotels on Odaiba (about 15–20 minutes, ¥500-600). Departures from 8AM-5:30PM depending on location.
By train
Most visitors arrive in Odaiba via the automated
Yurikamome
"new transit system", a cross between a train and a bus, from
Shimbashi
on the Yamanote line (or Shiodome station on the Toei Ōedo Line subway). An attraction in itself, the driverless elevated trains cross the Rainbow Bridge with a 270-degree loop for some great views of Tokyo bay. One-way from Shinbashi to Daiba station will set you back ¥310 (any station farther will be ¥370), or you can buy a one-day pass for ¥800. You can also buy the cheapest ticket from Shimbashi to Shiodome for ¥180 and ride to the end of the line and back without exiting for excellent views of the island if you're tired of walking or feeling especially frugal.
The other option is to take the
Tokyo Waterfront Area Rapid Transit
(Rinkai Line , Japanese only) from Ōsaki on the JR Yamanote Line or Shin-Kiba on the Metro Yurakucho line. Many of the trains connect directly from Ōsaki to
Shinjuku
,
Shibuya
,
Ikebukuro
, Ōmiya, and
Kawagoe
via the JR-East Saikyō Line. While slightly faster, the train travels mostly underground and doesn't provide much in the way of views.
By bus
Toei city buses
provide cheaper (¥200 per ride) if slower access to Odaiba. 虹01 connects to Hamamatsu-cho, 海01 connects to Monzennaka-cho, 東16 connects to Tokyo station from Tokyo Big Sight. A few special bus services to other destinations are available weekends only. The private bus company Keikyu operates buses to
Haneda airport
, and Shinagawa and
Yokohama
directions.
The free Bay Shuttle bus runs along a circular route within Odaiba (round-trip ca. 40 minutes) connecting the parking lots and museums in Aomi district with the shopping malls, the hotels and the Fuji TV building. Unfortunately, stops are hard to find so try to ask at the information counters of shoppings malls, ticket counters, etc.
By boat
Suijobus Ferries
also operate between Hinode Pier (on the Yurikamome line) and several stops in Odaiba. ¥400 one way. Tokyo Mizube Line (Japanese only) offers general transportation and special cruises.
Some of the boats connect to
Asakusa
along the Sumida river and to Kasai Rinkai Park near
Tokyo Disney Resort
.
On foot
You can cross the Rainbow Bridge on foot for free, it takes about 30 minutes. If you come by bicycle you will have to walk with it, the guards will actually have you place small wheels on your bicycle so that you don't ride it on the bridge.
The view over the Port of Tokyo is nice especially around sunset, though in winter (Nov to Mar), you have to enter by 5:30PM and to exit by 6PM. In other months you can enter the pedestrian part of the road from 9AM-8:30PM (30 minutes before you have to exit). Closed on the 3rd Monday every month and 29-31 Dec.
The Shibaura-side entrance can be hard to find, and that you have to choose which side to walk beforehand.
The northern side is recommended if you wish to look at buildings in the city center from above the port. The southern side is recommended for views on Odaiba.
Get around
While the center can be covered by foot, there is also the free
Tokyo Bay Shuttle
bus, running every 15~20 minutes from 11AM to 8PM.
See
Do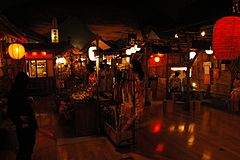 Buy
Odaiba is an unabashed paean to commercialism and features more malls than you can shake a stick at. Prices are somewhat higher than on the mainland.
phone: +81 3-3599-0700

address: 1 Aomi, Koto-ku

An elaborately Venice-themed shopping mall, complete with marble fountains, artificial sunsets every 30 min and an Italian "mayor" reading out speeches from a balcony. All shops are geared for women and generally quite expensive, but it's worth visiting this just for the decoration.

phone: +81 3-3599-6500

address: 1-6-1 Daiba, Minato-ku

Features the Sega Joypolis gaming center (10AM-11PM), retro-themed arcade, a 1960s-style store, gift shops, 2nd-hand western clothing stores, fine home accessories, 'Muscle Park' (from the creators of the popular Sasuke and Muscle Ranking television shows), and Little Hong Kong for all your dim sum needs. (Little Hong Kong and muscle park are now shut for renovation from May 2011 onward.)

phone: +81 3-3599-4700

address: 1-7-1 Daiba, Minato-ku

Fashion for all ages, goods, etc. Restaurants in 4th, 5th, and 6th floors and a food court in the 1st floor. There is also a ¥100 shop and a Toys'R'Us (including baby foods and goods, and children can touch and play with the toys there!) on 1F, and a small Shinto shrine on 9F. The eastern part of the mall is occupied by Sony ExploraScience housing a cinema and showcasing Sony products.

phone: +81 3-5530-5010

address: 3-1 Ariake, Koto-ku

Restaurants and a few shops north of the Tokyo Big Sight exhibition center.
For the self-caterers a sufficient number of convenience stores is available. A Maruetsu supermarket (1-5-3 Daiba, Minato-ku, +81 3-5531-0781, 10AM-10PM) is near Odaiba-kaihin-koen station and a 99-yen shop (1-3-5-105 Daiba, Minato-ku, +81 3-3570-0599, 24 hours; food, stationery, etc.) just a few steps farther north. Two 100-yen shops (souvenirs, kitchen supply, stationery, etc.) are available: one in 1F of Aqua City Odaiba and the other in Wanza Ariake Bay Mall. Finally, there is a small shop (The Wholesalers Market Towers Odaiba) with expensive import foods and wines in The Towers Odaiba building (2-2 Daiba, Minato-ku) just east of Odaiba-kaihin-koen station.
Eat
There are plenty of eating options in Odaiba's shopping malls and attractions, although prices are generally a little higher than on the mainland.

Drink
phone: +81 3-3599-0710

address: 1 Aomi, Koto-ku

One of Tokyo's largest performance hall/nightclubs, showcasing artists from around the country and the world.
Sleep
There is a cluster of luxury hotels near Yurikakome Daiba station.
phone: +81 3-5500-5500

address: 1-9-1 Daiba, Minato-ku

A new seaside luxury hotel popular for weddings and honeymoons.

phone: +81 3-5500-6711

address: 2-6-1 Daiba, Minato-Ku

Another nice hotel next to a huge shopping mall (Aqua City Odaiba) with plenty of restaurants.

Tokyo Bay Ariake Washington Hotel

phone: +81 3-5564-0111

address: 3-1-28 Ariake, Koto-ku

The third hotel in the area (just north of the Tokyo Big Sight exhibition center). Targeting business travelers it is the cheapest hotel in the area.

Ōedo Onsen MonogatariTatami rooms and a "Black Ship"-themed capsule hotel within the premises. However, you have to pay typical rates for these accommodations on top of the admission and late night surcharge for the Onsen itself.
Go next