Tokyo/Ota
Ōta
(大田) Ward is a suburban area of
Tokyo
, located between
Shinagawa
and
Kawasaki
.
Understand

The name "Ota" is a combination of Omori and Kamata, two former wards which merged to form Ota Ward. Omori and Kamata remain the major urban centers in the ward.

Get in
By air
Ota is home to
Tokyo International AirportHaneda is one of the busiest airports in Asia.
The Keikyu Airport Line offers a quick connection from Haneda to Keikyu Kamata, with onward connections available to central
Tokyo
and
Yokohama
. The train stops running between 12:20am and 5:30am but taxis are still available.
By train
The main train stations in Ota are
Omori
(JR Keihin-Tohoku)
Kamata
(JR Keihin-Tohoku, Tokyu Ikegami and Tokyu Tamagawa lines) and
Keikyu Kamata
(Keikyu Main Line and Keikyu Airport Line).
The eastern, predominantly industrial side of the ward is served by the Tokyo Monorail, which runs from Haneda Airport to Hamamatsucho Station in
Minato Ward
.
See
Tamagawadai tumulusZenpō-Kōenfun tumulus (前方後円墳) built during the 4th and 5th centuries, many tumulus can be seen throughout several parks around Tamagawa station. A free small museum shows replicas of swords and other objects found in the graves, get the free English pamphlet before going around the tumulus, as you might miss them: they just look like small hills.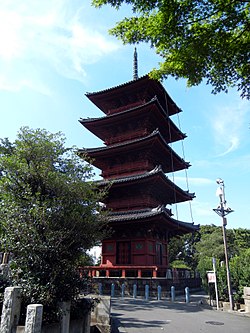 Ikegami Honmon-jiA large temple with a five-story pagoda. It hosts a lantern festival called O-Eshiki every year from 11 to 13 October.

phone: +81 3-3799-6402

So neary can see flying plane. Reservations requested by phone, can BBQ, and camping. 1day adults ¥900.
Do
Tamagawa RiverIt stretches from Haneda Airport to Kawasaki city and beyond. A great place for a jog or a bicycle ride with the locals. Best time to see it is in spring when all the cherry trees are in bloom.
Buy
Granduo KamataLocated right inside JR Kamata Station and split into East and West buildings, Granduo is a typical department store that has some good and reasonably priced restaurants and take-home food on the top and basement floors.

Don QuijoteA 24-hour discount store that sells everything from grocery items to clothing, bicycles, electronics, jewelry, and gag gifts.

TsutayaTsutaya is a major video and music rental store located right inside JR Kamata Station.
Drink
Labeled a "widely known secret", Kamata has transformed itself in recent years into an entertainment hub with a ton of drinking establishments clustered around JR Kamata station.
Select Bar

phone: +81 3-3737-5016

address: 5-45-1 YM Building 1F, Kamata

One of the most popular 'standing bars' and frequented by Japanese and foreigners alike. All drinks and food is priced ¥300. They serve great meatloaf which fits well with a couple of beers.
Apart from Kamata, you'll mostly find small bars serving the locals, those having a few beers before going home. If you're looking for a wild night out, then you're in the wrong neighborhood. However, there is a good atmosphere and prices are reasonable.
Shot Bar St. Elmo's

phone: +81 3-5709-3172

address: 2-3-4 2F, Sanno, Ota

A low-key bar located in Omori serving excellent drinks, free traditional bar snacks are usually served
Sleep
The main reason to stay in Ota is if you have an early flight out from Haneda Airport.
Budget
address: Haneda Airport Terminal 1, 1F

A slightly upscale capsule "cabin" hotel with both "business" (a bed and nothing more) and "first class" (a tiny bit of space next to your bed) sections. In true capsule hotel style, there's only a curtain instead of a door, and showers/baths are shared. Separate male and female sections. Free shuttle buses to other terminals.
Mid-range
phone: +81 3-3732-5123

address: 7-25-10, Nishi-Kamata Ota-ku

phone: +81 3 5735 2525

address: 4-11 Hanedaasahicho, Ōta

The closest reasonable hotel to Haneda Airport, overlooking the maintenance facilities on the west side of the airfield. Walking distance to Keikyu Anamoriinari train station, regular free shuttle bus to the airport.
Splurge
address: inside Terminal 2 at Haneda Airport

Apa Hotel Keikyu Kamata-Ekimae (formerly Ohfu Hotel Tokyo)

phone: +81 3-5713-3939

address: 4-18-24 Kamata Ota-ku

95 rooms

Royal Park Hotel The HanedaOpened 2014 in Haneda Airport's International Terminal. Convenient for transfers, early starts and late arrivals, but rooms are small, so not the best option of stays of over one night. Some rooms are accessible directly from transit, without clearing immigration.