Tokyo/Shibuya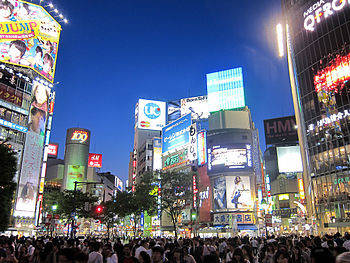 Shibuya
(渋谷) is a shopping and eating district popular with a lot of young
Tokyo
. Shibuya encompasses two other large shopping districts -
Omotesando and Harajuku
with Yoyogi Park and the Meiji Jingu shrine. The nightlife district of
Ebisu
is located in the south of Shibuya.
Shibuya deserves a prize as the district with more two-story televisions than any other area in the world.
Understand
Most of the action in Shibuya is in the hectic blocks to the northwest of the JR station. The best place to get oriented is the
Hachikō
(ハチ公) exit, which opens onto the famous five-way "scramble crossing" under the giant video screen. From left to right at the edges of the square are...
# Keio Inokashira line station
#
Dōgenzaka
(道玄坂) slope
# 109 building
#
Bunkamura-dōri
(文化村通り) street
#
Center-gai
(センター街
Sentaa-gai
) street
# Q-FRONT building featuring a large Starbucks and the monstrous video screen
#
Kōen-dōri
(公園通り) street
##
Inokashira-dōri
(井の頭通り), branching to the left after the Seibu Department Store
# 109-2 building
# JR line tracks to
Harajuku
.
The area to the south of the station is bounded by a highway, so there's not much more than bus terminals (on both sides) and the Tōkyū Plaza department store.
The two major roads heading east from the station continue to
Aoyama
and
Roppongi
.
Get in
By plane
One-seat train service is available from
Narita Airport
to Shibuya on the
Narita Express
. Trains run every 30-60 minutes and make the run to Shibuya in 70 minutes at a cost of ¥3190. Alternatively you can take the
Keisei Skyliner
to Nippori station and change to the JR Yamanote Line (approx. 75 minutes, ¥2670).
Budget travelers can take a regular Keisei limited express from Narita Airport to Nippori and change to the Yamanote Line (approx. 110 minutes, ¥1230). In the evenings, faster
Access Tokkyu
trains from Narita Airport to Nippori shave 20 minutes off the overall travel time against an extra charge of ¥210.
Airport limousine buses
run from Narita to the Shibuya Excel Hotel Tokyu and the Cerulean Tower Tokyu Hotel (90-120 min, ¥3100). Discount bus tickets for foreigners are available to the Tokyo City Air Terminal, or T-CAT (1 hour, ¥1900); from there, the Tokyo Metro Hanzomon Subway can bring you to Shibuya Station (20 min, ¥200).
From Haneda Airport, Shibuya can be reached by taking the Keikyu Airport Line to
Shinagawa
and changing to the JR Yamanote Line (approx. 35 minutes, ¥580). Limousine buses also run from Haneda to the hotels listed above (One hour, ¥1030).
By train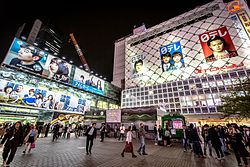 Shibuya's station is a notoriously convoluted web of passageways. Follow the signage and you should find your way out (or in).
JR Yamanote Line, Saikyo Line, Shonan-Shinjuku Line
Tokyu Tōyoko Line, Den-en-toshi Line
Keio Inokashira Line
Tokyo Metro Ginza Line

(G01), Hanzomon Line

(Z01), Fukutoshin Line

(F16)
You can also walk to
Ebisu
and
Harajuku
(where you could catch JR Yamanote Line trains), and Omotesando (where you could catch Tokyo Metro Lines).
The Tōkyū Tōyoko line is the cheapest and most convenient way to visit
Yokohama
. It is several stories underground where services continue on to the Tokyo Metro Fukutoshin Line for points north.
See
Shibuya CrossingThe famous crossing sees people crossing in every direction en masse. The second floor of the Starbucks is known to be a great spot to take photos of the crazy pedestrian crossing. However, the store layout prevents you from access without buying anything. Not jumping the cue is enforced.

HachikōA diminutive statue of a dog tucked away in one corner of the big plaza outside the station, best known as a meeting place and for the story (see box). It is also the name of one of the many exits from Shibuya Station and the prime meeting place before a night out. Just hanging out near Hachiko for a while will give you some great people-watching opportunities.

Center GaiThe narrow street leading away from the station to the left of the giant video screen, it's famous as the birthplace of many of Japan's youth fashion trends. Center Gai is jam-packed with clothing stores, music stores, and video game arcades. This is a great place to stroll and feel the Shibuya vibe.

BunkamuraBunkamura-dori. A complex featuring an excellent art museum, in addition to theaters for film and stage plays. On the basement floor there's an art and design bookstore as well as a branch of Paris' famous Les Deux Magots café.

HikarieHikarie is a brand new massive building on the East side of Shibuya station with many restaurants, galleries, and theaters.

Myth of TomorrowA huge mural by famous artist Tarō Okamoto, it commemorates the Hiroshima atomic bombing. In it, a human figure burns and others appear to run from flames. The mural is at the entrance of the Inokashira line, 100 meters from Hachikō. It was first built in Mexico, found there in 2004 and brought to Japan in 2005.

phone: +81 3-3239-5911

Specializes in modern Japanese-style paintings and has a notable collection though only a handful are on display at one time due to preservation issues.

NTT DoCoMo BuildingThis gigantic tower resembling a granite Empire State Building, south of the station, is owned by NTT DoCoMo, Japan's largest cell-phone carrier. The upper part of the building is a mobile communications tower.

Southern Terrace

address: a cross from the South Exit of Shinjuku Station

The promenade next to the Southern Terrace exit offers a magnificent view of the Takashimaya department store and a bridge that offers the best views for watching the trains enter and exit.
Do
There are movie theaters and electronics stores nearby.

Buy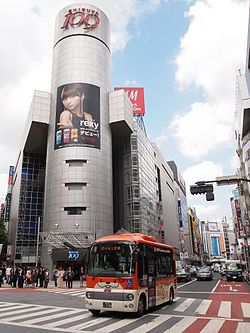 Shibuya has lots and lots of interesting shopping opportunities. It's the home of the huge
Tokyu
conglomerate (railways, department stores, hotels, housing developments), and thus practically every major store in the area has Tokyu in its name.
Anime & Manga
address: BEAM B2F, Udagawa 31-2

Massive shop devoted to manga, anime, hentai, dojinshi, figurines and collectible offshoots.

address: Jinnan 2-2-1

Studio sightseeing operation run by the national broadcaster NHK, home to a gift shop selling the widest collection of Domo-kun figures on the planet.
Fashion
Shibuya is the center of Japanese youth culture and it shows.
0101Department store with all of the usual high-end brands.

109 BuildingTeenage fashion. Worth an escalator trip.
Music
Shibuya has copious music shopping opportunities, but expect some sticker shock as Japanese CDs often clock in at ¥3000+; imports are usually cheaper! In addition to the superstores below, also check out the miniature
alternative ghetto
(Jinnan 11 and nearby, just past Tokyu Hands), full of tiny specialist record shops.
address: Antenna 21, Udagawa 30-7

Used and new record dealer with floors each specializing in punk, rock, jazz and dance music.

address: Udagawa 24-1

Closed in August, 2010. Featured six floors of music from all around the world.

address: BEAM 4F, Udagawa 31-2

Good shopping for second-hand music in this cavernous hall: all records are categorized and alphabetized for quick browsing, and prices start at ¥100.

address: Jinnan 1-22-14

For a while the largest record store in the world, now merely mind-bogglingly huge. Good selection of English books and magazines on the top floor, in addition to 6 other floors of J-pop, Western rock, jazz, classical and DVDs.
For musical equipment, there's a good cluster of shops just southwest of the JR station. (Take the pedestrian overpass to cross the highway.)
Other
Eat
You can't turn around without spotting a handful of restaurants here from ¥100 noodles to top notch gourmet food.
phone: +81 3-3461-9145

address: Dogenzaka 2-29-22

The specialty and only food here is whale meat dishes, which are very rare elsewhere. Human consumption of whale meat is controversial and has been denounced by detractors on wildlife conservation, toxicity, and animal rights grounds. The restaurant hands out pro-whaling propaganda pamphlets.

Murghi

phone: +81 3-3461-8809

address: Dogenzaka 2-19-2

Founded in 1951, when the owner decided to serve the kind of curry he had enjoyed in Burma before World War II.

Tokyu Department StoreA superb food section in the basement with enough free samples to make a full lunch, if you don't mind not having a place to sit.

phone: +81 3-5784-2011

address: 3-6 Maruyama-cho Shibuya-ku 14F

Trendy eatery specializing in soba, with a separate sushi bar in the back.

Tokyo Bellini Caffe

phone: +81 3-5489-1371

address: 20-15 Udagawa-cho

This is a casual Italian restaurant. There are many kind of delicious pastas and lunch which is changed weekly.

phone: +81 3-3463-8525

address: Shibuya Parco Part3 3F, 14-5 Udagawacho

This is a buffet style restaurant. You can eat as much as you can. There are a lot of sweets such as cakes, pies, yogurt, jelly, and some Japanese sweets like dumpling, anko, and warabimochi. And there are not only sweets but also some pastas, sandwiches, curry and rice, and salad, so it's good for lunch and dinner.

phone: +81 3-6418-1278

address: Shibuya, Hiroo 3-17-1-1F,13 minutes for JR and Hibiya line Ebisu station

This restaurant serves Japanese dishes.

phone: +81 3-3376-5336

address: 3-37-1 Yoyogi Shibuya-ku

Kinoshita makes eating French food in Japan justifiable. Some say that with its underpriced menu, dinner courses for ¥3800-¥7000, and weekday lunches for ¥1800, this restaurant is considered one of the best kept secrets in Tokyo. But in fact it is popular, and reservations are mandatory. Menu in French and Japanese.
Drink
Shibuya is a major center for nightclubs, music, and dancing. Also,
Nonbei-yokochō
(のんべい横丁), magically shielded from decades of commercial development, is a narrow alley running alongside the east side of the Yamanote tracks just north of the station. It's packed with traditional
yakitori
taverns as well as some modern,
extremely tiny
bars. The district was formed in 1955, and a few of the shops have been operating since then.
Cafes
Pubs
Izakaya
There are plenty of cheap and cheerful
izakaya
(Japanese pubs) scattered about Shibuya. The Watami and Outami chains offers good, but not too inspiring, watering holes.
Nightclubs
If Shibuya's clubs aren't enough, hop on a free shuttle bus to
Ageha
, Tokyo's largest nightclub. Buses depart from the crossing of Roppongi-dori and Meiji-dori, opposite Shibuya police station, on the east ("wrong") side of Shibuya station.
Sleep
Accommodation options in Shibuya are surprisingly limited. The hillside to the left of Dogenzaka is also known as
Love Hotel Hill
and indeed contains dozens of
love hotels
, although they're on the expensive side: figure on at least ¥10,000 for an overnight "stay".
Go next