Tokyo/Shinagawa
Shinagawa
(品川) is one of the 23 wards of central
Tokyo
, and is also a major railway station in south-central Tokyo. Historically, parts of this ward were known as Shimazuyama. Many feudal lords (
daimyo
) maintained estates in this area during the Tokugawa Shogunate. This area is the birthplace and former home of Sony.
Today, Shinagawa is a central train hub for Tokyo, possibly second only to Tokyo Station itself in the number of trains you can catch here. It is also a center of "European" style businesses and tourism, so you will see more English than Japanese on signs, and more Italian and American restaurants than Japanese ones.
Understand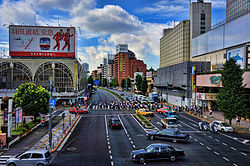 Although Shinagawa is a ward of Tokyo, Shinagawa Station is actually in the ward of
Minato
: Shinagawa Ward is located to the southwest of Shinagawa Station, in the area surrounding
Gotanda
and Osaki on the Yamanote Line, surrounding
Ōimachi
on the Keihin-Tohoku Line.
Shinagawa is not a particular destination – rather a waystation, particularly when traveling to or from western Tokyo, or a place to live or stay, due to the excellent transport connections. However, it has a large number of services, and a few tourist attractions. It is a good place to stay, or to stop for a meal or drink at the start or end of a journey, but otherwise there's little reason to come here.
The two sides of Shinagawa Station are quite different: the west or "Takanawa" side is mainly residential, with the exception of a sizeable hotel zoning immediately around the station. The east side or "Konan" side ranges from commercial to industrial, although many new modern residential apartments have been developed near the station and along its many water canals. Because of the many railway lines passing through, it is difficult to get from one side of the station to the other without walking through the station itself, so be sure to exit the station on the correct side for your destination.
Get in
By train
Shinagawa Station is served by Japan Railways (JR) and Keikyu Railway. JR runs trains to Shinagawa on the Yamanote, Keihin-Tohoku, Yokosuka, and Tokaido lines. Most Narita Expresses from
Narita Airport
travel directly to Shinagawa (75 min, ¥3,110). Shinagawa Station is also served by the Tokaido Shinkansen, making this a convenient jumping-off point for trips to Kyoto, Osaka and other cities along the line.
On the Yamanote line, Ōsaki and Gotanda stations are also in the area.
On the Keihin-Tōhoku line, Tokyu Ōimachi line and Rinkai line, Ōimachi stations are also in the area.
Keikyu Railways trains run south to Haneda Airport, Yokohama and points beyond. Keikyu also has through service with the Asakusa subway line and operates trains going as far north as Narita, making this a cheap, but much slower, alternative to the Narita Express. The trip between Shinagawa and Haneda Airport takes as little as 17 minutes and costs ¥400.
By bus
Several hotels in Shinagawa, as well as Shinagawa Station, are connected to Narita Airport via the "Airport Limousine" bus (85 min, ¥3,000)
Shinagawa Bus Terminal (5 minutes walk from JR Shinagawa Station Takanawa Exit)
:Ticket office windows: 9AM-6PM
Keikyu Bus
(Japanese Website)
See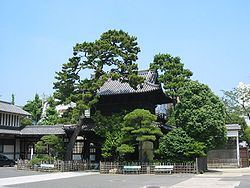 Hara Museum of Contemporary Art

phone: +81 3-3445-0651

address: 4-7-25 Kitashinagawa

This small museum hosts a variety of interesting exhibitions in a 1930s house which is a great example of modern architecture in pre-war Japan. There is a very nice indoor/outdoor cafe.

phone: +81 3-3762-3433

address: 3-2-1 Katsushima
Do
phone: +81 3-3440-1111

address: Minato-ku, Takanawa 4-10-30

Aquarium with dolphin and seal shows and hundreds of species of fish. There is also a carousel ride.

phone: +81 3-3441-5556

address: Minato-ku, Takanawa 4-7-1

This modern church rebuilt on a historic site is handicapped-accessible and has Sunday Mass in English on the fourth Sunday of each month at 1PM.

phone: +81 3-3763-2151

address: 2-1-2 Katsushima Shinagawa
Buy
Coffee Roast Sai

phone: +81 3-3449-7007

address: Takanawa 1-21-3

Roasts beans while you wait, usually with a wonderful free cup of coffee.

phone: +81 3-3449-7007

address: 1-6-5 Ōsaki

A shop of the brand behind the famous Hello Kitty.
Eat
Budget
You don't even have to leave the station to treat yourself to a wide range of affordable restaurants. Inside the ticket barrier you can find:
AndersenIf you are making an early departure for Kamakura or points south pick up sandwiches to go

phone: +81 3-3444-8910

A small food court and take out restaurants featuring a couple of dozen food stands and bakery or sweet shops on the first level. This is also a very comfortably air-conditioned place to wait for a train connection. There are three full-service restaurants on the upper level. A few examples include:
Kongariya

phone: +81 3-5421-0431

Select from a wide range of onigiri with interesting fillings like squid and kimchee, miso or shoyu grilled riceballs, or even ones wrapped in Indian naan and baked.

Paul

phone: +81 3-3440-5021

Sandwiches on real baguettes.
Near the West or Takanawa Exit
YoshinoyaFast food chain with Japanese style food.
Near the East or Konan Exit adjacent to the Shinkansen ticket gates
Ushio Sushi Bar

phone: +81 3-6717-0934

Cheap sushi by the piece or in sets. There is a bilingual menu and instruction sheet to help you with ordering and payment. There is also a quick take-out window to grab something for the road.

Komahachi Meguro Sanma CenterIzakaya serving sanma in all shapes, try at least the shioyaki and the sushi. Adventurous eaters might try the sanma rice crackers that include the head.
Mid-range
phone: +81 3 5475 7020

address: Takanawa 3-26-20

Collection of 7 ramen noodle restaurants and 5 donburi rice bowl restaurants under the roadway, some with lines at lunchtime and some without.

Atre New York StyleA collection of restaurants grouped around a Queen Isetan grocery. Dean & Deluca, on the second floor, has a take-out sandwich and coffee bar which is convenient for supplies to get you through a long Shinkansen ride. The fourth floor has the Lounge Foodium restaurant complex including Grand Central Oyster Bar.

Devi Corner

address: 3-24-21 Takanawa

Excellent Indian cuisine.

Beer RestaurantThis is a good, authentic yakatori joint quite popular with Japanese commuters. They also have horse sashimi, which is available occasionally but not very common.

Royal HostPopular "family restaurant" chain with surprisingly good coffee but little else that stands out.

Tsubame Grill (Shinagawa-ekimae)

address: 高輪4-10-26, Minato, Japan

Tsubame is famous for its "hamburg" dish. Contrary to belief, lunch special only costs ¥1150 - a bargain for the excellent quality of food. The "hamburg" dish comes piping hot covered completely in an aluminum foil.

Tikka & BiryaniHas excellent Indian Mughal Biryani.
Splurge
KuraThis is an excellent Japan-Korean barbeque, with seafood and vegetarian options. Several waitstaff speak impeccable English.
Drink
Directly across the street from JR Shinagawa Station Takanawa Exit you will find Enoteca on the second level of Shinagawa Wing. Shop for imported wines, or sample glasses in their small cafe. The Wing also has a tea shop.
Virgin CafeThis cafe always seems very smoky, but is an easy place to stop for light food and imported beers on tap such as Kilkenny and Guinness.

Art CafeExcellent coffee, this somewhat smoky cafe is full of American and European business visitors and Japanese having espresso and a curry bun, or even a "bagette" (Japanese hot dog).

StarbucksOf course, Americans who are feeling homesick can always get a latte at Starbucks inside the JR station.

82 Ale HouseVery convincing Victorian style British pub. Largish drinks menu which includes single malt wiskeys, real ale and Guinness on tap for ¥900 a pint.
Sleep
With the new Shinkansen service to Shinagawa, the area hotels have become much more convenient (and crowded). Rooms at the hotels near the station sell out very quickly. Try Gotanda Station, 2 stops away on the Yamanote Line, for cheaper business hotels or capsules.
Budget
phone: +81 3-6712-9440

address: 1-22-16 Kita-Shinagawa Shinagawa-ku

Small, friendly guesthouse "for backpackers" in a very 'local' feeling location.

Toyoko Inn Minami-ShinagawaAn alternative Toyoko Inn, five minutes south of Shinagawa by Keikyu local train. Availability is generally better here than the other Toyoko Inn, and the hotel is directly connected to the Keikyu line.

Toyoko Inn ShinagawaA bit cheaper than the rest, and it can sell out quickly.
Mid-range
Splurge
phone: +81 3 5488-3939

address: 品川区北品川4-7-36 Shinagawa-ku, Kita Shinagawa 4-7-36

This high end hotel is in the deluxe Gotenyama Hills complex.

The Strings HotelA top-notch hotel near Shinagawa Station which is worth visiting for a drink or a meal to get the view of the bay and Rainbow Bridge. Part of the Intercontinental chain.
Connect
Shinigawa Prince Executive Tower`s North and South Annex2nd floor wireless hot-spot. Must purchase a ¥500 card at the front desk, which will give you one day access. Must have your own computer. Power plugs along the window side. No eating or drinking allowed at the tables.
Go next