Tokyo/Shinjuku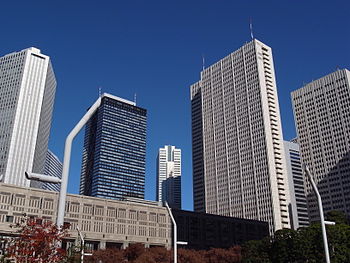 Shinjuku
(新宿) is a central ward of
Tokyo
, known as the metropolis'
second center
(副都心,
fukutoshin
). The area surrounding
Shinjuku Station
is a huge business, commercial, and entertainment center located atop the world's busiest railway station complex. To the north lies
Takadanobaba
, where students from nearby
Waseda University
cross paths. The residential areas of
Yotsuya
and
Ichigaya
, with their many small restaurants and drinking establishments, lie to the east.
Kagurazaka
, one of Tokyo's last remaining
hanamachi
(geisha districts), is also home to some of the city's most authentic French and Italian restaurants. Over 300,000 people — including nearly 30,000 foreign residents — call Shinjuku their home, and the city offers a wide variety of options for work or play.
Understand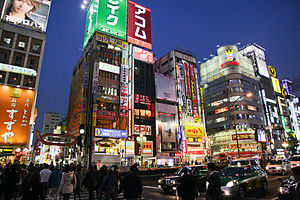 The west side of Shinjuku, a seismically stable area that escaped the last earthquake with nary a scratch, is Tokyo's skyscraper district featuring (among others) the gargantuan
Tokyo Metropolitan Government Offices
and the curved form and webbed façade of the
Mode Gakuen Cocoon Tower
.
The east side of Shinjuku is devoted to shopping and nightlife, including Tokyo's largest red-light district
Kabukichō
(歌舞伎町) and gay nightlife central
Shinjuku ni-chōme
(新宿2丁目).
Nearby
Ōkubo
(大久保), one stop west of Shinjuku on the Chuo line (also Shin-Ōkubo, on the Yamanote), has many other Asian restaurants and grocery stores — Korean, Chinese, Thai, Arab and more.
Takadanobaba
(高田馬場), the next stop on the Yamanote Line after Shin-Ōkubo, is popular with students from nearby Waseda University.
Get in
By plane
The fastest way to reach Shinjuku from
Narita Airport
is to take the
Keisei Skyliner
train and change at Nippori to the JR Yamanote Line (which can be very crowded at peak hours, making it inconvenient to haul luggage). This takes approximately 65 minutes with transfer and costs ¥2590. JR's
Narita Express
offers a one-seat ride to Shinjuku, but it takes longer (85 minutes) and costs more (¥3110), although for foreigners the cost can be brought down to ¥2000 each way by purchasing a
N'EX Tokyo Round-Trip Ticket
.
Budget travelers can use the regular Keisei Line commuter train to Nippori and change to the Yamanote Line (Approx. 105 minutes, ¥1190). In the evenings, faster
Access Tokkyu
trains from Narita Airport to Nippori shave 20 minutes off the overall travel time against an extra charge of ¥200. The JR Yokosuka-Sōbu Line also has stations at both Narita terminals.
Limousine buses
run frequently from Narita Airport to Shinjuku Station's west exit and to area hotels (Approx. 2 hours, ¥3000).
Passengers coming from
Haneda Airport
can take trains on the Keikyu and Yamanote lines, changing at Shinagawa (45 minutes, ¥590). Limousine buses also run on this route (50 minutes, ¥1230).
By train
Train is the obvious option for arrival, as
Shinjuku Station
is on the JR Yamanote, Chuo, Sobu, Saikyo, and Shonan-Shinjuku lines. Subway service is provided by the Tokyo Metro Marunouchi and Fukutoshin lines and the Toei Shinjuku and Ōedo lines. There are also terminal stations for the Keio, Odakyu and Seibu Shinjuku private railway lines.
Guinness World Records recognises Shinjuku Station as
the busiest railway
station in the world: More than 3.8 million passengers pass through each day. If you doubt this, try to board the Marunouchi line towards Tokyo Station at 8:00 on a Monday morning. The station is a sight in itself, effectively forming a giant multi-level warren of department stores, restaurants, commercial buildings, railway facilities and underground shopping malls which radiate out for kilometers under the surrounding area. Getting lost in the station is normal for visitors.
By bus
All of Shinjuku's bus routes used to stop at numerous locations around Shinjuku, but as of April 2016 they have all been consolidated into the new
Shinjuku Expressway Bus Terminal
, abbreviated
SEBT
or
Busta Shinjuku
(バスタ新宿), above the JR tracks at Shinjuku Station.
Airport limousine buses from Narita (¥3,100, roughly 100 min.) and Haneda (¥1,200, 50 min) stop at the station and at all major hotels in Shinjuku, but are prone to traffic delays.
See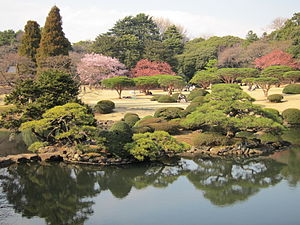 Tokyo Metropolitan Government Center

address: 2-8-1 Nishi-Shinjuku

The two enormous buildings of this giant hive of bureaucracy are an Orwellian architectural masterpiece designed by noted architect Kenzo Tange. The main reasons to come here, though, are the twin observatories. At a height of 202 m on the 45th floor, they have some of the best views of Tokyo. The North Observatory is open daily from 9:30AM to 11PM (closed second and fourth Mondays of each month), while the South Observatory is open daily from 9:30AM to 5:30PM (until 11PM on the days the North Observatory is closed; closed on the first and third Tuesdays of each month). Last entry is 30 minutes before closing.
Shinjuku Gyoen National GardenA large public garden, and one of the most popular places for viewing cherry blossoms in the spring. It has Japanese, English, and French gardens, as well as Taiwanese teahouse and a botanical conservatory. The entrance fee often makes the park surprisingly uncrowded and peaceful. Admission ends 30 minutes before closing.

Hanazono Shrine

address: located near the intersection of Meiji-dori and Yasukuni-dori

More remarkable for its location than its appearance, but it's a nice place to take a breather. There's often a flea market in the surrounding park on weekends.
Tokyo Opera CityA skyscraper with a shopping center and art museum that often has interesting multimedia exhibits.

address: 3-1 Kasumigaoka

Known as Jingu Stadium. Can See University and Professional baseball games.

Shinjuku-sanchōme and related red-light districts to the east of the stationIt is perfectly harmless to walk around these during the day and marvel at the photo billboards of various male and female escorts on offer as well as the live gangster-types acting shady. While walking around this area should probably not be done with children, for adults the result is far more "cultural interest" than sleaze.

For people watching, the place to be is the large square in front of the station's Kabukichō entrance, next to the Studio Alta shopping center.
Do
phone: +81 3-3353-9119

address: Yotsuya 4-10

Three fire fighting helicopters, ten trucks, and 3 floors of exhibitions. Very popular with kids, who can wear fire fighting clothes and ride some of the helicopters and trucks.

address: Yotsuya 4-20

An old school filled with toys and fun small houses. Accompanying adults won't get bored, thanks to the variety of toys around.

phone: +81 3-5285-7007

address: Various locations

Karaokekan is a large chain of karaoke shops. They have rooms available from one person up to a large party. All you can drink set menus are available.
Spas
Boy and Girl Mylord

phone: +81 3-3349-5720

address: Nishi-Shinjuku 1-1-3 Mylord 4F

Boy and Girl is a hair salon where you can also get spa treatments.

phone: +81 3-5322-1234

address: Park Hyatt Tokyo Hotel, 3-7-1-2 Nishi Shinjuku
Movies
Buy
Department Stores
Books
Bookoff

address: Various Locations

Bookoff is a well known second hand book store. They also offer various albums, games, and movies. The closest branch to Shinjuku Station is South of Southern Terrace. Alternatively, (Nishi-shinjuku 7-7-29) you can head North from the West Exit, or (Shinjuku 5-2-1) North of Shinjuku Gyoenmae Station on the Marunouchi Line.

Books KinokuniyaBooks Kinokuniya is the best book store for foreign language books. The Main Branch is the older of the two, however, the Southern Branch is bigger and has a greater selection of foreign language books.
Electronics
Major discount
camera stores
are concentrated on both sides of Shinjuku station, although there is a particularly large cluster just outside the West Exit. The undisputed king
Yodobashi
has branches on practically every block; note that the branches specialize, so you may have to look for the right branch to find what interests you (digital cameras, video cameras, medium-format photography, etc.). The other major name is
Bic camera
. This store have been transformed by computers and the Internet, and their
computer
departments match
Akihabara
in volume, price, and selection.
phone: +81 3-5326-1111

address: Nishi-shinjuku 1-5-1

Second-largest electronics shop in Shinjuku. While not as big as Yodobashi Camera, prices and product range is roughly the same. The East side shop, next to Books Kinokuniya, is bigger than Yodobashi's East side shop, but still smaller than the West side location.

phone: +81 3-3346-1010

address: Nishi-shinjuku 1-11-1

Yodobashi is the largest electronics retailer in Shinjuku. The main building is their multimedia centre. They also have a dedicated Games building, Camera building, and Watch building among others. Yodobashi also has a branch on the East side of Shinjuku, across from Lumine EST.
Variety Goods
address: 1-16-5 Kabukichō

A hectic 24-hour discount store that sells just about everything that you would never imagine needing at three in the morning but might just pick up anyway, such as clothing, bicycles, electronics, jewelry, and gag gifts.
Music
phone: +81 3-3352-2697

address: Shinjuku 3-31-4

You can get music, movies, and music books. They have a large selection of used goods with over 10 locations. Aside from the main branch, other branches specialize in specific genres or goods. This shop is great for music enthusiasts.

phone: +81 3-5361-3060

address: Shibuya-ku, Sendagaya 5-24-2

HMV is one of the bigger record stores in Japan with a good selection of music and movies. HMV has 2 locations in Shinjuku: one in Takashimaya Times Square and another on the 6th floor of Lumine Est.

phone: +81 3-5360-7811

address: Shinjuku 3-37-1

Tower Records is one of the biggest record stores in Japan. They have any CD or DVD you can imagine, and if not, you can probably order or reserve it.

phone: +81 3-5269-6969

address: Shinjuku 3-26-14

Tsutaya is a major video/music rental store but the Shinjuku shop sells a large variety of music, games, and videos. They also have a decent variety of used products at reduced prices.

Nishi-Shinjuku 7-chomePacked with music shops specializing in various genres such as punk and heavy metal. Many sell nothing but bootlegs and collectibles.
Other
Between the underground entrance to the Keio department store and the taxi rotary is an area hosting a rotating series of stalls or exhibits. Some recent stalls/exhibits have included various local foods from around Japan, furniture, and information about various government projects around Tokyo.
Eat
A great way to get by in Tokyo on a budget is to make lunch your main meal. Many restaurants cater to the business lunch crowd and offer an excellent two or three course meal for between ¥800-1300. Going to the same places for dinner would be up to three times more expensive.
Budget
The Lumine and Mylord department stores atop the south side of the JR station both have inexpensive restaurant arcades on their upper floors.
PasutakanOkonomiyaki cooked at your table.

Khao San

address: Lumine 1, B2F

A good place for Thai street-stall style food. It's always packed and hectic for lunch, with attendants hollering to attract customers.
Blumare

phone: +81 3-3352-6606

address: Shinjuku 3-28-9, Shinjuku Lion Kaikan 3F

All-you-can-eat pizza and pasta chain restaurant.
Sansyoku-Sansun-Bashi

phone: +81 3-5909-5123

address: Nishi-shinjuku 1-1-5, Lumine One 7F

All-you-can-eat Japanese and Western food, including lots of vegetables.
Katsugin

phone: +81 3-3543-2485

address: Shinjuku 5-10-4

A small restaurant serving almost exclusively breaded pork dishes (tonkatsu teishoku and katsudon). Menu only in Japanese.
phone: +81 3-3209-4480

address: 1-23-15 Kabukichō, 2F

This tonkatsu restaurant is famous for its green tea tonkatsu, which is salty and filling. It also serves other types of tonkatsu and katsudon.
phone: +81 3-6280-8920

address: Nakazatocho 31

This restaurant serves hamburgers and martinis. The large juicy hamburgers are made with high quality ground beef, which is very hard to find anywhere in Japan. Though uncommon, the combination of hamburgers and martinis is surprisingly nice.
Mid-range
Okonomiyaki Wahaha FugetsuThe Japanese favorite okonomiyaki, done Osaka-style.

phone: +81 3-3348-5322

address: Tokyo, Shinjuku-ku, Kabukichō 1, Subnade B1

Botejyu is an okonomiyaki shop that sells a variety of okonomiyaki. They also have various yaki-soba dishes. Beware that at times, this restaurant can be busy with wait times of up to 30 min.

phone: +81 3-3342-0339

address: New Sentora Bldg B1F, 1-5-12 Nishi-Shinjuku

This izakaya has an excellent selection of sake.

The Lockup

phone: +81 3-5272-7055

address: Kabukichō 1-16-3, Shinjuku Square Bldg 6-7F

A Shinjuku original that has since spawned several branches elsewhere in Tokyo. It has a hybrid prison/dungeon/horror movie theme: customers are led to tables inside stone cells by waitresses in plastic-miniskirt police uniforms, where they are "locked up" and given menus filled with bizarre drinks (the most well-known of which consists of a rack of test tubes filled with flavored syrups, a flask full of alcohol, and a beaker to mix everything in) and relatively normal food. Twice every night, a "jailbreak" is staged in which the lights go out and costumed hoodlums scare the living daylights out of random patrons.

Kappō Nakajima

address: Shinjuku 3-32-5 basement

Specializes in sardine dishes. Yanagawa teishoku is deep-fried sardines with scrambled eggs on rice (it tastes better than it sounds).

Shunka Shuto

phone: +81 3-5353-7111

address: 53rd floor of Tokyo Opera City (see above)

Enjoy the view while dining on seafood and other specialties of Hokkaido.

Yanbaru

phone: +81 3-3353-2028

address: Shinjuku 3-23-6

There's nothing pretentious about this restaurant specializing in Okinawa food, which emphasizes pork and vegetables that are unusual even to Honshu Japanese. Recommend is beni imo (¥450), tempura-style sweet potato; and hechima misoni (¥600), an eggplant-like vegetable served in a strongly fermented miso sauce. A picture menu is available.
There's a cluster of interesting ethnic restaurants on the south side of Koshu-Kaido-dori, to the west of the station.
España

phone: +81 3-3379-1159

In the same building, has good paella.

Court Lodge

phone: +81 3-3376-7733

A few buildings away on the ground floor; serves spicy dishes of Sri Lanka.
phone: +81 3-3354-7947

address: Shinjuku 3-6-11 2F

Authentic Turkish food.
Din Tai Fung

phone: +81 3-5361-1381

address: Sendagaya 5-24-2, Takashimaya 12F

Tokyo branch of the renowned Taiwan dim sum restaurant; speciality is the dumplings.
phone: +81 3-6457-5788

address: 107 Yarai-cho, Hosoya Bldg 2F

Excellent Italian bruschetta, bread topped with a variety of meat, cheese, vegetables and herbs. Wide selection of bottled beers, and 6 beers on tap. Second restaurant opened by the enthusiastic Stefano.
phone: +81 3-5287-2426

address: Oriental Wave Bldg 8F, 5-17-13 Shinjuku

A cool atmosphere for those looking to lounge around on a leather couch surrounded by cathedral lighting, gargoyles, and an array of Christian decor. The food is very good and reasonably priced for Tokyo, but the service can be slow, unhelpful, and unreliable. "Amuse" charge of at least ¥300 per person on top.
phone: +81 3-5363-4629

address: 8F Shinjuku Takano Bldg No. 2 3-30-11 ShinjukuShinjuku-ku, Tokyo 160-0022

An all you can eat Shabu Shabu restaurant with two other branches in Shinjuku and many others . ¥1980 gets one person 90 minutes, including unlimited meat, veggies, and ice cream. Drinks cost extra, but water and Gobo cha are free. If 90 minutes isn't enough, a more expensive 120 minute option is also available.
Onegiya Shinjuku ten

phone: +81 3-5368-5225

address: 3-10-5 Shinjuku

Excellent traditional but modern Japanese restaurant. Plenty of dishes to order but you need to like leeks.
phone: +81 3-5330-3800

address: B1 Hirata Building 7-11-3 Nishishinjuku Shinjuku-ku,

Serves fresh sashimi.
Splurge
Torafugu-Tei

address: Kabukichō 2-11-7 Metro Bldg. B1F

Specializing in the infamous fugu (blowfish), it's one of the huge number of seafood restaurants in Kabukichō (see below). Set dinners go for around ¥5000, featuring fugu prepared five or six ways, fresh from the tank.
Drink
The
Kabukichō
(歌舞伎町) district, to the northeast of JR Shinjuku station, is Tokyo's most notorious red-light district - although during the daytime you might not even notice, especially if you can't decode the elaborate Japanese codewords on the billboards. At night it's a different story though, as sharkskin-suited junior
yakuza
gangsters hustle and girls in miniskirts beckon customers amid the adults-only vending machines. Night or day, it's always packed with people, and until recently quite a bit of gangland violence went on in the vicinity (though at any rate outsiders are generally not involved).
To the south of Kabukichō is
Shinjuku Ni-chome
(新宿2丁目), Tokyo's largest
gay
district.
(ゴールデン街) is the name given to a few narrow alleys in a block on the east edge of Kabukichō. It's packed with tiny aging "hole-in-the-wall" bars and started as a red light district some decades ago; morphing into some sort of a subversive hangout; and finally now into an odd assortment of tiny bars (some up very steep steps.) The irony of the place is that while it has become somewhat of a tourist attraction, many of the bars rely on regulars, so strangers wandering in may receive either a frosty reception, cover charge or both. If the door is open and you get a smile go in, it's an experience not to be had anywhere else. Many of the bars have karaoke and ancient mama-sans, while one has an old man who speaks Spanish and plays flamenco videos on a tiny black and white TV, and who occasionally plays guitar; another has a great collection of jazz music. Some places charge extra for karaoke with coin machines or a surcharge added to the bill while others, such as
Bar K
, have it available for free. Be aware that commercial photography in some parts of the Golden Gai is prohibited without permission.
phone: +81 3-5272-1651

address: Golden Gai St #2 2FL

Australian-run, considerably larger and can be less intimidating than many other Golden Gai establishments.

Bar KAlways welcoming of foreigners with beers.

phone: +81 3-5285-1989

address: 1-1-8 Kabukichō

Punk rock with a dash of Mexican Luchadors. Good cocktails and beer at an average of ¥700 a drink. The owner, Tohru, is very welcoming to anyone who loves to rock. Cover charge lets you sit at the bar and choose music from a menu split into various Punk Rock styles (UK, USA, Japan, Hardcore, Goth, Oi, Mod, Post Punk, 70s, 80s etc). Movies like Taxi Driver and Sid & Nancy are played from a cheap projector to the wall behind the bar. Action figures of Sid Vicious, Iggy Pop and Luchadors guard you from all corners.

address: #2F 5th Ave

Casual cocktail bar with Burgundy painted walls, chandeliers and no-frills mixology. Cover charge includes a small snack of either noodles, miso or whatever's brewing. Most drinks are around ¥700. Space includes a second floor "attic" accessible by a thin staircase with more fixtures and local artists' creations. Also visit the original Albatross bar in Shinjuku Omoide-Yokocho.

Rock Bar: MotherHas an extensive collection of Punk and Metal CDs for those looking for some alternative rock.

address: Ebisu-Kaikan B1F 1-10-5, Kabukichō

Heavy metal/hard rock bar.

Champions

address: Just before the Golden Gai entrance and slightly west as you head back towards Kabukichō.

Staffed mostly by Filipinas who speak excellent English.
On the west side of the Yamanote tracks,
Omoide Yokochō
(思い出横丁, "Memory Lane") is a small alley filled with
yakitori
joints. Omoide Yokochō is also sometimes referred to as
gokiburi yokochō
(cockroach alley) or
shomben yokochō
(piss alley - no prizes for guessing why).
Once you get beyond Omoide Yokochō into the skyscrapers of West Shinjuku, the nightlife pretty much dies out, with the solitary exception of what is probably Tokyo's best-known bar among foreigners:
phone: +81 3-5323-3458

address: Nishi-Shinjuku 3-7-1

One of the main sets for Lost in Translation, this slick joint on the 52th floor has dark decor and floor-to-ceiling windows with jaw-dropping vistas, with live jazz nightly. Eating a steak here would cost you well north of ¥10,000 per head, but you can nurse a beer for a mere ¥1000 or, "for relaxing times", try out Bill Murray's 17-year-old Suntory Hibiki for ¥2,300.
Clubs
Oddly, there are few nightclubs left in Shinjuku, perhaps due to the price of real estate.
Liquid Room
, once one of the Tokyo's best-known party places, decamped to
Ebisu
several years ago.
Ni-chōme
East of Shinjuku station, Ni-chōme is the most popular LGBT+ district in Tokyo with more than 600 bars packed in a few blocks. The gay bars of
Ni-chōme
(or
Nichō
for short) tend to be rather strictly segregated by scene (
sen
, short for
senmon
, "specialty, area of expertise"), charging higher covers or even disallowing entry to anyone who doesn't fit the bar's desired type. A lot of gay bars are strictly men-only or women-only, while some allow for mixed groups. Bars for
gari-sen
(twinks) and
kuma-sen
(bears) are unsurprising, but there are many more categories like
fuke-sen
(older men) and
debu-sen
(chubs), though less common. While quite a few of the bars are small ones primarily filled with Japanese regulars, there is certainly no shortage of
gai-sen
bars that allow or welcome foreigners. Additionally, a lot of Japanese-style gay bars also include a public karaoke.
phone: +81 3-3351-4833

address: Shinjuku 2-15-11

Lesbian bar

phone: +81 3-6273-0740

address: Shinjuku 2-18-1, 7th Tenka Bldg 1F

Cruisy open-air bar with a torii gate at the entrance. Crowd spilling onto the street makes it feel like a block party.

The Annex

phone: +81 3-5362-9720

address: Shinjuku 2-11-7 Kyutei Bldg 2F #33

Among Nichō's most well-known pubs, with a thumping dance floor. A hand stamp upon entry will also get you into sister bar The Annex.

Boiler Room Underwear Lounge

Campy! Bar

Dragon Men

phone: +81 11-551-1950

address: Shinjuku 2-11-4

Masculine gay pub with a dance floor. Rebuilt after a recent fire, the place is popular among male and female foreign crowds as well as Japanese men.

GB

address: Shinjuku 2-12-1 3B

Relaxed basement bar with somewhat more mature crowds.

phone: +81 3-6383-4649

address: Shinjuku 2-12-11 1F

Primarily lesbian bar with all-female staff, and karaoke for the multinational patrons. Interior themed like a 1970s motel. Saturday is strictly women-only; Monday is FtM night.

address: Shinjuku 2−18−5 2F

Rehab

Vox

address: Shinjuku 2-12-2 1st SS Bldg 1F
Cafes
phone: +81 3-3353-4775

address: Shinjuku Dianne Bldg 3-36-6

phone: +81 3-3342-7737

address: Shinjuku Green Tower, Nishi-shinjuku 6-14-1
phone: +81 3-3260-8068

address: 1-9 Kagurazaka

Located in the far east of Shinjuku City in the Kagurazaka district. With views remarkable for Tokyo, Canal Cafe consists of a separate restaurant and cafe situated alongside a canal. The open-air cafe has great ambiance. At the restaurant figure ¥6000-9000 for dinner, but at the café, which is a long patio-like dock, drinks and snacks are purchased at the bar and can be quite reasonable.
address: Have 3 Coffee shops
Main shop

phone: +81 3-3342-0811

address: 1-2-6 Nishi-Shinjuku

Shinjuku South gate Branch

phone: +81 3-5371-2588

address: Shinjuku Shimadu building 1F, 1-1-3 Yoyogi Shibuyaku
phone: +81 3-3342-2610

address: Odakyu HALC 1F 1-5-1 Nishi-Shinjuku

Japanese sweets and drinks.
Pubs and taverns
The Dubliners

phone: +81 3-3352-6606

address: Shinjuku 3-28-9

Down a pint of Guinness and mingle with the local expats.

The HubPopular chain of English pubs. Have some fish and chips with your pint at one of four Shinjuku locations.
phone: +81 3-5155-2622

address: 1-6-1 Kabukichō, Shirou Building B1

phone: +81 3-3208-1462

address: 1-22-8 Kabukichō, Kojimaya Building B1

phone: +81 3-3345-5310

address: 1-3-17 Nishi-Shinjuku, Aoi Building B1

phone: +81 3-5379-1949

address: 3-36-15 Shinjuku, Uchino building B1 & 6F
phone: +81 3-3352-7751

address: Fukumoto Building 2F, 3-28-2 Shinjuku

Tucked away in this tiny cubbyhole of a space is one of the most interesting small bars in Tokyo. A country western theme with Chet Baker and Nat King Cole pouring from the stereo. The food is cheap and superbly done (think chili nachos and the like); beer and spirits are also available. The place is tiny but it attracts a great mix of young groups of friends and office workers. Be forewarned though: some nights Marone puts on live music and cover charges are upwards of ¥4000! The older couple who run the bar are terrifically friendly but their English is minimal.
Vagabond

phone: +81 3-3348-9109

address: 1-4-20 Nishi Shinjuku

A great little pub with two floors. The first floor is a little more private while the top floor is a very cozy jazz bar with live music and a good selection of finger foods cooked right at the bar for you. Caution to taller travelers: it's a little cramped at the bar. Cover charge and drinks are around 500-700¥. The pub usually closes around 23.00 to 23.30 leaving you with plenty of time to get the last train.
Sleep
Budget
phone: +81 3-3469-5211

address: 32-3 Hatagaya Shibuya-ku

Just 2 stations (3 min.) to Shinjuku. Affordable hotel accommodation in central Tokyo. Staff can speak English.

phone: +81 3-3209-8062

address: 1-25-33 Takadanobaba

There is a lounge for relaxing and internet access. Three-minute walk from Takadanobaba Station.

phone: +81 70-5652-8628

address: Takadanobaba

The cheapest youth hostel in Tokyo. Don't expect too much for the price. Cockroaches included. The manager manages 6 of these guesthouses, all the same price, same style.

Hotel Wing International Shinjuku

phone: +81 3-3200-0122

address: 1-21-7 Kabukichō

Located at the edge of Kabukichō's nightlife of bars, hostesses and livehouses. Standard business hotel with simple ameneties. Add daily breakfast at ¥800/day. Various single, double and even triple rooms available. A 5 minute walk from Shinjuku station, this hotel was formerly known as "Hotel Kent" and recently switched to the Wing International brand. Perfect distance in Kabukichō to be just far enough from the street noise, but still a quick walk to Golden Gai, Shinjuku Station and many other sensory overloads from Kabukichō.

Manboo Internet & Comic CafeInternet cafe that has small, private rooms to crash out in. Rooms have a comfortable reclining chair (or a "flat seat" option), internet, TV, and headphones. Free soft drinks and coffee are provided and there's also a shower room/toilet and toiletries on sale.

Ace Inn ShinjukuCapsule Hotel near Akebonobashi Station. On the ninth floor there is a common space with vending machines and TV, where you can meet with the other guests from all over the world. Internet connection via WiFi in the whole building or PC on the ground level is free. English speaking staff.
Mid-range
Splurge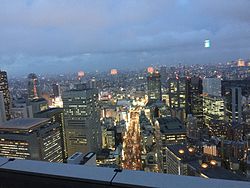 The western side of Shinjuku has a notable concentration of luxury hotels and great views over the city. Most hotels cater for business travellers and their needs.
phone: +81 3-3348-1234

address: 2-7-2 Nishi-Shinjuku

744 rooms and suites with views of Mt Fuji and Shinjuku Central Park. Regency Club lounge for free continental breakfast, tea service and evening cocktails. Hosts a roof-top pool and healh spa.

phone: +81 3-3344-0111

address: 2-2-1 Nishi-Shinjuku

Less than 10 minutes by foot from Shinjuku Station, has rooms that face the Shinjuku Metropolitan Government office.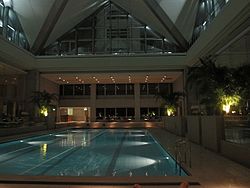 phone: +81 3-5322-1234

address: 3-7-1 Nishi-Shinjuku

Towering above the rest literally and figuratively, this hotel is best known for featuring prominently in the movie Lost in Translation. Surprisingly intimate in feel, one of the standout features is the 47th-floor "Club on the Park" pool with floor-to-ceiling views of Shinjuku at night. Also the New York Bar at 51st floor is offering superior views at night. Service and amenities are superlative, but rates are astronomical even by Japanese standards.

phone: +81 3-3344-5111

address: 6-2 Nishi-Shinjuku

Less than 10 minutes by foot from Shinjuku Station, with complimentary shuttle every 15 minutes, has rooms that face the Shinjuku Metropolitan Government office.
Rentals
phone: +81 3-5330-5250

address: Nishi-Shinjuku K-1 Bldg 2F, 7-2-6

If you plan on staying in Tokyo for a month or more you might want to check this place out.
Connect
Tokyo Tourist Information CenterA good source of information on not just Tokyo but all of Japan. This office is geared for foreign visitors, so all materials are in languages other than Japanese and all staff speak English.
Cope
Embassies
Go next