Tokyo/Taito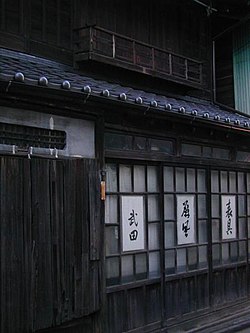 Taitō
() is a northeastern district of
Tokyo
.
Understand
Talk to a Tokyoite about "downtown" (下町
shitamachi
), and he will think of the Taito district: the train station of
Ueno
, where migrants from the
deep north
first arrived in their search for a better life, and the temples of
Asakusa
, once a boomtown full of prostitutes and gangsters but now long since past its prime. Stuck in a low-rent post-war time warp, here Japan's hypermodernity takes a bit of a breather, with such quaint oddities as bustling street markets and even the occasional wooden house.
Get in
Ueno Station is the major hub, connecting together northbound
Shinkansen
passengers with the JR Yamanote line, the subway Ginza and Hibiya lines, and the Keisei trains to
Narita
.
If visiting Tokyo University in
Bunkyo
, the Hongō Sanchōme Stations of the Marunouchi and Ōedo subway lines are the most convenient.
See
Asakusa, covered in a separate article, known particularly for Sensō-ji Temple (Asakusa Kannon).
Ueno, covered in a separate article, packed full of museums and Tokyo's best-known cherry blossom viewing spot.

phone: +81 3-3821-4549

address: 7-18-10 Yanaka

Not a "museum" in any traditional sense of the word, this is the former custom-designed residence of scholar and sculptor Fumio Asakura. Built around a lovely garden and packed with art, this is a wonderful place to stroll and contemplate the meaning of life.

phone: +81 3-3823-4408

address: 2-10-6 Ueno-Sakuragi

Many buildings scattered around the Yanaka district survived the bombings of World War II, including this former sake store built in 1910. Characteristic of Meiji-era architecture, the building now houses a small museum of sake and beer equipment.

address: Kashiwayu-Ato 6-1-23 Yanaka

A small gallery showing the work of contemporary artists, the building is a former sento, or bathhouse.
Buy
Markets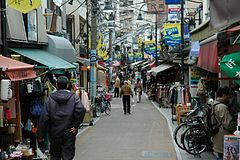 Yanaka
(谷中),
Nezu
(根津) and
Sendagi
(千駄木) are adjacent low-key commercial and residential neighborhoods full of traditional, quirky little shops, particularly along the very tongue-in-cheek
Yanaka Ginza
(谷中銀座, ) shopping street. The area is best reached on the Metro Chiyoda line to Sendagi or the JR Yamanote Line to Nippori.
address: Yanaka 3-11-10

An old-school tea shop near the entrance to Yanaka Ginza, just follow the smell of roasting tea. They prepare their own blends, which are uniformly excellent: try the slightly bitter Snow Plum (雪の梅 Yuki-no-Ume, ¥600 per 100g) or the unusual Yanaka Midori (谷中みどり, ¥600-1000 per 100g), a mix of roasted tea stems (the cheapest tea) with tea-ceremony grade matcha (the most expensive tea). Ask to see the private garden and if they're in a good mood they just might let you have a peek.

Gotō no AmeA traditional Japanese candy (ame) shop at the very end of Yanaka Ginza, everything sold here is made on premises and quite cheap (¥100+).
Eat
Aoi Marushin

phone: +81 3-3841-0110

address: 1-4-4 Asakusa

Tempura, Tempura, Tempura. Aoi Marushin is the largest tempura restaurant in Tokyo!

Bentenyama Miyakozushi Souhonten

phone: +81 3-3844-0034

address: 2-1-16 Asakusa

This is a very small, very expensive sushi restaurant in Taito. If you are a sushi buff this is that place for you, with fantastic sushi and great ambiance.

phone: +81 3-3822-1543

address: 3-14-13 Nishi-Nippori

Located in the heart of the traditional Yanaka neighborhood, this Persian/Turkish restaurant goes all-out on the "dining experience": you sit on the carpeted floor, they make you wear middle-eastern garb, and dessert includes a hookah (water-pipe) to puff on! And all the while, the owner wanders from table to table making wisecracks in Japanese. The set dinner course (¥2000) is guaranteed to leave anyone stuffed.
Drink
phone: +81 3-3823-5952

address: 6-1-27 Yanaka

Coffees and light meals with a Brazilian theme.
Sleep
Remnants of the water trade
Why is there so much cheap lodging near Minaji-Senju and Minowa? The answer is the quiet nearby neighborhood of Senzoku 4-chōme, once the legendary red-light district of
Yoshiwara
, the sole licensed area for pleasures of the flesh during the Edo era. At its peak, Yoshiwara was home and prison to over 9,000 prostitutes, many of whom had been sold into debt bondage when as young as 7, and with only the most successful managing to buy their way out. Thrice wiped out by a fire in 1913, an earthquake in 1923 and Allied bombing in 1944-45, Yoshiwara finally gave up the ghost when prostitution was outlawed in 1958. Some low-rent soaplands still struggle on, but by and large the action has long since shifted elsewhere.
Taito has Tokyo's best range of cheap to midrange accommodation. The listings below cover only more far-flung bits of the district, see
Asakusa
and
Ueno
for listings of hotels in the immediate vicinity of the two central stations.
Budget
The area around
Minami-Senju
(南千住), near the northern end of the Tokyo Metro Hibiya Line, has some of Tokyo's cheapest budget accommodations. The typical room is an individual tatami flat of 2 square-meters, with television and air-conditioning. The bedding is Japanese style (futon set and pillow). All hotels listed here cater regularly to backpackers and have some English ability. Just hop out at Minami-Senju and walk down south towards Meiji-Dori (Main road) on Route 464. The further away from the train station you walk the cheaper it gets. About 3,500¥ down to 2,100 for single, also 1,500¥ for dorms are available all along this street (Route 464).
Mid-range
Go next